Here's if cowboy boots are good for hiking
Cowboy boots are not the best form of hiking footwear. Cowboys wear them, although they probably spend more time riding horses than hiking.
Cowboy boots are not ideal for hiking because of the high heel and the lack of traction, both of which can lead to trouble and instability on rugged, rocky, or slippery terrain.
Hiking involves flat highways, slick forest roads, hot desert treks, and dangerous mountain roads. As a result, the classic cowboy boot design is unsuitable for hiking.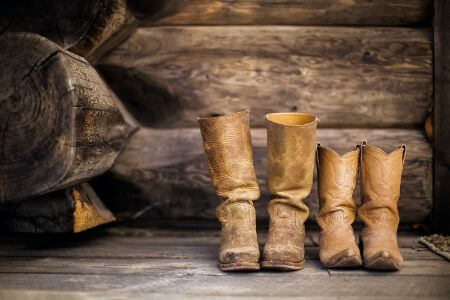 Why cowboy boots are not suitable for hiking
Poor design for hiking
Most traditional cowboy boots have high heels and a leather outsole (which is relatively smooth). There isn't much arch and ankle support, and the pointy toe design doesn't have much room.
The cowboy boot designs make it challenging for hikers to stay balanced, stable, safe, and comfortable while traversing challenging and unending paths.
Soles are flat
Because of their flat bottoms, most boots do not provide adequate arch support. The inside soles should be soft and wide to give appropriate arch support.
The outer soles should be composed of leather or rubber to offer smoothness and flexibility. Furthermore, due to the rigid construction of most cowboy boots, you cannot employ custom orthotics or metatarsal padding.
They don't have laces
Cowboy boots do not have laces, which allows the heel to slip and produce excruciating blisters. Most classic cowboy boots have a tall shaft rather than laces, covering up to the middle of the shins.
When they can protect your legs from thorns, pebbles, and other potentially damaging objects while hiking, boots without laces slip as you walk. Cowboy boots with no laces are ideal for horseback riding since laces can get caught in the saddle.
They are not, however, suitable for hiking. If you try on the boots and see slippage, you may choose to buy a smaller pair, resulting in compression and further agony and discomfort.
Toe Boxes
Cowboy boots with pointed toe boxes will put pressure on your forefoot. This triangular shape is incompatible with the natural curvature of our feet. It's perilous if you have bunions, hammertoes, or Morton's neuroma.
If you choose boots with round or square tips, your toes will have more room. So, to avoid discomfort caused by the inappropriate toe size, make sure to choose the correct size boots.
Heels
Your feet may be harmed if the boots have more than 2 inches (5 cm) high heels. High-heeled boots cause pain and irritation by deflecting the weight focused in the forefoot and rearfoot.
Furthermore, unlike boots with ordinary heels and square tips, cowboy boots with high heels frequently feature narrow and stiff outsoles. Wearing boots with the proper heel size, on the other hand, can relieve tension on the Achilles tendon and the back heel.

Cowboys are heavy
Cowboy boots are fairly heavy compared to other types of boots, requiring hikers to expend more energy.
Hikers frequently prefer specialized boots such as hiking boots or other boots such as military & tactical boots, work boots, etc.
These boots provide excellent arch and ankle support, as well as non-slip outsoles, reinforced heels and toes, and shock-absorbing insoles.
Cowboy boots alternatives for hiking
Salomon Quest 4 Gore-Tex
When it comes to ankle support and stability, these hiking boots are among the best on the market. They are ideal for the most difficult terrain due to their tough construction and powerful traction.
Despite being heavier, these boots feel more agile than the other heavy-duty boots on our list due to their well-balanced design. The Quests are expensive, but they're well worth it for their longevity, comfort, and performance.
The Merrell Moab 2 Mid Waterproof
These hiking boots are a wonderful pick if you're searching for a solid bargain boot that doesn't skimp on quality. These boots have long been a favorite among hikers due to their comfort, durability, and affordable pricing.
Despite their rugged construction, the Moabs take very little break-in time, and the mesh areas give excellent ventilation.
They, however, last a long time and provide good cushioning and support for day treks and weekend getaways.
La Sportiva's Ultra Raptor II Mid GTX
These boots are ideal for longer hikes and backpacking trips in more challenging terrain where sticky traction and robust foot protection are required.
Despite their toughness and durability, the Nucleos are light and comfortable enough for all-day wear, and their elegant appearance lends themselves nicely to post-hike cocktails.
Because the upper and soles are relatively rigid, you may want to consider adding aftermarket insoles if you prefer a nice, cushioned feel underfoot.
They are, nonetheless, extremely comfortable and highly recommended for people looking for a boot with a decent balance of meaty support and low weight.
Bottom Line
Hikers should avoid cowboy boots with leather bottoms, pointy toes, high heels, and inadequate arch support. Furthermore, because most cowboy boots have very little cushioning, your feet will most likely be unhappy after a few kilometers on the trail.

Sources
https://www.rei.com/learn/expert-advice/the-best-hiking-boots.html
https://www.gearpatrol.com/outdoors/a459304/best-hiking-boots/
https://www.switchbacktravel.com/best-hiking-boots