When it comes to women's travel vests with pockets, there is a variety flooded in the market, which can be a problem when choosing. So we made it easier for you by researching the best travel vests with pockets for women.
Here are the best seven women's travel vests with pockets we recommend.
SCOTTeVEST Women's Q.U.E.S.T Vest – Best overall
SCOTTeVEST Women's RFID Travel Vest – Best for security
ExOfficio Women's FlyQ Lite Vest – Most Versatile
Columbia Women's World Trekker Vest
Eddie Bauer Travex Women's Atlas Utility Vest
Orvis Quilted Vest
Magellan Outdoors Women's Essential Travel Vest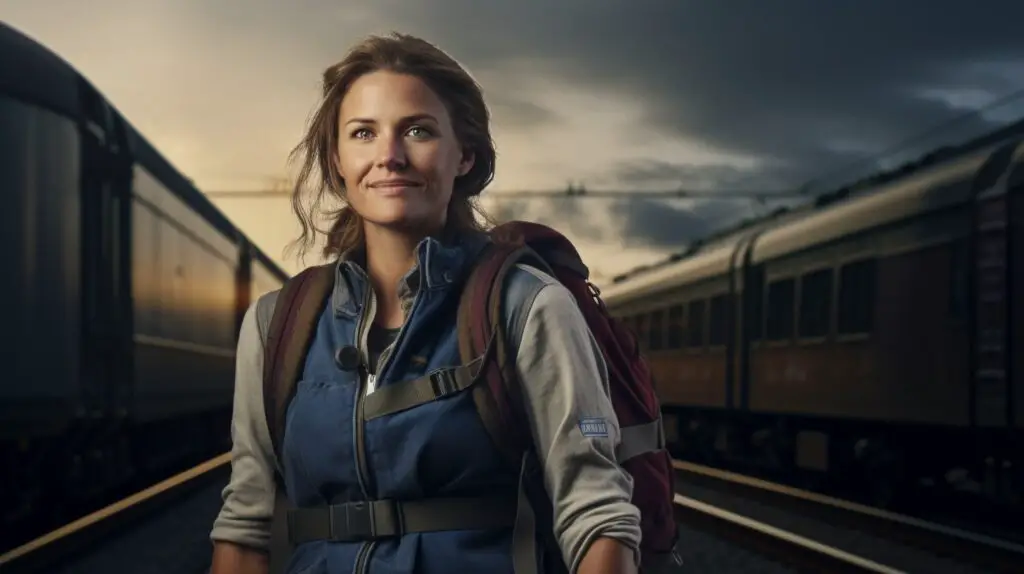 SCOTTeVEST Women's Q.U.E.S.T Vest
Best overall
Our best overall vest is SCOTTeVEST's QUEST. We have many reasons, but the features we love about it include its 42 pockets, making it the perfect vest for photographers and avid travelers.
It has pad pockets for iPad tablets, clear touch pockets for smartphone displays, and a cord system that subtly keeps everything connected and built into the fabric.
It has a giant back pocket to stash larger items like photography gear quickly. For this reason, we rank it at the top.
Pros
Ample storage: The vest features 24 exterior pockets and 18 interior pockets.
Versatility: The vest is designed for various activities, including travel, outdoor recreation, security, and everyday use.
Durable: Customers have reported that the vest is well-made and holds up well over time.
Functional design: The vest includes features like a key holder, cell phone pocket, documents/wallet pocket etc.
Plus-size options: The vest is available in plus-size options, catering to a broader range of body types.
Multiple pockets
Super high quality
Cons
Expensive
Weight: Some customers have mentioned that the vest can feel heavy, especially when fully loaded with items.
Warmth: The vest may not be suitable for hot and humid climates, as it can be warm to wear.
Deep interior pockets: A few customers have found that some interior pockets are deep, making it harder to find items stored inside quickly.
---
SCOTTeVEST Women's RFID Travel Vest
Best for security
SCOTTeVEST RFID Women Travel Vest is a great choice for most travelers.
In addition to 18 different pockets in different sizes, several pocket types are specifically designed to hold items.
Such as the RFID pocket to protect credit card information, the clear touch pocket that allows you to use your smartphone without removing it, and the oversized PadPocket that can hold an iPad or tablet computer of comparable size.
It's perfect for City travel, Airplane travel, Adventure Travel, Jogging, Hiking, Running Errands.
Pros
RFID Protection: The vest is equipped with RFID-blocking pockets, which help protect your credit cards and passport from unauthorized scanning.
Ample Storage
Lightweight and Breathable
Durable
Multiple pockets
Cons
Sizing: This vest may run small for some people, so it's essential to consult the sizing chart
Style: While the vest is functional, some users may find the design more practical than fashionable.
Bulkiness: The vest can become bulky when fully loaded with multiple pockets and storage options.
Expensive
---
ExOfficio Women's FlyQ Lite Vest
Most Versatile
This jacket features 11 interior pockets; a chapstick slot, a pen slot, and pockets for smartphones, cameras, water bottles, sunglasses, keys, and passports.
The ExOfficio Women's FlyQ Lite Travel Vest is perfect for light travelers and hikers. Its 100% nylon outer fabric is protected with Teflon shield+, and its microfleece collar will keep you warm.
Pros
Multiple pockets
Quality
Lightweight and packable
Quick-drying and abrasion-resistant fabric
Water and stain-resistant: The Teflon™ Shield+ treatment on the fabric protects from water and stains, keeping you dry and clean.
It fits many different body types and is machine washable.
Cons
Sizing: Some customers have mentioned that the vest runs small or large, so it's essential to check the sizing chart
Pocket size: While the vest has multiple pockets, some customers have found that the pockets may need to be bigger to hold specific items, such as smartphones or wallets.
Weight distribution: When fully loaded with items, the vest's weight may feel unbalanced and uncomfortable, especially for extended periods of wear.
---
Columbia Women's World Trekker Vest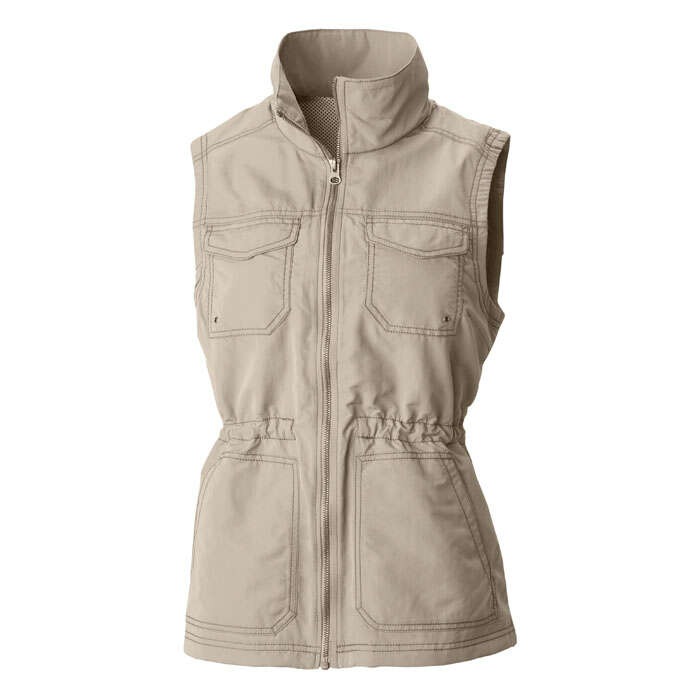 Women's Columbia World Trekker Vest is a budget-friendly option for lighter travelers. This vest has four exterior pockets where you can pack lots of stuff.
The interior has two; a zip-close pocket and a velcro pocket for security.
The outer fabric isn't luxurious, but it's well-made and durable.
Pros
Budget-friendly
Lightweight
Water repellant
Durable
Stylish Design: The vest features a flattering silhouette and a modern design, making it suitable for various occasions.
Cons
The outer pockets are not ideal for storing valuables.
The shape is not ideal for women with large chests and hips.
---
Eddie Bauer Travex Women's Atlas Utility Vest
Designed for outdoor activities and travel, Eddie Bauer Travex Women's Atlas Utility Vest has a variety of pockets to keep your essentials organized and easy to access.
With a UPF 50+ rating, the vest offers excellent sun protection in various weather conditions. It has a comfortable regular fit.
Pros
Ample Storage
Durable
Versatile Design.
Water-Resistant Finish
Functional Features
Cons
A limited number of pockets
Expensive
---
Orvis Quilted Vest
Orvis' Quilted Vest for Women is a stylish and versatile vest equally suitable for outdoor activities or everyday wear.
Its Diamond quilting and faux-suede trim makes the vest look sophisticated and timeless.
The vest is made of recycled materials, making it eco-friendly and waterproof.
The vest has two zippered hand pockets for storing essentials. It is available in a range of sizes.
Pros
Lightweight
Reliable Construction
Breathable
Stylish
Cons
Expensive
Cleaning: Depending on the material, some quilted vests may require special care or dry cleaning, which can be an inconvenience.
---
Magellan Outdoors Women's Essential Travel Vest
You will love the versatility and stylish fit of the Magellan Outdoors Women's Essential Travel Vest.
With multiple pockets, a lightweight design, and a flattering fit, it is perfect for on-the-go comfort and convenience.
Pros
Durable
Lightweight and Breathable
Stylish Aesthetic
Cons
Sizing Considerations
---
Why Choose a Travel Vest with Pockets
Convenience is perhaps one of the most important reasons to buy a travel vest with pockets. Here's a rundown of the reasons to choose a travel vest with pockets.
Convenience: Pockets on a travel vest provide quick access to your necessities. Everything you need, from your phone to your passport, is within easy reach.
Functionality: A travel vest is designed with functionality in mind. Strategic placement of pockets distributes weight evenly, preventing strain on your shoulders and back.
Security: Traveling can sometimes make us worry about the safety of our belongings. A travel vest with pockets offers a solution.
What to Look for in a Women's Travel Vest with Pockets
Here are features to look for when buying a travel vest with pockets for women.
Size and Number of pockets
Consider the number and size of pockets you'll need based on how many and large the essentials you will carry.
Material and Comfort
Choose a breathable and lightweight cloth vest to stay comfortable throughout your travel.
Security
Ensure your clothing has sturdy zippers, Velcro, or snaps.
Style and Fit
Pick a style that complements your sense of style, and ensure the vest is the right size.
Durability
Buy a travel vest of high-quality material that will last through your travels without needing to be replaced often.
Water resistance
The last thing you want is for your electronic devices to get wet in bad weather. Consider buying a water-resistant travel vest with pockets. At least that way, you don't have to worry about damage.