If you're planning a thrilling hike, a beach vacation, or a stroll around town, A good pair of sandals can make a huge difference.
A renowned name in the footwear industry, Teva offers a variety of sandals that cater to adventurers, fashion enthusiasts, and comfort seekers alike to suit their various preferences and needs.
In this article, we will explore the key differences between Narrow and Wide Strap Teva sandals, unveiling each style's unique benefits and characteristics and exploring their practicality, comfort, and fit.
Here's The Main Difference Between Narrow and Wide Strap Teva Sandals
One main noticeable difference between Teva sandals with narrow and wide straps is the Design – the width of the straps. Narrow strap sandals provide a sleek and minimalist design enabling a tight fit and improved flexibility for casual outings. On the other hand, Teva sandals with Wider straps are designed to offer enhanced support and stability, making them perfect for prolonged outdoor activities and rocky terrains.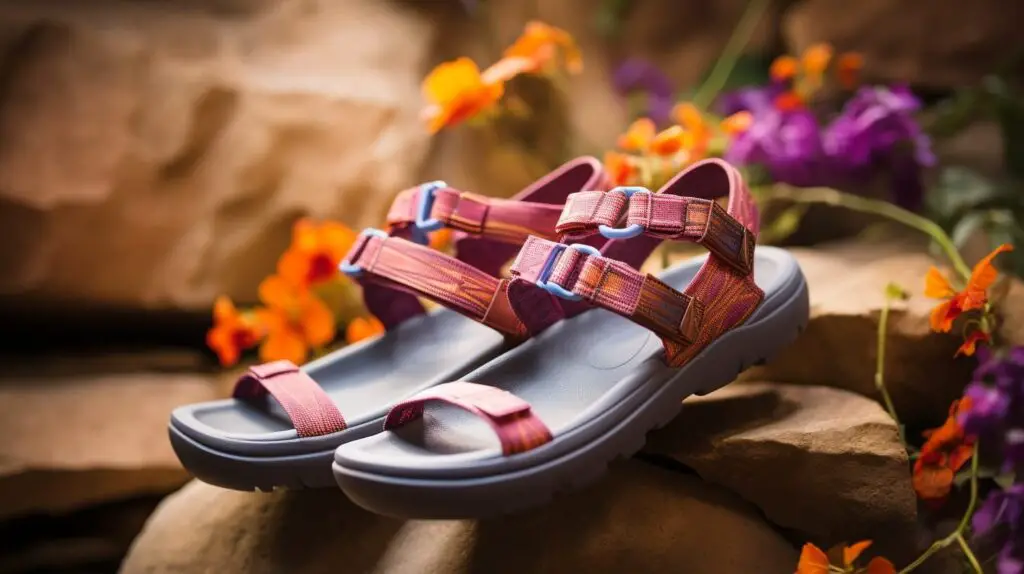 Design
Narrow strap Teva sandals are made with a simple, more fashionable look in mind.
The thin straps are frequently constructed of lightweight materials, giving them a sleek and stylish appearance appropriate for light outdoor activities and fashion-conscious people.
However, the narrower straps may provide less support than their wide-strap counterparts.
On the other hand, With their thoughtful design, Teva sandals with wide straps are ideal for outdoor activities.
These wide straps ensure excellent foot support and stability, even on uneven terrain. While hiking or doing other outdoor activities, this feature helps minimize the risk of slipping or twisting your ankle.
You can confidently tackle multiple outdoor terrains without worrying with Teva sandals because the durable materials they use make them durable.
Additionally, the open-toe design allows for better breathability, preventing your feet from becoming hot and sweaty during hot weather. The ventilation feature enhances overall comfort, reduces odors, and adds a pleasant experience.
Comfort and Fit
Narrow straps offer a more personalized fit because of their compact profile. They provide a snug and secure fit by precisely fitting the curve of the foot.
However, narrow straps might not be the most comfortable choice for people with broader feet or who want additional arch support.
The narrow straps being too tight could also cause pressure spots or rubbing.
In contrast, sandals with wide straps provide exceptional foot support, reducing fatigue and discomfort on long hikes.
In addition to accommodating a variety of foot sizes and shapes, the sandals have adjustable straps to ensure a snug, customized fit.
All Teva sandals feature contoured footbeds, ensuring a comfortable fit for every foot type and size. Soft and breathable materials help prevent blisters.
Functionality
Narrow straps perform well in tasks that call for flexibility and agility since they are lighter and excellent for beach strolls, city exploration, and short hikes.
However, In hikes on uneven terrain and explorations, the wide straps provide excellent stability and support to prevent slippage and ensure a secure fit.
These sandals are made from durable materials, so you can confidently navigate rocky trails, sandy beaches, or muddy trails.
Teva sandals with wide straps have adjustable closures to fit your feet perfectly.
This reduces blisters and discomfort during prolonged wear because of the comfortable fit.
Wide strap Tevas are stable throughout a demanding task due to their strength and snug fit.
Price
Teva sandals with wide straps offer better value for money than narrow-strap sandals.
They are perfect for outdoor activities because they provide more stability and support. Wide-strap sandals are an affordable option that provides excellent foot support and comfort.
Additionally, Teva sandals with wide straps are often constructed from robust materials that can withstand harsh weather conditions.
These wide-strap Teva sandals are a cost-effective option for outdoor enthusiasts due to their longevity.
Conversely, narrow straps are usually made of a simpler design, making them budget-friendly.
However, the price difference might be insignificant.
The overall cost will depend on the Teva Sandals model, special features, and the retailer's pricing strategy.
Occasions for Wear
Teva sandals with wide straps are excellent for hiking, backpacking, and navigating varied terrains. They are ideal for rugged and challenging outdoor activities.
Providing support, durability, and stability to endure demanding adventures, these sandals ensure a comfortable and secure fit throughout your journey.
Whether trekking through rocky trails, exploring wilderness areas, or embarking on backpacking trips, wide-strap Teva sandals provide the reliability and performance needed for such outdoor escapades.
On the contrary, narrow-strap sandals are appropriate when comfort and style are essential.
Customer Feedback
Customers praise Teva sandals with wide straps for their durability and performance for outdoor activities.
Various outdoor adventures can be accomplished with these sandals due to their superior foot support and stability.
As a result of the wide straps, customers don't have to worry about slipping or twisting during hikes and traversing uneven terrains. They appreciate the sandal's durability.
Customers who like Teva sandals with narrow straps commend their fashionable appearance and adaptability.
They enjoy how these sandals go with various outfits and how light they are to wear.
It's a beautiful show to look at. I love the leather. It's supple and looks like a nice quality. However, I read the reviews before I made my purchase. They were reported to run small. I ordered an entire size bigger than I normally wear.

A review of Teva sandals by a customer on Amazon.