Are you thinking of an outdoor warmth arena? Whether camping under the stars or enjoying a tranquil evening at home, having the right fire solution can make all the difference. Today we present you with two unmatchable fire giants: Duraflame and Solo Flame.
They are two popular brands that promise delightful fire experiences but offer distinct design, functionality, performance, safety, and price features. As the flame rises, we will delve into these features to help you make an informed decision and find the perfect fire companion to suit your style.
Here are the key differences between Duraflame and Solo Stove
Duraflame and Solo Stove differ significantly in their design and fuel source. Duraflame makes camping memorable with its conveniences, friendly user firelogs, and firestarters, making it the best, fastest, and easy way to make fires. On the other hand, Solo Stove takes a traditional approach relying on wood as its fuel, providing an authentic and natural fire experience.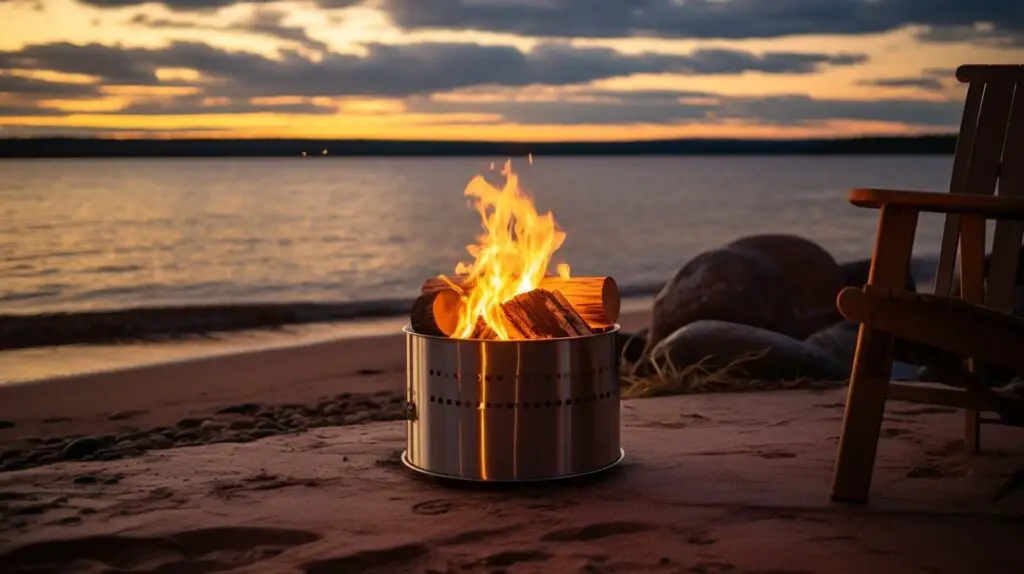 Specification overview: Duraflame vs. Solo Stove
| | | |
| --- | --- | --- |
| | Duraflame | Solo Stove |
| Price | $249 | $249 |
| Weight | 22 lbs | 20 lbs |
| Size | 19.5″ | 19″ |
| Material | Stainless steel | Stainless steel |
| Features | Removable grate and catch pan for ash cleaning | Removable grate and catch pan for ash cleaning |
Specification overview
Design
Duraflame keeps things super simple and convenient.
Where pre-made firelogs and firestarters make them easy to use and carry, their compact packaging allows you to easily store and transport them, perfect for hassle-free fire setups without additional tools or materials.
Duraflame is designed with a removable ashtray, making it easy when disposing of ash after use.
On the other hand, Solo Stove takes the world by the blaze, where its secret sauce is in its awesome double-wall design, making the fire burn more efficiently and creating way less smoke.
For example, Bonfire's double wall design promotes efficient combustion and reduces smoke.
It also reduces the temperatures creating an unforgettable camping fire experience. So when camping out with your friends, family or peers, you will have cleaner and cooler fire moments.
Functionality
Regarding its functionality, Duraflame and Solo Stove offer distinct features to cater to various needs.
Duraflame's firelogs and firestarters are designed to be versatile, making them suitable for both indoor and outdoor use.
They are perfect for cozy fireplace nights, campfire gatherings, and backyard bonfires.
The focus is on simplicity and ease of use, ensuring that even beginners can effortlessly enjoy a delightful fire experience.
On the contrary, with its innovative design, Solo Stove takes functionality to the next level. Their products feature a unique airflow system that enhances burning efficiency, producing less smoke and minimal ash production.
This makes Solo Stove ideal for outdoor adventures like camping and hiking.
If you love exploring nature and enjoy a cleaner, more enjoyable fire experience, Solo Stove is the perfect companion for your outdoor escapades.
In addition, the Solo Stove provides easy transportation; they are portable; you can move the Solo stove from your garage to your backyard or even to a campsite or friend's house.
Performance
Duraflame delivers consistent performance because Duraflame products offer a steady and reliable flame for several fire setups.
They ignite easily and burn steadily, providing satisfactory heat and ambiance. However, they may produce more smoke compared to some other fire solutions.
One of the main advantages of Duraflame is that it is easy to use the readily available fire logs and firestarters to remove the ideas of complicated setups.
Whether using it in an open field or an indoor setting, Duraflame offers a simple way to experience warmth.
In addition, Duraflame provides a moderate duration of the blaze, so you do not have to worry about the maintenance of the fire, making them the best for different occasions, from elegant indoors to outside night gatherings.
Meanwhile, Solo Stoves are innovative, providing an airflow design that maximizes burning, leading to more intense and efficient combustion.
The efficient burning process enhances the overall performance, producing a hotter fire with less smoke. Having less impact on the environment and making better use of the fuel.
Solo Stove has a longer lifespan this is due to their constitute materials used to make them., They are designed to withstand harsh and rigorous outdoor use, providing years of reliable performance.
Safety
Both Duraflame and Solo Stove prioritize safety. For instance, Duraflame emphasizes safety in their products, ensuring that their firelogs and firestarters are made from non-toxic materials and designed to burn safely.
They are designed to be used in controlled environments like fireplaces and fire pits. Through this are minimal risks associated with Duraflame fire pits.
When it comes to Solo Stove, they are committed to safety as well, intending to provide a safe and secure outdoor fire experience.
Its design of double-wall construction helps to contain the fire and prevent accidental tipping.
The double walls are made to withstand high temperatures creating and humble environment for campers.
Another safety associated with Solo Stoves is that they are smokeless; hence they do not impact health.
Price
Duraflame and Solo Stove have similar prices-selling at $249. However, we've seen reports of Duraflame running cheaper, especially during clearance offers.
Duraflame's accessibility and cost-effective nature Duraflame firelogs and firestarters make them attractive to those who value money and those with occasional fire needs.
However, the stainless steel (Solo stove), on the other hand, comes with premium materials and innovative designs.
They are relatively expensive compared to Duraflame.
The reasons for enhanced performance, durability, and unique features justify the higher price point, making it ideal for outdoor enthusiasts seeking high-quality and environmentally conscious fire moments.
Customer reviews
The feedback from customers using Duraflame and Solo Stove varies based on their individual needs and preferences.
Duraflame users love its convenience and user-friendly experience, while those using Solo Stove commend its brilliant engineering and efficient burning capabilities. Below are some of the customer's reviews:
Love this little guy
'This is the perfect size for when I don't want to fire up my larger propane fire pit or attempt a large fire in my real fire pit and commit to a lot of time. It burns as long as you want and extinguishes easily. I love it."

Duraflame review by a happy customer on Amazon.
A great product.
'' There is little to say about the actual product; it works brilliantly. Accessories are overpriced in my opinion but very well engineered and well thought out. Communication was spot on, and delivery was quick.''

A review of Solo Stove y a happy customer on Trustpilot.
Which is the best suited for you?
After exploring the differences between Duraflame and Solo Stove, the ideal choice depends on your needs and preferences.
If you value convenience and reliability for various indoor and outdoor settings, Duraflame might be your go-to option.
Conversely, if you are an outdoor enthusiast seeking an efficient and modern camping experience with reduced smoke, Solo Stove could be your perfect match.
Consider your requirements, ambiance need, intended use, and budget to select the best fire companion for your lifestyle.