European beds have captured the hearts of many with their unmatched elegance. The beds offer simplicity and comfort, making them the most popular bed choice globally.
The bed is accompanied by a fitted sheet at the bottom and a duvet on top. However, understanding the differences and options is crucial for those looking to furnish their homes.
In this article, we will embark on a journey through the world of European beds exploring various types, sizes, and styles and comparing them to American standards.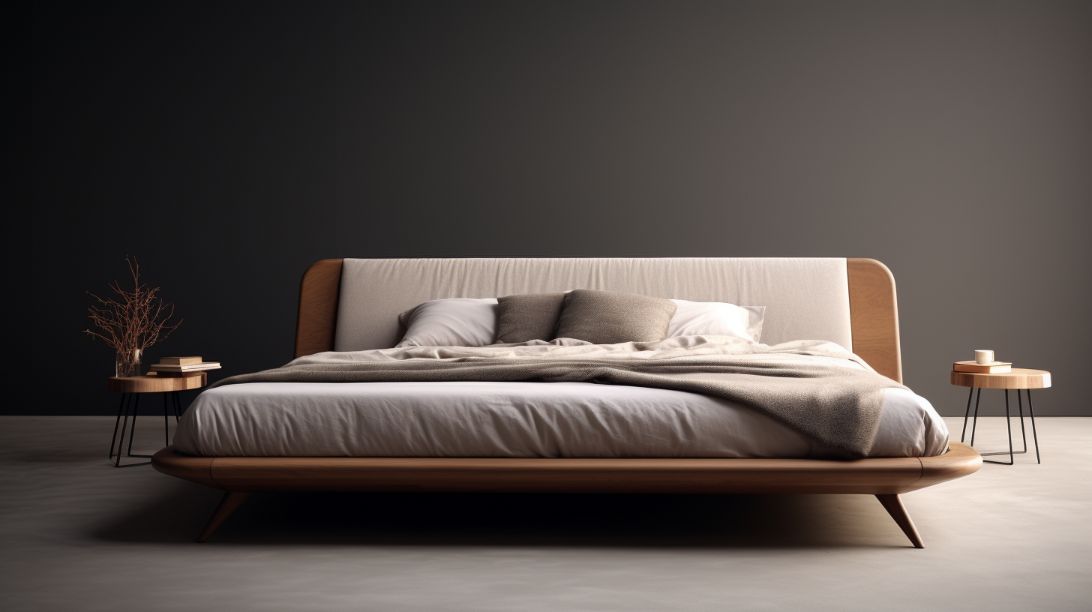 Different Types and Sizes of European Beds
The array of European beds comes in various types and sizes, each tailored to answer the questions of different customer preferences. Let us discuss these diverse and common types of European beds in detail:
European King Bed
The king bed is adored and glorified for its generous dimensions and majestic appearance. The bed measures approximately 160 cm x 200 cm (5'3″ x 6'6″).
It remains the most treasured choice for couples or individuals seeking luxurious sleeping space. Many European homesteads offer this luxurious, comfortable retreat for a restful night.
European Queen Bed
This bed type is slightly smaller than the European king. The bed spans 160 cm wide x 200 cm long (5'2″ x 6'6″). It is an excellent option for couples with limited space and single individuals seeking added room for comfort.
The Queen bed is widely favored in children's and guest rooms. The bed size balances the size of space and functionality.
European Double Bed
If you visit Europe and spend a night or two at one of the hotels, don't be surprised to find a European double bed.
Commonly referred to as a full-size bed, this bed is popularly known across European hotels and restaurants.
The dimensions measure approximately 140 cm x 200 cm (4'7″ x 6'6″).
It is an adaptable choice for guest rooms or single individuals seeking a more spacious space. This type of bed provides a larger area compared to twin beds.
European Twin Bed
This type of bed is an alternative to a double bed, especially for guests who do not want to share a bed but want to share a room.
European beds are similar to the American twin bed; the European twin measures around 90 cm x 200 cm (about 35 in x 79 in).
It is a popular choice for single sleepers, children's rooms, or as part of bunk beds.
The European twin provides a tight and cozy resting environment, making it a popular choice for children's bedrooms.
European Single Bed
Have you ever thought of the bed you will spend in a hotel, especially when you are tall? You do not have to worry anymore as a European bed will ensure a comfortable sleep and unforgettable moments.
The European single bed is another popular choice, about 100 cm x 200 cm (39 in x 79 in).
In addition, they are best suited for children's rooms, hostels, or compact living spaces. Because of its compact size, it utilizes space without compromising comfort.
European Full Bed
Slightly more comprehensive than the European twin, the European full bed measures approximately 140 cm x 200 cm (about 47 in x 79 in).
It provides a comfortable sleeping area for one person and accommodates taller individuals more comfortably than a twin bed.
The size offers more space than a European twin bed, providing comfort for couples or singles who prefer an extra room.
European Super King Bed
An ideal bed size for couples trick in, especially if they have a larger room; the European bed size epitomizes luxury and extravagance to couples.
The European super king bed measures around 180cm x 200 cm (6ft wide and 6ft 6ins long).
This majestic bed caters to those yearning for the ultimate sleeping space, offering an opulent and spacious relaxing oasis.
In European households, bed sizes are thoughtfully chosen, considering the room's dimensions, the number of occupants, and individual preferences.
European beds boast an extensive range of options to meet the unique needs of every sleeper, ensuring a restful and delightful slumber in elegantly styled surroundings.
Comparison of European Bed Sizes to American Bed Sizes
Regarding bed sizes, European and American beds have distinct features and characteristics, confusing travelers planning for a trip and homeowners sourcing for beds.
Let's explore the significant differences between European and American bed sizes for better decision-making.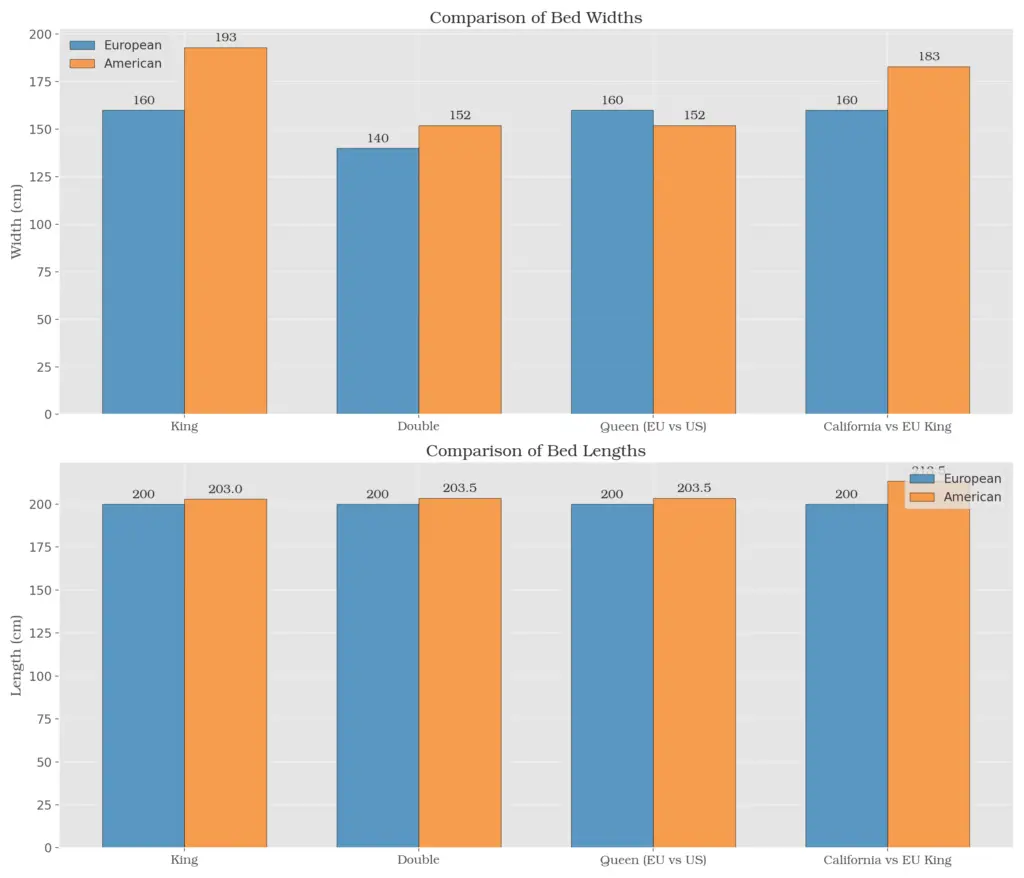 European King vs. American King
| | | |
| --- | --- | --- |
| Bed Size | European Dimensions (cm) | American Dimensions (cm) |
| European King | 160 x 200 | 193 x 203 |
| European King | 183 x 198 | 193 x 203.5 |
European double bed size vs. American queen
| | | |
| --- | --- | --- |
| Bed Size | European Dimension (cm) | American Dimension (cm) |
| European Double | 140 x 200 | 152 x 203,5 |
| American Queen | 160 x 200 | 152 x 203.5 |
European king-size bed vs. California king
| | | |
| --- | --- | --- |
| Bed Size | European Dimensions (cm) | Califonia Dimensions (cm) |
| European king | 160 x 200 | 152 x 203 |
| California | 180 x 200 | 183 x 213.5 |
Description of European Bed Styles and Accessories
European beds come in different styles and sizes, each carrying its unique allure and the naturalistic way of enhancing the look and the comfort of bedrooms. To understand better, let us look at the diverse styles, different features, and the reasons why consumers prefer European bed styles.
The work involved in designing and crafting European bed frames is highly acclaimed. European beds are available in different materials, from wood to metal frame beds.
For instance, Claassic European beds often feature intricate carvings and elegant designs; on the other hand, the modern European bed frames embrace the sleek and minimal elements reflecting the modern look of beds. To add, the frames used are crafted to last for a long time, thus ensuring stability throughout.
European sofa beds are the popular choice for those in search of versatile furniture where it can serve different purposes at different times.
It can serve as comfortable seating during the day and transform into a cozy bed during the night. They are best known for their sleek design and utilization of space. European sofa beds are ideal for apartments or rooms that are small. Their adaptability to different purposes makes them the most favored bed.
Murphy beds are ingenious, and space savors beds in Europe. This bed can be folded up against the wall when not used. Giving out a good space for other activities to be carried out.
They are primarily found in studios or guest rooms where space optimization is needed. Murphy beds seamlessly blend style and functionality, making them a preferred choice.
European modern platform beds take the contemporary look, style, and simplicity. With their clean line and well-designed approach, the bed welcomes you to a sleek, uncluttered look. They also feature a steady base where mattresses fit perfectly without needing a box spring.
European bed pillows and American bed pillows differ in terms of size and shape. European pillows are more extensive and square in shape, measuring about 65 cm x 65 cm. These pillows are very excellent and provide a cozy ambiance. The generous looks enhance the general aesthetic of the room.
How To Choose The Right European Bed Size
The right bed is paramount for a comfortable and peaceful night's sleep. Several crucial factors need to be considered to make an informed decision.
Below are tips to help you make informed decisions.
Evaluate room size: Measure your bedroom's dimensions to determine the available space for the bed. Leave enough room for easy movement around the bed and other furniture.
Number of sleepers: determine the number of people going to sleep on the bed, whether for one person or a couple. If it is for the couple, opt for a larger size for ample space for comfortable sleep.
Personal sleeping habits: take individual preferences and sleeping habits into account. Some prefer an extra room to stretch out; others find a cozy European double bed size sufficient.
Consider height: the height and build of the sleepers are other factors to consider, as others may prefer longer European beds, such as a king or super king size, to avoid discomfort during their sleep.
Test it out: before settling into a specific bed, you should visit the showroom; here, you can test the different beds available and the texture of the bedding and pillows. This helps in the perfect selection of the bed that suits your best interest.
Consider your future needs: potential changes might happen, like sharing a bed with a partner or accommodating guests. Going for a large bed size can be beneficial in the long run.
Check bedding availability: European and standard American beds have different bedding. Ensure that when you are buying, the right bedding and accessories are available.
By taking into account the above factors in addressing the common questions, you have concerning the type of bed you want. Now you can perfectly and confidently select the perfect European bed size that meets your individual preferences. Whether you like the ample space or the cozy retreat, a European bed will offer you all the options for a delightful slumber.