Whether you are visiting Maui for the first time or the hundredth time, picking a place to stay between Kihei and Lahaina can be daunting. Both Kihei and Lahaina are tourist destinations rich in local Hawaiian cultures for you to experience.
Let us look at the differences between Kihei and Lahaina to help you make an informed decision before traveling.
Here's the main difference between Kihei and Lahaina
The main difference between the Maui towns is that Kihei suits traveling on a budget since it offers more budget-friendly dining and accommodation options than Lahaina. The following table shows how they differ.
Differences
Kihei
Lahaina
Weather
276 sunny days per year
45 days of precipitation
More sunny days yearly (281 days) and precipitation (143 days)
Beaches
Beaches have few amenities
Beaches have more amenities like hotels and parking
Dining and accommodation
Budget-friendly and casual options
High price tag because of upscale setting
Nightlife
Relaxed feel
Bustling nightlife
Shopping experience
Laid-back shopping experience
Traditional shopping experience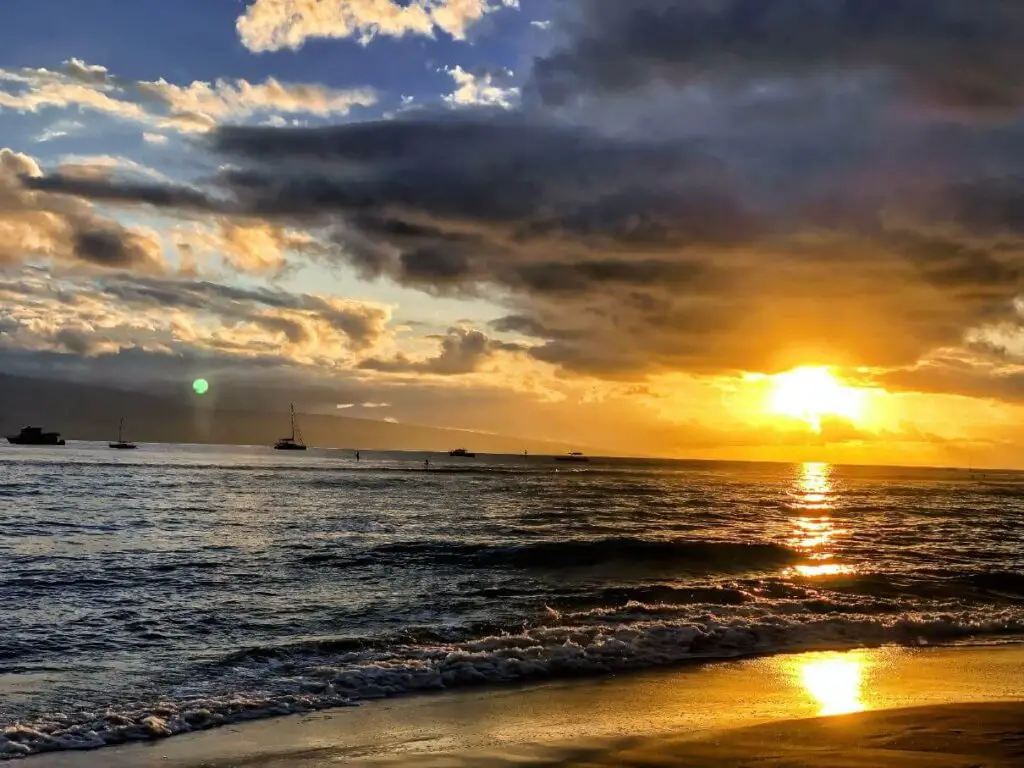 Weather
While Kihei and Lahaina are only about 25 miles apart, they have unique year-round weather patterns. Below is how their weather differs.
Kihei
Kihei sits on the southern side of the island of Maui and experiences sunny and dry weather.
It has 276 sunny days per year with average daily temperatures ranging from the mid-70s to the low 80s Fahrenheit, making it an ideal location if you enjoy consistent warm weather.
The trade winds provide a refreshing breeze, which helps to keep the temperature comfortable.
However, during winter, Kihei can experience some rain showers, although they are typically short-lived. On average, there are 45 days of precipitation, making it a bit drier than Lahaina.
Lahaina
On the other hand, Lahaina, located west of Maui, experiences a slightly different climate.
It is warm year-round, but temperatures can read between lows of 75 degrees and 88 degrees Fahrenheit.
Lahaina receives more rainfall than Kihei, especially during winter, when it can rain for several days.
Its 143 days of precipitation and 281 sunny days are more than Kehei. Therefore, you are also likely to experience some days with sunny and rainy.
Beaches
The kind of beaches you get in Kihei and Lahaina will give you a unique experience. Being a beach lover, you will enjoy many water activities, including swimming, snorkeling, and fun for the whole family.
Kihei
You will find plenty of beaches in Kihei. The most popular is Kamaole Beach, which has three parks: Kam I, Kam II, and Kam III.
Kamaole I Beach Park is the longest of the three parks, with a shoreline 590 yards long. It is a wide range of amenities. You can play volleyball on the beach volleyball court and later enjoy cool or heated showers in the shower stands.
The beach is equipped with lifeguard towers for safety while swimming in the Pacific waters. Kam I also boasts ample parking spaces, restrooms, and barbeque picnic tables. Once picnic tables are set, they give a good ocean view while eating.
Kamaole II is the smallest of the three beach parks and has fewer amenities. There are no rocks on the beach, and it slopes gently to the ocean. This makes the beach perfect for photography.
You will likely find restrooms, showers, a lifeguard tower, and a grass lawn to set picnic tables on the beach. However, due to its small size, parking slots are unavailable. Thus, you may have to park on the sandy beaches or along the streets.
Kamaole III is the second-largest beach park. Its shores are clean and feature a gorgeous playground for sand basking under the Maui sun. Like the other beach parks, you will also find barbeque grills, grass lawns, and oceanfront picnic tables.
Lahaina
Lahaina should be your go-to option for surfing beaches around Maui if you love surfing. Although it is among the calmest towns in Hawaii, it is pretty windier than Kihei, which makes surfing activities enjoyable.
Kaanapali is one of the most well-known beaches in Lahaina, which is also Lahaina's landmark. It is also regarded as one of the best beaches in America.
Formally an attraction for the Hawaiian elites, it features clear waters and white sand along the coastline. Mountains surround its super clear waters.
An activity that takes place unique from other beaches is cliff diving. Others are surfing, snorkeling, and whale watching. Kaanapali also has great customer reviews.
Napili is another prominent beach in Lahaina that is very family-friendly. After spending the day snorkeling, you can take the kids to enjoy watching turtles in the blue sea.
Nightlife
Kihei and Lahaina have significant differences in the nightlife experience they provide tourists. Lahaina is a better option for those looking for a lively nightlife scene with many entertainment options. At the same time, Kihei is more suited for those looking for a more relaxed atmosphere and a budget-friendly option.
Kihei
The town is known for its more laid-back and casual atmosphere, and the nightlife options reflect this. There are plenty of bars, restaurants, and nightclubs in Kihei, but they tend to have a more relaxed vibe.
Most of the bars are located in shopping centers and strip malls, and there are plenty of options for live music, karaoke, and dancing. Nightlife here is, therefore, more compatible with couples.
Lahaina
On the other hand, Lahaina is known for its historic charm and bustling nightlife scene. The town has a rich history dating back to the early 19th century, and many of the bars and clubs in Lahaina reflect this heritage.
The nightlife in Lahaina tends to be more upscale, focusing on fine dining, craft cocktails, and live music. Traveling with friends and groups is perfect in Lahaina.
Dining
The food culture in Hawaii is reflected in both Kihei and Lahaina. However, you may find the experience quite different. Here is their distinction.
Kihei
In Kihei, dining options tend to be more casual and budget-friendly. There are many options for fast food, chain restaurants, and local eateries serving classic Hawaiian dishes such as poke, plate lunches, and shaved ice.
You will also find many restaurants in Kihei in strip malls and shopping centers. Moreover, there are plenty of options for outdoor dining with ocean views.
Kihei also has a thriving food truck scene, with various mobile vendors offering everything from fish tacos to Thai food.
Lahaina
Conversely, Lahaina is known for its upscale dining options. The town has a rich culinary heritage and is home to some of Maui's most celebrated restaurants.
Many of the dining options in Lahaina are located in historic buildings or on the waterfront, and there are plenty of options for fine dining, fusion cuisine, and farm-to-table fare.
Lahaina is also great for sampling local seafood, including freshly caught fish and shrimp.
Accommodation
During your vacation to the Hawaiian island of Maui, you may be stuck between the different accommodation options. The main difference is that Kihei offers cheaper accommodation while Lahaina has costlier rooms for your stay.
Kihei
In Kihei, most accommodation options are vacation rentals, such as condominiums, apartments, and villas. You will find them in high-rise buildings or complexes with amenities such as pools, hot tubs, and fitness centers. There are also a few hotels and resorts in Kihei, but they tend to be smaller and more budget-friendly than those in Lahaina.
Lahaina
Lahaina offers a wider variety of accommodation options. They include luxury resorts, boutique hotels, vacation rentals, and bed and breakfasts.
Many of the hotels and resorts in Lahaina are located on the beach or have ocean views, and they often feature amenities such as spas, restaurants, and bars. Lahaina has several historic buildings converted into unique accommodation options, such as inns and lodges.
Shopping
The availability of shopping facilities is one of the factors to consider when finding a vacation destination. The good thing is Kihei and Lahaina provide plenty of options for shopping, but they have distinguishable characteristics.
Kihei
Kihei offers a more laid-back shopping experience. The town has several shopping centers, such as the Kihei Kalama Village and the Azeka Shopping Center, which offer a range of shops and restaurants.
However, Kihei Kalama Village can sometimes get overcrowded and give you an unpleasant shopping experience.
Kihei also has several farmers' markets, such as the Maui Nui Farmers Market, where visitors can find fresh produce, handmade crafts, and other locally sourced goods.
Lahaina
Lahaina's historic district features many unique shops and galleries. The area has a lively atmosphere with street performers and vendors, making it a fun place to explore.
The shops in Lahaina offer a range of items, such as handmade jewelry, souvenirs, clothing, and art.
The area also has several shopping centers, such as the Outlets of Maui and the Lahaina Cannery Mall, which provide a more traditional mall shopping experience.
Conclusion
Kihei and Lahaina are superb vacation destinations to escape the modern world and enter the native Hawaiian world. You will find a difference in their services, mainly with pricing. Lahaina has more luxury amenities and services. Therefore, you are likely to spend more there when compared to Kihei's budget-friendly options.