Many hotels in the United States offer parking spaces at a price. However, the pricing varies depending on the hotel, but visitors often pay parking ticket prices separately.
For many reasons, this is a very common trend nowadays. Would you like to find out the ticket price overview in some of the hotels in the USA on average and why they are charging? Stick around.
Here's how much parking is at hotels on average
The average parking price at hotels in the United States is approximately $20. Hotels in major cities across the United States, like New York City, charge around $20-$25. The most expensive parking ticket goes for $30, and the least costly is as low as $10 in cities like Los Angeles.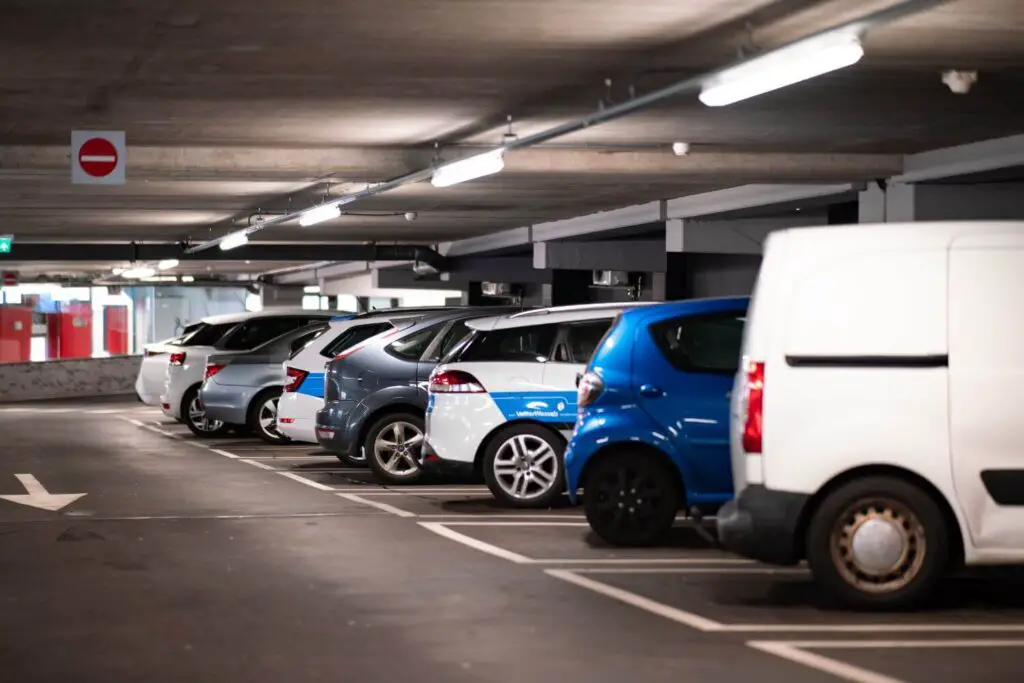 Parking ticket prices overview
Hotel Names
Prices
Grand Californian
$35-self parking
$50-valet parking
Paradise Pier
$25-self-parking
$35-valet parking
Del Coronado
$20 -first two hours
$10-each additional hour
&70-Maximum per day
Disneyland Hotel
$35-self parking per night
$55-valet parking per night
$40-Oversized vehicle per night
Paris hotel las vegas
$23-(Fri-sun)
$18-(Mon-Thurs)
Knotts Berry farm
$25
universals new hotel Endless summer
$15-per night
$8- for less than 30 minutes
$45- past 30min per daytime
Newport beach hotel and resort
$25-self-parking
$30-valet parking
Indigo Los Angeles
$45-valet parking only
Menger
$35-Valet parking only
Hudson hotel central park New York
$65-valet parking only
Magnolia hotel downtown Dallas
$35-valet parking only
Luxor hotel las vegas nevada
Free-Less than 60 mins
$12 -1-4hrs
$15-4hrs-24hrs
Rosen Shingle Creek hotel in Orlando, Florida
$28-self parking per night
$40-valet parking per night
Omni
$ 65 per 24 hours
Cosmo Hotel in Las Vegas
$15-1-4hrs
$18-4-24hrs
Hotel Mokara San Antonio
$35-day parking
$49-overnight parking
Cadillac Hotel Miami
$25-daytime valet parking only
$49-overnight valet parking only
Valet parking at Peninsula Hotel rooftop restaurant
$76 -overnight parking
Peninsula hotel in Beverly Hills
$60-onsite valet parking
Valet parking at the Gwen Hotel
$69-per night
Valet parking at Opryland Hotel
$40-per day
Thompson Hotel in Chicago
$50-per day
Ala Moana Hotel
$34.50- onsite self-parking/24hrs
$45-valet parking/24hrs
Rosen center hotel
$25- self-parking
$35-valet parking
Loews Hotel Minneapolis
$50-valet parking overnight
$25-(0-3hrs)valet parking
$35-(4-8hrs)valet parking
Pacific Edge hotel laguna beach
$34-onsite valet parking only/night per vehicle
Wynn hotel las vegas
$35-valet parking/day
Hotel Contessa
$45
St Louis union station hotel
$19- parking for 24hr
Hotel at the University of Maryland
$16-per day
Mark Spencer hotel
$25-per day
Omni hotel charlotte NC
$25-daytime valet parking only
$40-overnite valet parking only
Hotel Felix
$60-per night
Hotel Z in San Diego
$ 38-per-night valet parking
Valet parking at the California Hotel in Las Vegas
$15-(Mon-Thurs)
$30(Fri-Sun)
Linq Hotel Las Vegas
$15-self-parking
$23-valet parking
The Monarch Hotel in Honolulu
$4.50-per hour
$30-24 hours
Capitol Hill Hotel
$50-overnight valet parking
Cabana Bay Hotel
$18-self parking per vehicle per night
Hotel Irvine
$39-valet parking
$18-self parking
Hard Rock Hotel at Universal Orlando
$28 -self-parking per day
$37-valet parking per day
Condado Plaza
$26.50 -self-parking
$31.22-valet parking
Hotel Zaza Houston
$40- parking overnight/valet only
Drake hotel in Chicago
$75 -overnight valet services
Omni Hotel Nashville
$ 52 per day/per vehicle/valet parking
Ace Hotel
$55-valet parking/per day
Hyatt Regency hotel by Lax
$55- valet parking/per night
$45-self parking
Grove Hotel in Boise Idaho
$15-self parking/per night
$22-valet parking/per night
Hotel Boston Downtown
$35-self parking/per day
Holiday inn st Paul hotel
$ 19 per car/per day
Best Western hotel den haag
15 Euros-per day
Wynfrey Hotel Birmingham Galleria
$20-valet parking per night
$15-self-parking per night
Aria hotel
Free-0-60mins
$15-1-4hrs
$18-4-24hrs
Marriott Marquis Hotel, San Diego
$3-$10-60minutes
$10-$30-24hours
Flamingo Hotel
$15-1-3hrs
$18-3-24hrs
Blake Hotel New Orleans
$39.90-per night/valet services
$ 20 per night/self-parking
James Hotel in Chicago, Illinois
$28 -per night/self-parking
Pacific Edge hotel
$ 34 per vehicle/per night
George Bush Marriott Hotel
$19-self parking
Why do hotels make you pay for parking
Hotels make their customers pay for parking for various reasons, such as generating another revenue stream. Often, hotels charge parking fees as a supplemental source of revenue to their hotel business. Parking fee increases the hotel's income.
Other reasons include the following:
Third parties run the parking spaces.
Hotels may not be the ones running parking spaces, so payment for parking fees is necessary to compensate these third-party companies. They are responsible for ensuring the smooth running of these services.
Some hotels don't own parking spaces; they partner with owners.
Most major hotels do not possess parking spaces. They partner with nearby parking lots to provide these services. By paying, you will be compensating for this service provision. The price covers maintenance.
Cause they can
Sometimes charging for this service is a means of reducing its demand. Some hotels may have limited parking spaces.
Parking ticket prices will discourage many people from going to the hotel in their cars.
It is a way of defraying the cost of maintaining a parking lot.
Land to build parking spaces, especially in major cities, can be very costly, so charging a parking fee is a means of compensation for the amount used in making and maintaining these spaces and even the land rates.
Charging the parking protects customers who do not go with their cars to the hotels from incurring any extra hotel costs.
See related: Can You Smoke On Hotel Balconies?
Do hotels have free parking?
Yes, though not all, some hotels provide free parking spaces for their guests.
Some hotels provide free parking as a complimentary service to their guests. This is to make these hotels more attractive than their competitors.
Other hotels may also provide free parking in particular circumstances, like free parking for those hotel guests staying multiple nights.
Hotel guests with disabilities may also be offered parking for free.
Noteworthy, you should always check or call beforehand to find out if a hotel you want to go to provides free parking services.
Some hotels that offer free parking include:
Hilton Garden Inn New York/West 35th Street
The Hampton Inn & Suites Brooklyn Downtown
Holiday Inn Express New York City-Wall Street
The Wyndham Garden Brooklyn, and others.
The only downside is that it can be challenging to find one that will suit your needs the same way as the one forgone.
See related: Hampton Inn vs Hilton Garden Inn
Can I avoid the hotel's parking fee?
Yes, You can avoid paying hotel parking fees.
Here are some tips to avoid incurring parking fees, especially if you are on a budget.
Avoiding using your car
If possible, you can avoid going to the hotel in your car. In cities like New York, Washington DC, or San Francisco, you can easily get by without using a car. You can use their hotel transportation system.
Opt for public parking services
Depending on the hotel you are staying at, you can check out a public parking garage or a public parking lot.
This might cost much less than hotel parking. Calling in advance before going to the hotel will help you plan well.
Using parking apps
These apps may help you find cheap parking spots around the hotels you will be staying. They include; Parking Panda, Park Whizz, and others.
Looking for hotels with package deals
Look out for hotels that offer complimentary parking services or those that give parking plans with reduced rates.
This may come in handy, especially for those going to a particular hotel for more than a week.
See related: What Does A Package Holiday Include
Comparing hotels before settling
You can compare the hotel you want with nearby hotels of the same caliber before settling.
In the process, you might realize that others even offer free parking services. Other hotels may offer parking as a package of other benefits.
Asking for waivers
When checking out, you can try to ask for a waiver. Some hotels might say yes and thus save a few bucks.
Looking for hotel types that do not charge parking fees
To avoid the parking ticket price, you can opt for hotels in big cities, motels, resorts, hotels in the suburbs, or small towns.
Most of these hotels offer parking as a complimentary service.
If traveling by car, you should always keep in mind that you are more likely to be charged parking fees in most places that you will go. While it might not be a big deal, finding ways to navigate is imperative so that you can save on parking ticket prices. Above are some tips you can use, especially if you are traveling on a budget.