Are you the type of traveler who loves a homey atmosphere when staying at a hotel, or are you the type that would prefer a lavish hotel stay?
Choosing between a homey feeling and a luxury experience can cause a dilemma. Consequently, it becomes problematic when Residence Inn and Courtyard are referenced together in the same sentence.
Here's the main difference between Courtyard and vs. Residence Inn
The main difference between these two hotels is Residence Inn is an extended stay property while Courtyard provides a typical hotel experience. Both hotels are Marriott brands that provide different amenities with almost the same price range.
Overview: Differences between Courtyard and Residence Inn
Courtyard Inn
Residence Inn
Prices
More pricey.
Cheaper compared to Courtyard.
Style/feel
More stylish & provides a hotel experience.

Modern style
Less stylish and provides a home-like feel.

Traditional style.
Room types
Standard, executive, suites.

No kitchen.
Studio, One-bedroom, and Two-bedroom

Rooms have separate equipped kitchens.
Services and amenities
Breakfast is paid on order.

Free Wi-Fi is available.

Mini-shop available but no grocery delivery services.
Free Wi-Fi and complimentary breakfast.


Shop and Grocery delivery services are available.
Food and restaurants
Presence of full-service restaurants and bistros.
No full-service restaurants.
Family-friendly
Less family-friendly.

Room spaces are suitable for single stays.
More family-friendly.

Spacious rooms with different living and sleeping spaces.
Location
Located in urban spaces.

Have over 1200 hotels globally.
Located in the Suburbans.

Have over 800 hotels globally.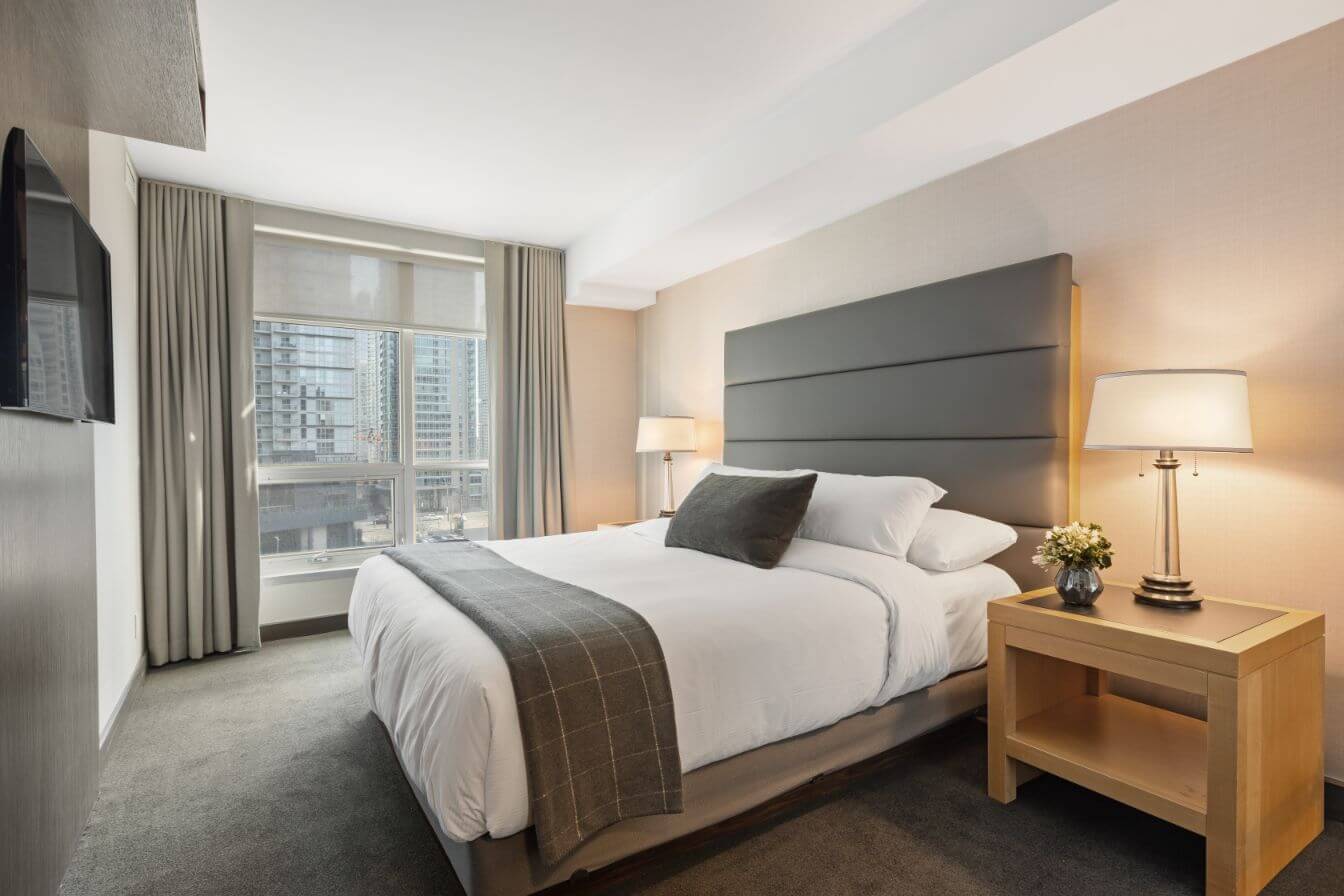 Numbers of Location
Most Residence Inn properties are in suburbans while the Courtyard hotels are in urban areas. Both hotels are geographically spread globally and in the United States. So, if you are looking for hotels for international travel, both will serve you well.
Residence Inn
Most Residence Inn properties are in suburban areas. The Residence Inn chain of hotels is in residential neighborhoods close to leisure attractions.
So, if you are traveling with exploration in mind, this hotel will serve you well.
Though Courtyard has a lot of hotels worldwide, the Residence Inn hotels also have a good number of hotels spread around the globe. There are 855 Residence Inn hotels worldwide.
Regarding Continental spread, three-quarters of their hotels are in North America 863.
The United States hosts most Residence Inn hotels. Twenty-one in Europe,2 in South America, 6 in the Middle East, 6 in Central America and the Caribbean, and only one in Africa.
You will likely find a Residence Inn in most states in the United States.
Courtyard
On the other hand, the Courtyard Inn chain of hotels is in urban areas. The hotels are in business districts that are close to convention centers and areas that are busy.
If you are looking for a temporary overnight stay close to central business centers or airports, this is for you.
When it comes to numbers, Courtyard inn takes the lead. There are 1254 Courtyard Marriott hotels worldwide.
Like its sister chain of hotels, Residence Inn, Courtyard hotels are on a few continents.
Similarly, the United States in North America hosts most of its hotels. That is 1038. Others are as follows:76 Europe, 10 Middle East Africa, 89 Asia and Pacific, and 43 the Caribbean and Latin America.
Similar to the Residence Inn, their hotels are also in many states.
Services and amenities
There are some noteworthy differences in the services and amenities offered by a Courtyard and a Residence Inn.
Residence Inn
The Residence Inn's service and amenities suit extended stay needs.
For instance, complimentary breakfast is a Residence Inn attractive feature that is not in Courtyard hotels. Wi-Fi is also another free service they provide.
However, they do not have full in-house restaurants. This is because most of their rooms have kitchens where they can make meals.
Additionally, they provide a grocery delivery service to ease their clients' stay.
Other amenities you can find here are business centers, swimming pools, small-sized convenient shops, and On-site laundry, depending on the hotel.
Courtyard
Unlike the Residence Inn, services provided in the Courtyard hotels are similar to those in other typical hotels.
Their services are much higher than those provided in a Residence inn. They aim to deliver a somewhat luxurious hotel experience.
Dissimilar to Residence Inns, courtyard hotels offer a full in-house restaurant called Bistro. It provides its customers with a place to eat and hang out.
You will likely find a pool, business center, convenience shop, and laundry at a Courtyard hotel. There is no Complimentary breakfast in the Courtyard. You will have to pay separately.
Rooms/accommodation
Both hotel chains offer rooms of different sizes and types at their locations. The rooms are other because each hotel chain targets a diverse customer base.
Residence Inn
You can expect to find suites with separate sleeping and living spaces in the residence Inn. The Courtyard doesn't. The types of rooms in the Residence Inn include studio, one and two-bedroom suites.
Here rooms have a kitchen where their clients can make their meals which is not available in a Courtyard. All rooms in the Residence Inn chain of hotels have primarily similar layouts.
Courtyard
In contrast, the rooms available in a Courtyard include; standard, executive, and suites.
Rooms in a courtyard are similar to those in a mid-upper-scale hotel. They are very comfortable and clean.
Courtyard hotels in upscale urban areas contain some high-end rooms for their clients. These rooms are luxurious compared to high-end options provided at a Residence Inn.
In a standard-type room in a courtyard, expect to find a sofa, desk, and chair. Food or kitchen features you will likely find in the room include a simple coffee maker and a mini fridge.
Unlike in a residence Inn, rooms in these hotel chains may have varied layouts depending on the city.
See related: Can You Smoke On Hotel Balconies?
Family- Friendly
When planning for family travels, a hotel has a lot to consider. Both Courtyard and Residence Inn provides a different experience.
So, if you are torn between the two, here are a few differences that can help you choose.
Residence Inn
If you want to experience a hotel that will give you a home away from experience, then choose a residence Inn. Their hotels provide a homey feeling for extended stays.
They also provide complimentary breakfast; thus, families can save a buck if traveling on a budget. Wifi is also complimentary.
Their hotel room spaces are also very generous and suitable for a family setup. They offer One-bedroom, two-bedroom, and studio rooms. Additionally, there is an equipped kitchen in case the Family needs to make meals.
Furthermore, the location of these hotels in suburban areas also offers the Family a different experience. Their location is near leisure attraction facilities, and families can get entertained during their stay.
Additionally, there are also pools for family enjoyment.
Lastly, their prices are fair and favours families who want extended stays.
Courtyard Inn
Conversely, Courtyard Inn provides a typical hotel experience. If you would like an overnight hotel room for your Family, this can sort you out.
Unlike the Residence Inn hotels, these are in Urban areas. So, if looking for a hotel for the Family near an Airport, a Courtyard will be convenient.
Similar to a Residence Inn, they also have pools and other basic amenities for comfort.
The downside of these hotels is that their room spacing is identical to standard hotels. Spaces are limited, and you will need multiple rooms for a family.
These hotels are also a bit more costly than Residence inn hotels. Therefore, it may not be budget-friendly to suit family needs. Complimentary breakfast is not available here. So, if you are tight on the budget, you might spend more here.
Style & Feel
The style and experience you will get at these hotels are very different. A Residence Inn will give you a homey feel, while in a Courtyard, you will get a hotel experience. Take a look at the distinctions.
Residence Inn
Usually, these hotels are not as stylish as their Courtyard counterparts. But in recent times, Marriotts has leveled up its style, but still, it is somehow traditional. In some areas, the Courtyard still beat them.
A typical Residence is simple in style. It has furnishings and decor that give a homely vibe. Here you will experience a comfortable, clean environment but nothing as memorable.
So, the residence inn might not be a great choice if you are looking for something stylish and luxurious.
Courtyard Inn
When it comes to style, a courtyard hotel wins. Its design is on a higher notch, from the lobby to the rooms. This also depends on the location, as they are others in posh areas which are way classy.
A Courtyard standard hotel is way sleeker than a Residence Inn. So you know where to go for a more stylish feel.
Both of these hotels target different users. The quick guide above will provide basic information before settling for either. Depending on what you want to experience, the two are a great choice. Their price range is not as diverse as well.
More Residence Inn hotel comparisons
More Courtyard hotel comparisons