Have you ever been stuck deciding which hotel to stay at when planning your vacation? With so many alternatives, TownePlace Suites and Courtyard stand out as exceptional brand hotels offering unique accommodations and services.
In this blog post, we will look into the world of these two Marriott chain hotels unraveling their different characteristics and guiding you to an informed selection.
So let us explore which best meets your needs and preferences.
Here's the Difference Between TownePlace Suites and Courtyard
The main difference between these two hotels is in the length of stay. Courtyard caters to business and leisure travelers, who often stay for shorter periods, offering basic hotel rooms with standard amenities. Meanwhile, TownePlace Suites caters to extended-stay guests, offering larger rooms with fully equipped kitchens and facilities appropriate for more extended visits.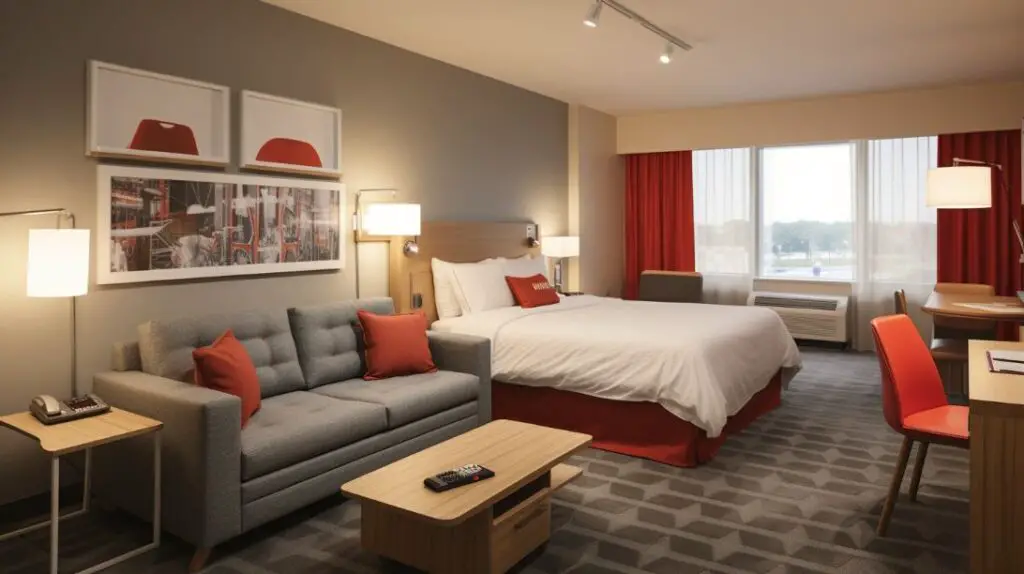 Quick comparison overview
| Criteria | TownePlace Suites | Courtyard |
| --- | --- | --- |
| Target Market | Extended-stay guests | Business and leisure travelers |
| Accommodation | Spacious rooms with fully equipped kitchens | Efficient and well-designed standard hotel rooms |
| Location | Residential areas, near business districts | City centers, near major attractions |
| Amenities | Basic amenities, fitness center, outdoor spaces, pet-friendly | High-end amenities, fitness center, on-site dining, business facilities |
| Dining Options | Complimentary breakfast | On-site restaurant and bar |
| Workspace | Functional workspace | Extensive business facilities |
| Pet-Friendliness | Yes | Yes |
| Prices | More affordable | More expensive |
| Refund Policy | Adheres to Marriott's broader cancellation and refund policy | Adheres to Marriott's broader cancellation and refund policy |
Target Audience and Stay Duration
TownePlace Suites primarily serves guests who need to stay for an extended time, such as corporate travelers, relocations, or for personal reasons.
Its suites and amenities provide comfort and convenience over a long period.
Courtyard caters to a broader audience, accommodating both short-term and long-term stays.
Its adaptability appeals to business travelers looking for seamless connectivity and leisure travelers looking for a dynamic environment to explore their surroundings.
Amenities and Services
TownePlace Suites and Courtyard strive to provide exceptional amenities and services, each showcasing a different aspect of the experience.
TownePlace Suites gives complimentary breakfast, 24-hour fitness centers, relaxing outdoor spaces, and pet-friendly accommodations for extended-stay guests.
Courtyard's amenities are comparable to those of any similar hotel. The main goal is to provide the best hotel experience possible, so the level of service is usually one step above that of a TownePlace.
Unlike TownePlace Suites, Courtyard has its restaurant, the Bistro, that offers a variety of breakfast and dinner options and an on-site bar that allows guests to grab a drink without leaving the premises.
"One of the best Courtyards that I have stayed at. The staff and rooms were very good. They redefined hospitality and went above and beyond. We loved our family stay. We were travelling with my grandparents and they took good care of them. The breakfast was excellent. Special shout out to Sreytouch, Seila and Sorma."

A review on Tripadvisor by a happy client.
It also provides modern business amenities such as flexible meeting and event spaces, high-speed internet access, on-site dining, and a swimming pool.
Strategic Locations: Familiarity vs. Bustling City Centers
TownePlace Suites often positions its hotels in residential areas or near business districts, providing a sense of familiarity and convenience for long-term guests.
That allows guests to settle into the local rhythm and feel like a part of the community.
On the other hand, Courtyard properties are strategically situated in bustling city centers, close to major attractions, restaurants, and entertainment venues.
This prime positioning allows guests to effortlessly explore their surroundings and immerse themselves in the vibrant pulse of their destination.
Consider whether you prefer a tranquil neighborhood or a lively city center as the backdrop for your stay.
Look and Feel
TownePlace suites generally have a more relaxed and casual design aesthetic, often featuring warmth.
The decor tends to be cozy and home-like, with functional furnishings that cater to extended stays.
On the other hand, Courtyard hotels offer a sleeker and more contemporary design, incorporating modern elements, clean lines, and a polished look that reflects a business-oriented atmosphere.
Room Layout
TownePlace Suites specializes in spaciousness and a residential feel. They typically provide sizeable and more spacious rooms compared to courtyard hotels.
In contrast, Courtyard hotels focus on providing efficient and well-designed standard hotel rooms that cater to shorter stays.
Rooms
TownePlace Suites is perfect for extended-stay, ideal for travelers who need accommodation for long periods. Its extra space and features make it suitable as an extended stay option.
It features a modern style offering studio and two-bedroom suites with fully equipped kitchens and organized closet units that allow guests to live comfortably. These suites provide thoughtful spaces for both living and working.
"All around a very nice hotel. The rooms were very large and really nice. Giant TV. Very nice bathroom and a wonderful shower! The breakfast was quite nice. The road entrance to the hotel was a little weird and parking was crummy. Too many empty electric car parking spots wasting up front parking spots."

Bo must have enjoyed his stay at TownPlace Suite – a review from Tripadvisor.
On the other hand, Courtyard rooms provide the ideal balance of comfort and convenience, similar to what you'd expect from a posh business hotel.
These rooms aim to provide a relaxing and refreshing environment, with cleanliness as a top priority. They are fully equipped and ensure that guests have a trouble-free stay.
The layout of standard Courtyard rooms is similar to that of a traditional hotel room. A cozy sofa, a comfortable chair, and a functional desk thoughtfully placed for your comfort.
Unlike TownePlace Suites, which frequently offer suite or studio-style accommodations, Courtyard rooms aim to provide a traditional hotel room experience.
Pet-Friendliness
Pet-friendly policies at TownePlace Suites and Courtyard demonstrate their dedication to delivering exceptional service. They understand that pets are family and deserve to share in the excitement of travel.
These hotels recognize the importance of ensuring a stress-free and enjoyable stay for everyone involved by allowing pets to accompany their owners.
These policies provide pet owners with peace of mind and the convenience of having their four-legged companions by their side.
Whether it's a playful puppy or a cuddly cat, TownePlace Suites and Courtyard understand the importance of keeping guests and their pets comfortable and happy.
Pricing and Value
TownePlace Suites offers competitive accommodations with average pricing, catering to budget-conscious travelers and extended stays.
Value-added services include complimentary breakfast, Wi-Fi, fitness centers, outdoor spaces, pet-friendly accommodations, and fully equipped kitchens.
Courtyard hotels offer a mid-range to upper-mid-range pricing structure, catering to leisure and business travelers.
They provide value-added services; complimentary Wi-Fi, 24-hour fitness centers, and convenient access to local attractions.
Courtyard also participates in the Marriott Bonvoy loyalty program, offering benefits like room upgrades, late checkout, and exclusive lounge access.
These amenities provide a good balance between affordability and quality, making Courtyard hotels suitable for all.
Refund Policy
When comparing TownePlace Suites and Courtyard refund policies, keep in mind policies may differ depending on the location and terms of your reservations.
The TownePlace Suites refunds adhere to Marriott's broader cancellation and refund policy.
If you need to cancel your reservation, you should do so before the official cancellation date, usually 48 to 72 hours before the scheduled check-in time.
If you cancel within this time frame, you should be able to receive full payment of any prepayment or deposit you placed at the time of booking.
Like TownePlace Suites, Courtyard's refund policy follows Marriott's general rules. It is best to cancel your reservation before the cancellation period, 48 to 72 hours before your intended arrival. By doing so, you should be eligible for a full refund of any prepayment or deposit placed at the time of booking.
More TownePlace Suites hotel comparisons
More Courtyard hotel comparisons