Deciding between TownePlace Suites and Fairfield Inn may be overwhelming. For instance, in terms of accommodations, both hotels offer impeccable services catering to most travelers. However, digging deeper into their distinctive features can help inform your ideal choice.
This article explains the differences that set Towneplace Suites and Fairfield Inn apart. From the moment you enter their elegant lobbies to the meticulous attention to detail in their well-appointed rooms.
Here are the Main Differences Between TownePlace Suites And Fairfield Inn
TownePlace Suites caters to extended stays with spacious suites that include separate living, working, and sleeping areas and fully equipped kitchens. It has a more residential feel and is ideal for travelers who want to feel at home. On the other hand, Fairfield Inn caters to shorter stays by offering comfortable guest rooms with standard amenities.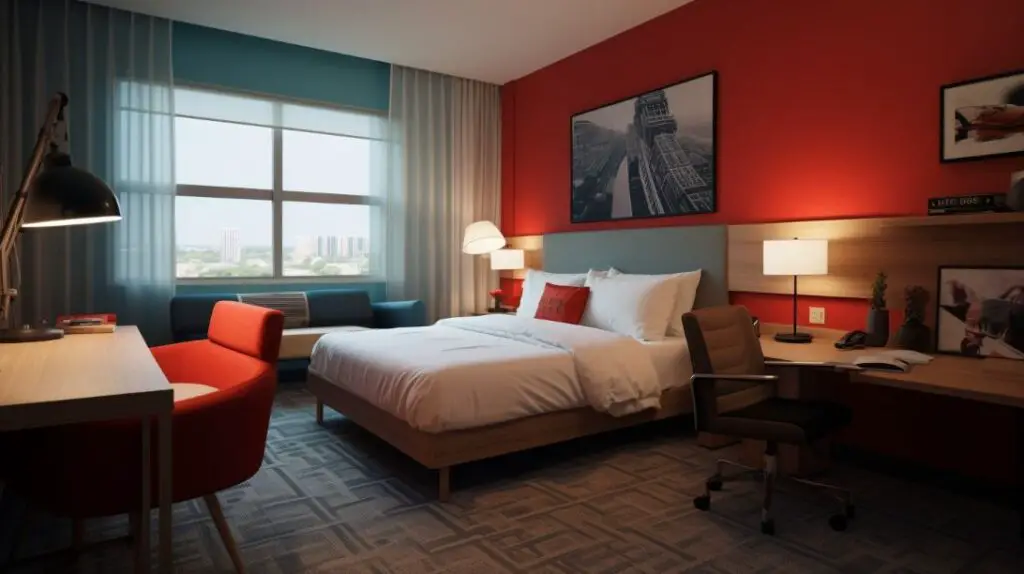 Quick comparison overview
| Criteria | TownePlace Suites | Fairfield Inn |
| --- | --- | --- |
| Target Market | Extended-stay guests | Business and leisure travelers |
| Accommodation | Spacious suites with fully equipped kitchens | Standard rooms with essential amenities |
| Location | Suburban or residential areas | Central and urban areas |
| Amenities | Basic amenities, fitness center, outdoor spaces, pet-friendly | High-end amenities, fitness center, on-site dining, business facilities |
| Dining Options | Complimentary breakfast | Hot breakfast buffet or made-to-order breakfast |
| Workspace | Functional workspace | Fully equipped working stations |
| Pet-Friendliness | Yes | Yes |
| Prices | More affordable | Competitive rates |
| Refund Policy | Adheres to Marriott's broader cancellation and refund policy | Adheres to Marriott's broader cancellation and refund policy |
Book your stay
Room/Accommodation
TownePlace Suites takes pride in providing spacious suites that offer a home-like experience. These suites provide ample space and comfort, making them ideal for extended stays for travelers who prefer more room to relax.
On the contrary, Fairfield Inn emphasizes simplicity and efficiency with its standard rooms. They are well equipped, providing a comfortable space for a restful night's sleep.
While they may not offer the additional square footage or separate living areas found in suites, Fairfield Inn's standard rooms focus on providing all the essentials for a pleasant stay.
With user-friendly workplaces, luxurious bedding, and modern amenities, these rooms cater to business and leisure travelers who value efficiency and comfort.
Fairfield Inn's standard rooms are perfect for guests seeking a streamlined experience without compromising quality.
Extended Stays vs. Shorter Stays
The TownePlace Suites aims to host visitors for extended stays of at least five nights. Compared to standard hotel rooms, the hotel offers larger suites with separate living, sleeping, and dining areas, giving guests more space and convenience.
At TownePlace Suites, the fully equipped kitchens in every suite are a true game-changer. Imagine the joy of preparing your favorite meals how you like them even when you're not home.
TownePlace goes above and beyond to create a warm and inviting atmosphere that feels like a home away from home. After a long day, guests can relax in the suites' cozy seating areas.
They have functional workspaces, ideal for business travelers or those who need to catch up on work while on vacation. TownePlace Suites' homelike environment provides a sense of familiarity and relaxation, making it an ideal choice for extended stays.
In contrast, Fairfield Inn caters to business and leisure travelers seeking comfortable and convenient accommodations for shorter stays.
The hotel offers well-appointed rooms with standard amenities suitable for guests who require a comfortable base during their travels.
Services and Amenities
TownePlace Suites have fully furnished kitchens that help guests prepare their meals, making it convenient for extended stays.
The hotel also provides an on-site laundry facility allowing guests to take care of the laundry.
TownePlace Suites has outdoor spaces like gardens and picnic spots, offering visitors a comfortable setting for unwinding and socializing.
The location is close to the highway and several other hotels. The staff was friendly and there was lots of parking. Rooms were very large, bed was comfortable and it was easy to get a comfortable temperature (I prefer it cool).

A review from a happy customer on Tripadvisor, she'll probably be looking forward to visit TownPlace Suites again in the future.
TownePlace also offers guests a continental breakfast with pastries, cereals, and beverages.
Access to a pool, a gym, and Wi-Fi for browsing and streaming.
Fairfield Inn, on the other hand, provides a hot breakfast buffet or a made-to-order breakfast option, ensuring a wider variety of choices, including eggs, bacon, fresh fruit, and more.
Fitness Center – offers a convenient space to stay active and energized during their stay.
The Fairfield Inn provides Business Center with fully equipped working stations, printing facilities, and meeting rooms to meet the needs of business travelers.
Furthermore, they provide free Wi-Fi throughout the hotel, allowing guests to access the internet and stay connected.
Location: Convenience and Accessibility
Consider the location of these two hotels when making your decision. Depending on your travel plans, one hotel might offer a more convenient and accessible location compared to the other.
Accessibility to attractions, transportation hubs, and business cent can significantly impact customer satisfaction.
TownePlace Suites properties are often found in suburban or residential areas, offering a quieter and more relaxed setting away from the hustle and bustle of city centers.
This location enhances the residential atmosphere, providing tranquility and a peaceful environment.
On the other hand, Fairfield Inn properties are located in central and urban areas, making them convenient for guests who wish to be close to business centers, tourist attractions, or transportation hubs.
This location choice offers easy access and proximity to the city's heart.
Pricing Value
TownePlace Suites understands the importance of being budget-friendly. With competitive rates, they aim to provide exceptional value for money without compromising the quality of their accommodations and services.
In addition, the fully equipped kitchens in every suite allow guests to save money on dining expenses. Guests can significantly reduce their overall travel costs by having the option to prepare meals in their kitchen.
On the other hand, Fairfield Inn prides itself on offering comfortable and convenient accommodations at competitive rates.
Whether a business traveler or a leisure guest, you can expect value for your money without compromising on essential amenities and services.
Moreso, Fairfield provides a range of standard amenities included in the room rate, such as complimentary Wi-Fi, flat-screen TVs, workspaces, and coffee makers.
These features ensure a comfortable stay without any hidden fees or additional charges.
Refund policy
Marriott is one of the major hotel chains in the world. Therefore, a refund policy applies to all of their properties.
Suppose you need to cancel a reservation at TownePlace Suites or Fairfield Inn; you should do so 48hours to 72hours (2-3 days) before the scheduled date, depending on the set time frame of a particular hotel, to avoid paying any penalty.
This rule helps to avoid last-minute cancellations, and as a result, it minimizes a significant number of unsold rooms.
Pet-friendliness
Fairfield Inn hotels usually allow up to two pets per room, with a weight limit of 50 pounds per pet.
Guests are typically asked to sign a pet agreement and are personally responsible for any damages caused by their pets.
Some locations may also limit where pets are allowed within the hotel and where access to specific floors or sections is prohibited.
TownePlace Suites, like Fairfield Inn, is committed to providing comfortable and pet-friendly accommodations that meet strict cleanliness standards.
Along with spacious rooms, TownePlace offers several features and amenities, such as designated walking spaces and pet waste stations, to ensure that visitors and their companions have a great stay.
Bringing pets incurs an extra cost at both Towneplace Suites and Fairfield Inn.
More TownePlace Suites hotel comparisons
More Fairfield Inn hotel comparisons