Have you ever been in a dilemma about whether to stay at SpringHill or TownePlace Suites? Well, you're not alone. Many other travelers like you struggle to decide between the two hotels.
In this blog post, we'll take a detailed look at the differences between the two hotels so that you can make an informed decision. We'll compare everything, from facilities to room features to cost and more. So, let's get started!
Here's the main difference between TownePlace Suites and SpringHill Suites
TownePlace Suites are designed for extended-stay guests, offering larger rooms with kitchens and separate living areas. At the same time, SpringHill Suites are geared towards business travelers, offering rooms with limited kitchen facilities and a focus on meeting spaces. TownePlace Suites usually have slightly fewer locations than SpringHill Suites.
SpringHill and TownePlace Suites are popular Marriott properties, each offering a unique set of amenities.
Here is a breakdown of other variations that make the two hotels stand out.
Difference
TownePlace Suites
SpringHill Suites
Number of locations
Over 400 locations in North America
Over 500 locations across North America
Services and amenities
Kitchen is available in the suites
Outdoor grilling area
Heated/Cooled Swimming pool
Laundry and delivery services
No kitchen/grill
No swimming pool
Rooms/Accommodation
1-4 guests per room
Studios and one-bedroom suites
1-6 guests per room
Studios but no one-bedroom suites
Style/Feel
Homely feel
Luxury
Family-friendly
More room options
Pets are welcome
Room options are few
Pets are not allowed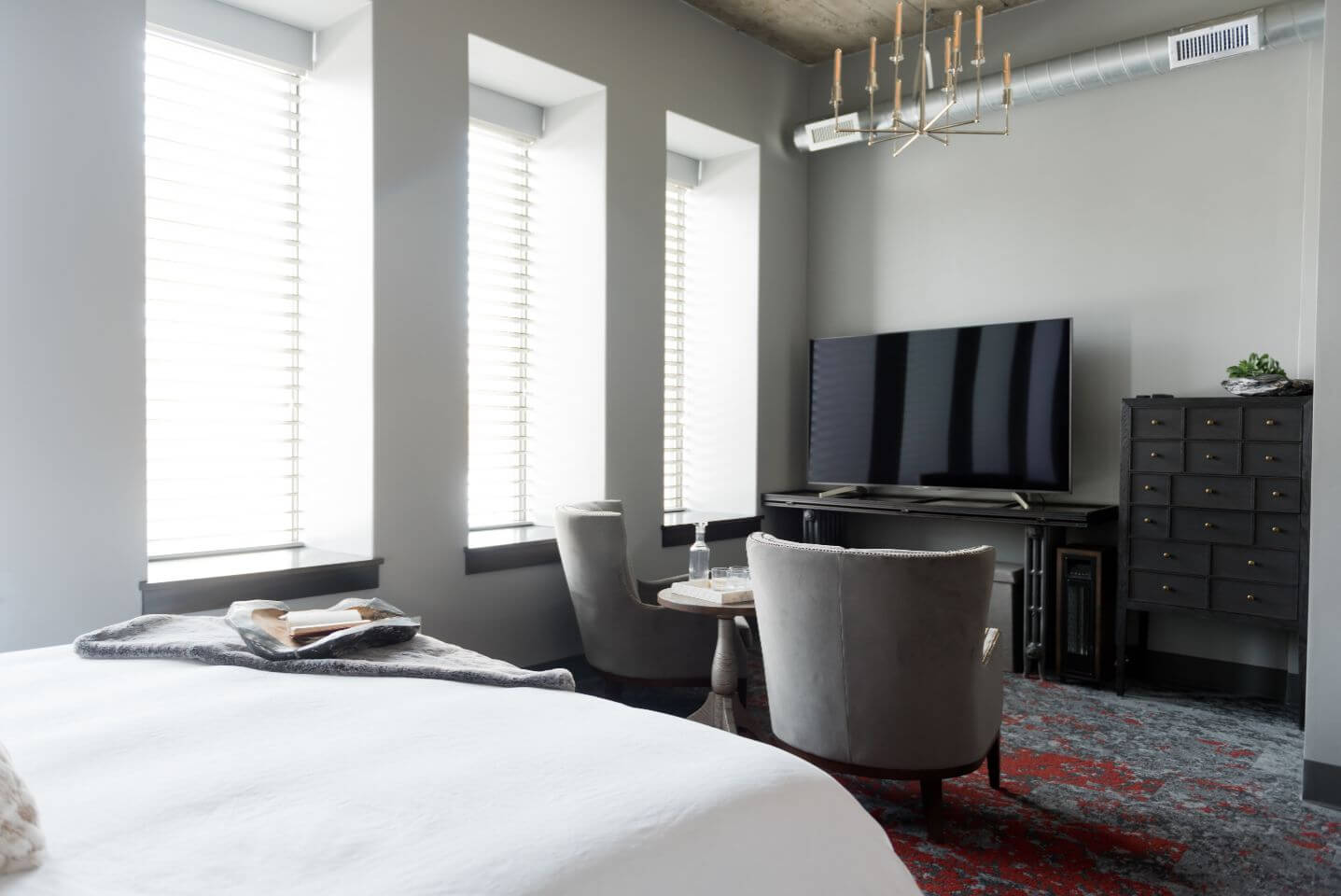 Number of Locations
Both hotels serve clients differently with regard to how you can access them in terms of location.
However, both brands offer a wide range of locations, so it's essential to research the area before booking.
TownePlace Suites
TownePlace Suites tend to be located in more suburban areas and away from tourist attractions.
They have about 400 locations, which is quite a few compared to SpringHill.
In addition, they serve mainly in North America.
The locations are spread out across the United States and Canada.
SpringHill Suites
In contrast, You will find SpringHill Suites more centrally located than TownePlace Suites.
They are typically found in major cities and near airports, providing easy access to attractions and transportation.
More so, there are over 500 locations of SpringHill Suites hotels.
The chain of hotels also serves mainly in North America.
SpringHill Suites is a more established brand under the Marriott umbrella, as you can find its hotels in the US, Canada, and Mexico.
Services and Amenities
The type of services you will expect to get at the two sister hotels is different. The services and amenities they provide are as follows.
TownePlace Suites
TownePlace Suites offers guests a range of amenities and services.
These include a complimentary hot breakfast that comprises a wide selection of healthy vegan-friendly foods and drinks to kickstart the day.
You get access to free wifi for all your browsing, uploading, downloading, and streaming needs while on vacation.
They provide gym facilities to their guests; therefore, no need to worry about missing leg day.
For more recreational facilities like swimming, TownePlace has a heated and cooled outdoor pool for their visitors.
A business center for all your work-related stuff is also available.
Reply to your emails and print new documents using the computer, printer, and fax machine they provide.
Guests have access to a full kitchen with a refrigerator, microwave, and coffee maker.
The hotel makes the stay fun by allowing visitors to borrow kitchen essentials like cookbooks, blenders, grilling tools, and other kitchen gadgets.
An outdoor grill for barbequing your meats is provided.
Their high-end grilling equipment makes your smoking and grilling experience memorable during your stay.
To easily access nearby attractions, markets, and shops, Townplace delivers guests with maps showing directions.
The hotel also allows outside food delivery services and have a market for essential items.
Additional amenities include closet and laundry facilities and pet-friendly accommodations.
SpringHill Suites
On the other hand, SpringHill Suites has its way of making its guests cozy.
For instance, guests wake up to a sandwich breakfast and a customizable bowl.
Their Rainforest Alliance Certified coffee is just the cherry on the cake.
They have a bar and restaurant that serves a full selection of handpicked wines, local craft beers, and tasty snacks.
Their suites are spacious, with high-quality beds and sofas that accentuate the authentic feel of luxury.
Additionally, the suites have workspaces to enable you to work remotely.
A business center is also available with internet-enabled computer stations to check your emails or book flights.
Free wifi is also available for seamless connections to accomplish tasks away from home or work.
SpringHill has a 24-hour market for guests to shop for their favorite cookies and snacks conveniently.
Expect to find a fitness center to keep you active during your stay. Guests can access equipment like dumbbells, weight lifts, and treadmills.
Sadly, there are no swimming pool facilities.
Rooms/Accommodation
The room types and number of guests per room vary. These are their differences.
TownePlace Suites
TownePlace accommodates between 1 to 4 guests per room.
They offer king studios, queen-queen studios, and one-bedroom types of suites.
The suites have a slight difference in the room features.
All the suites feature a comfy bed, seating area, dining table, bathroom, kitchen, and closet.
The king studio has one king-size bed, while the queen-queen studio has 2 queen-size beds.
The one-bedroom suites have larger rooms and a dedicated workspace that is unavailable in the studios.
SpringHill Suites
On the other hand, SpringHill Suites has two types of rooms and can accommodate up to 6 guests.
The suites available are queen/double suites and king studios.
There are no one-bedroom suites. The double suite accommodates 6 while the king houses 4.
The rooms lack a kitchen but have an in room-fridge and microwave.
Dedicated workspaces and spa-like bathrooms are available in all their suites.
Family-friendly
How compatible the hotel is with family and pets matters when booking your stay.
TownePlace Suites is more suitable for a family than SpringHill. Here's why.
TownePlace Suites
The presence of a kitchen, grilling area, and wise selection of suites to stay in show how accommodating TownePlace is for a family.
Additionally, pets are allowed in the suites.
Although the hotel allows a maximum of 4 people per room, if you have a huge family, you can book other rooms for the kids as the number of rooms you can book are unlimited.
Laundry facilities are provided, so no need to worry about kids' dirty clothes.
Children can enjoy having fun with the temperature-controlled pool they have available.
SpringHill Suites
In contrast, the lack of enough amenities disqualifies SpringHill from being a family-friendly hotel.
For instance, there is no kitchen, swimming pool, laundry services, food delivery services, or maps for tourists.
Pets are also not welcome in SpringHill Suites.
However, the presence of a gym, wifi connectivity, and a market available in Townwplace is a little consolation for those traveling with families.
Style/Feel
The atmosphere of a hotel space matters when choosing between TownePlace and SpringHill Suites. These are their variations.
TownePlace Suites
If you want a homely feel, then TownePlace is the right hotel.
The suites are modernly equipped with cooking and laundry facilities.
SpringHill Suites
On the other hand, SpringHill Suites give a luxury vibe with its cutting-edge designed suites.
Also, their services will suit your needs for short stays or breaks.
Both hotels are great options depending on your needs. TownePlace is suitable for extended vacations, while SpringHill works best for business trips. To sum up, the above points show the variations between the two great Marriot Group hotels to assist you in choosing which is best for you.
More TownePlace Suites hotel comparisons
More SpringHill Suites hotel comparisons