If you're planning a trip, choosing the best hotel to call home is an overwhelming task, especially when two top-brand hotel chains come to mind: Springhill Suites and Courtyard. While these hotels compete to offer exceptional accommodation and services to its guest, understanding their differences can help you make an informed decision.
Therefore, this article will delve into the distinctive features that set them apart, including shedding light on the best hotel with the needs and preferences that suit your interest.
Here's the Major Difference between Springhill Suites And Courtyard
The key difference sets Springhill Suites and Courtyard apart lies in the location. Springhill suites are mainly found in bustling urban and suburban areas. They can also be found near tourist destinations. However, Courtyard chains are found near major business districts, along major transport networks such as airports.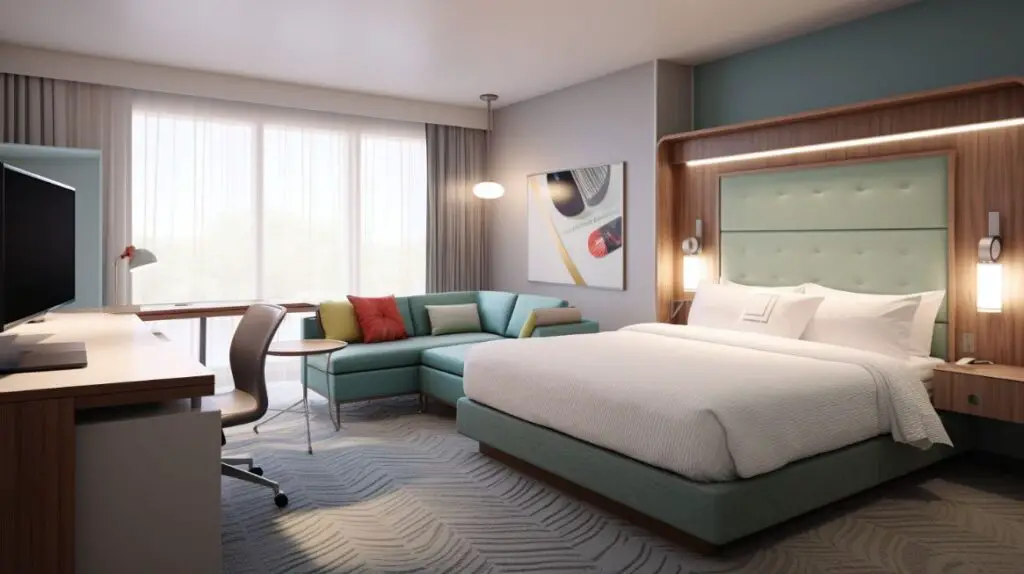 Quick comparison overview
| Aspect | Springhill Suites | Courtyard |
| --- | --- | --- |
| Aesthetic and Design | Contemporary, vibrant colors | Classical refinement, neutral colors |
| Location | Urban centers, tourist destinations | Business districts, transport networks |
| Room Types | Spacious rooms with separate living and sleeping areas | Standard rooms and suites with separate areas |
| Amenities and Services | Complimentary breakfast, free Wi-Fi, fitness centers | Fitness centers, BBQs, outdoor pools, high-speed Wi-Fi |
| Price | Affordable, value for price | Exclusive to mid-range, more expensive due to amenities |
Springhill Suites vs Courtyard overview
Book your stay
Aesthetic and design
The styling of Springhill Suites is contemporary, embracing vibrant colors, exuding elegance and a cozy environment. Guests thrilled by the natural styling can make the best of Springhill Suites.
The lobbies are artistically designed that combine sleek and contemporary artwork. The setting of the hotel invites a welcoming and enjoyable stay.
The seating is strategically placed and offers a warm and soft place for guests to relax, socialize or even catch up on their work.
You can order hot coffee or cold drinks at these lobbies as you catch the breeze.
The interior design of Springhill Suites is very harmonious, creating a sense of comfort and relaxation; the hotel interiors use open and spacious layouts, allowing seamless transition.
Now, Courtyard hotel chains pride themselves on their classical refinement, which aims to create an upscale ambiance that resonates with the traveler's needs and preferences.
The interiors of the Courtyard hotels are designed with a mix of traditional and modern elements; the colors used in the decor are mostly neutral, oozing a sense of calmness and sophistication.
The tranquillity presented in the landscaping and outdoor areas of Courtyard Hotels is very appealing for Photophile travelers.
The well-maintained outside spaces of the Courtyard create memorable moments for guests.
Location
SpringHill Suites and Courtyard locations are well known for their strategic locations, catering to the different needs of diverse travelers. Both hotels have their unique ways of reaching out to their targeted guests.
For instance, Springhill Suites are located in vibrant urban centers. Thus, the hotel is ideal for business travelers needing easy access to corporate offices.
Springhill Suites are also strategically located within reach of popular tourist destinations, shopping centers, and cultural landmarks. Tourists can enjoy themselves and engage in local cultural activities.
On the other hand, Courtyard hotels have a wider distribution compared to SpringHill suites.
Their premises transverse many settings, including urban and suburban, near airports, major transportation networks, and popular tourist destinations.
Courtyard hotels are popular among leisure travelers who value convenience and accessibility.
The Courtyard homes near the residential settings or suburban areas are suitable for guests who need tranquillity and a peaceful environment outside the busy hustle life of the city.
These places often provide a friendly, serene, and natural setting for travelers to enjoy themselves and also get access to outdoor recreational activities such as zip lining.
In addition, both springhill suites and the Courtyard provides shuttle service to guests who need to catch a morning train or flight. They are typically situated along major transportation networks, making it easy for early birds.
Room Types
Springhill Suites and Courtyard offer exceptional room types to suit the different range of travelers' interests and preferences.
Each room these hotel chains offer is well-appointed and spacious, ensuring a comfortable and enjoyable stay.
Springhill Suites features spacious rooms containing separate living and sleeping areas where guests can enjoy privacy. The sleeping area features plush bedding, giving you a restful night of comfort.
The living area contains a sofa, a small desk, and a flat-screen TV.
I'm giving this 5 dots because it was exactly what we expected. Room was clean and housekeeping did a good job keeping it that way throughout our stay. Staff was very nice and the breakfast was just as expected. Hotel might want to consider having an employee make the waffles because it is chaos and someone is going to get burned.

A happy customer's review on Tripadvisor.
The Springhill Suites are also equipped with a kitchenette, with additional features such as a mini microwave, fridge, and coffee makers.
These suites are highly suitable for those guests who need a simple stay and want a comfortable stay.
In contrast, Courtyard hotels offer different types of rooms to serve clients' different interests and needs.
Standard rooms are spacious and well-appointed, with exclusive king-size beds, offering you the chance to forget all the past and create room for new memories at the expense of a Courtyard hotel.
In addition, Courtyard hotels also offer suites with separate living and sleeping areas. These suites offer guests extra relaxation.
Family getaways can have a simple and enjoyable stay; this is a hotel brand.
Amenities and Services
Springhill provides a range of amenities, including a complimentary breakfast built on quality and variety, giving its guests an extra morning boost.
You can get a sandwich or customize your breakfast at the Springhill Suites Hotel.
Restaurants and bars are available at SpringHill Suites, offering handpicked wines, local craft beers, or tasty snacks to make your evening great.
Have you wondered how you will conduct your remote job or how you will finish the series you recently started before kicking off your journey? Worry not because Springhill Suites have free Wi-Fi, making your online experience seamless.
In addition, Springhill Suites premises have shopping centers for you to get what you crave.
The business operating 24 hours a day just serves your interests at any time of the day.
Staying active is possible at Springhill Suites, which is equipped with fitness centers.
From treadmills and ellipticals to adjustable weight machines and dumbbells. All this ensures that every time you spend at the gym counts.
On the other hand, the Courtyard Hotel has everything to make your stay memorable and enjoyable, from fitness centers and BBQs to outdoor pools.
It is the fourth time we consider this hotel for our business trips and the experience is just amazing. Most friendly and responsive staff ever. And especially Boubacar who made our life easy before we check-in.

A review of Courtyard by a happy customer on Tripadvisor.
At the fitness center, expect to find weightlifting machines, flat-screen TVs, treadmills, and many other gym equipment.
Courtyard hotels also feature resort-style swimming pools, with additional elements such as a fully furnished sun deck, fire pit, grill area, and plush lounge seating couches.
The hotel also features laundry facilities; washing and drying clothes is not a problem, and large folding counters are provided too.
High-speed Wi-Fi connectivity is also available at the hotel, allowing guests to be productive and connected with other people.
Price
The prices of these top hotel chains vary; some contributing factors include location, amenities and services offered, room types and many others.
Springhill Suites offer a simple, comfortable, quality and conducive place to call home during your trip; the affordability of the hotel is very welcoming to those who have planned short periods trips.
With springhill suites, you can access all the amenities available with value offered for the price.
However, Courtyard Hotels offer a range of exclusive to mid-range prices; for guests who want luxury and opulent service, Courtyard Hotels guarantees it.
Several amenities, such as fitness centers, spas, an indoor swimming pool and the hotel's strategic location have all the reasons for them being more expensive than Springhill Suites.
Courtyard hotels are exclusively suitable for guests who need more comfort and convenience.
More SpringHill Suites hotel comparisons
More Courtyard hotel comparisons