In the world of upscale accommodations, selecting the perfect hotel can be a difficult task to do. With several brands of hotels available, it becomes difficult to distinguish between the services offered by each brand.
This article will examine the differences between the two renowned hotel brands: SpringHill Suites and Embassy Suites. From luxury accommodations to a wide range of amenities, we aim to ensure you make an informed decision and find the perfect place for your next trip.
Here's the Main Difference Between SpringHill Suites And Embassy Suites
SpringHill and Embassy Suites' main difference lies in their location; these hotel chains aim to provide convenient accommodations, but what sets them apart is their proximity to key attraction sites, shopping centers, and other factors. You will find these hotel chains in major cities and major transportation hubs, such as airports.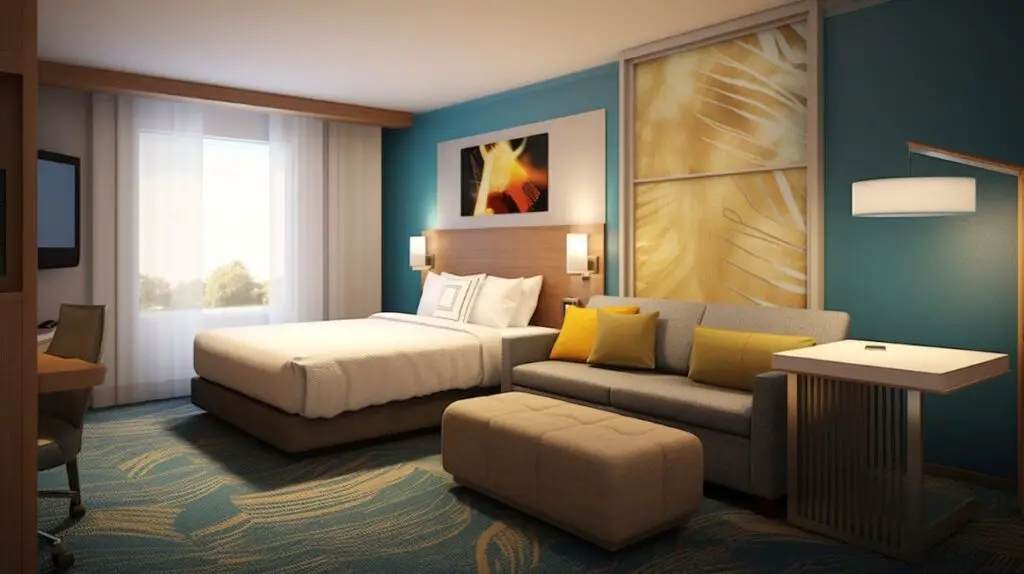 Quick comparison overview
| Aspect | Springhill Suites | Embassy Suites |
| --- | --- | --- |
| Amenities and Services | Indoor pools, fitness centers, free Wi-Fi | Tennis court, outdoor and indoor pools, spa areas |
| Room Types | Spacious rooms with separate living and sleeping areas | Larger, luxurious suites with separate areas |
| Aesthetics | Modern and contemporary styling | Classic, upscale aesthetic |
| Location | Urban and suburban settings | Prime or upscale areas |
| Price | More affordable | More upscale and expensive |
Springhill Suites vs Embassy Suites overview
Book your stay
Exceptional Amenities And Services
Regarding comfort and relaxation, both SpringHill Suites and Embassy Suites offer exceptional amenities to their guests.
For instance, SpringHill suites feature indoor pools and fitness centers that help guests maintain their physical exercise routine while away from home.
The facility has modern exercise equipment, including treadmills, and stationary bicycles, among others.
Setting your foot in Springhill Suites welcomes you to a place of comfort where you can enjoy your favorite movie or TV show. It is also possible to do and submit your remote work through Wi-Fi.
A working desk is set up in every suite to facilitate the daily running of your work from home during your expeditions.
Are you wondering where you can shade yourself from the scorching sun? Springhill Suites allows you to dip yourself in the outdoor swimming pool.
The feature that stands out the most is the friendliness of the staff. It's actually remarkable. True everyone had a smile, a hello, and offered to help. The lady at the (very nice) breakfast buffet was happy to meet a personal request, made very nice appropriate conversation, and was just a sweetheart.

Here's what a customer had to say about Springhill Suites on Tripadvisor.
Additionally, SpringHill Suites enhances the guest's stay by providing access to restaurants and shops that are open around the clock so that you may get a hot or cold beverage.
On the other hand, Embassy Suites often offers more advanced amenities and additional amenities to its guests than SpringHill Suites.
For example, Embassy Suites has a tennis court and an outdoor swimming pool section adjusted to the swimming pool area. Indoor pools are also available.
Spa areas are also available, serving all types of drinks; you only need to place an order and are ready to quench your thirst for any drink.
Your morning and evening routine is maintained throughout your trip because fitness centers and gyms are available at the facility.
At Embassy Suites, expect the best morning; complimentary breakfast is served hot to keep your day kicking. The experience exuded here is the best to call home away from home.
Event planning and successful execution are also possible; Embassy Suites offers event spaces for conferences, weddings, and other gatherings.
The wide range of amenities available at the facility makes Embassy Suites superior to Springhill Suites.
Room Types
SpringHill Suites offers spacious rooms for families, business travelers, and even leisure travelers. Despite the rooms being spacious, comfort and luxury are maintained.
The room is designed to have a separate bedroom and living area, offering privacy during family trips.
The kitchenette of the SpringHill Suites is equipped with a mini-fridge, microwave, and coffee maker.
However, the SpringHill Suites aims to provide a comfortable and functional environment for guests, especially those seeking an extended stay or a business trip.
On the other hand, Embassy Suites provides its guests with larger and more luxurious suites with separate living and bedroom areas.
Spending your time indoors at Embassy Suites is not tiresome; rather, it is very comfortable, for the fact that the living area seats are the best for resting is assured. You can also catch your favorite movie on the flat-screen TV.
The Embassy Suite Kitchenette has a fridge, microwave, dishwasher, and coffee maker. The hotel is ideal for families, groups, or guests seeking a more exclusive and extended stay.
At Embassy Suites, complimentary cooked-to-order breakfasts are available to guests upon request.
Aesthetics
Springhill Suites and Embassy Suites have distinct ways of decorating their premises to capture the interest of different guests.
Springhill Suites takes pride in the modern and contemporary styling of its properties. Vibrant colors, clean lines, and sleek furnishings always characterize the overall look of the hotels.
The design of this hotel aims to create a fresh and cozy environment. At the same time, the lobby areas are designed with stylish furniture and artistic styles throughout the hotel.
The colors used in the overall design of Springhill Suites are very vibrant and incorporate bold accents to create a lively ambiance.
The hotel's design is appealing, especially to guests who need a contemporary look.
Meanwhile, the environment and the design oozed by the Embassy Suites are more classic and have an upscale aesthetic. The design focuses on creating an elegant and sophisticated aura for all guests.
The lobby areas of Embassy Suites are spacious and grand, featuring high ceilings and ornate details. The seating arrangements in Embassy Suites are also luxurious.
I have family from out of town that visit with their children every other weekend. I love the Embassy Suites because it has a feeling of home. We enjoy the indoor pool in 50 degree weather and below. When we open the door to our suite it feel like we are at the beach. The sounds from the falls and fountains give the effect of the ocean.

Here's what a customer said about Embassy Suites on Tripadvisor.
The place's lighting is designed to create a warm and inviting ambiance throughout the property, such as in the atrium lighting.
Another essential feature of the Embassy Suites is the aesthetic plush furnishings in the interior decor of all the suites.
Embassy Suites focuses on providing luxury and indulgence and appeals to travelers seeking an exclusive experience during their trip.
Location
Springhill Suites' premises are often located in urban and suburban settings. Catering to travelers who want convenient access to major transportation networks.
SpringHill Suites are near airports, corporate offices, shopping centers, and entertainment districts.
On the other hand, Embassy Suites are strategically located in prime or upscale areas; they aim to provide exclusive and prestigious services.
Embassy Suites may also be found within residential settings, popular tourist destinations, regions, and renowned central business districts, focusing mainly on travelers who need a refined and sophisticated experience.
Price
Another determinant that differentiates between Springhill Suites and Embassy Suites is the price. Despite the hotel chains offering exclusive service to their guests, their prices do vary.
Springhill Suites hotel chains tend to be more affordable compared to Embassy Suites. Their friendly prices make them the best for budget-conscious travelers.
Embassy Suites, on the other hand, positions itself as a more upscale and opulent brand within the suite hotel industry. Due to this, the pricing of the Embassy Suites tends to be higher than Springhill Suites.
The extra amenities offered at the facility, such as a separate living area and bedroom, complimentary cooked-to-order breakfast, and evening receptions, have all the chance to increase the prices of the hotel.
More SpringHill Suites hotel comparisons
More Embassy Suites hotel comparisons