Choosing the place to call home during your trip has been made easy with these two giant hotel brands: Hampton Inn and Embassy Suites. It is clearer that the comfort and luxury offered by these two hotels are beyond imagination.
However, understanding the differences between Hampton Inn and Embassy Suites can help you make an informed decision and ensure a comfortable stay. From in-room services, amenities, prices, and room types, many factors set these two hotel chains apart.
Here's the Main Difference Between Hampton Inn And Embassy Suites
The main difference between Hampton Inn and Embassy Suites lies in their room configuration and amenities. Hampton Inn offers standard rooms with either one or two beds, while Embassy Suites provides suite-style accommodations where there is a separate bedroom from the living area, and they are spacious.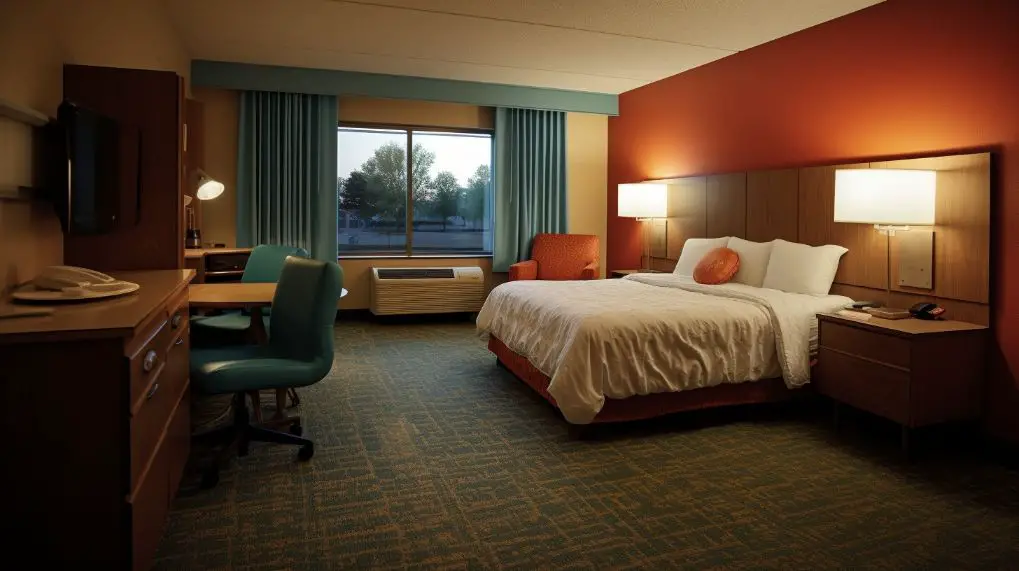 Quick comparison overview
| Topic | Hampton Inn | Embassy Suites |
| --- | --- | --- |
| Room Types | Standard rooms | Suite-style rooms |
| Amenities | Basic amenities, fitness center | Luxury amenities, fitness center, pool, spa |
| Location | Urban, suburban, near highways | Urban, suburban, tourist attractions |
| Price | Affordable | Higher-end |
| Aesthetic | Modern, clean | Upscale, luxurious |
| Target Audience | Budget-conscious travelers | Luxury-seeking travelers |
Book your stay
Room Types
Hampton Inn hotels typically offer standard rooms with one or two beds. The rooms are well arranged and provide all the required services to ensure a comfortable stay.
The hotel focuses on providing reliable and convenient services to all travelers, including families and individuals.
"My first choice of hotel when I travel is the Hampton Inn. This Hampton Inn was really nice. It was clean, spacious, and comfortable. What stands out at this particular Hampton Inn are the employees. I was greeted each day by the person at the front desk, as well as the lady preparing breakfast and any maintenance staff. I would definitely stay at this hotel again."

A review by a happy customer on Tripadvisor
On the other hand, Embassy Suites offers suite-like accommodations with more spacious rooms and a separate living area and bedroom. The hotel strives to provide more luxurious suites for its guests.
Embassy Suites are also ideal to call home during family trips; they provide enough space for children to sleep as well as play. Additional elements of privacy can be observed at these hotels.
To add to that, Embassy Suites have additional amenities such as kitchenettes. Allowing guests to prepare their own favorite meals.
Amenities And Services
Although the two chains of hotels offer a range of amenities, there are several notable differences in terms of the amenities they provide.
Hampton Inn hotels aim to provide essential amenities to their wide range of customers; some of them include complimentary breakfast, which features a variety of hot and cold drinks depending on your taste.
With Hampton Inn, you can enjoy Wi-Fi connectivity 24/7, allowing you to run down your daily remote tasks.
A fitness center is another common amenity in Hampton Inn hotels, keeping your exercise routine in place. You can physically keep your body fit using treadmills, deadlifts, etc.
Hampton Inn also features business centers working 24/7, providing express check-in and express check-out. You can shop and handle any business-related work conveniently.
The hotel has restaurants, bars, lounges, and dining options, serving all the choices guests would need. You can grab yourself a bite from the bars available.
In the case of Embassy Suites, the amenities offered here are classy and luxurious for travelers who intend to stay there. The suites aim to provide a more upscale stay in the hotel.
One of the prominent services provided by Embassy Suites is the cooked-to-order breakfast, where you request your preferred type of breakfast.
In addition, they provide an evening reception where you can enjoy your favorite drinks, either hot or cold. They include coffee, cappuccino, ice mocha, espresso or double, and other relaxing drinks.
Embassy Suites properties also feature fitness centers like Hampton Inn, so guests can keep up their daily exercise routine while at the hotel. After your exercise, you can cool off in the adjacent swimming pool at the restaurant.
For a more relaxing mood, you can indulge in one of the spa facilities at Embassy Suites.
Location
Location is another important component distinguishing between the Hampton Inn and Embassy Suites.
The Hampton Inn and Embassy Suites locations vary widely depending on the city, tourist attractions, and property location. Both hotel brands have a deep presence within urban, suburban, and popular tourist attractions.
Hampton Inn hotels have properties in urban areas, major highways, and suburban areas. The focus is to provide customers with easy access to transportation networks.
On the other hand, Embassy Suites are located in urban and suburban prime areas where desirable tourist attractions are available.
"My family stayed here one night before we left Los Angeles. It was very close to where we returned our rental car, so we easily crossed the street with our luggage. Our room was not ready when he arrived, but the man helping us at the front desk kindly stored our luggage and gave us access to the pool. The premium room with snacks was nice, and we ordered dinner from a nearby Domino's that was delivered quickly."

A happy customer review on Tripadvisor
In areas of upper-class or upscale residential neighborhoods, you are likely to find Embassy Suites.
In addition, Embassy Suites aim to provide a luxurious experience to its guests; this can be seen through their location sites, where they portray elegance and sophistication.
Price
The two hotel brands have different prices that cater to different travelers and are in accordance with their budgets.
Hampton Inn hotels aim at providing affordable prices to its guests compared to Embassy Suites. Budget-conscious individuals can make the best out of their trips with Hampton Inn hotels.
However, prices at all Hampton Inn vary depending on the location and season; it is more economical to spend your night at Hampton Inn rather than Embassy Suites.
In contrast, if you want luxury and all the opulence you can mention, then Embassy Suites will offer you all that. The more you spend, the more experience you get at Embassy Suites.
Embassy Suites offers its clients more upscale and luxurious service, which comes with high levels of comfort and amenities. As a result, the Embassy Suites' prices are higher than those of the Hampton Inn hotels.
Embassy Suites aims to provide more classy and cozy accommodation. The spacious rooms, separate living areas, and other amenities increase the rates.
Aesthetic
Aesthetics plays a key role in Hampton Inn and Embassy Suites, bringing these giant brands' general ambiance and overall outlook. These hotels have unique and distinct designs and styles to suit different guest preferences.
Hampton Inn, for example, has a modern and contemporary design aesthetic featuring clean lines and an elegant decorative touch.
Making the room a very attractive and inviting atmosphere for guests.
Contrary to Embassy Suites' more upscale and elegant aesthetic, the interior of the hotel properties incorporates a sense of sophistication and luxury.
With Embassy Suites, you can enjoy a welcoming environment with tasteful and stylish furnishings.
The lobby and common areas are spacious enough to exhibit a sense of belonging and refinement.
At Embassy Suites, expect a high-end place to call home, comfort, luxury, and a better experience during your family or individual trip.
Target Audience
Hampton Inn hotels target budget-conscious individuals or travelers without jeopardizing their comfort.
Hampton Inn's emphasis on affordability and practicality also appeals to travelers who prioritize affordable accommodations without sacrificing essential amenities and a comfortable stay.
While Embassy Suites targets a more upscale and discerning audience that values luxury, comfort, and more expensive amenities, some of its target audiences may include business travelers or families who need a more spacious stay.
More Hampton inn hotel comparisons
More Embassy Suites hotel comparisons