If you are traveling or intend to travel and love Hilton trademark hotels, then there is a good chance you are torn between the Homewood Suites and the Hampton Inn.
Is it in the extra amenities, quality of service, or location? This article breaks down their unique and major differences so that you can make a better choice based on your needs.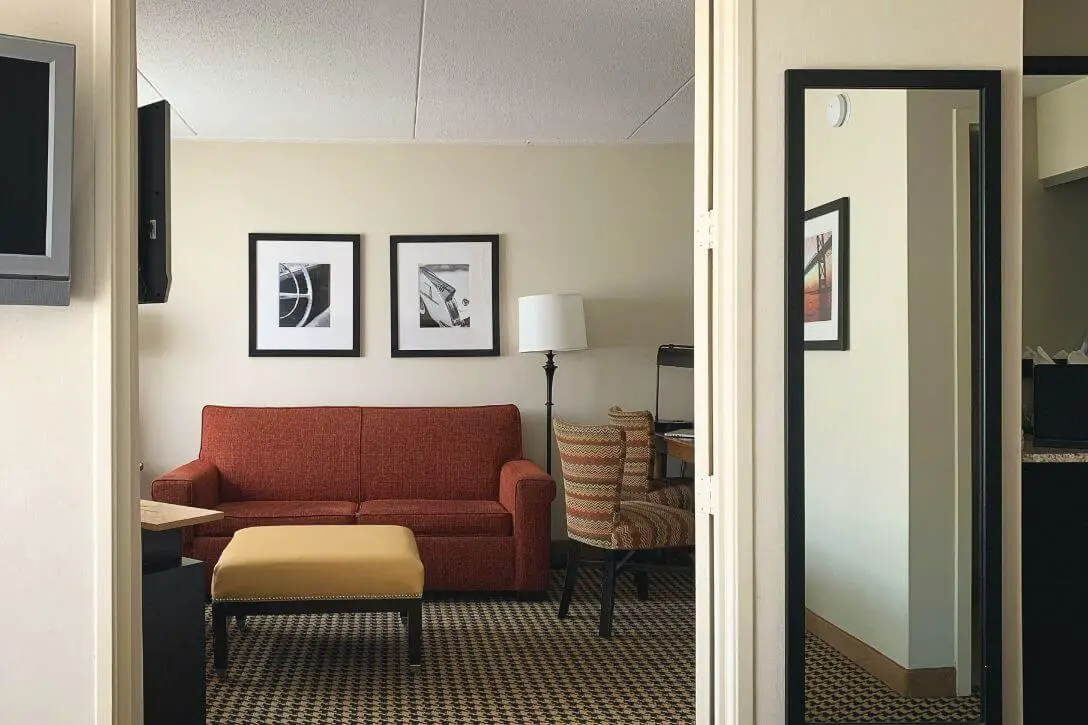 Here are the differences between Homewood Suites vs Hampton Inn
Both hotels are limited service establishments, but Homewood Suites are more apartment hotels or extended-stay hotels, custom-built and fitted like an average home. Meanwhile, Hampton Inn's are budget to mid-scale priced "motel" hotel for overnight guests.
Aside from the need for a peaceful good night's rest away from home, every traveler wishes for a memorable stay in the hotel of their choice.
After all, you are spending your hard money and value for money is all you ask for.
Below is a comparison overview table with the answers to the frequently asked questions of the two establishments.
| | | |
| --- | --- | --- |
| | Homewood Suites | Hampton Inn |
| Do they offer free breakfast? | Yes | Yes |
| Do they have amenities? | Extra | Basic |
| What is their major difference? | It is an apartment-hotel | It is a typical hotel |
| Type of service? | Limited | Limited |
| Do they accept pets? | Some do | Some do |
| Do they have free Wi-Fi? | Yes | Yes |
The following seven explained points would drive the point home and help you choose between Homewood Suites and Hampton Inn.
Type of hotel
Amenities
Services
Food and beverage
Location
Aesthetics
Prices
Type of Hotel
The two hotels have their biggest and most distinct difference in their premises' size and physical outlook.
The Homewood Suites gives you the feel of home away from home, its biggest win.
These apartment hotels are for travelers who wish to extend their stay from a few days to months or years.
The catch is that the hotel has open contracts, and occupants can check out whenever they wish.
The point of long-term accommodation is the "live" in an apartment rather than "stay" in a hotel.
The point is, across Homewood Suites chains is a substantial variation with respect to the quality of service offered and the amenities available.
The Hampton Inn, on the other hand, is a standard hotel with its services limited to bed and breakfast.
But because franchisees operate their chains, one Hampton Inn will be completely different from another.
Some Hampton Inn hotel rooms are basic, while other chains offer suites.
But because they are a trademark of Hilton Worldwide, their rooms across all chains are very decent compared to other hotels of that category.
Not forgetting that they are fitted with a few relevant amenities suitable for a business traveler.
Amenities
Homewood Suites, just like the name suggests, are just that.
These hotel complex are custom built and usually offers serviced apartments fully furnished with home-like amenities like TV in the rooms, laundry machines and a fully fitted kitchen.
You can expect the kitchen to have a sink, microwave, refrigerator and stovetop, whereas some kitchens will have a dishwasher and an oven.
This is because extended-stay occupants prefer cooking to eating out all the time.
These travelers are especially those on extended business assignments or families relocating and requiring temporary housing in a home-like environment.
In contrast, Hampton Inn offers quality rooms, just big enough like any typical hotel room.
As a consideration, they have a working table and free wifi for occupants who need to work on their computers and may also require Internet access.
Services
This is now where the two establishments draw, as both are limited-service hotels.
From the front desk, there is no staff to take your luggage to your room, and if you require basics such as more towels, soap or even a beverage, then you have to go to the reception in person.
But at Homewood Suites, you can order whatever you need from outside and collect it at the manager's reception.
They also have unlimited access to movies at the reception available to occupants at no extra charge.
Food and Beverage
Homewood Suites is known for its extended stay accommodations, including fully equipped kitchens.
But as such, the hotel still offers a complimentary hot breakfast buffet each morning and an evening social hour with light snacks and beverages on select weeknights.
The afternoon social hour is an excellent way for guests to wind down after a long day and mingle with other guests.
For convenience, Homewood Suites has a 24-hour convenience store on site which is stocked with snacks, beverages and frozen meals that guests can prepare in their suite.
The Hampton Inn, just like Homewood Suites, offers a complimentary hot breakfast buffet each morning, including food items like eggs, beans, waffles, and oatmeal.
But more importantly, the hotel also has a 24-hour convenience store, mainly selling snacks and drinks instead of frozen foods.
And unlike Homewood Suites, Hampton Inn doesn't offer an evening social hour with complimentary appetizers and drinks.
Location
The Homewood Suites, founded in 1989, had 505 chains of hotels and 57,545 rooms by the end of 2019 across the USA, Canada and Mexico.
On the other hand, Hampton Inn, founded in 1984, had 2,544 hotels by December 31st, 2019, and 266,933 rooms across North America, Europe and Central Asia.
The fact is that Homewood Suites are only available in four countries and territories, while Hampton Inn hotels are available in 30 countries and territories.
This means that in terms of availability and growth, Hampton Inn has made more strides and serves more travellers.
It also means that you are more likely to spend the night in a Hampton Inn than in a Homewood Suites, even when you would prefer otherwise.
Aesthetics
Homewood Suites are every traveller's dream because of their spacious bedrooms, large counter area and lots of space.
This extends to their taste in furniture, decor and carpets.
Some reasonably new Homewood Suites establishments have common areas designed like a lodge.
No one would choose to stay in a dull hotel long term, so the high ratings Homewood receives have a lot to do with their premises' warm look, which translates to charm and comfort.
In comparison, the Hampton Inn hotels are nice in their own right but do not compare with the Homewood Suites in that category.
Prices
Homewood Suites are more expensive due to their superiority in style, space, services, and amenities.
And one of the main differences between Homewood Suites and Hampton Inn is their room rates.
On the one hand, Homewood Suites typically offer larger rooms with more amenities, such as full kitchens and separate living areas.
As a result, their room rates are generally higher than at Hampton Inn. On the other hand, Hampton Inn offers smaller rooms with fewer amenities, but their room rates are more reasonable.
Another factor that can affect the price difference between Homewood Suites and Hampton Inn is their location.
Homewood Suites tend to be located in more upscale areas, such as business districts or tourist attractions.
As a result, their room rates may be higher due to the demand for accommodation because of their proximity to the business district.
Hampton Inn, on the other hand, tends to be located in more urban or rural areas. The demand for accommodation here is lower, and room rates are more affordable.
Both Homewood Suites and Hampton Inn offer specials and discounts throughout the year. These may include discounts for AAA members, military personnel, and senior citizens.
However, Homewood Suites offers more exclusive discounts for longer stays or booking directly through their site. Hampton Inn, on the other hand, offers more general discounts available to all guests.
Final Thought
Every traveller has their preference. Others care for the extra amenities to make the stay worthwhile, while others do not.
And a lot of time, how much one is willing to spend on a trip determines which type of hotel they will book into.
But as much as Homewood Suites are to die for, location is also important because they can be far and wide. At the same time, Hampton Inn hotels are easily available even around airports and have become the only choice because of convenience.
More Homewood Suites hotel comparisons
More Hampton inn hotel comparisons