Planning on booking into a hotel with a home-like feel? Planning on when it comes to extended-stay hotels, Homewood Suites and Home2 Suites by Hilton are two popular options.
While both hotel brands offer comfortable accommodations for extended stays, there are some key differences between the two. Stay tuned.
Here are the differences between Homewood Suites and Home2
The two hotels differ greatly in interior design, whereas Homewood Suites feature traditional designs, with each apartment having a door. Home2 Suites feature contemporary accommodations in an open walk-in studio comprising the living room, kitchen, and sleeping area.
Being two different hotel chains by the same brand and offering almost the same services, it can be hard to find the things that set them apart.
This is especially where each Hilton hotel brand is unique and offers a different experience.
Check out the table below that features a list of hotel differences.
| | | |
| --- | --- | --- |
| | Homewood Suites | Home2 Suites |
| Design | Traditional private apartment room | Contemporary open studio apartment |
| Free Breakfast | Hot | Hot plus cold |
| Extra amenities | Happy hour evening | Spin2 cycle |
| Privacy | Total | Subject to your roommates |
| Prices | Slightly higher | High |
These two hotels, even when we are trying to break down their differences, bear plenty of similarities.
Both are all-suite hotels
They are both extended-stay brands
Free hot breakfast
Pet-friendly environment
They cater to guests either on business or leisure travel
Both are fitted with appliances that simulate a home-like environment to enable a routine.
But above all that, the two have impressive but distinct differences that are set to blow your mind away.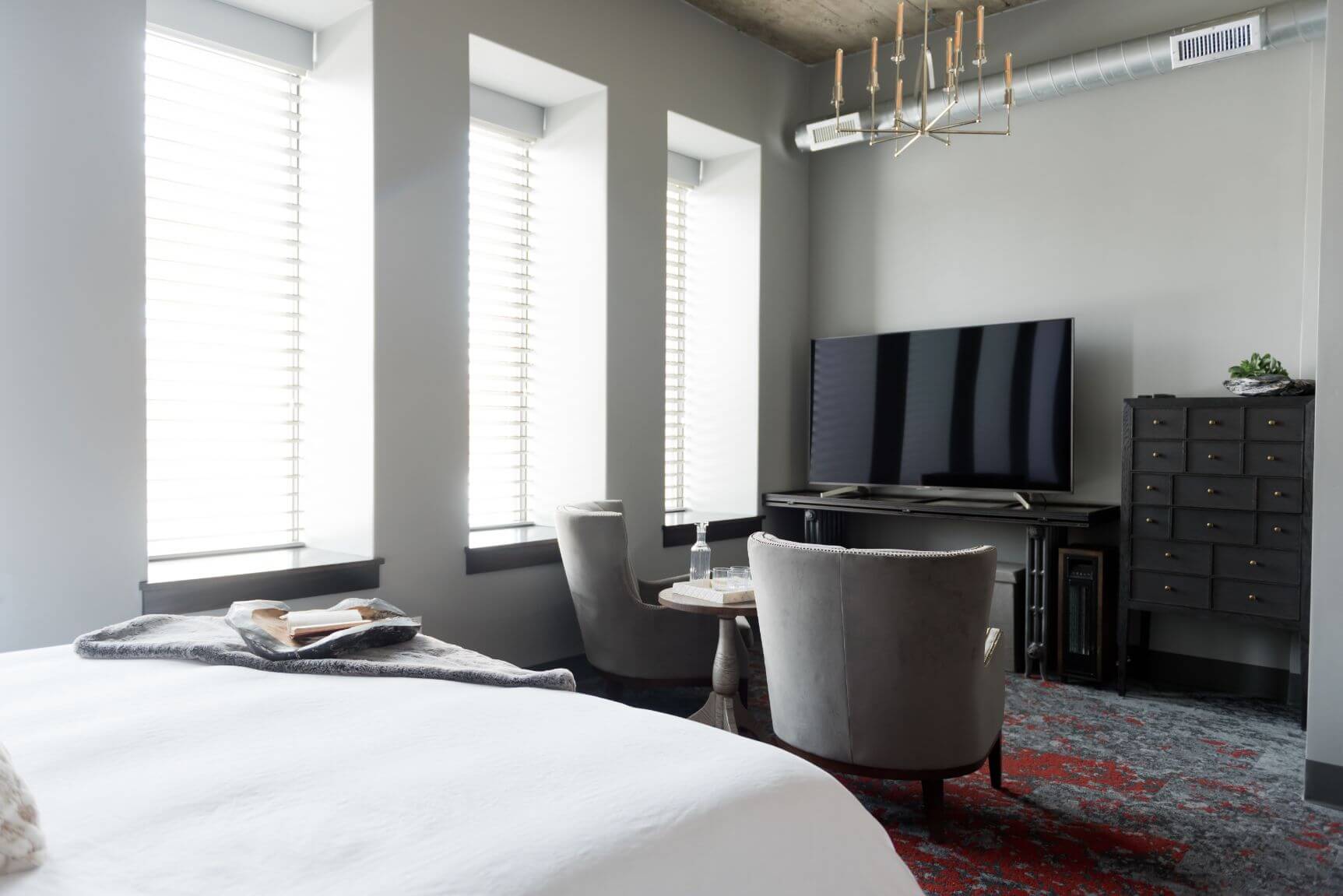 Interior Design
When it comes down to one of the biggest differences between Homewood Suites and Home2, then room layouts take the day.
Homewood Suites offers traditional hotel rooms with private accommodations and kitchens.
This compromises one or two bedrooms, each with a door, a living room with a door, and a kitchen with a door.
This design simulates the old design of home construction.
Contemporary home construction dictates a different layout where you walk into a large studio room with an open kitchen, living room, and bedroom with a drape that can be drawn or opened to create a wider space.
Some people love this idea, especially when they prefer spacious rooms to walls.
Plus, they are modern, and everyone loves a touch of something new occasionally.
Home away from home, replicated routines but a different setting to break the norm.
Room Furnishings and Furniture
Homewood Suites, founded in 1989, bears the original idea of apartment-like hotels, while its counterpart is simply an upgrade of that brand.
It represents a spontaneous idea to keep up with the market trends and beat competition, such as Marriott's TownePlace Suites and Candlewood Suites by Intercontinental Group of Hotels.
Homewood kitchen spaces have full-size appliances, including refrigerators, stoves, and microwaves. This makes it easier for guests to cook meals and save money on food.
On their part, Home2 Suites have kitchenettes with mini-fridges, microwaves, and dishwashers. While they don't have full-size ovens, they come with a portable induction cooktop that guests can use to cook.
The difference is in space allocation, where Homewood Suites are more spacious than Home2 Suites.
That's why they have larger working spaces and appliances.
The same goes for Furniture.
Room Privacy
When living in a home setting, privacy to do your things away from prying eyes is very important unless you have no family or roommates.
Open kitchens seem more adaptable, but sharing open bedrooms long-term, even with little children, especially where a family is relocating and are on temporary housing until everything is sorted out, could be tricky.
This is where the design and layout of the two hotels come in.
Homewood Suites gives you total privacy.
It doesn't mean anything nasty or dark but a few minutes of privacy when dressing up after a shower or to go sleep peacefully in silence when the rest of the family is bonding or watching TV in the living room.
With Home2 Suites, privacy is not their biggest takeaway because even drapes do not give enough privacy.
These suites are mostly for lone travelers on extended stays because they still get their desired privacy.
Or lovers just passing through or those who wish to extend their stay will still perfectly fit into these amazing units.
When it comes to families, those on short-stay plans find them perfect, especially when they have little children.
Families with teens, however, will find the design and layout undesirable because teens and parents alike need their privacy.
Hotel Amenities
Homewood Suites and Home2 offer a variety of amenities to make guests feel at home during their stay.
Homewood Suites features a business and fitness center, outdoor pool, and basketball court.
They also offer complimentary grocery shopping services, so guests can have groceries delivered to their rooms at no extra cost.
Home2 has a fitness center, sports court, indoor eco-friendly pools, and outdoor grills and firepits for guests to use in outdoor courtyards.
But their most impressive extra is their "Spin2 Cycle," which is the merging of the guest laundry room and fitness center where guests get to lift weights or rack up miles while they wait for wash loads.
It is a great way of getting two things done simultaneously. Saves time.
Food and Beverage Options
Both Homewood and Home2 Suites offer complimentary hot breakfast options to their guests every morning.
But because the in-suite kitchens with a fridge, dishwasher, utensils, sink, toaster, and microwave make cooking other meals and dining convenient.
In this category, their difference is that Homewood Suites hosts happy hour on some chosen evenings with soft foods, soft drinks, house beer, and the sort.
Aside from their complimentary hot breakfast, Home2 has extra cold items such as waffles and oatmeal, which Homewood does not offer.
Location and Price
Aside from their outstanding differences, the location of each hotel can also act as the hotel of your choice.
Both Homewood Suites and Home2 hotels are often found in urban areas, with some addresses in the suburbs.
It all depends on the country or city you are in.
This can make a difference with things like nearby restaurants and attractions.
Finally, price is always a consideration when choosing a hotel.
Homewood Suites tend to be slightly more expensive than Home2, but this can vary depending on location and time of year.
It is, therefore, worth comparing the prices for both hotels to know which suits your budget at any time.
Final Thoughts
I think their differences are in the small things that make a difference.
While Homewood Suites offers more traditional hotel rooms with full-size kitchens, Home2 features contemporary stylish designs and layouts.
Both hotels offer a variety of amenities and complimentary breakfasts, but Home2 goes above and beyond with an "inspired table" breakfast.
Location and price, more often than not, also play a role in the hotel you choose.
More Homewood Suites hotel comparisons
More Home2 Suites hotel comparisons