Embark on a thrilling adventure as we explore two renowned hotel chains: Home2 Suites and Hilton Garden Inn. Like fascinating characters in the grand tale of your travels, each possesses unique traits and charms, ready to embrace you in their warm embrace.
Our friendly guide aims to empower travelers with insights to make informed decisions aligned with their desires. Unravel the mysteries and discover the magic within each hotel's embrace as we embark on an awe-inspiring journey, creating unforgettable memories that will last a lifetime. Let's set off on this incredible adventure; the possibilities are endless.
Here are the differences between Home2 Suites and Hilton Garden Inn
Home2 Suites is an extended-stay sanctuary offering a homely atmosphere with eco-friendly practices, perfect for those seeking a relaxed long-term stay. Conversely, Hilton Garden Inn elevates the traditional hotel experience, treating you as a valued friend rather than just a guest. Every feature, including the on-site restaurant and room service, is intended to give your trip a dash of elite elegance.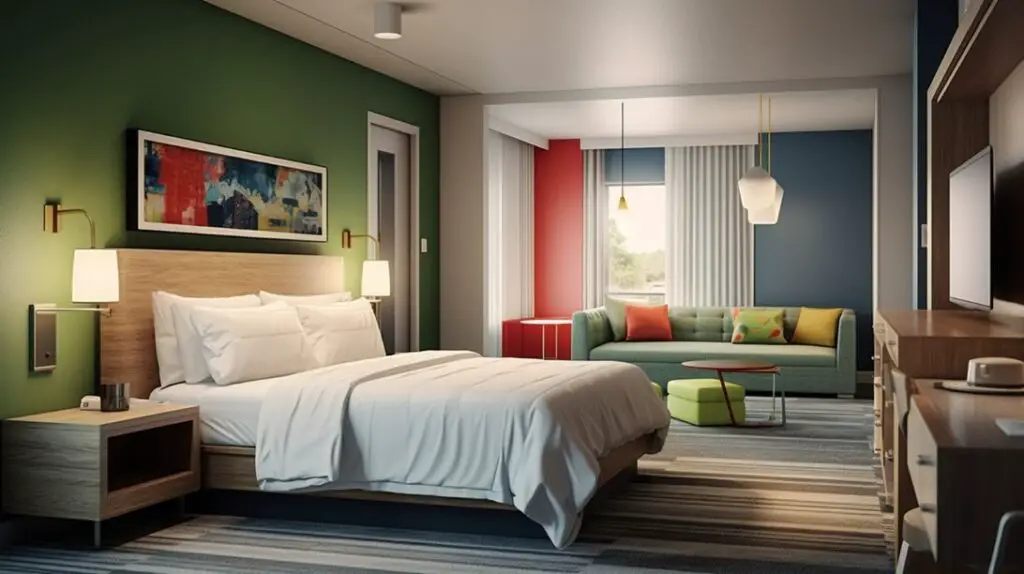 Quick comparison overview
| Criteria | Home2 Suites | Hilton Garden Inn |
| --- | --- | --- |
| Price Range | More budget-friendly, especially for extended stays | Slightly more expensive, offers more services |
| Room Design | Cozy apartment-like suites | Luxurious rooms with various types |
| Target Market | Travelers planning extended stays | Diverse, including business travelers, couples, families |
| Amenities | Fully-equipped kitchens, free Wi-Fi, fitness centers | On-site dining, room service, business centers, fitness centers |
| Location | Suburban areas or near residential neighborhoods | Diverse, including urban centers, near airports |
| Dining Options | In-room kitchen facilities | On-site restaurants |
| Brand Positioning | Extended-stay brand emphasizing sustainability | Mid-range hotel chain offering elegance, comfort, and convenience |
| Customer Service | Warm and friendly, pet-friendly policies | Top-notch, exceeds expectations, helpful with local recommendations |
Home2 Suites vs. Hilton Garden Inn overview
Book your stay
Price Range
Home2 Suites is your go-to option if budget-friendliness is a priority, especially for travelers planning an extended stay. Thanks to the in-room kitchen facilities that allow you to whip up your meals, reducing dining expenses.
However, Hilton Garden Inn's atmosphere reflects the value of its extra features and services with a slightly more sophisticated feel.
Therefore, if you want to treat yourself to more comforts like on-site dining and room service, Hilton Garden Inn can be worth the extra money.
Room Design
The Home2 Suites room is more like a cozy apartment. Its suites are designed with the extended-stay traveler in mind offering comfort and convenience.
The small kitchen found in the room can be used to prepare your favorite meals at your convenience.
Whether you are traveling to the city for business or pleasure, Home2 Suites strives to make your stay as hospitable as possible, turning it into more than just a place to sleep but a place to live.
The hotel is great and staff is always fantastic. The rooms are always clean and restaurant/bar staff were so amazing to me and my family. Housekeeping paid attention to detail in the rooms for both me and my family

A review of Hilton Garden Inn by a satisfied customer on Tripadvisor.
Contrastingly, Hilton Garden Inn rooms are luxurious. Here, space and comfort blend to create an upscale experience. With various meticulously designed room types, from Standard Executive to Suite, you're spoilt for choice.
Each room is adorned with plush furniture and top-notch amenities, promising a stay that's more than just a change of scenery.
While it's true that the cost is slightly higher than Home2 suites, remember, it's an experience you're investing in – a luxurious retreat that justifies every penny.
Target Market
Home2 Suites primarily targets travelers planning extended stays and desire a home-like atmosphere.
It includes families maintaining routines, business travelers needing a home base, and long-term guests seeking a comfortable, homely environment.
Instead, guests can find lodging at the Hilton Garden Inn.
Its customizable features and offerings make it an attractive choice for business travelers looking for a peaceful environment, as well as for couples looking for a romantic retreat, families on vacation, and visitors taking in new areas.
In essence, Hilton Garden Inn's target audience is as diverse as the experiences it offers.
Amenities
Home2 Suites has fully-equipped kitchens, free Wi-Fi, complimentary breakfast, and modern fitness centers.
These services offer a homely atmosphere perfect for families and long-term travelers.
In addition, Hilton Garden Inn provides a more extravagant experience due to its exquisite facilities, which include on-site dining options, room service, business centers, and fitness centers.
Anybody who values comfort and elegance in their rooms, including business travelers, couples, and singles, will love it.
Location
Hilton Garden Inn has diverse locations that cater to a wide range of travel needs and preferences.
Whether you're an urban explorer looking to immerse yourself in vibrant city life, a peace-seeker wanting to enjoy the serene charm of suburban areas, or a frequent flier needing a comfortable stay near the airport, Hilton Garden Inn is ready to welcome you.
Each location is thoughtfully selected to ensure easy access to local attractions, business districts, or transit points, making your stay convenient and truly enjoyable.
On the other hand, Home2 Suites are typically found in suburban areas or near residential neighborhoods. They offer a tranquil retreat for those seeking a peaceful and convenient extended stay.
These locations are carefully chosen to balance peace and accessibility, ensuring your stay is as comfortable and hassle-free as possible.
Dining Options
The exclusive dining experience at Home2 Suites puts you in charge. The freedom and flexibility of making your meals can be continued after a complimentary breakfast to start your day.
You can cater to your own food choices and schedules thanks to the fully-equipped kitchenette in your accommodation.
On the other hand, the Hilton Garden Inn features restaurants on-site that provide a variety of exquisite meals and accommodate all tastes and dietary requirements, you're in for a treat whether you're in the mood for a filling breakfast, a leisurely lunch or a magnificent evening.
Brand Positioning
A prestigious part of the Hilton Worldwide family is Hilton Garden Inn. It takes pride in its reputation as a mid-range hotel chain that welcomes discerning business and leisure guests.
Hilton Garden Inn is known for providing a unique fusion of elegance, comfort, and convenience, making every visit memorable and gratifying.
The Hilton Garden Inn offers a classy, well-equipped atmosphere for business travelers that streamlines business excursions.
Every component, from cutting-edge workspaces to high-speed internet access, has been thoughtfully designed to facilitate productivity.
The Hilton Garden Inn can accommodate your needs, whether you require a quiet area to concentrate or a meeting room.
However, Home2 Suites, a division of Hilton Worldwide, distinguishes itself as an extended-stay brand emphasizing sustainability and a cozy atmosphere.
It greets visitors with roomy suites, fully functional kitchens, and a dedication to sustainability.
Customer Service
Home2 Suites and Hilton Garden Inn pride themselves on delivering exceptional customer service.
At Home2 Suites, guests often feel like part of an extended family thanks to the warm and friendly demeanor of the staff.
Guests often praise the team's attentiveness, willingness to go the extra mile, and personalized approach to service.
I was moving to the area, but my apartment was not finished for a month after my arrival. I ended up at the Home2 Suites for almost a month. The staff was WONDERFUL, the building was clean and well cared for. I had a few maintenance issues, but they addressed them immediately.

A review of Home2 Suites by a satisfied customer on Tripadvisor.
It extends to their pet-friendly policies, where pet owners feel welcomed and valued. The result is a stay experience that leaves guests feeling genuinely appreciated and connected.
Similarly, Hilton Garden Inn embodies the renowned Hilton standard of excellence, delivering top-notch customer service that consistently exceeds expectations.
Business travelers, in particular, appreciate the comfortable and convenient experience tailored to their needs.
The staff's helpfulness extends beyond the hotel, with guests often noting their assistance with local recommendations and directions.
This commitment to service ensures that every stay at Hilton Garden Inn is comfortable.
More Home2 Suites hotel comparisons
More Hilton Garden Inn hotel comparisons