Two popular hospitality brands that constantly vie for travelers' attention are TownePlace Suites and Home2 Suites. These brands offer exceptional comfort, convenience, and a home away from home experience. However, some differences between TonePlace and Home2 Suites may significantly impact your stay.
Therefore, let us delve into the key features between TownePlace Suites and Home2 Suites to help you make an informed decision for your forthcoming journey.
The Main Difference Between TownePlace Suites And Home2 Suites
The difference between these two brands lies in their design and target audience; for instance, TownePlace Suites embraces a more traditional layout. While Home2 Suites' design focuses on a contemporary approach, they feature open floors that create an eye-catching ambiance.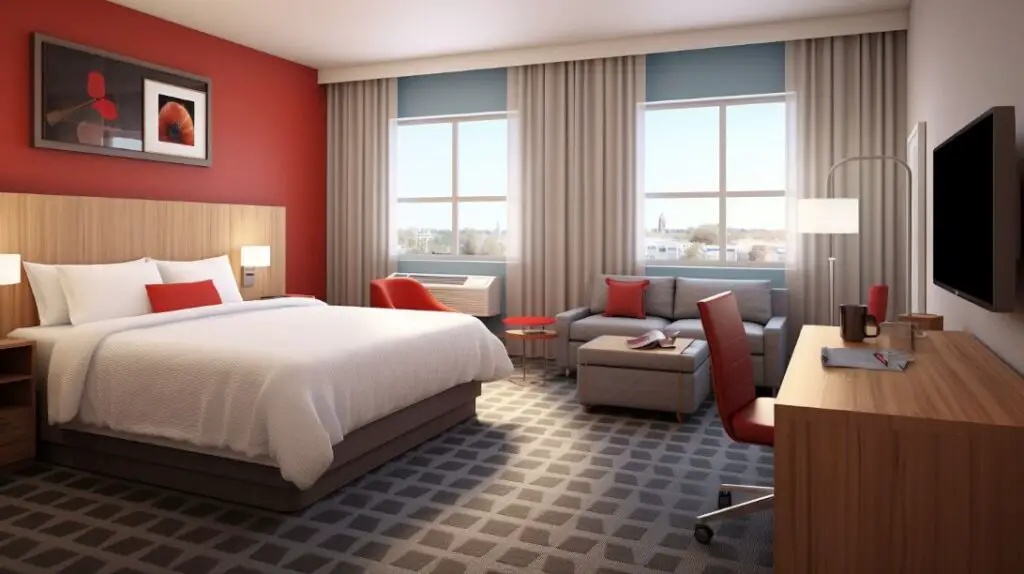 Quick comparison overview
| Criteria | TownePlace Suites | Home2 Suites |
| --- | --- | --- |
| Target Market | Extended-stay travelers | Guests seeking comfort and added elements of comfort |
| Accommodation | Spacious suites with fully equipped kitchens | Spacious accommodations with kitchenettes |
| Location | Urban, suburban, tourist destinations | Urban settings, popular tourist attractions, along highways |
| Amenities | Basic amenities, fitness center, outdoor spaces, pet-friendly, laundry facilities | Basic amenities, fitness center, laundry facilities, pet-friendly |
| Dining Options | Complimentary breakfast | Guests can prepare their own meals in the kitchenettes |
| Workspace | Functional workspace | Functional workspace |
| Prices | More affordable | More competitive, depending on amenities and services |
| Room Types | Studio suites, one-bedroom suites, two-bedroom suites | Spacious accommodations with king-size beds |
| Aesthetics | Contemporary approach, lively environment | Vibrant and hospitable design, home-like atmosphere |
Overview: TownePlace Suites vs Home2 Suites
Book your stay
Location
The location of these brands may vary depending on your travel expeditions; TownePlace Suites locations are mainly found in urban, suburban, and tourist destinations.
These TownePlace suites are most reliable for travelers seeking longer stays in urban settings.
Since most of the TownePlace suites are within reach or near business and urban areas, the main aim is to provide easy access to shopping centers, tourist attraction sites, and many more.
Home2 Suites, a member of the Hilton family, has a growing footprint, but it may have a robust presence in specific regions or countries. For example, its presence can be seen within popular tourist attractions, urban settings, and many more.
A good number of Home2 Suites properties are found along highways, which provides easy accessibility to all modes of transportation. Sometimes, Home2 Suites may offer concierge services to its guests.
Amenities and Services
TownePlace Suites and Home2 Suites offer exceptional service to their guests. To better understand where you want to spend your next stay, let's look at the unique amenities that set them apart.
TownePlace Suites offers guests various types of amenities and services. For example, a well-equipped fitness gym is available to maintain your daily exercise routine.
To cool your body after a long day workout or long sunny days, TownePlace suites offer swimming pools to make this possible while you make your days memorable and relaxing.
At TownePlace Suites, you wake up to a free hot complimentary breakfast with complimentary menus to choose and match the best breakfast you want.
"We stayed here on our trip to gulf shores beach because beachfront hotels are so expensive, and we liked having options. If the weather was bad, we would have the indoor waterpark next door to go to, and for a few minutes drive, our per night cost was a lot less. A wonderful hotel, very clean, great staff."

A review from a customer on Tripadvisor
World-class business meeting rooms with well-designed furniture are offered, and holding a meeting within Towneplace Suites can never be a problem.
The facility offers 24/7 shopping centers and bar lounges. You can spice up your night with cold drinks such as cappuccino, or if you do not have fun with cold drinks, a cup of coffee is worth the option.
Looking at what Home2 Suites offers, you will get spacious and advanced accommodations. At these suites, expect treatment in a transformational home away from home with a king-size bed. Comfort is a must.
Exercising cooking skills is not left behind with Home2 Suites; they offer fully furnished kitchens, including a microwave, dishwasher, and refrigerator.
This gives a chance to food enthusiasts to sharpen their skills away from home. Guests have the chance to prepare their breakfast and other meals.
Laundry services are also very essential in both TownePlace Suites and Home2 Suites. Guests who have more extended stays have the opportunity to experience this service.
If you are looking for a hotel where your pet is welcomed, look no further; TownePlace and Home2 Suites are pet friendly. Be cautious to check sure pets are allowed.
Room Types
TownePlace Suites and Home2 Suites offer diverse room options to cater to guests' preferences and travel needs.
Towneplace suites feature spacious studios, and the suites feature an open layout and a combined living area and sleeping area.
These studios suit solo travelers, couples, or those looking for a cozy and luxurious stay.
The rooms often have fully equipped kitchenettes, work desks, comfortable king-size beds, and private bathrooms.
Apart from that, TownePlace Suites rooms are well-designed to offer a comfortable stay and are well-furnished, incorporating modern styles.
In addition, the rooms are equipped with WiFi connectivity, allowing you to connect with people worldwide, and conducting your remote is not a burden.
TownePlace Suite rooms are also equipped with closets. You do not have to worry about where to put your closest items, as the suite has well-fitted closets.
On the other hand, Home2 Suites also features a kitchenette fully equipped with a microwave, refrigerator, sink, and dishwasher, making it suitable for guests who need family get-togethers and privacy.
Aesthetics
The aesthetic is a significant factor in distinguishing between TownePlace Suites and Home2 Suites, as both strive to provide a different ambiance that resonates with their guests.
TownePlace Suites embraces a contemporary approach in designing its properties; the brand aims to create a lively environment for its guests.
The common areas, such as dining and guest rooms, are stylized with bright colors in the interior decoration.
At TownePlace Suites, expect a sleek, polished atmosphere that brings comfort and refined aesthetics. This design is accorded with urban sophistication, evoking an ambiance of an upscale nature.
On the other hand, Home2 Suites embraces a more vibrant and hospitable design aesthetic. The interior of the Home2 Suites is filled with vigorous color schemes and eye-catching decor elements, providing a feeling of being at home.
"This is our second stay, and the staff is fantastic, especially Christian! The facility is nicely maintained, including the pool, and conveniently located for East End activities. Thanks for a wonderful, accommodating stay!"

A review by a customer on Tripadvisor.
These designs aim to create a warm atmosphere for the guests, making them feel at ease during their stays.
Typical areas of Home2 suites feature bright colors and are often sleek and modern designs, such as modern, stylish seating arrangements.
The lobbies of the Home2 Suites are well-appointed and contain visually appealing lighting fixtures. The comfort follows you to the open area and the environment's ambiance.
Price
TownePlace Suites and Home2 Suites prices vary depending on several factors, such as location, amenities, services offered, season, length of stay, etc.
For instance, TownePlace prices are slightly lower and more affordable because they offer limited amenities.
TownePlace is your next stop if you are budget-oriented and want a simple stay in a comfortable and spacious room.
Home2 Suites tends to offer more competitive prices compared to TownePlace Suites. This is because they offer a range of amenities and services to guests.
Target Audience
TownePlace Suites targets guests who need an extended stay, such as business travelers, individuals, and even families who need accommodation.
The brand focuses on creating comfort, convenience, and amenities that suit guests who need a simple stay.
In contrast, Home2 Suites values guests who need classical comfort and those who value-added elements of comfort.
The hotel focuses on the affordability and credibility of the service offered to its guests, making it the best choice for individual and family travelers.
More TownePlace Suites hotel comparisons
More Home2 Suites hotel comparisons