When selecting the ideal hotel to call home, Springhill and Home2 Suites offer unmatched service to its guest. These hotels have earned their place in the hospitality industry and gained a reputation among famous brands.
Their recommendation sets them at the peak as the best place for your next getaway. However, making an informed decision on choosing which brand to call home can be challenging. In that case, this article will break down the differences that make these hotels unique.
Here's the Difference Between Springhill Suites And Home2 Suites
The major difference between Springhill Suites and Home2 Suites lies in their location. SpringHill Suites premises are located near major cities and urban areas. The hotels offer an exemplary state stay to its prime business travelers who want to experience the ambiance of city life. On the hand, Home suites hotels are located in suburban areas, mainly along residential areas. They tend to offer longer stays to their guest.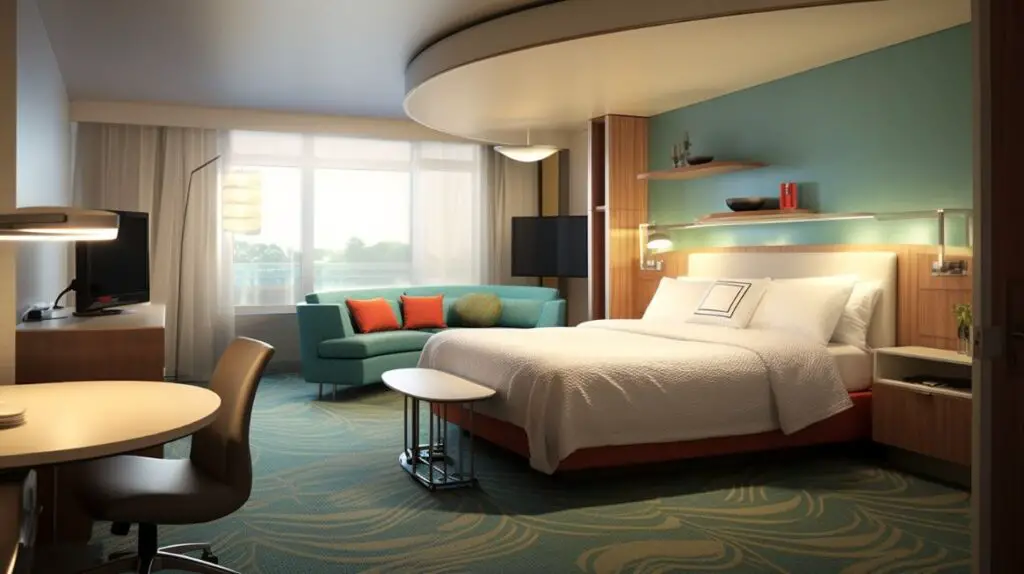 Quick comparison overview
| Aspect | Springhill Suites | Home2 Suites |
| --- | --- | --- |
| Location | Urban and suburban areas | Suburban areas, residential neighborhoods |
| Ambiance | Modern, sleek designs | Warm, simple, home-like |
| Amenities | Indoor pools, fitness centers, free Wi-Fi | Eco-friendly, fully equipped kitchenette, free Wi-Fi |
| Price | Higher, aligned with quality of services | More affordable, budget-friendly |
| Room Types | Spacious rooms with separate living and sleeping areas | Designed for extended stays with fully equipped kitchenette |
| Target Audience | Families, business professionals, tourists | Travelers looking for extended stays |
Springhill Suites vs Home2 Suites overview
Book your stay
Location
SpringHill Suite's location focuses mainly on the urban and suburban areas, mostly in the city's central business hubs. This ensures easy access to offices, shopping centers, and popular tourist and entertainment venues.
Moving from one place to another is easy because they are near major transport network systems. Making the best for business travelers and those enthusiastic individuals who like the view of urban cities.
On the other hand, Home2 Suite's pride rests in suburban areas or near residential neighborhoods; they focus on places that offer extended stays to guests. Places where peace and calm prevail.
They provided the atmosphere of a home away from home, making it suitable for families' getaways.
The tranquillity, safety, and proximity to residential amenities are considered to customize customers' preferences. So having to set foot at Home2 Suites, you are guaranteed comfort and ambiance it's kind.
Ambiance
On your first step into the Springhill suite, expect to be greeted with warm, modern, sleek designs that exude the feeling of home away from home.
The worldliness presented here welcomes guests to a refined and cosmopolitan experience.
The lobby areas of Sppringhil Suites are well-appointed with vibrant colors, chic furnishings, and incredible artwork.
The energy exerted by the hotel is to capture the attention of businesses, couples, and individual travelers.
The furnishings of the hotel rooms are carefully selected, bearing in mind the guest's comfort. They are designed to bring luxury and elegance to the visitors.
Literally every aspect of the hotel surpassed my expectations. The highlight was the extremely friendly, professional staff, front desk, housekeeping, food & beverage. The hotel and our room was spotless & comfortable. Breakfast was actually great! Fast, convenient and again friendly, helpful staff. Great AC, shower, ice machine, elevator, etc. – all were in great working order.

A happy customer's review of Springhill Suites on Tripadvisor.
On the other hand, Home2 Suites embraces a warm and straightforward ambiance that blends directly with the comfort of each guest. Home2 Suites offer a more relaxed nature to its guest this is due to their cozy decor and seating areas.
The ambiance oozed by Home2 Suites hotels is highly favorable to family trips or group travelers and business travelers who need more extended stays.
The decors of Home2 Suites incorporate soft tones, natural materials, and functional layouts that are comfortable and cozy.
However, the lobby at Home2 Suites lobbies, for example, the living area, resembles a communal setting with comfortable seating and additional features such as a fireplace and a welcoming atmosphere.
The Suites are designed to provide a home away from home; for travelers seeking a quiet and welcoming environment, Home2 Suites is your next stop.
Amenities
SpringHill Suites and Home2 Suites offer a wide array of amenities designed to give a comfortable and elevate your stay during your trip.
SpringHill Suite offers more spacious suites fully equipped with all the amenities.
The rooms are designed to offer privacy, providing a separate living area and a bedroom. Through this, guests can enjoy their privacy and be productive in the best way possible.
The hotel also offers a sparkling indoor swimming pool area where you can dip yourself after a morning or evening exercise routine in the gym center available at the facility.
The convenience created by SpringHill Suites can also be witnessed through the free Wi-Fi in each room in the facility. Guests can browse and conduct their re-mote tasks in the comfort of their beds or living area.
There are also business centers within SpringHill centers, working 24 hours to serve their needs. With these hotels, you can shop at your own convenience time.
Complementary breakfasts are also offered at the SpringHill Suites, serving all the breakfast buffet offering various hot and cold options to suit different tastes and guest preferences.
Home 2 suites strive to provide eco-friendly amenities where guests can blend in.
For instance, the hotel offers a fully equipped kitchenette, including a refrigerator, microwave, cooking utensils, and dishwasher. With this, guests have the pleasure of preparing their favorite meals.
In addition, Home2 Suites provide guests with free Wi-Fi throughout their stay at the hotel, making it easy for guests to cater to their personal needs.
The hotel also provides a 24-hour shopping center you can get yourself a snack in the middle of the night or beverages and other essentials.
Home2 Suites offers fitness centers equipped with treadmills, dumbbells, and stationary bicycles, among others, to keep your daily exercise routine on track.
At Home2 Suites, guests can socialize and unwind with the availability of outdoor spaces featuring firepits and grills.
Price
Both Springhill and Home2 suites offer exemplary services to their customers, focusing on comfortable accommodations; these hotels differ in prices.
To begin with, SpringHill Suites being a brand of Marriot, the hotel's price goes in hand with the quality of services they offer and the hotel's geographical location.
To stay at Springhill Suites and enjoy a wide array of amenities, you must dig deep into your pocket.
On the other hand, Home2 Suites offers affordable prices without jeopardizing comfort, especially for extended stays.
The prices at Home2 Suite are more budget-friendly compared to SpringHill Suites. Home2 Suites, therefore, is best for families, travelers who need more extended stays, and those who are budget conscious.
Home2 Suites can offer excellency value for your money!
Room types
Springhill and Home2 Suites offer different rooms catering to different customer needs and preferences.
SpringHill Suites offer more spacious rooms with separate living areas and sleeping areas facilitating the guests' privacy.
The suites have amenities such as a mini-refrigerator, microwave, and work desk, making them suitable for leisure and business travelers.
Contrary, Home2 Suite's primary focus is on extended stays, so their rooms are mainly designed to cater to guests who need extended stays.
Quiet, clean and spacious room. We lacked for nothing. Breakfast was fine. Located close to Long Island's lovely Smiths Point beach, and to the Brookhaven National Lab. The staff was professional, helpful and very pleasant; special thanks to Rebecca and Alexandria for their friendliness and assistance.

A happy customer's review of Home2 Suites on Tripadvisor.
The kitchenette is fully equipped with amenities such as a refrigerator, dishwasher, and cooktop, allowing guests to prepare their meals and have a more home-like experience.
However, the rooms offered by Springhill and Home2 Suites may vary depending on the location and the property.
Target Audience
SpringHill Suites hotels target a broader perspective of travelers who seek comfort and luxury stays. They include families, business professionals, and tourists.
On the other hand, Home2 Suites primarily targets travelers looking for a place to call home and significantly longer stays.
More SpringHill Suites hotel comparisons
More Home2 Suites hotel comparisons