When planning a trip, choosing the right hotel is crucial. With countless options available, this process can be overwhelming. Two of the most popular choices among travelers are SpringHill Suites and Holiday Inn Express. But what sets these two apart?
This article compares the unique differences between SpringHill Suites and Holiday Inn Express, analyzing their target audiences to their brand identities.
Here's the Difference Between SpringHill Suites and Holiday Inn Express
Marriott International owns SpringHill Suites, while InterContinental Hotels Group (IHG) owns Holiday Inn Express. Holiday Inn Express welcomes diverse travelers, including leisure and business travelers. On the other hand, SpringHill Suites is designed with business travelers in mind and offers suite-style accommodations for those seeking a more spacious and comfortable stay.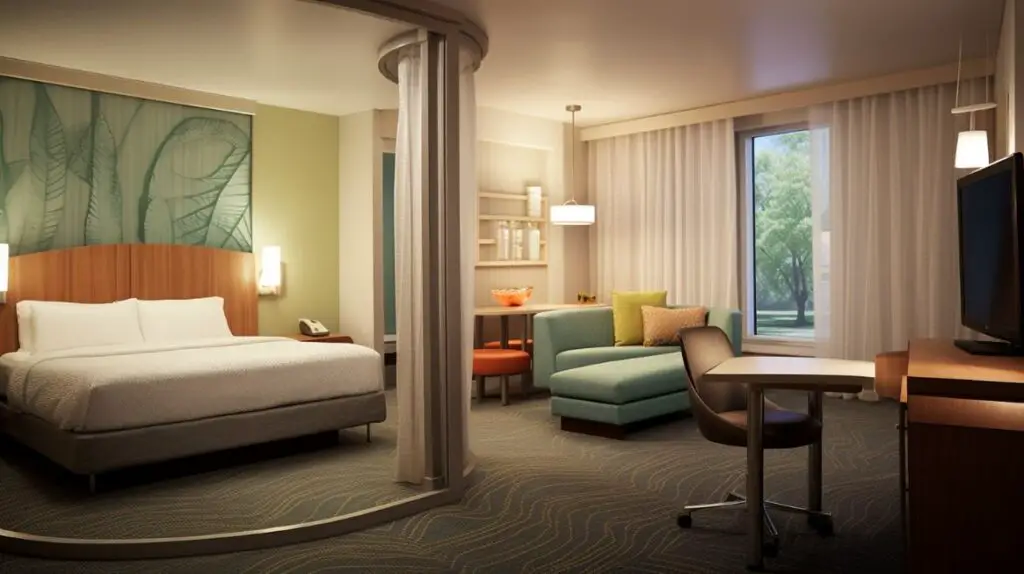 Quick comparison overview
| Aspect | Springhill Suites | Holiday Inn Express |
| --- | --- | --- |
| Target Market | Business professionals, guests who appreciate contemporary design | Diverse travelers, value-conscious guests |
| Amenities | Fitness centers, meeting rooms, separate areas for sleeping, working, and relaxing | Swimming pools, game rooms, children's activities, business centers |
| Location | City centers or near business hubs and attractions | Diverse locations, city centers to resort destinations |
| Pricing | Slightly higher, reflecting exceptional quality | Affordable, excellent value for money |
| Room Layout, Design and Decor | Modern, spacious, separate areas | Comfortable, cozy, welcoming atmosphere |
| Brand Identity, Loyalty Programs, and Rewards | Part of Marriott Bonvoy | Part of IHG Rewards Club |
| Refund Policy | Standard Marriott cancellation and refund policies | Flexible cancellation policy, varies by location and booking details |
Springhill Suites vs. Holiday Inn Express overview
Book your stay
Target Market
Springhill Suites caters to business professionals and guests who appreciate contemporary design and cutting-edge amenities.
It understands the importance of productivity and convenience for business travelers.
The hotel offers a seamless blend of functionality and style.
Meeting rooms with high-speed Wi-Fi and practical workspaces ensure that professionals can work efficiently.
The suites aim to provide a relaxing haven for guests to unwind and recharge after long meetings or business engagements.
The sleek and spacious suites provide a comfortable and inviting space for them to unwind and recharge.
The innovative amenities, such as cutting-edge technology and trendy furnishings, enhance their stay and satisfy their desire for modern experiences.
On the contrary, Holiday Inn Express is a midscale brand offering reliable, efficient accommodations for value-conscious guests.
Breakfast was really good, staff attentive and welcoming. Room was spotless. Great stay all around. Location was convenient with a short walk into Bath centre. My check-in experience was quick and informative. Staff couldn't have done more for me

A happy customer's review on Tripadvisor.
It prioritizes convenience, practicality, and good sleep, making it an appealing choice for travelers seeking a comfortable, budget-friendly option.
Amenities
SpringHill Suites offers well-equipped fitness centers, spacious meeting rooms with state-of-the-art technology for business travelers, and separate areas for sleeping, working, and relaxing.
The suites provide ample workspaces, flat-screen TVs, and plush bedding for a comfortable stay.
Conversely, Holiday Inn Express caters to various guests, offering a comfortable and familiar environment.
The hotel chain has amenities like swimming pools, game rooms, children's activities, and the Kids Stay and Eat Free program.
Couples can enjoy intimate dining, cozy rooms, and spa treatments.
Business travelers can enjoy well-equipped business centers and meeting spaces.
Location
SpringHill Suites are positioned in city centers or near business hubs and attractions.
This location choice ensures convenience for business travelers who need to be near their meetings, conferences, or important events.
Furthermore, this positioning appeals to leisure travelers who desire to explore the city and its attractions, restaurants, and entertainment venues.
By choosing SpringHill Suites, you position yourself in the heart of the action, ensuring a dynamic and exciting stay.
On the other hand, Holiday Inn prides itself on its diverse locations, catering to various travel preferences.
Whether you're embarking on a business trip, catching a flight, or indulging in a relaxing beach vacation, Holiday Inn has a location that suits your needs.
Their hotels are in city centers, making them a convenient choice for business travelers who desire accessibility and proximity to urban amenities.
Also, Holiday Inn Express offers resort destinations for those seeking a tranquil escape where you can unwind and enjoy a peaceful getaway, whether by the beach or nestled amidst natural beauty.
Pricing
SpringHill Suites positions itself at a slightly higher price point, reflecting its exceptional quality and value.
The hotel offers modern amenities, stylish design, and attentive service to provide a premium experience.
The competitive pricing reflects the comfort, convenience, and overall satisfaction guests can expect from their stay.
In contrast, Holiday Inn Express is renowned for offering excellent value for money. The hotel chain caters to various budgets, providing affordable accommodations and options.
With competitive rates, diverse room types, and quality amenities, Holiday Inn ensures guests can enjoy a comfortable and enjoyable stay without breaking the bank.
Room Layout, Design and Decor
The rooms at SpringHill Suites are modern. They are spacious and feature separate sleeping, working, and relaxing areas. This layout allows guests a comfortable and functional space during their stay.
The design and decor are contemporary, reflecting the brand's modern culture.
Guests can expect sleek furniture and a color palette that creates a sense of energy and sophistication.
Pleasant stay at this conveniently located hotel. Room was a bit larger than many NYC hotel rooms. We had a desk and small couch. Good shower. Attentive staff. Neighborhood is very busy during business hours but pretty quiet at night. Near beautiful Bryant Park, a nice place to pause in a busy day

A happy customer's review of Spinghill Suites on Tripadvisor.
On the other hand, Holiday Inn Express rooms prioritize comfort and convenience. The design and layout of the rooms offer coziness and a welcoming atmosphere.
The decor is warm and inviting, focusing on creating a relaxing environment for guests to unwind after a long day of travel or exploration.
Brand Identity, Loyalty Programs, and Rewards
SpringHill Suites, a member of the Marriott family, values innovation, style, and providing exceptional service to its guests. Joining the Marriott Bonvoy loyalty program is one of the primary advantages of staying at SpringHill Suites.
This program gives guests access to several exclusive benefits and rewards. Bonvoy program allows guests to earn points for every stay at SpringHill Suites and other Marriott properties.
These points can get you free nights, room upgrades, and even experiences like spa treatments or dining. Membership in the Marriott Bonvoy program is also available.
Similarly, Holiday Inn Express, a hotel brand owned by InterContinental Hotels Group, offers comfortable and affordable stays for travelers.
It also participates in IHG Rewards Club, a loyalty program for all IHG brands.
Its members earn points for staying here and at other IHG properties, with various membership tiers providing benefits and privileges.
IHG Rewards Club offers free nights, airline miles, gift cards, merchandise, and other benefits. Additionally, members can enjoy exclusive promotions and discounts.
Refund Policy
Marriott's standard cancellation and refund policies apply to SpringHill Suites. These policies may differ depending on the rate type chosen when booking.
Reservations with a flexible rate can be canceled without penalty within a certain timeframe, usually 24 to 48 hours before the scheduled arrival date.
Special offers, discounted rates, and non-refundable bookings may have stricter cancellation policies and may not be eligible for a refund.
Holiday Inn Express has its own refund policies, which may differ depending on the location and booking details.
For most reservations, the brand typically offers a flexible cancellation policy, allowing guests to cancel without penalty within a specific timeframe, often up to 24 to 48 hours.
More SpringHill Suites hotel comparisons
More Holiday Inn Express hotel comparisons