I think you'll agree with me that choosing between Holiday Inn and Holiday Inn Express can be frustrating. The two hotels share a similar name for obvious reasons, making it even more difficult to distinguish.
This article lists and explains seven major differences between the two establishments to help you decide which suits your travel needs better.
Here are the differences between Holiday Inn vs Holiday Inn Express
While a Holiday Inn is classified as a full-service hotel with an on-site restaurant, bar, and conference rooms and offers catering services, a Holiday Inn Express is limited-service with no restaurant or bar on site and no conference rooms but offers complimentary buffet-styled breakfast to their clients.
7 Major Differences between A Holiday Inn And A Holiday Inn Express
Bearing almost the same names, it can be hard to tell them apart or be privy to their differences unless you had booked into different establishments before and tasted their services.
The table below answers some of your pressing questions as we dig deeper into the article.
| | | |
| --- | --- | --- |
| | Holiday Inn | Holiday Inn Express |
| Free breakfast? | No | Yes |
| Executive lounge? | In some hotels | No |
| Room Size? | Big | Small |
| Free Wi-Fi? | In some hotel | Yes |
| Do they allow pets? | Some do | Some do |
| Smoking areas | Yes | Yes |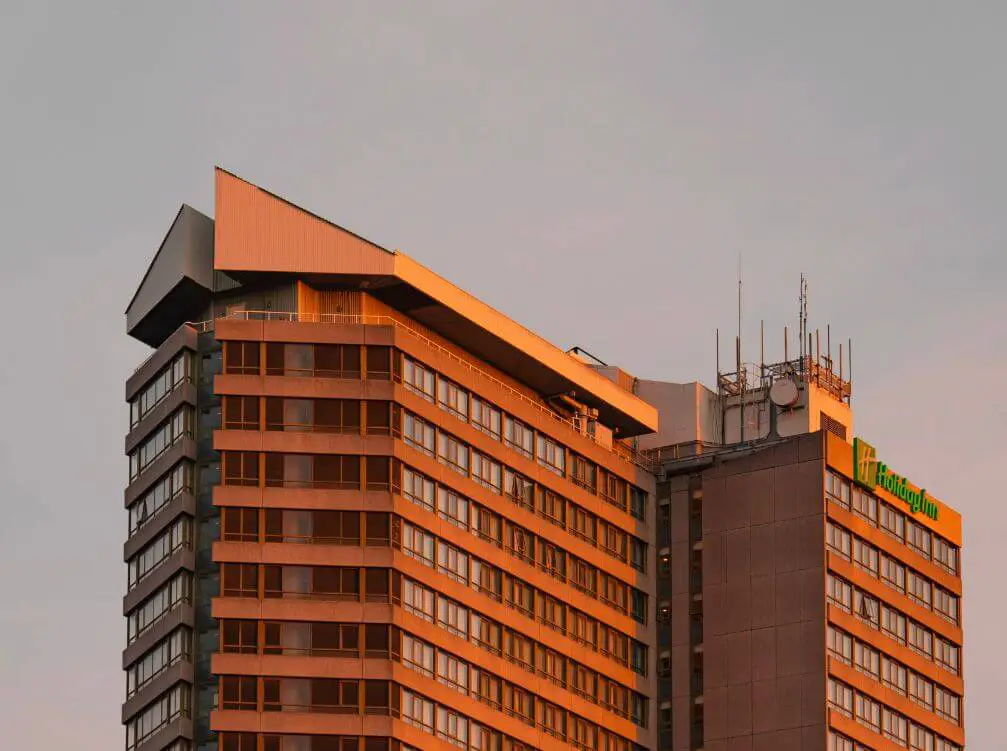 In terms of similarities, though, it is important to note that both establishments are usually upper midscale with almost similar rooms and friendly but professional staff.
This means they maintain decent and safe environments free from loud parting, prostitution or drug dealing.
But their main differences are in the following;
Level of services
Target Clients
Social amenities
Presence
Breakfast
Aesthetics
Size of rooms
Level of Services
The one thing that sets the two establishments apart 100% of the time is that Holiday Inn Hotels are classified as full-service establishments while Holiday Inn Express hotels are classified as limited-service establishments.
This means that holiday inns have an on-site full-service restaurant, a bar and a conference room(s), all offering a certain level of on-site catering services.
The hotel and restaurant that make up the holiday inn are run as one property, and on the side, the hotel offers additional services and staff, such as room service and bell staff.
On the other hand, Hotel Inn Express offers only complimentary breakfast in the form of a buffet in the breakfast room which classifies it as a limited-service establishment.
It does not have a restaurant or bar, or conference facilities, making catering services unnecessary to them.
Some of these establishments, though, may sometimes be located next to a restaurant and may use the opportunity to link their clients with the restaurant, which benefits each business at individual levels.
Because they neither offer additional services nor do they have additional staff, holiday inn express clients get their special needs handled by the front desk agent.
Target Clients
Holiday Inn Hotels are robust and target clients who seek to relax and have a good time.
These clients want to spend money on services that comfort them.
This often means that these clients are not hurrying to their destination and are willing to spend time and money.
Holiday Inns are, therefore, great for families, honeymooners and vacationers, while Holiday Inn Express hotels are for business individuals and travellers passing through who are not keen on premium services.
They are in a clean and safe environment after a good night's sleep.
Social Amenities
The Holiday Inn Express establishments are meant for business travellers or people just passing through who mostly stay short term, so they offer just bed and breakfast services.
For this reason, it is hard to find proper conference rooms, swimming pools, fitness centres or even spas on their premises.
But they offer a meeting room for a group gathering, transportation at convenient prices and a business corner with a computer and printer for travel documents, boarding passes and tickets.
Holiday inns go the extra mile to provide extra services and amenities because they target leisure and comfort.
This makes their brands a great destination for families on vacation and individuals seeking a getaway from the hustle and bustle of everyday life.
Presence
Holiday Inn Express facilities are sprouting everywhere, meaning they are mostly new or recently renovated to beat its competitors.
This also means they are almost in every locality on every continent and are easily available.
They are mostly in three or more-storey buildings, meaning they are highly sought after and house more travellers than their Holiday Inn Counterparts.
That is major because they offer basic services at fair prices, which many business travellers seek.
Breakfast
Many travellers are interested in a good night's sleep and breakfast.
And while the Holiday Inn Express offers just that and a quick inclusive breakfast at the breakfast room, the Holiday Inn offers its clients larger and more diverse breakfast options, which can be taken at the restaurant or in the room.
But travellers consider Holiday Inn Express breakfast to be hot and sumptuous.
Bread, ham, cheese, oven-fresh croissants, milk, juice, yogurt, scrambled egg etc., and to consider their early travellers, most Holiday Inn Express open their breakfast buffet by 4 in the morning.
To top that up, most of these hotels will not only serve local breakfast items but will include some international foods such as fries, burgers and salads for their international clients.
Aesthetics
Although the rooms in the two establishments may be almost the same, most new holiday inn Express establishments have poor breakfast rooms and little to no decor in their rooms.
But because they are mostly new, they look good, unlike most holiday inns which are much older and often trashed, meaning they have probably not been refurbished in a long while.
Therefore, picking a Holiday Inn that is in good shape requires one to call beforehand and inquire about the year of construction or when it was last refurbished.
The only underside to new buildings and major refurbishments is that they are done with the thought of saving the hotel money.
Systems that turn themselves off, dim lighting, a shower head with no water force and substandard carpets.
The Size of Rooms
Holiday Inn Express establishments have smaller rooms as compared to Holiday Inn.
Of course, despite their small size, they allow families and children to sleep in family rooms. But to be considerate, they have a sofa bed on the side for the children.
But for convenience, families with children may need to book into 2 double rooms instead of one family room.
Final Thought
The two establishments are generally the same, just the size and services they offer.
The Hotel Inn appears to be the old fashion of things, while the Holiday Inn Express is the new order of things in a busy world where people operate during busy working days.
In a twist of events, business travellers spend their working nights in Holidays Inn Express establishments to save money and later take their families on weekend getaways or vacations at Holiday Inn to spend the same money.
Related hotels comparisons