If you plan to hang out with friends, have fun with your kids, or spend quality time with someone special, a day at a theme park is a good idea. A decision may tear you between an adventure trip to Kings Dominion or Six Flags America.
Which park between Kings Dominion and Six Flags America is better? This post points out the main differences between the two parks, so you can know which suits your needs best.
Here's the main difference between Kings Dominion and Six Flags America
The main difference between the two amusement parks is that Kings Dominion has more roller coaster rides than Six Flags America. However, both parks offer similar services and slightly differ in their tickets and passes. Overall, Kings Dominion is the better choice because it's bigger, cleaner, and more fun compared to Six Flags.
Here are their differences in detail:
| | | |
| --- | --- | --- |
| Difference | Kings Dominion | Six Flags America |
| Location and Accessibility | Located in Doswell, VA | Located in Bowie, MD |
| Ride Variety | More roller coasters (13) | Fewer roller coaters (9) |
| Entertainment and shows | Fewer festivals and events | More festivals and events |
| Food and dining | More than 30 locations | Fewer food locations but a wide variety of cuisines |
| Price | Pricey | Cheap |
| Experience | Great customer care | Customer service needs improvement |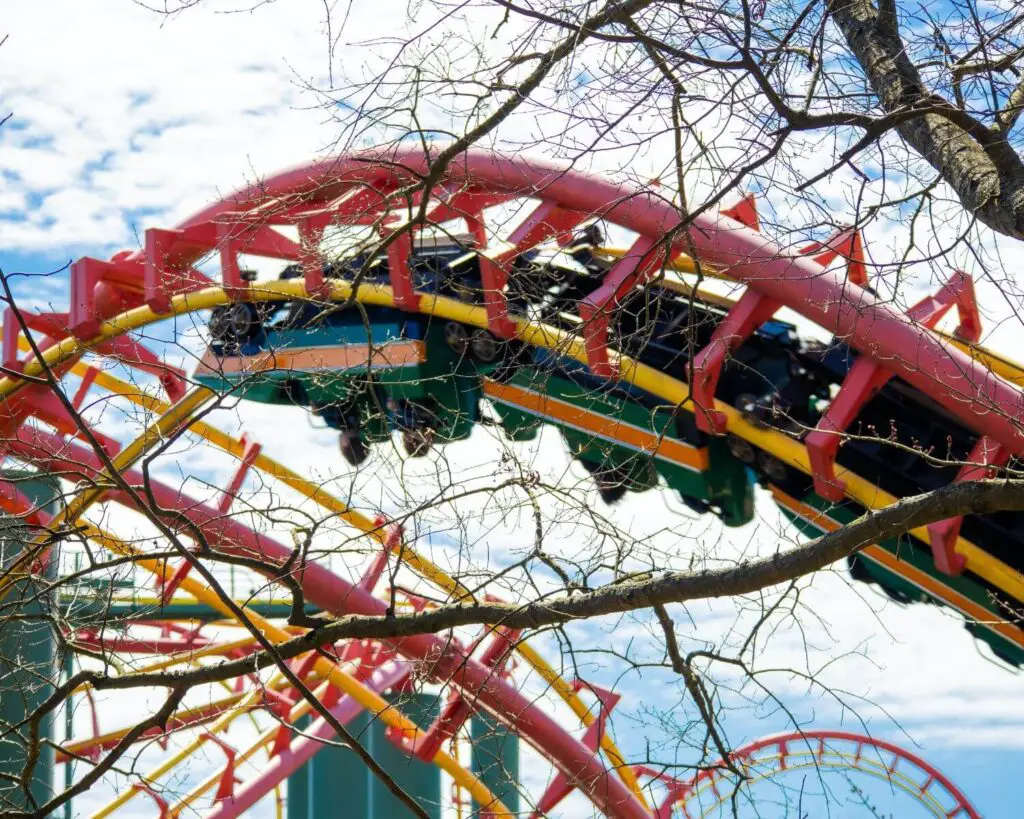 Location and Accessibility
Kings Dominion is located in Virginia, while Six Flags America is in Bowie, Maryland.
The amusement park in Doswell, Virginia, sits approximately 20 miles north of Richmond and 75 miles north of Washington, DC. It is accessible by taking a bus somewhere in DC.
On the other hand, Six Flags park sits near Upper Marlboro and Washington, D.C. Therefore, accessing the park is straightforward. You may take a metro from the nearby towns of Washington, Annapolis, Baltimore, Alexandria, Wilmington, York, Carlisle, and Harrisburg or drive to the theme park.
Driving times will vary because of the distance to the park.
If you are using your car from Washington and Annapolis, you should arrive in 15 minutes. The driving time from Baltimore and Alexandria is around half an hour.
When it comes to nearby attractions for both Kings Dominions and Six Flags, here's how they compare:
For Kings Dominion, within a 10-mile radius, you will find attractions such as:
The State Fair of Virginia
Meadow Event Park
Patrick Henry's Scotchtown
Ashland Theater
Center of the Universe Brewing Company, and
Hanover Tavern, among others
On the other hand, Tourist sites near Six Flags America include:
Watkins Regional Park
Vino 301 Wine Concierge
National Capital Radio and
Television Museum, Oak Creek Club, etc.
These attractions are found within a 10-mile radius of the park.
Ride Variety and Thrill Level
Both parks give various experiences in terms of ride variety and thrill levels for everyone. Here's how they compare;
Kings Dominion
In terms of the number of fun features, Kings Dominion has more than 60 rides and a massive collection of roller coaters at 13, the largest on the East Coast.
The Anaconda roller coaster features a 2700 feet long rail track that loops at 360 degrees and drops into water tunnels at 50 miles an hour in less than two minutes.
Dominator roller coaster makes you scream while traveling through its five floorless 4210 feet long vertical loops at 67 miles per hour in two minutes.
More roller coaters with aggressive thrill include;
The Backlot Stunt Coaster
Flight of Fear
Intimidator 305
Tumbili and
Twisted Timbers
Six Flags
On the other side, Six Flags America has about 54 rides, including nine roller coasters. However, the number is much less than Kings Dominion, which offers more thrill rides.
It has nine roller coasters, but its most interesting and aggressive one is BATMAN'S BATWING coaster.
It is meant to give you the feeling of how the DC character BATMAN maneuvers in the air.
The roller coaster moves upside down and up a 115-foot hill, dropping through its curved steel route at 50 mph. It is 3340ft and takes under 2 minutes to complete.
More roller coasters thrill rides include;
The Big Easy Speedway
Bourbon Street Fireball
Firebird
Harley Quinn SpinSanity
Superman Ride of Steel
The Joker's Jinx
VooDoo drop
The Wild One, and more.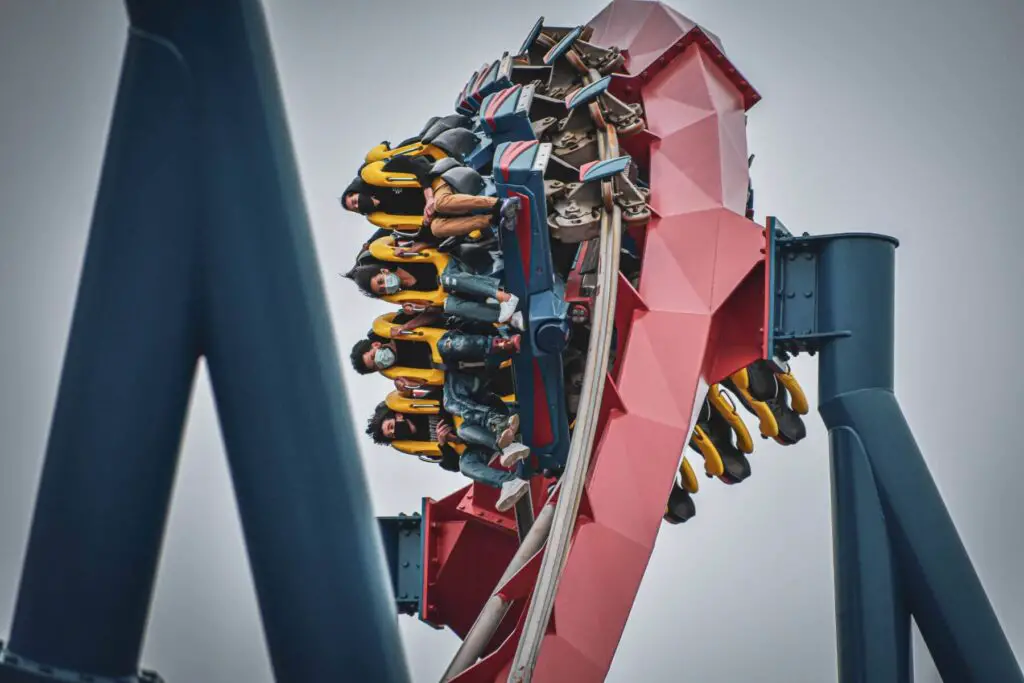 Entertainment and Shows
When it comes to shows and events to entertain visitors, Six Flags America has more shows and events than Kings Dominion. Below is how they compare;
Kings Dominion
If you are looking for multiple entertainment opportunities, visit Kings Dominion. The amusement park organizes world-class events yearly, such as the Grand Carnivale.
They appreciate and welcome different cultural practices globally. It includes clothing, dances, and food.
Kings Dominion sets up the Great Pumpkin Event every fall for kids to enjoy offers and discounts.
Other events include the Halloween Haunt, where the park is themed with Halloween monsters while visitors wear gothic costumes.
The Winter Fest is also held at the park, transforming the destination into a winter wonderland with lights and live shows.
On regular days, you can find live entertainment at Kings Dominion. For example, Bands in Residence perform live music. There are also interactive events such as meet and greets where people can come and have fun together.
Six Flags America
Six Flags America has more shows and events than Kings Dominion in a calendar year. Spring break is always packed with coasters, cuisines, and performances.
Therefore, there is much to enjoy with the whole family. Spring break events begin from the 1st to the 10th of April.
In between Spring break, there is the Scream break. You can enjoy the creek-themed event on selected dates from April 1 to April 16.
Ride in horror coasters from 7 pm to 10 pm after taking rounds in terrifying rooms. You will need to purchase Scream break tickets separately from regular pass tickets.
Sensory days between May, June, July, and August are also held at the park. These are family-friendly days with offers and discounts for everyone.
May and June also have a School Day event. The event has exclusive offer packages for students and schools visiting the park.
Viva la Fiesta is another event Six Flags America holds on the weekends of June. You can enjoy music performances and culture during the Saturdays and Sundays of June.
Finally, Veterans Day weekend in November celebrates the national heroes with parades.
Food and Dining Options
Both parks give everyone a wide range of foods, drinks, and dining options. However, Kings Dominion has over 30 locations offering different food and drinks such as ice cream, cocktails, chicken, fries, and Asian cuisines. Conversely, DC's Thrill Capital may have few food and drink joints, which may be unreliable during the peak season.
Kings Dominion
After having all the fun in the coasters and water parks, you can find vegetarian and vegan-friendly foods in its 30+ food locations. Additionally, dairy, egg, peanut, soy, and gluten-free meals are served at various corners of the theme park.
For instance, you can stop by Apple Ida's Funnel Cakes for snacks. Their signature funnel cakes are worth trying. You can add toppings of your choice, such as drizzled chocolate sauce or strawberry glaze, among other toppings.
On top of funnel cakes, the food joint serves snacks such as Apple cinnamon donuts, sundaes, Coca-Cola, and ICEE frozen drinks.
If you love pretzels, Auntie Ann's Pretzels is the go-to joint for your food and dining needs. Auntie Ann also serves a wide range of finger-licking pastries.
Six Flags America
While there may be lower food locations at Six Flags America compared Kings Dominion, one thing that makes Six Flags thrive is its abundance of local and international cuisines.
You will find restaurants serving local dishes and Asian, Mexican, and Italian Cuisines. Moreover, there are healthy food options, snacks, and coffee shops.
For instance, American restaurants include Aviator Grille in Chesapeake, which serves cheesesteaks and fries.
Colonial Cupboard, a food court in Main Street 1776, sells ICEE, popcorn, pretzels, turkey legs, and cotton candy. Gold Rush Chicken in Gotham City is popular with chicken tenders, fries, and burgers.
Asian cuisines are available at Chop Six, located at Olde Boston. Orange chicken, beef and broccoli, and fried rice are included on their menu.
If you want Italian-style foods like pasta and pizza, find them serving at Heritage House Food Court in Main Street 1776.
Overall Experience and Value
The quality of service you will receive from the two parks will also influence your choice. The following is they differ in the experience and value they give to customers.
Kings Dominion
Daily Tickets to Kings Dominion is higher at $39.99. Bring-a-friend tickets have a lower price at $29.99.
If you are visiting as a group, such as friends, corporate, student, or family groups the charges are $38.99 per head. However, if the group comprises between 15 and 99 people there are more discounts to enjoy.
A season's ticket is available. To get a season pass, you can opt for either silver, gold or platinum packages. Silver tickets cost $12 per month, gold at $15 monthly and platinum which earns you more advantages like unlimited visits will cost you a $37 monthly fee.
Benefits of Kings Dominion season passes include free parking, exclusive food and merch discount, rewards, among others.
One thing most customers appreciate is the cleanliness of the amusement and theme park. Kings Dominion employees help maintain the park's beauty.
Additionally, it has received good ratings from various customers. They are as follows.
Tripadvisor: 4/5 (1,878 reviews)
Yelp: 3.5/5 (584 reviews)
Google: 4.5/5 (21,936 reviews)
Although there are a few issues that need addressing, customers are generally pleased by their services. Some comments from Tripadvisor read:
"I love this place . The food is amazing, no wait, I really didn't use my fast pass, and they had reliable resources. The only thing I don't recommend is the roller coaster, "Anaconda". It is a fun ride but if you aren't taller than 5'6 or 5'7, you will repeatedly hit your head causing a headache."
"Our home park is Kings Island. so we have always wanted to see what Kings Dominion was all about. It did not disappoint. Park has beautiful trees and landscaping. The park is clean, and loved the shows and the rides. Everyone who works there is friendly and we had a great time."
Six Flags America
Daily entrance tickets to Six Flags cost $29.99, which is cheaper than Kings Dominion. Their season tickets are also affordable.
Gold pass tickets cost $49.99 per year or $7.99 monthly. Platinum pass tickets will cost you $64.99 per annum or a monthly fee of $8.99.
The other type of tickets to purchase are diamond tickets which are the most expensive at $129.99 per year or $11.99 per month.
The tickets are also beneficial as you can get exclusive discounts and offers. However, the type of service at the parks may not be as excellent as at Kings Dominion.
Some customers on Tripadvisor said:
"Price was reasonable and I guess in this instance you get what you pay for. Food is expensive and staff is rude and/or untrained. If you get the meal deal then Be prepared to go to locations where they tell you they don't accept it though the website map indicates they do. I found out from park services that this isn't the case and all locations should. Not sure what the deal is with that."
"..They didn't really explain where the fast pass entrances were and sometimes the person who was in charge of the line could have let you in the regular line because there were only two people in front of us said we had to go all the way around. The only thing literally separating you from the regular line was a chain but the entrance for the fast pass was by the exit. The food was palatable and the prices weren't as bad as I thought they would be. Reasonable prices for souvenirs, but that's not why you go there."
The park is also clean, as said by most clients. One commenter said this concerning the park:
"Visited the park yesterday. Beautiful day. Temperatures were checked and mask must be worn at all times. Park was clean. Great price – $19.99 per person."
Online customer reviews are fair concerning their services. Here is what various review websites say about their services;
Tripadvisor: 3.5/5 (1,180 reviews)
Yelp: 2.5/5 (528 reviews)
Google: 4.1/5 (13,674 reviews).
See related: Adventure Island vs Aquatica Orlando
Conclusion
In summary, this guide gives significant differences between Kings Dominion and Six Flags America. Depending on your needs, this guide should help you find the best amusement and theme park.