Moments and experiences are created well when you stay comfortably in one of the fanciest hotels in town or those that adjust to major cities. Despite being two of the greatest hotels, Holiday Inn and Comfort Inn have differences that set them apart.
It will do us good to delve into the major differences and understand what makes these hotel brands stand out. Also, we will look into customer reviews given to each of the hotels by customers.
Here's the Difference Between Holiday Inn and Comfort Inn
The main distinctions between Holiday Inn and Comfort Inn are in who owns the brand and who their target markets are. The Intercontinental Hotels Group (IHG), which owns Holiday Inn, takes delight in providing its services to both tourists and businesspeople. However, Comfort Inn is owned by Choice Hotels International, whose target market consists of those who are cost-conscious and seek out low-cost accommodations.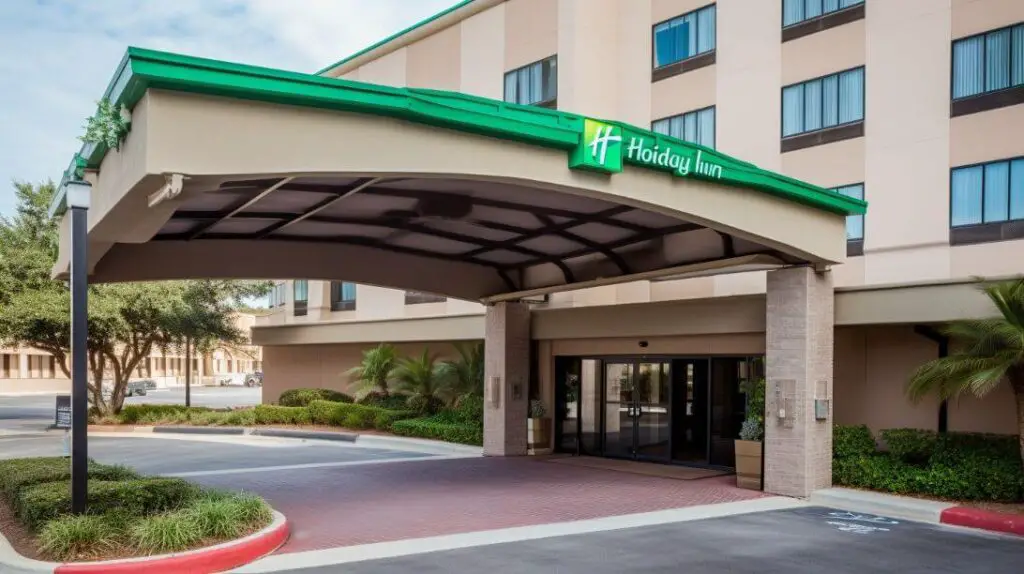 Quick overview
| Category | Holiday Inn | Comfort Inn |
| --- | --- | --- |
| Target Clients | Business and leisure travelers, families. | Cost-conscious travelers seeking affordable accommodations. |
| Accommodation | Standard rooms and suites with separate living areas and kitchenettes. | Functional rooms suitable for short stays with basic amenities. |
| Unique Amenities | Fitness centers, swimming pool, meeting spaces, and business services. | Complimentary breakfast, free Wi-Fi in each room. |
| Location | Over 1100 locations globally, near tourist attractions and business centers. | Global presence in major tourist destinations. |
| Price | Generally more expensive due to extensive services and amenities. | More budget-friendly. |
| Aesthetics | Modern and contemporary aesthetics with stylish interiors and sleek furnishings. | Straightforward and traditional design focusing on comfort. |
Holiday Inn Vs Comfort Inn overview
Book your stay
Brand Ownership
Holiday Inn Hotels are owned by Intercontinental Hotel Group (IHG), whereas Choice Hotel International owns Comfort Inn. One of the largest hotel chains with a reputation for providing distinctive services is the Intercontinental Hotel Group.
Despite different ownership, the hotels strive to provide customers with the best and most quality services. This impacts the discharge of services, the hotels' positioning, and the customers' experiences.
Global presence and location
The Holiday Inn brand has earned its place in the global marketplace with numerous outlets.
With over 1100 locations, it is easy to choose what type of hotel you want to call home during your trip. Holiday Inn also has a major presence in popular tourist destinations.
Comfort Inn hotels have a global presence too, but only in some regions and countries. They are also found in the major tourist destinations in the countries or regions stated.
Holiday Inn and Comfort Inn offer convenient and accessible accommodations for tourists and travelers in various locations.
The global presence of Holiday Inn gives it a thumbs up for service distribution in many parts of the world compared to Comfort Inn.
You can easily select Holiday Inn as one of your best hotel destinations.
Room Type
Comfort is self-generated; in this case, room type plays a major role. You need a better understanding of the rooms to choose between Holiday Inn and Comfort Inn.
Holiday Inn offers different varieties of rooms in relation to the customer's preference.
Holiday Inn rooms can include standard rooms and suites; there are also accessible rooms for people with disabilities.
Holiday Inn rooms also have additional features such as separate living areas, kitchenettes, and upgraded furnishings. This makes Holiday Inn the best choice for family trips.
Each room also features free WI-FI where you can access the internet, making work easy and comfortable. A working desk is also available in the rooms.
On the other hand, Comfort Inn aims to provide comfortable and functional rooms suitable only for short stays.
The rooms have basic amenities like flat-screen TVs, work desks, and coffee makers. The room type and services offered may vary at different locations.
Comfort Inn Hotels also feature double rooms best suited for family or group travel.
Comfort Inn might be a suitable brand for you if you are a budget-oriented traveler who wants a simple, direct, and comfortable stay.
Amenities And Services
Holiday Inn and Comfort Inn hotels have similarities in some services they offer, but some slight differences exist.
For example, Holiday Inn offers many amenities and services to enhance your experience. In contrast, the Comfort Inn hotel offers essential amenities and services.
Some services and amenities that make Holiday Inn stand out include fitness centers, a swimming pool, meeting spaces, and business services.
Other amenities, like restaurant service, are also provided at the Holiday Inn hotel, serving American cuisines like hamburgers and steak.
Here's a review from a customer on Trustpilot;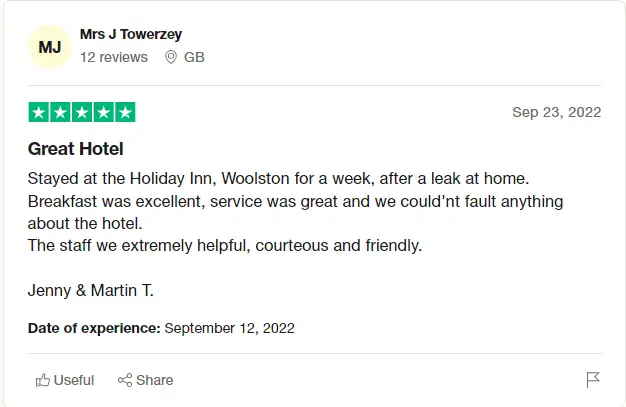 You can also quench your thirst with a favorite drink of choice from the bars available at the Holiday Inn Hotel.
Depending on the location, Holiday Inn also features additional facilities such as spas, golf courses, and other recreational services.
Comfort Inn Hotels focuses on providing essential amenities and services to ensure a comfortable stay for guests.
With Comfort Inn hotels, you do not have to worry about waking up and struggling for breakfast. The hotel offers complimentary breakfast to start your day on a high note.
Comfort Inn hotels make connectivity with the outside world and remote working easy.
The availability of free Wi-Fi in each room adds more elegance to your room.
The Comfort Inn Hotel is designed for guests who want a straightforward stay, are cost-conscious, and value convenience.
Target Market
Regarding the market target, Holiday Inn covers a large market with a wider spectrum of business and leisure travelers.
The hotel offers numerous services and facilities for guests, including families, individual travelers, and professionals.
In contrast, Comfort Inn Hotels focus on economical travelers seeking affordable accommodations without putting their comfort at stake.
With Comfort Inn hotels, you can choose the type of room you want from the options.
Price
Expensive is costly. With Holiday Inn Hotel, you must dig deep into your pocket to experience the comfort you want, compared to Comfort Inn.
The room rates for Holiday Inn are typically expensive, and this is because the services, amenities, and facilities offered at the hotel are extensive.
Because Comfort Inn aims to target clients with great value for money, it positions itself as a budget-friendly hotel. Simple accommodations and comfort make the hotel less expensive than the Holiday Inn.
Aesthetics
Holiday Inn and Comfort Inn hotels have different styles and designs that set them apart from each other.
To point this out, holiday inns have an elegant touch of modern and contemporary aesthetics. They combine stylish interiors with sleek furnishings and are detailed with design elements.
In contrast, the Comfort Inn Hotel's design is more straightforward and traditional; comfort is the key.
To capture the attention of many guests, the holiday inn incorporates vibrant colors and trendy decor. With these features, you can experience a natural feeling at the Comfort Inn Hotel.
On the other hand, the Comfort Inn Hotel focuses on a cozy and more functional aesthetic.
here's a review of Comfort Inn from a customer on Tripadvisor;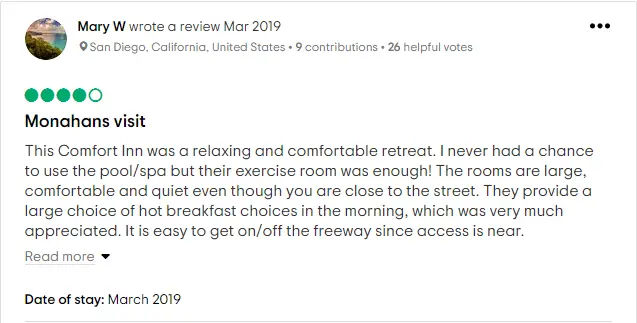 The hotel features a comfortable and relaxed ambiance.
To choose the ambiance of Comfort Inn over the modern, sleek, and wide amenities of Holiday Inn, you must be an economically minded individual.
Additionally, the Comfort Inn lobby is well-furnished with unique design and decor that brings its outlook to a standstill and improves the interest and elegance of the guest.
Ultimately, the aesthetics of Holiday Inn and Comfort Inn hotels contribute to the overall experience and ambiance, allowing you to select a brand that aligns with your personal preferences and desired atmosphere.
More Holiday Inn hotel comparisons
More Comfort Inn hotel comparisons