Whether planning a business trip, a family vacation, or a romantic getaway, you may have found it hard to pick a perfect hotel between Holiday Inn and Hampton Inn. Both are popular hotel chains known for their comfortable accommodations and excellent services.
However, some critical differences between the two may make one a better choice for your next stay. So, let's explore the differences between Holiday Inn and Hampton Inn.
Here's the main difference between Holiday Inn and Hampton Inn.
Holiday Inn is generally considered a mid-scale hotel brand and caters to a broader range of travelers, including families and business tourists. Hampton Inn, alternately, is regarded as an upper economy hotel brand and primarily targets business and leisure visitors looking for a comfortable and convenient stay.
The table summarizes the differences between the two hotels:
Holiday Inn
Hampton Inn
Locations
4700 locations in over 100 countries
2900 locations in over 20 countries
Services and Amenities
Concierge service
Pay on-order breakfast
Kids play area
Shuttle service
Free hot breakfast
No kid's play area
Target market
Midscale
Upper economy
People per room
Maximum of 8
Maximum of 6
Style
Traditional and classic
Contemporary and streamlined design
Snack shops
No snack shop, but there is a restaurant and bar.
A snack shop is available alongside a restaurant.
Room types
Standard, executive, suites, accessible
Standard, deluxe, studio, one bedroom, two bedroom, accessible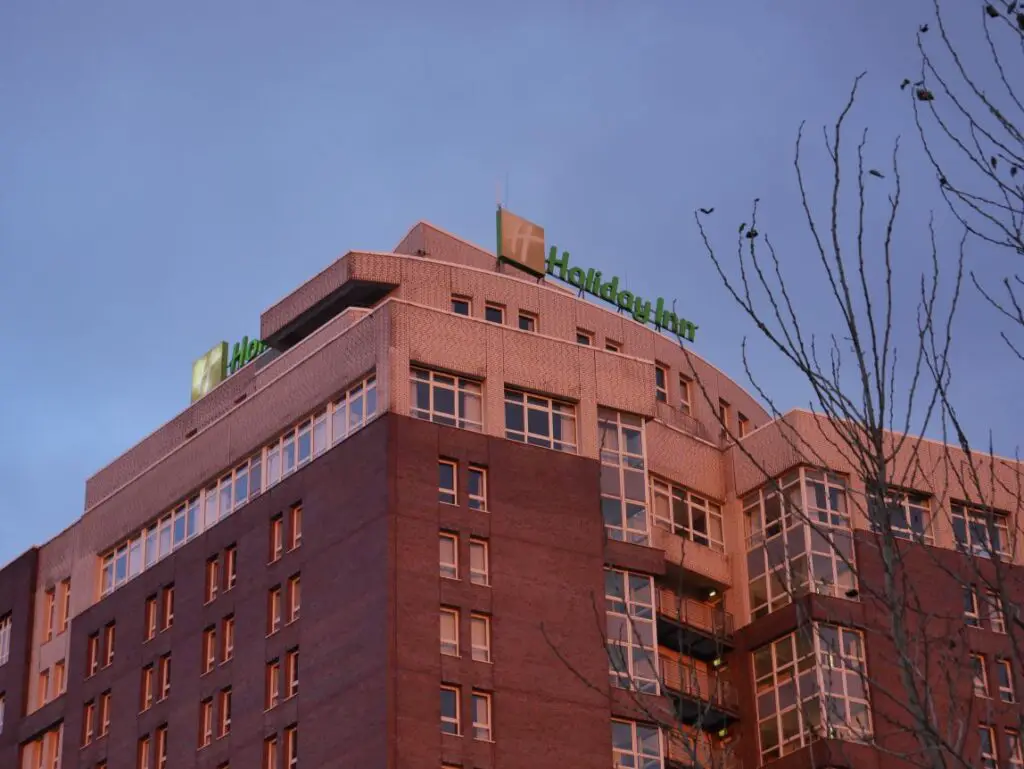 Book your stay
Number of Locations
Finding a Holiday Inn or Hampton Inn hotel for your stay should not be a problem.
They both have many hotels within the United States and other international countries.
While the two brands have many locations, Holiday Inn has a more comprehensive global presence than Hampton Inn, with more hotels in more countries.
Holiday Inn
Holiday Inn has a more comprehensive international presence with over 4,700 hotels in nearly 100 countries.
They have locations in various settings, including urban areas, suburbs, and rural locations.
According to the brand's website, there are over 1,200 Holiday Inn hotels in the United States.
These hotels are located in all 50 states, making them easily accessible for travelers throughout the country.
Outside of the United States, Holiday Inn boasts another 3500 hotels in other counties across Europe, Asia-Pacific, Africa, and the Middle East.
Therefore, whether as a domestic or international tourist, Holiday Inn has you covered with multiple accommodation options.
Hampton Inn
Hampton Inn, on the other hand, has a slightly smaller global presence with over 2,900 hotels in over 20 countries.
Like Holiday Inn, you will find their hotels in urban areas, suburbs, and rural locations.
Most of Hampton Inn's locations are in the United States.
There are over 2,500 Hampton Inn hotels located in the United States.
You will likely find more Hampton Inn locations in the US than a Holiday Inn.
The brand falls short of hotel locations in other countries, with the remaining 400 hotels distributed in at least 20 nations across Europe, the Middle East, Asia Pacific, and Africa.
However, Hampton Inn promises their international locations to double in the next few years.
Services and Amenities
The types of services the two brands provide are distinct. Here is how they differ.
Holiday Inn
Holiday Inn hotel chain offers a variety of amenities to guests.
For instance, to help you keep fit when away from your local gym or personal gym at home, there are fitness facilities available.
To improve the quality of your vacation, Holiday Inn hotels have a pool to enjoy good times with family and friends while swimming.
Guests can enjoy business amenities such as meeting rooms and a business center if visiting for a business trip.
Holiday Inn has on-site dining options, including a restaurant and/or bar.
You can enjoy the best sea foods and cocktails in the world. However, breakfast is not part of the package; hence, you pay for it separately.
Other amenities may include a concierge service, laundry service, and parking. Some hotels also have wellness spa facilities and a kids' play area.
Hampton Inn
In contrast, Hampton Inn has its way of making its client's vacation special.
Hampton Inn includes a complimentary hot breakfast upon reserving a room. The hot breakfast includes waffles, bacon, oatmeal, yogurt, and more.
Expect to enjoy fitness facilities such as a gym and a pool.
Hampton Inn provides business amenities similar to Holiday Inn, such as meeting rooms and a business center.
You can also find on-site dining options, such as a restaurant and a snack shop, which are missing at Holiday Inn.
Other amenities to benefit from booking a Hampton Inn stay include complimentary shuttle services, laundry services, and ample visitor parking.
Rooms/Accommodation
The hotels offer customers different types of rooms to select what type suits their taste.
Holiday Inn
Holiday Inn offers several room types, including standard rooms, executive rooms, suites, and accessible rooms.
Standard rooms typically include a private bathroom, TV, and work desk.
Executive rooms and suites may offer additional features such as a separate living area, a mini fridge, and upgraded bedding.
Accessible rooms are designed to accommodate guests with disabilities and may include features such as roll-in showers and grab bars.
Hampton Inn
On the other hand, Hampton Inn offers a wider variety of room types to accommodate the needs of different guests.
The rooms provided by Hampton Inn include standard, deluxe, studios, one-bedroom, two-bedroom, and accessible rooms.
Standard rooms are the most basic rooms Hampton Inn offers. The rooms have comfortable beds, work desks, and flat-screen TVs.
For more space and upgraded amenities, clients can opt for deluxe rooms.
A larger work desk, a seating area, and a mini-fridge come standard in the rooms.
Studio suites are larger than standard and deluxe rooms and offer a separate living area with a pull-out sofa bed and a microwave and mini-fridge.
One-bedroom suites – These rooms feature a separate bedroom and living area, with a king-size bed, pull-out sofa bed, and a kitchenette.
In two-bedroom suites, the rooms offer even more space and feature two separate bedrooms and a living area, making them ideal for families or groups of friends.
Hampton Inn also provides accessible rooms specially designed to meet the needs of guests with disabilities.
The amenities and room types may vary depending on the location and availability.
Family-friendly
Before choosing the best hotel, it is crucial to check which one is family-friendly. The differences below help you pick the best hotel for your family.
Holiday Inn
Holiday Inn rooms can accommodate up to 8 adults and children.
Rooms that have children must also have an adult with them.
Additionally, the limit for the number of spaces one can book is 10.
Holiday Inn is also pet-friendly, allowing its clients to come along with pets for the holidays.
Hampton Inn
In contrast, a standard room at Hampton Inn can accommodate up to four guests, with options for one king bed or two double beds.
Some locations may have rooms with different bedding configurations that can accommodate more or fewer guests.
Also, some places may have larger suites that accommodate families or groups of up to six people.
Concerning pet-friendliness, Hampton Inn's policy does not allow visitors to carry their pets.
Style & feel
The style and feel you will experience at Holiday Inn differs from Hampton Inn. Take a look at their variations.
Holiday Inn
Holiday Inn is known for its more traditional and classic design.
The hotels often feature bright, welcoming lobbies and guest rooms with modern amenities and functional workspaces.
You get a home-away-from-home vibe while at Holiday Inn.
Hampton Inn
Hampton Inn, on the other hand, is known for its more contemporary and streamlined design.
The hotels often feature clean, simple lines and neutral color schemes. Therefore, for a classy feel, Hampton Inn is the right hotel.
The two hotel brands provide great amenities and services to suit different clients. This guide provides details of what makes them distinguishable from one another. The price margins are also minimal. Therefore, depending on your type of stay, both provide great options.
More Holiday Inn hotel comparisons
More Hampton inn hotel comparisons