Welcome to the world of hospitality, where two great hotel chains meet: Hampton Inn and Comfort Inn. These two brands of hotel chains compete against each other to offer exceptional services to their clients. Therefore, choosing the right hotel during your trip can significantly impact your experience.
With all the unique services both hotels offer to enhance the customer experience, we will delve into the nuances that make Hampton Inn and Comfort Inn stand out.
Here's the Key Difference Between Hampton Inn And Comfort Inn
The key difference between Hampton Inn and Comfort Inn lies in their location; in this case, Hampton Inn premises are located within urban, major business centres, and tourist destination areas. In contrast, Comfort Inn properties are located in suburban areas, along major highways, and within business centres.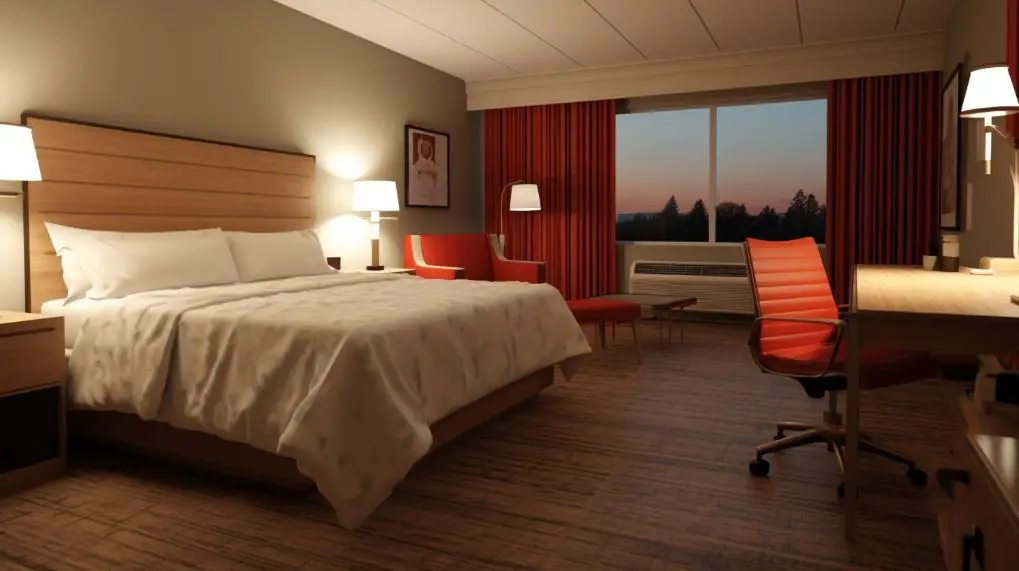 Quick comparison overview
| Criteria | Hampton Inn | Comfort Inn |
| --- | --- | --- |
| Location | Urban, business centers, tourist attractions | Urban, suburban, along major highways |
| Amenities | Complimentary hot breakfast, fitness center, pool, Wi-Fi, business centers | Grab-and-go breakfast, seasonal outdoor pool, fitness center |
| Room Types | Standard rooms with modern amenities | Functional rooms suitable for short stays |
| Aesthetics | Modern, stylish ambiance | Cozy, functional aesthetic |
| Prices | More expensive | Budget-friendly |
| Loyalty Programs | Part of Hilton Honors program | Part of Choice Privileges Loyalty Program |
Book your stay
Location
Hampton Inn is strategically located in different destinations, including urban and major business centers, highways, and airports.
You will also find Hampton Inn premises near tourist attractions, making them ideal for travelers who need easy access to means of transportation.
On the other hand, Comfort Inn Hotel's location focuses mainly on urban, suburban, and major tourist destinations. However, they are less prominent than the Hampton Inn.
Hampton Inn tends to be in larger cities, while Comfort Inn is in smaller towns and cities.
On the contrary, Comfort Inn focuses on providing world-class services to their customers along the major superhighways and transportation networks, making them suitable for road travelers.
Amenities and Facilities
Both Hampton Inn and Comfort Inn offer standard amenities to their guests, but there are some slightly notable differences between these hotels.
For instance, Hampton Inn presents itself as a hotel with a wide range of amenities to enhance the comfort of its guests. These amenities include a complimentary hot breakfast and spacious rooms for families and individual travelers.
At the Hampton Inn Hotel, your exercise routine is remembered, as the fitness center and gym are provided for free on the premises. Hot and cold swimming pools are also available.
Hampton Inn takes care of its guests, giving them an unforgettable experience. If not, this customer on Tripadvisor would have said otherwise.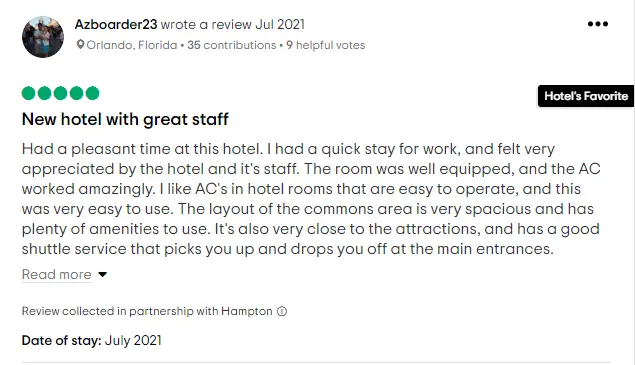 With Hampton Inn, you can enjoy Wi-Fi connectivity 24/7, allowing you to run down your daily remote tasks.
Hampton Inn features business centers working 24 hours daily, providing express check-in and check-out. You can shop and handle any business-related work conveniently.
The hotel has restaurants, bars, lounges, and dining options, serving all the meals and drinks guests need.
Another important facility at the Hampton Inn is the meeting rooms. Business travelers enjoy holding their meetings on the Hampton Inn premises.
Contrary to this, Comfort Inn similarly offers the same amenities to its guests, with the main objective of providing a comfortable stay. For example, grab-and-go breakfast for all the guests in the facility
The seasonal outdoor pool is perfect if you want to take a quick dip. These experiences and comforts are what you will find at Comfort Inn.
The activities you partake in at the Comfort Inn make it memorable. For instance, regularly exercise by lifting weights or running on the facility's treadmills.
The Comfort Inn Hotel is designed for guests who want a straightforward stay, are cost-conscious, and value convenience.
Room Types
Hampton Inn and Comfort Inn strive to provide an outstanding stay to their guests while at the hotel, and even though they post great service, several differences can be noted between the two hotels.
Regarding room size, Hampton Inn offers more standard and well-appointed rooms. The room contains modern amenities and types of furniture.
The rooms have also been equipped with free Wi-Fi and a working desk, so you can remotely do your tasks as well as connect with the outside world. The rooms are also equipped with flat TV screens.
Enjoying your favorite coffee in your fully furnished living area is possible at Hampton Inn hotels. The rooms are equipped with in-room coffee makers. In addition, Hampton Inn rooms have separate living and bedroom areas.
On the other hand, Comfort Inn aims to provide comfortable and functional rooms suitable only for short stays.
The rooms have basic amenities like flat-screen TVs, work desks, and coffee makers. The room type and services offered may vary at different locations.
Comfort Inn hotels also feature double rooms for family or group travel. Apart from that, Comfort Inn might be a suitable brand for you if you are a budget-oriented traveler who wants a simple, direct, and comfortable stay.
Aesthetics
Hampton Inn and Comfort Inn have unique aesthetics that set them apart and make them stand out.
For instance, Hampton Inn follows modern aesthetics, incorporating comfort and a stylish ambiance.
The interior rooms are designed with a warm color palette, modern furniture, and an elegant decorative touch. Making the room very attractive and eye-catching.
Common areas such as the lobby and dining, which sometimes involve sharing spaces, are designed with a welcoming and cozy atmosphere.
On the other hand, the Comfort Inn Hotel focuses on a cozy and more functional aesthetic. The hotel features a comfortable and relaxed ambiance.
When it's too good, visit three times. That's what this happy client did after her stay at Comfort Inn. She'll probably go for the fourth and fifth soon.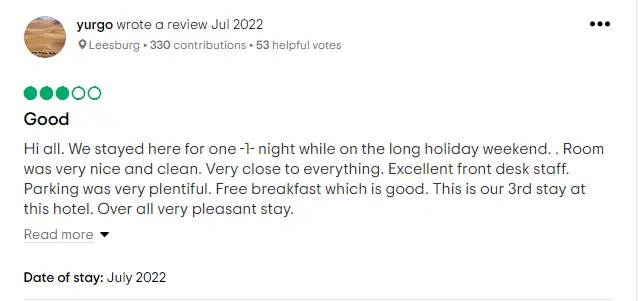 To choose the ambiance of Comfort Inn over the modern, sleek, and wide amenities of Hampton Inn, you must be an economically minded person.
Additionally, the Comfort Inn lobby is well-furnished with unique design and decor that brings its outlook to a standstill and improves the interest and elegance of the guest.
Ultimately, the aesthetics of Holiday Inn and Hampton Inn hotels contribute to the overall ambiance experience, allowing you to select a brand that aligns with your personal preferences and desired atmosphere.
Prices
Expensive is costly. With Hampton Inn Hotel, you must dig deep into your pocket to experience the comfort you want, compared to Comfort Inn.
The room rates for Hampton Inn are typically expensive, and this is because the services, amenities, and facilities offered at the hotel are extensive.
Because Comfort Inn aims to target clients with great value for money, it positions itself as a budget-friendly hotel. Simple accommodations and comfort make the hotel less expensive than the Hampton Inn.
Overall, Hampton Inn and Comfort Inn are great places to call home during your trip. Your stay will depend on your preference; you can choose one to call home.
Loyalty Programs
The Hampton Inn is a member of the Hilton Honors program; in this case, they provide points to their guests during their stays at the hotel. The points can earn free nights, upgrades, and other perks.
On the contrary, Comfort Inn is a part of the Choice Privileges Loyalty Program, offering guests the opportunity to earn points for their stays and use those points to get free nights, benefits such as exclusive member rates, and express check-in.
More Hampton inn hotel comparisons
More Comfort Inn hotel comparisons