If contemplating between a Springhill suite or a Residence Inn stay, there are a lot of factors that you should consider.
While both hotel chains from Marriott suit extended stays, they aim at different customer bases. Stick around for more details.
Here's the main difference between Springhill Suites vs. Residence Inn
Both hotels are for extended stays; the main difference is Residence Inn is more appropriate for family stays while Springhill is more conducive for business. Both are Marriotts 3-star hotels. A residence Inn has an apartment-like style, while the Springhill fosters a hotel-like style.
Differences between Springhill Suites and Residence Inn
Aspects
Springhill Suites
Residence Inn
Service / Amenities
Complimentary Wi-Fi and no free breakfast.

Have mini shops, laundry services, fitness centers, pools, and business centers.
Offers complimentary Wi-Fi and breakfast.

Have a Mini shop, laundry services, pools, fitness centers, and Business centers.
Location
Have over 500 hotels across North America only.
Have over 800 hotels countrywide.
Rooms
Room Types include; King suites and queen suites.

They are not fitted with a kitchen.
Room types include Studio, one bedroom, and two bedrooms.

They are fitted with a full kitchen.
Family-friendly / Business friendly
More business-friendly
More family-friendly.
Parking
Self-parking only

Designated space for wheelchair parking.
Valet parking at $40.

Free self-parking.

Designated space for wheel-chair parking.
Pet friendliness
Do not allow pets
Allow pets and service animals.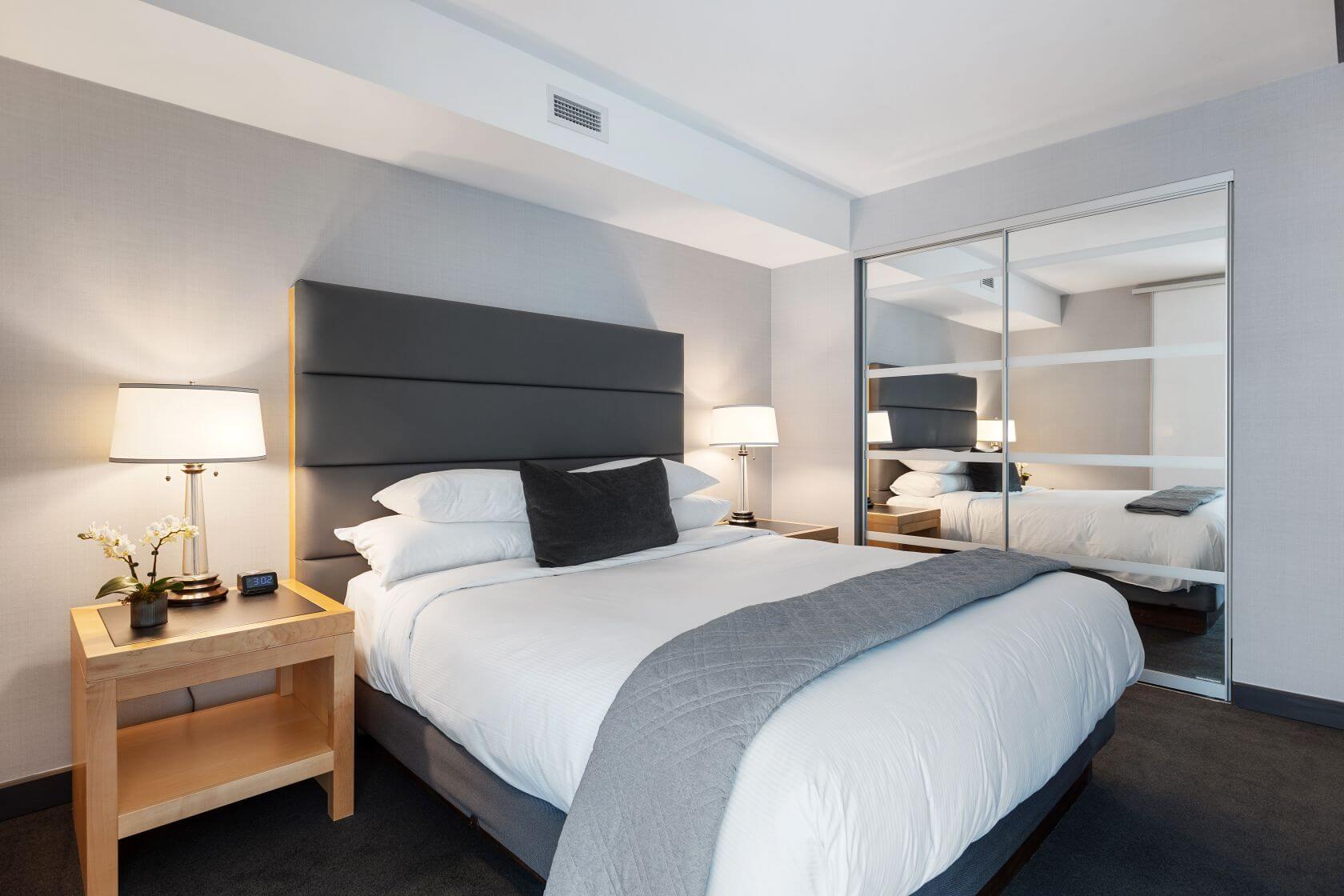 Services and Amenities
When comparing these two brands with Service and amenities in mind, of course, there is a notable difference.
Amenities at the Springhill suites suit business travelers. On the other hand, amenities at the residence Inn are more family-friendly. Here is a detailed outlook.
Residence Inn
A Residence Inn hotel has business centers and pools for family enjoyment; most are near leisure centers.
Amenities here give a homey feeling. Some even have outside space for barbecuing,
depending on the location.
There is a business center here, but it is not as sophisticated due to its target market.
See related: Courtyard vs Residence Inn
Springhill Suites
Comparatively, a Springhill hotel also possesses a business center, pools, and 24-hour market, although they may be limited in size.
Amenities on a typical Springhill suite suit business people who want to spend a few days. The spaces are just sufficient for business stay.
Their business centers are fitted with internet-enabled computers to carry out business without hitches.
Rooms
Both the Springhill suites and Residence Inn hotels offer spacious rooms. Nevertheless, there are some differences with the hotels set up. Take a look
Springhill Suites
The Springhill suites rooms are known for their extra spaces. You will likely find a dedicated workspace, a separate area in the room to sleep and work, an in-suite mini-fridge and microwave, and Spa-like bathrooms.
All these areas are in one room.
The hotel offers two room types; a king suite and a queen suite.
A king suite can host 1-4 people, while a queen suite can host 1-6 people. Their rooms' layouts are just like hotel rooms but with extra space.
Residence Inn
Though rooms in the Springhill hotel are spacious, they differ from Residence Inn rooms.
Here the Suites have different rooms for living spaces, kitchens, and bedrooms. The Guests can cook in their full-sized kitchen.
Usually, in a standard Residence Inn Studio, you will likely find a kitchen area, a sofa for relaxation, a bed, a bathroom, a working chair and table, and a television set.
In contrast, the room types include one-bedroom, studio, and two-bedroom. Their layouts are suitable for extended stays. For people looking for an apartment vibe, then this is for you.
Location
There are also some noteworthy differences between the geographical distribution of these two hotels.
Residence inn
When looking for a brand you can pledge loyalty to, and the Residence Inn hotel is for you. This is mainly for people who travel internationally mostly.
These hotels are on approximately seven continents. Most of their hotels in the United States are in North America.
This brand can serve you well both in the USA and internationally.
Most Residence Inn hotels are in Suburban areas. It provides its clients with a relaxing experience away from city noise.
Springhill Suites
Contrastingly in terms of location, the Springhill suites are located in North America only.
So, unfortunately, for brand-loyal travelers, you won't be able to find it in most countries. You will only find it in most states in the USA.
In contrast, these hotels are in both urban and suburban areas. This provides easy accessibility to business travelers to conventional centers.
Business Travels
Both hotels provide an excellent ambiance for business travel, but the Springhill hotel is better.
Here is a comparison you would find in each.
Springhill Suites
Regarding business travel, the Springhill suite rooms and other amenities favor business travelers.
They have a business center with internet-enabled computers. This space ensures that you will be able to work without disturbances.
Their rooms have 24hr wi-fi connections; additionally, they have a desk and a chair so that you can work within your room comfortably.
The location of these hotels, both in Urban, ensures easy accessibility to social amenities in the city.
Residence Inn
The Residence Inn is also business-friendly, but its design leans mostly towards leisure stays.
Similarly, they also provide a workspace and complimentary 24-hour wi-fi. They also have business centers onsite.
Their locations in Suburbans are primarily favorable for leisure and not business travel.
A plus for this hotel, though, is its space. It can take many people, especially those traveling for a conference or a business meeting.
Family- Friendly
When it comes to family friendliness, the Residence Inn got you. Here are the distinctions.
Residence Inn
Residence Inn is more suitable for family travel. Their apartment-like-styled hotel rooms are spacious and ideal for a family.
They provide a home vibe to the family, especially with children. Their amenities like pools\, Kitchenette, mini-shops, and Grocery delivery services are a plus.
It ensures that the family can cook their meals in the convenience of their rooms.
Their set-up is also more budget-friendly to families. It enables a family to share spaces and make their meals. The complimentary breakfast also can save a family a few bucks.
Additionally, television entertainment is also a complimentary service.
In their USA hotel room, television has 24-hr access to HBO programs. Families can kill their boredom by watching together.
Lastly, the hotel's ambiance promises family relaxation, comfort, and peace.
Springhill Suites
Though its sister hotel is more family-friendly, the Springhill Suites can cater to family needs.
Their suites are spacious and can host a small family. For those families in need of a hotel experience but with extra room, Springhill is for you.
They also have some amenities that will make your stay as a family enjoyable. These include a pool, 24-hour market, fitness centre, and a spacious room with separate areas.
They do not have full kitchens; they only have a coffee maker and mini-fridge.
Parking
Though both hotels allow onsite parking, there are a few differences in how each parking system works.
Residence Inn
Residence Inn provides self-parking and extended parking services for personal vehicles. Vehicles allowed include; trucks, vans, RVs, and buses.
Wheelchair-accessible parking is also present and has a designated space. There are no valet services, though.
Springhill Suites
Similarly, Springhill Suites provide self-parking and valet services onsite. For valet parking service, you will have to part with $40.
They also have off-street parking options and wheelchair-designated parking.
See related: How Much Is Hotel Parking? 60 hotels overview
Pet Friendliness
Most travelers with pets always want to know if they have the option of tagging along with their pets. Here is what you should expect regarding pets.
Residence Inn
The Residence Inn allows pets in their hotel. You will, though, be charged $75 for each pet accommodation. Also, service animals are allowed.
Springhill Suites
They do not allow pets in the Springhill hotels. Other branches may allow dogs and cats. The pet restriction may only apply to some hotel branches.
Making a choice between these two hotel chains by Marriott is relatively easy. Your preference will depend on what you will want to experience. And also, the reason for your travels. Those who wish for a business-like ambiance opt for the Springhill Suites. But if your aim is an apartment-style stay, then the Residence Inn is for you.
More SpringHill Suites hotel comparisons
More Residence Inn hotel comparisons