Travel of any kind means you have to seek the convenience of a hotel while away from home, and establishments that offer the comforts of home appeal even more.
Residence Inn and Embassy Suites are two establishments of this kind, but how do you determine the one that meets your needs and style?
Here Are The Key Differences Between Residence Inn And Embassy Suites
While these two brands share some similarities, Residence Inn caters to extended-stay visitors with fully equipped kitchens, whilst Embassy Suites offers spacious two-room suites with separate living and sleeping rooms and complimentary cooked-to-order breakfast and evening receptions.
Residence Inn by Marriott and Embassy Suites by Hilton are popular hotel chains offering spacious suites with either a kitchen or a kitchenette for extended stays.
But all their differences touch on the quality of their services.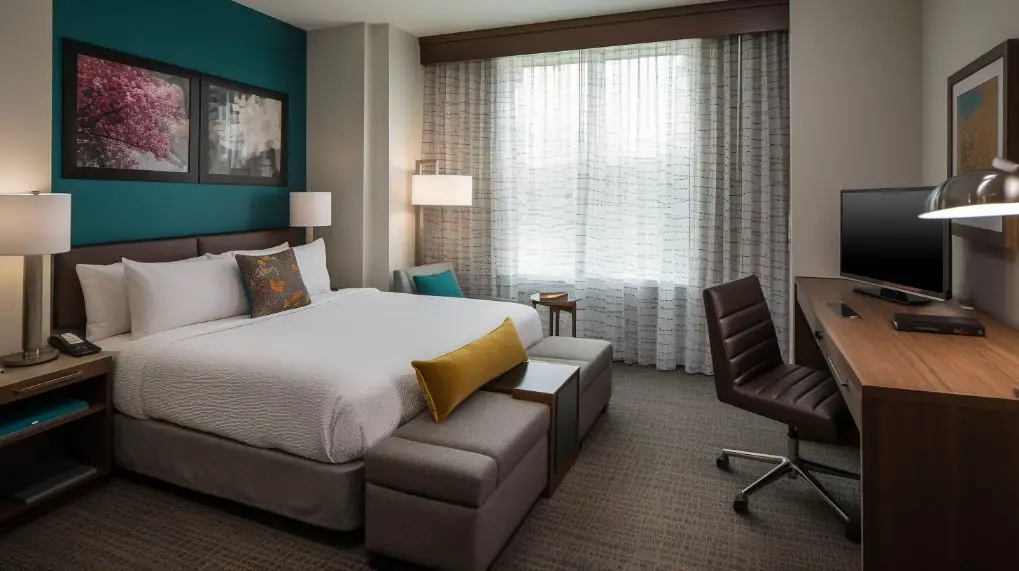 Target Clients
Every hotel brand targets a certain group of clients.
Residence Inn, in its business operations, targets business travelers, leisure travelers, families, and other extended-stay guests who are looking for a comfortable and convenient place to call home for longer periods.
To achieve this, Residence Inn rooms are equipped with thoughtful features and amenities that transform them into warm and inviting abodes.
On the other hand, Embassy Suites targets upscale business travelers, leisure travelers, families, and other similar guests looking for a luxurious and relaxing stay.
This means these two establishments target extended-stay guests seeking the same convenience, but one group seeks comfort while the other seeks enjoyment.
Types Of Accommodation
Both Residence Inn and Embassy Suites offer all-suite accommodations.
On its part, Residence Inn offers four categories; studio suites, one-bedroom suites, two-bedroom suites and accessible rooms each with a separate living room and a fully equipped kitchen.
And because guests are expected to cook their meals indoors, their fully equipped kitchens have a full-size refrigerator, a sink and countertop, stovetop, microwave, and dining ware, among others.
In other words, Residence Inn rooms are designed to have a home-away-from ambiance and are ideal for guests who intend to cook their meals.
Here's what a customer had to say on Tripadvisor about Residence Inn after her stay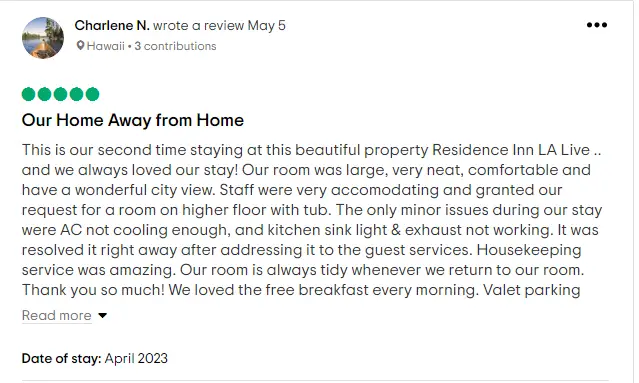 On the other hand, Embassy Suites also offer four categories of rooms; studio suites, premium suites, accessible suites, and two-bedroom suites.
But unlike Residence Inn establishments, Embassy Suites do not have a separate kitchen area which they compensate for with a kitchenette.
Their kitchenettes, however, are furnished with a fridge for storing food items and a microwave for warming foods.
In comparison, their rooms are larger and more luxurious than those at Residence Inn.
Quality Of Amenities
Residence Inn by Marriott and Embassy Suites by Hilton are two popular hotel brands offering their guests a wide range of amenities.
Some are similar, while others are unique to each hotel.
Here is a list of amenities that both brands have in common:
Complimentary breakfast
Evening social events with complimentary food and drinks
Fitness center
Business center
Free Wi-Fi
In-room kitchen or kitchenette
On-site laundry facilities
Pet-friendly accommodations (though policies may vary by location)
But while both brands offer similar amenities, they also have other unique amenities that set them apart.
For example, Residence Inn by Marriott properties offer two unique services;
Grocery delivery service
Outdoor spaces such as patios or BBQ areas
Unlike Residence Inn, Embassy Suites properties worldwide offer on-site restaurants, bars, pools, and hot tubs.
On a quality measure, Embassy Suites by Hilton is considered a more upscale brand than Residence Inn by Marriott.
Here's what a customer had to say on Tripadvisor about Embassy Suite;
Some of the upscale amenities that you might find at Embassy Suites properties include:
Larger suites with separate living areas
Higher-end bedding and linens
Upscale bath products
On-site spas or salons
Concierge services
It's worth noting that both brands (by request) offer a range of amenities that can be tailored to meet the needs and preferences of a traveler.
Location
The location of each hotel brand has a lot to do with its target clients.
Still, both Residence Inn and Embassy Suites have hotels located in popular destinations in the United States and worldwide.
These popular destinations could be conventional centers, schools and universities, major roads and airports, stadiums, medical centers, shopping malls, theme parks, and other tourism destinations etc.
With this in mind, most properties of Residence Inn and Embassy Suites are located near these destinations and other complementing amenities a location offers.
The difference, however, is that Embassy Suites properties tend to be located in more upscale locations and tourist destinations, while Residence Inn properties are located in more suburban areas and business districts.
Price
Like all other brands and properties worldwide, the price an establishment charges for accommodation varies depending on location, time of year, and quality of rooms and amenities.
The same concept applies to Residence Inn and Embassy Suites, but ideally, they are more expensive than Residence Inn due to their upscale amenities and luxurious accommodations.
Food And Beverage Options
Because breakfast is a crucial meal, both Residence Inn and Embassy Suites provide complimentary hot breakfast for all their guests with coffee and juices as their beverage.
The difference, however, is that Embassy Suites offers a more extensive breakfast that includes made-to-order omelets, pancakes, and other hot items.
In contrast, Residence Inn breakfast items are limited and often include continental options like cereal, muffins, and yogurt.
Not every food item is similar across all properties but may vary depending on individual hotel locations and their menu.
In terms of other meals, Residence Inn hotels have fully equipped kitchens in each of their guest rooms which guests use to prepare their own meals if and when they choose to. Otherwise, they can choose to order in or eat out.
And while Embassy Suites do not have fully equipped kitchens in their guest rooms, their guests can buy food or eat from the on-site restaurants and cafes.
Many hotels, though (as a consideration) have a convenience store or pantry on-site where guests can purchase snacks, drinks, and other basic items.
Regarding evening social meetings, both Residence Inn and Embassy Suites management offer a complimentary evening reception on select days where guests can enjoy light snacks and beverages in a social setting.
But just to be sure, guests can check with their hotel's front desk to see if any evening social events are available during their stay.