When picking a hotel for your visit, many possibilities may be confusing and need clarification. Home2 Suites and Hampton Inn, both members of the Hilton family, are well-liked choices among tourists.
Each provides distinctive features and amenities that are tailored to particular traveler categories. To help you decide, we will examine nine significant distinctions between these two brands in this post.
Here are the differences between Home2 Suites and Hampton Inn
Home2 Suites and Hampton Inn's primary difference is their accommodation style. Home2 Suites is designed for extended stays, offering spacious suites, while Hampton Inn caters to shorter stays, providing more traditional hotel rooms.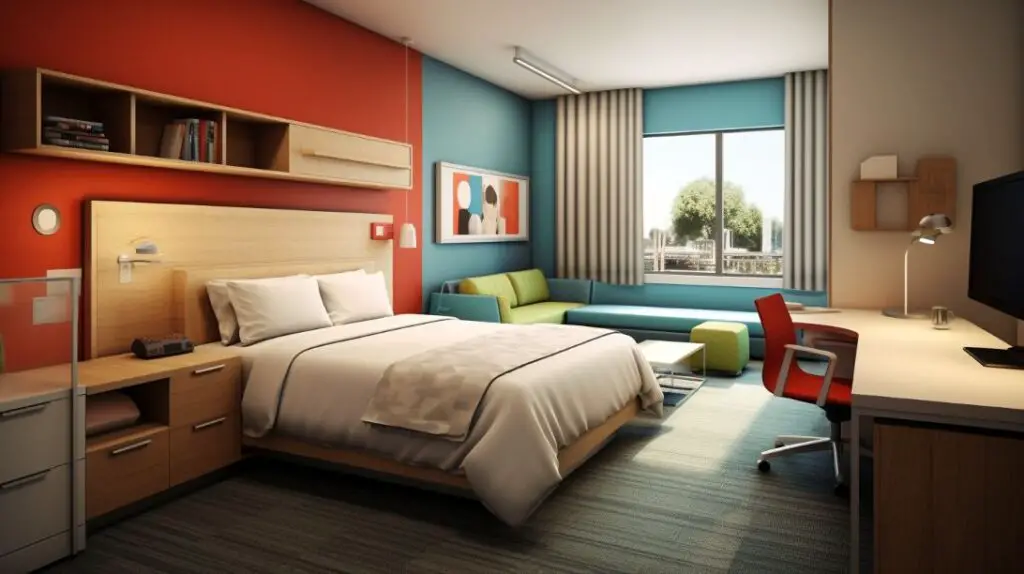 Quick comparison overview
| Criteria | Home2 Suites | Hampton Inn |
| --- | --- | --- |
| Target Audience | Designed for extended stays | Caters to shorter stays |
| Room Type | Spacious suites with kitchen | Traditional hotel rooms |
| Facilities and Amenities | Eco-friendly amenities, kitchenettes, fitness centers | Complimentary breakfast, Wi-Fi, fitness centers |
| Pet-Friendly | Yes | Yes, with some restrictions |
| Location | Suburban and residential areas | Variety of settings, including urban centers |
| Price | Higher due to larger suites | Lower, offering standard hotel rooms |
| Ambiance | Home-like, customizable room layouts | Warm hospitality, standard hotel environment |
Home2 Suites vs Hampton Inn overview
Book your stay
Target Audience
Home2 Suites brand is designed for extended stays.
For people who require a home-like setting for an extended length of time, such as business travelers and vacationing families, Home2 suites are perfect.
Hampton Inn, on the other hand, caters to shorter stays. It's suitable for business and leisure travelers seeking comfortable, reliable accommodations for a shorter duration.
Room Type
Rooms at Home2 Suites are spacious, and they feel more like a cozy apartment.
You're set for an extended vacation With a full kitchen, refrigerator, plates, and microwave.
This hotel is immaculate! Brand new open rooms! Love the color, very modern. The BBQ area was perfect for grilling burgers! Located conveniently right off the 495 Long Island Expressway. Make sure you make a reservation for the pool-they only allow 10 people in per hour

A review of Home2 Suites by a happy custmer on Tripadvisor.
However, Hampton Inn provides a more conventional hotel room for shorter stays.
While there's no kitchen, the convenience of a mini-fridge and microwave allows for easy meal storage and preparation.
Whether you choose the single or double bed option, comfort is guaranteed.
Home2 Suites and Hampton Inn cater to different travel needs, offering a home away from home or a comfortable resting place for the transient traveler.
Facilities and Amenities
Hampton Inn offers a range of amenities, from the delightful complimentary breakfast featuring a variety of hot and cold drinks to 24/7 Wi-Fi connectivity.
Hampton Inn ensures that guests stay connected throughout their journey.
The fully-equipped fitness centers at this hotel keep your exercise routine intact, offering treadmills, deadlifts, and more for a fit and energized body.
For business travelers, the 24/7 business centers with express check-in and check-out services make handling work very easy.
Dining options, including restaurants, bars, and lounges, cater to all your cravings, providing the perfect spot to savor a meal or unwind with a drink.
Hampton Inn's dedication to essential amenities promises a stress-free and delightful stay.
Alternatively, Home2 Suites is committed to eco-friendly amenities, providing guests a seamless blend of comfort and sustainability.
At Home2 Suites, guests can savor the joy of feeling at home with fully equipped kitchenettes catering to their culinary desires.
It provides a delightful way to reduce waste, allowing guests to experience the convenience of home-cooked meals during their stay.
Additionally, Home2 Suites ensures that guests stay connected and attend to their specific needs with free Wi-Fi throughout the hotel.
A 24-hour retail complex is accessible for night owls and snack lovers to pick up a late-night treat or necessities.
Keeping up with your fitness routine is easy as the Home2 Suites has fitness centers that are fully equipped.
The hotel also provides inviting outdoor spaces featuring fire pits and grills, creating the perfect setting for socializing and unwinding under the stars.
At Home2 Suites, guests can revel in the perfect balance of eco-consciousness and delightful amenities, immersing themselves in a memorable and sustainable stay experience.
Pet-Friendly
At Home2 Suites, pets are not just welcomed, and they are embraced as part of the family. Here, they believe in creating a truly inclusive environment for all furry companions by welcoming pets of all sizes and breeds.
The spacious suites at Home2 allow pets to move and play freely while inside the cozy rooms.
However, Home2 Suites may require pets to be kept on a leash when in public areas to ensure the comfort and safety of all guests, including the furry ones.
Likewise, Pets are valued members of the family at Hampton Inn, who recognize that they are more than simply animals.
Some sites, however, may have limitations on the types of dogs they can accept due to the comfort and safety of all visitors.
For example, the establishment might only permit specific types of dogs or set a weight restriction for them.
Additionally, much as at home, there may be areas at Hampton Inn where pets are allowed and areas where they are not.
The dining room and fitness center are off-limits to pets. However, they may join you in your room for some cuddling time.
Location
Regarding location, Home2 Suites tends to nestle itself in suburban and residential areas, offering the perfect backdrop for a relaxing, home-like stay for those extended stays.
Imagine waking up to the gentle hum of a quiet neighborhood. It's like having a sanctuary in the suburbs, far from the bustle of the city.
In contrast, Hampton Inn integrates into a variety of settings to accommodate a variety of travel tastes.
From the heart of bustling urban centers to convenient spots near airports, Hampton Inn is always where you need it to be.
Whether you're in town for a quick business trip, a city break, or catching an early flight, Hampton Inn's strategic locations make your travel experience smoother and more convenient.
Price
Home2 Suites and Hampton Inn charge reasonable fees that reflect the value of the extras and services they offer.
However, the precise costs can differ significantly based on the location, season, and type of hotel.
With its large suites and facilities similar to those found in a house, Home2 Suites is often significantly more expensive than Hampton Inn.
It is because lengthier stays are made more comfortable by the extra amenities provided, like fully furnished kitchens.
On the other hand, Hampton Inn is frequently priced slightly lower due to its more standard hotel room options while still providing a comfortable and quality stay.
It makes it a fantastic option for anyone seeking a cozy stay on a budget.
Personalized Touch and Ambiance
At Home2 Suites, this personalized touch comes in the form of customizable room layouts and the freedom to maintain your routine.
You can arrange the furniture to suit your style, cook your favorite meals in the fully equipped kitchen, and do your laundry while working out in their innovative Spin2 Cycle area.
Hampton Inn, on the other hand, offers a personalized touch through its thoughtful services and warm hospitality.
Customer service was superior! We had an unfortunate issue with our reservation at another hotel and had to book with the Hampton last minute. We were stressed, tired and frustrated when we arrived. The staff were understanding compassionate and gracious! Daverene and Chris were amazing. The housekeeping staff were very kind and the breakfast staff had wonderful customer service.

A review of Hampton Inn by a happy customer on Tripadvisor.
You are greeted with warm smiles and a pleasant environment as soon as you enter their lobby.
Whether helping you arrange your day's schedule or ensuring your accommodation is set up just how you like it, their team is always available to help.
Plus, their signature complimentary hot breakfast is a delightful personal touch that adds to the comfort of your stay.
More Home2 Suites hotel comparisons
More Hampton inn hotel comparisons