Many outdoor enthusiasts use camping hammocks to lighten their packs and ease the discomfort of stiff backs caused by evenings spent sleeping on rough ground.
Both the Warbonnet Blackbird and the Hennessy Hammocks are some of the best hammocks for camping since they are both cozy when sleeping. However, the Warbonnet Blackbird is the best hammock for its price value.
Hammocks lift you off the ground, providing a safe, pleasant night's sleep that leaves no evidence of your presence. Here are the pros and cons of both hammocks: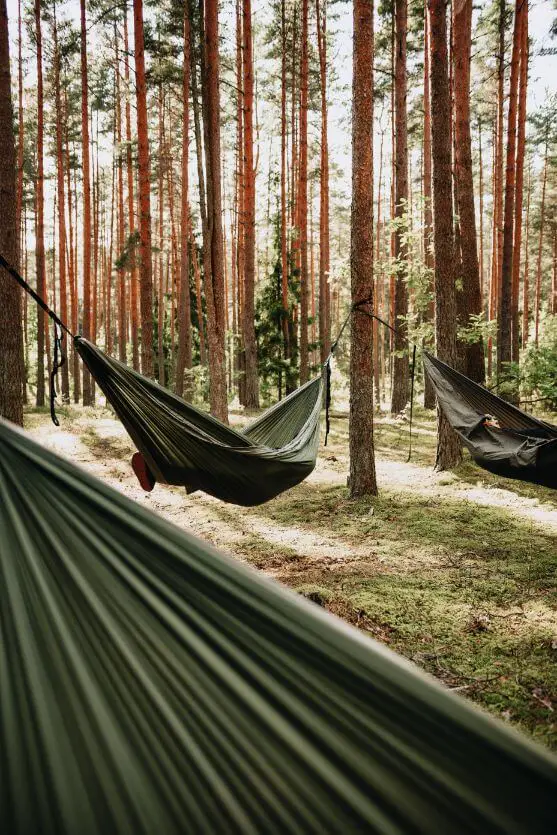 Warbonnet Blackbird overview
Compared to a traditional sling hammock, the Warbonnet Blackbird is a hiking hammock designed for multi-day trips when comfort and convenience take precedence over simplicity.
The Warbonnet Blackbird hammock, which features integrated bug netting, a ridgeline, and additional storage, is an exceptionally comfortable hammock that can be modified to fit a variety of weather conditions in forested terrain.
The Blackbird is a gathered-end hammock, which implies that the sling's ends are coupled to a suspension system and slung between two trees. It is available in two sizes and has a double-layer bottom (which includes a sleeve for an insulating sleeping pad).
In comparison to conventional mattresses with a curved shape, the Warbonnet features a unique foot box that allows you to stretch your legs out flat, resulting in a flat lie that is suited for both back and side sleepers.
The pros of Warbonnet Blackbird
Superior Comfort
The Warbonnet Blackbird trekking hammock is the most comfortable gathered end hammock available. Along with the additional foot box, the Blackbird features an outer side pocket for storing goods at night, freeing up additional interior room for you to use.
The pocket, located at the head end of the hammock, is large enough to hold a pair of shoes, a water bottle, a headlamp, or any other small items you wish to keep handy. The inner sleeping compartment is encased with insect netting strung across the ridgeline in the center.
Entry is via a lengthy two-way zipper on the side, making it simple to swing your legs out while exiting. Additionally, the netting may be rolled out of the way when not in use.
Guy lines are situated on both sides of the hammock's head end and can be staked out to increase interior room, but unnecessary.
Set up time
With a few adjustments to your liking, setting up a Warbonnet hammock should take you approximately 15 minutes. Since the Warbonnet Hammock only requires two trees not flat ground to hang between, you can set up camp almost anywhere.
That said, Warbonnet Hammocks are the perfect accessory for those adventurous souls who enjoy camping as well as those who like to go backpacking, hiking, and other outdoor activities.
Excellent Design
The Blackbird comes with a single or double-layer bottom, which provides an internal shelf into which you can put foam or inflatable sleeping cushion to insulate your back at night. Even in the summer, back insulation is necessary to help avoid heat loss and what is referred to as CBS, cold butt syndrome.
If you purchase a Blackbird with a single-layer bottom, you will need to sleep with a foam pad inside the hammock, which might be uncomfortable or used outside under a quilt.
Warbonnet offers both full-length under quilts for cold weather and torso-length models for warmer temps when less leg insulation is necessary. An underquilt's key advantage over a foam pad is its compressibility and packability, in addition to a better weight-to-heat ratio.
Suspension
Warbonnet Hammocks come in a variety of various suspension configurations. A double-layer Blackbird is equipped with the company's typical tree-hugging webbing straps, a carabiner, and a buckle system, while lighter whoopie sling and line-based versions are also available.
Once the webbing straps are fastened to two trees, they are tightened by pulling them through a simple buckle mechanism to ensure they hang at a 30-degree angle.
Tarps
Warbonnet supplies a variety of tarps, some enormous and some quite little, that can be used to shield the Blackbird from rain and dew.
Ease of Installation
With a little practice, setting up a Warbonnet Hammock is simple, as it can be hung between two trees 13′ to 20′ apart without having to worry about locating a flat, root-free spot.
Simply wrap the webbing straps around a tree, suspend the hammock, and adjust the strap tension as necessary.
Hanging a tarp is likewise straightforward, but only once you've mastered the art of configuring a continuous ridgeline or split line suspension. This technique can be scary to those who have only used tents previously.
Once understood, however, installing and dismantling a hammock shelter system is relatively simple, even in torrential rain.
The cons of Warbonnet Blackbird
Cost
The Warbonnet Blackbird hammock is slightly more expensive than comparable models.
At first look, the Blackbird may appear to be substantially more expensive than hammock brands more popular/mainstream, such as ENO.
The hammock, on the other hand, IS noticeably more expensive. However, the price drops marginally when all other accessories are considered, and the weight increases dramatically.
Use by a Single Person
In general, hammock camping is not favorable to cosleeping. If you're hiking as a couple and want to sleep near each other, a tent is usually the best option.
Hennessy Hammock overview
The pros of Hennessy Hammock
Comfort & Quality Of Sleep
A hammock tent, coupled with quality sleeping bags and insulation systems, might be one of the best sleeping alternatives for three-season camping.
Quick & Easy Setup
Hennessy Hammocks take convenience to a new level. Removable webbing straps allow for easy hanging of the fly at eye level. Just tighten the straps to raise the hammock's bottom 14-16 inches off the ground, hang it up, and relax.
It's even easier to detach your Hennessy Hammock. You can effortlessly stow the hammock in your pack or luggage while it is still hanging.
Weatherproofing
The best advantage of hammock tents over standard tents is their improved weather protection. If your expedition takes you to a damp region, you don't want to sleep on the ground. In heavy rain, not only will moisture on the ground possibly penetrate your tent, but you may also be exposed to groundwater.
The cons of Hennessy Hammock
Tent Mass
Because hammock tents require structure and support, they are typically hefty; therefore, backpackers and thru-hikers may want to leave their camping hammock at home.
Conversion Learning Curve
Setting up and taking down a hammock takes practice, especially if you've always used tents.
However, just like everything new, setting up and taking down your camping hammock will grow easier with practice as you learn to choose good hanging spots, tie the essential knots, and gain assembly and disassembly skills.
Best Warbonnet Blackbird Hammocks
Warbonnet Blackbird XLC
Asymmetrical form
Dimensions – 112″ x 62″
Weight: 1 lb. 6 oz.
Capacity: configuration dependent
Included: A Bug Net
Not included in the cover (coordinates with the Warbonnet Superfly Tarp)
Straps: available as an add-on
This extra-long hammock features a superior No-See-Um mesh mosquito top and plenty of space for a 6'6″ sleeper. If you're shorter than 6′, you can save money by downgrading to the Original Blackbird.
Warbonnet uses a proprietary 40D nylon ripstop fabric called Dream-Tex for the Blackbird XLC. Dream-Tex is a hammock-specific weave that combines standard ripstop with a bias-directional diamond grid for ultimate comfort and a cotton-like softness. With a slight elasticity, the fabric provides a great strength-to-weight ratio.
The Blackbird XLC is modular in design, allowing you to interchange tops and accessories. When the temperature drops, switch from a winter top to a mosquito net to keep out the wind and cold. Try zipping a Warbonnet under quilt protector directly to the top for optimum winter coverage and to create a weather-resistant microclimate.
Warbonnet Ridgerunner
Fits users up to 6'4″ in height
2 lbs.
200–250 lb. capacity
Included: A Bug Net
Covers are available separately (compatible with the Warbonnet Spindrift)
Straps are available separately (compatible with a wide range of straps)
The Warbonnet's attention to detail and practical design make it ideal for campers who struggle to find a comfortable posture in traditional gathered-end hammocks.
The Ridgerunner, like the Blackbird XLC, is constructed of Warbonnet's trademarked Dream-Tex fabric. The elastic 40-denier fabric has a cotton-like feel.
The Ridgerunner features integrated head and neck shapes to enhance sleeping comfort. Large saddlebags on both sides for storage of gear, with sagging end caps for additional storage.
The insect net unzips on both sides and at the head, making entry and exit straightforward. The bug net can be stowed in a pocket near the foot region when not in use.
The majority of suspension systems for the Ridgerunner can be fitted during the checkout process. Modularity and interchangeability enable simple modification with the addition of third-party goods.
Best Hennessy Hammocks
Hennessy Expedition Zip
Asymmetrical form
100″ x 48″
Dimensions when packed: 7″ x 10″
2 lbs. 13 oz.
250 lb. capacity
Included: A Bug Net
Included: cover
Straps: incorporated
The Hennessy Expedition Zip comes complete with a hammock, mosquito net, rainfly, and straps. An all-in-one package saves you time and money by eliminating the need to piece together your configuration. Although it is shorter than most of our recommendations, it is suitable for anyone up to 6′ and 250 lbs.
The Expedition Zip features an oxford nylon hammock and a No-See-Um mesh bug net made of polyester. The mesh bug net keeps insects out while allowing fresh air to circulate and blocking wind. This hammock features a #10 high-strength zipper on the side and twin sliders for entirely removing the mosquito net.
The Expedition Zip comes with a wrinkle-free, lightweight 70D polyester ripstop rainfly. It can be rolled up to provide partial coverage or removed to sleep under the stars.
The Expedition Zip is suspended from a ten-foot rope with a 1500 lb. polyester core and a polyester cover. Straps made of polyester webbing protect the delicate bark of the trees used for support.
See related: Rope For Backpacking & Hiking
Hennessy Jungle Trek
There is one notable difference between the Jungle and the other versions. The Jungle Expedition has two layers of 40D nylon instead of one layer of 70D nylon.
So, why? It's largely to guard against the jungle's nasty 6-legged animals. It also allows for further insulation between the layers (HH's "Radiant Double Bubble Pad" is created for this purpose).
In that case, skip down to one of the lightest reviews. Aside from that, it's a great place to sleep.
Bottom Line
The Warbonnet Blackbird and the Hennessy Hammocks are great hammocks since they provide great comfort and heat insulation. However, the Warbonnet Blackbird is better since it is more comfortable for sleep and a better value for mine.