Backpacking has become one of the fastest-growing pastimes in the outdoor adventure industry, providing a wealth of opportunities for backpacking enthusiasts looking to make a living doing what they love. So, how much will you make if you decide to venture into this industry as a backpacking guide?
Here's how much backpacking guides made
In general, backpacking guides can make between $50 and $150 per day, depending on various factors such as experience, location, training, tour style, and others. Backpacking guides with more knowledge earn between $30,000 and $60,000 per annum.
The amount of money you make as a backpacking guide will be influenced by the type of backpacking guide you are, your hands-on skills with clients, and the state you are working in. Therefore, it is crucial to determine the most suitable backpacking kind for you before venturing into the business. It will help your job efficiency, leading to more pay!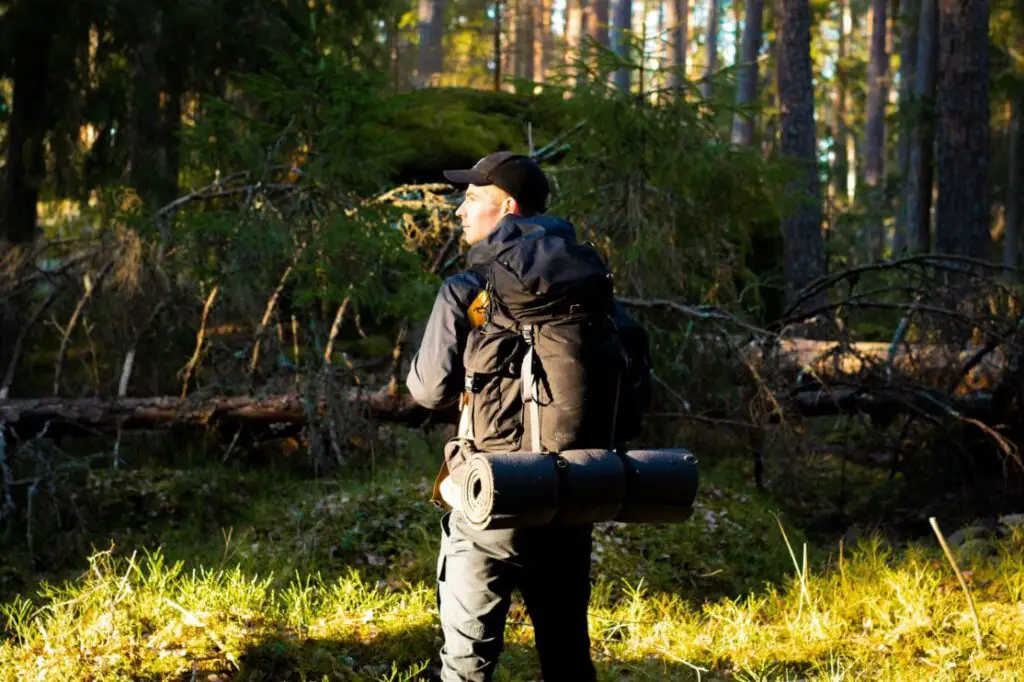 Types of backpacking guides and their salaries
Backpacking is one the most after-sought type of job; it's no wonder research by the Adventure Travel Trade Association (ATTA) on the most popular adventure travel activities placed backpacking on top.
Backpacking is divided into several categories. Here are the types of backpacking guides you should know about.
Mountain backpacking guide
Depending on instruments and savvy, mountain backpacking guides can earn anywhere from $120 for a daily trip to $500 for IFMGA certified escorts.
Most organizations provide set raises based on courses completed via the American Mountain Guides Association and auxiliary certifications like WFR (frequently required for employment), OEC, WEMT, and other medical-adjacent certificates.
Most people enter the job after spending many years playing in the field. Mountain guiding is divided into three main specialties: rock climbing, alpine climbing, and backcountry skiing.
Most people who want to be mountain backpacking guides have a greater degree of recreation than the work they will receive in their first few years working, but guiding is about more than accomplishing the physical traits.
It's about having a toolkit for when things go wrong or could go wrong. It's about taking care of your customers and being legally liable for their safety—weighty issues, to be sure.
Best places to work as a mountain backpacking guide
Not unexpectedly, the majority of mountain guiding occurs west of the Mississippi River. While many full-time guides work in New York, Vermont, and New Hampshire, most guides who work guiding is their primary job, work in the Rockies, Cascades, and Sierra.
Working on the Cascade volcanoes is one of the simplest ways to break into alpine guiding because there is high employment.
Most routes are not extremely demanding, and the summits can be more successfully team-guided (easier to train newer guides). In that regard, Washington is one of the greatest states to start working summers in.
The state also has vast swaths of sophisticated alpine terrain that draws visitors from all around the world. The number of venues is also appealing to guides because it reduces the cost of driving between jobs.
Colorado is another great area for novice alpine guides, with several non-technical objectives and a strong mountain guide culture, not to mention an amazing hut system!
It should be emphasized that few guides work in the same location all year but rather follow seasonal migration patterns.
Travel backpacking guide
Travel backpacking is a low-cost, autonomous journey that frequently entails sleeping in cheap hotels and carrying all required things in a rucksack.
It was once regarded as a fringe sort of travel conducted solely for survival, but it has become a mainstream tourism form. Of all the types of backpacking types, it is the lowest-paid for a backpacking guide. You'll get rates as low as $50 a day.
Desert backpacking guide
Desert backpacking is one of the most draining and tough backpacking experiences. As a desert backpacking guide, you will be required to maintain a clear state of mind during the tour.
The terrain requires level-headed thinking and decision-making, for it is not about how fast you can cover it but how safely you can. Since it's dangerous, a desert backpacking guide is paid on average about $80 -150$ per day.
Salary for an average backpacking guide
The average yearly salary for a backpacking guide is $31,603 per year as of September 29, 2021. Their salaries presently range from $21,500 (25th percentile) to $35,500 (75th percentile), with top earners (90th percentile) earning $49,000 per year.
The average pay range for a backpacking guide varies substantially (up to $14,000), implying that there may be several prospects for promotion and greater income depending on skill level, region, and years of experience.
How to become a backpacking guide
How can traveling be a job, you might ask? Backpacking guide is the answer. Working as a backpacking guide is a thrilling and exciting job. Working in the outdoor industry doesn't require much than passion beyond a passion for the outdoors and willingness to work hard in a dynamic environment.
Of course, you'll need certification, among other requirements, to work in the industry. If you're interested in becoming a backpacking guide, consider reading the steps below.
Select your field and develop your skills
A backpacking guide is typically a specialist in one of the three fields. Do you have a favorite outdoor activity, such as backpack traveling, mountaineering, or desert crossing?
Don't be the jack of all trades, it's rewarding to be a specialist in something than knowing it all kind of person.
Concentrate all of your efforts on honing those skills and becoming an expert in that field. Most companies would rather recruit a highly skilled rock climber who is bad at rafting than someone who is "just okay" at both.
Get Certification
To work in the backpacking industry, you must have certain qualifications or certificates, depending on the activity and environment you will be instructing in. Backcountry skiers must have an Avalanche Certification; rock climbers must have a Rock Leader Qualification.
On the other hand, the rafter must have a White Water Rescue Certification, and so on. Do some preliminary research and contact potential companies to determine what qualifications you will need for your chosen field.
Aside from these activity-specific qualifications, an International Wilderness First Aid Certificate is generally useful because it is required for most backpacking jobs. A Guiding Certification is also a valuable asset because it demonstrates that you have been trained in group leadership and can deal with various group dynamics.
Learn new things
Don't limit your knowledge to your field of study. Customers evaluate their backpacking experience higher if the guide can talk about the place they are guiding, so learn about the local wildlife, history, and geology.
Doing some research and getting to know the landscape better if you wish to guide in a specific national park will pay off. Local backpacking businesses will be impressed if you apply this depth of knowledge.
See related: National parks and their wifi connection
Gain experience
Hiring managers in the backpacking sector, like in any other industry, values prior experience; they will be more interested in qualified guides with extensive backpacking expertise; thus, they will most likely question your personal and professional background in a job interview.
If you don't have any professional experience yet, build a list of personal trips to demonstrate that you have the requisite skills for the job. Keep a record of all your backpacking trips, noting the activity locations and durations.
Get a backpacking guide job
Now that you have all the necessary knowledge and skills to become a backpacking guide, it's time to start networking, constructing your resume, and applying for backpacking employment! Make sure your CV includes all relevant experience, such as certificates and major trips you've taken.
When you obtain your first job interview, make sure to emphasize not just your technical skills but also your soft skills and desire to teach others. Hiring managers always search for guides who can remain calm under pressure and have excellent dispute resolution and communication abilities.
What Qualifies you as a backpacking guide?
To perform the job of a backpacking guide, you will require a variety of talents and abilities. Although backpacking experience and route familiarity are necessary, there are additional abilities that you must develop to be effective in this position.
Essentially, you will be with paying clients for multiple days while you guide them throughout the vacation. In this context, the following skill sets are required for an excellent hiking guide:
Customer service prowess
To be successful as a backpacking guide, you must have a customer-service-oriented mindset. The reason for this is that customer service is the most crucial ability of a backpacking guide.
You must exhibit utmost concern for your guests' well-being, including their safety and overall experience on the trip. In other words, a successful backpacking guide must be professional to provide their clients with an outstanding experience.
A backpacking guide must perform a variety of tasks to keep backpackers comfortable and pleased at all times. If there are any difficulties or demands from your clients, you will resolve them.
It also implies that you will have to deal with problems inside the group if this occurs. Finally, as you strive to accommodate all of their needs and wishes throughout the journey, you will be answering many questions from them.
Leadership capabilities
If you want to be a backpacking guide, you must have strong leadership skills. As a backpacking guide, you will be the leader of all your clients in an area with varying challenges during the backpacking trip.
In other words, you will be accountable for making all decisions that keep all of your clients safe and satisfied at all times. You will also be in charge of any unfortunate accidents that may occur due to your leadership.
Teaching skills
As a backpacking guide, you will also need to impart knowledge to make the journey entertaining and educational for everyone on the trip. It is an important aspect of your work to teach all of your clients all they need to know about the route.
That includes the area's history, ecology, geology, and distinctiveness. You can also share any other information that you believe will benefit the hikers.
As a backpacking guide, you will have the opportunity to take individuals on their first backpacking. You could be accompanying backpackers who have never been to the desert or climbed a mountain.
You have to educate them and provide them with all of the knowledge they require while ensuring that their trip is memorable and meaningful.
Nursing skills
As previously stated, leading a group of backpackers can be difficult due to the possibility of an emergency occurring at any time. It is why some firms need a Wilderness First Responders (WFR) certification.
This certification is usually tied to a medical emergency. You will be in charge of delivering first aid if someone is involved in an accident and needs rapid medical assistance.
Counseling skills
Some people feel uneasy when they are outside of their comfort zones. When they are already on the route, some people may feel changes in behavior, nervousness, and even minor mood swings.
Also, people have expectations that, if not met, cause them to become irritated and upset. As a backpacking guide, you are responsible for ensuring that they feel comfortable, confident, and satisfied with their experience.
Requirements that Make you a Better Backpacking guide
A backpacking guide should know the area's route system and have expertise and knowledge on the backpacking terrain.
A general first aid certification is also a significant bonus, especially if you're seeking a job. Finally, a backpacking guide must have a strong desire to explore the outdoors and inspire others to appreciate nature. Your employers can teach any other required ability.
What to Expect during your first year as a backpacking guide
First of all, you should prepare to be rejected by possible employers for not being excellent enough at what you love, as many young aspirants are out there.
Remember that it's not simply about how fast you can cover the terrain. If you are fortunate enough to know someone in the field, you may be able to shadow trips led by experienced individuals. This gives a much better picture of a guide's life.
Your first summer as an alpine backpacking guide, you'll work as a tail guide under the supervision of a lead guide on the company's simplest routes.
The terrain you work on will evolve based on your previous experience and early-season results, albeit this process may take several seasons.
Expect a gradual progression and work well below your talent level. It's tempting to feel like a babysitter, always leading 'easier' routes, yet this evolution is vital.
When gripped while working, you are significantly more likely to make mistakes or provide a subpar experience. If you persist with it long enough, more sophisticated and varied tasks will arrive.
During your first season, you will most likely be paid near minimum wage. When combined with 10-16 hour workdays, your 'day rate' will appear reasonable.
Most first-year guides earn between $120 and $150 per day, with less for day work for overnight tours. Tipping, on the other hand, is customary in the field of guiding.
As a backpacking guide, tips account for 20-50 percent of your revenue. The tips (and other gratuities) increase as you create relationships with clients.
Conclusion: Why Should you seek to Become a Backpacking Guide?
Backpacking guide has grown in popularity over the years. This could be one of the best ways to earn from what you love the most for backpacking enthusiasts. With that said, what's the appeal of a backpacking guide?
Here are three reasons to consider.
Make a difference in the lives of others
The positive impact you have on the backpackers you take out on the trail is the most compelling reason to become a backpacking guide.
Setting aside a week to explore the best of Yosemite, Yellowstone, the Grand Canyon, or the Alps is an important investment of time and money for many people throughout the world.
It is an honor to witness your clients' reactions when the beauty of the world's natural areas sinks into their minds. That's not to say that every guest has a life-changing experience, but many do, and it's often due to a fantastic guide.
Nature is your workplace
What a blessing it is to work outside, to wake up to a bright blue sky, to sit around a campfire at night, and to spend your days in some of the most beautiful areas on the planet.
True, it doesn't pay nearly as well as many other professions – but everyone else works in their offices 50 weeks a year so that they can spend one week a year with you in your office.
This isn't the most important reason to become a backpacking guide (people must always come first), but it's a close second.
Physically active work
If you enjoy being active and healthy, working as a hiking guide could be a wonderful fit for you.
Spending your workdays on the backpacking trail can be challenging at times, but it is also extremely rewarding.
A typical day for a backpacking guide consists of summiting peaks, climbing canyons, exploring national parks, and walking to waterfalls. It also necessitates cooking, first-aid, logistical preparation, driving, and other duties.
Sources