Wi-Fi hotspots and cell phone towers have over the years been installed within or just outside of most of the United States National Parks because of the demand for access to information and safety in case of an emergency.
But the location of a particular park, available infrastructure, and the nature of its terrain determine the strength or inconsistency of internet connectivity.
Here are some of the US National Parks therefore and their Wi-Fi options.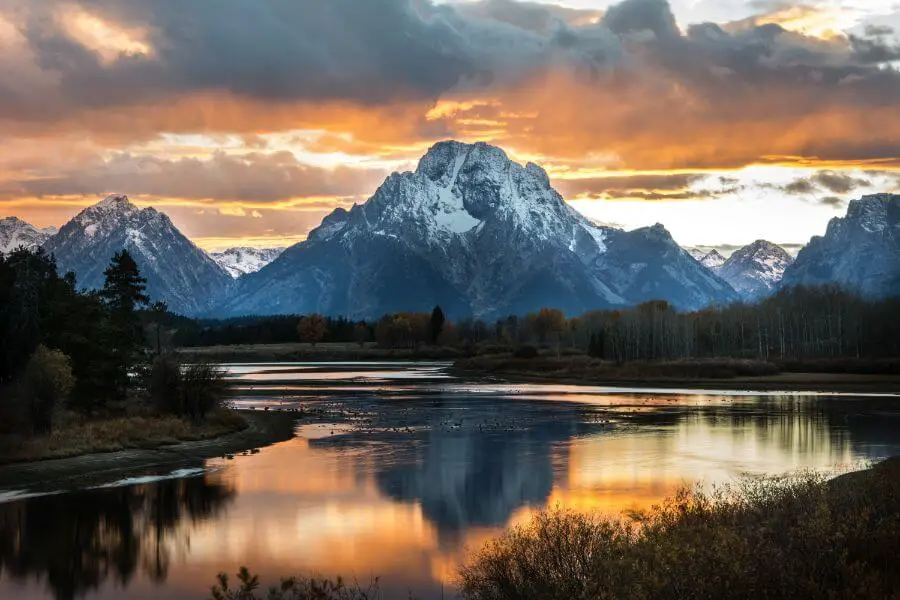 Wifi in Grand Teton National Park, Wyoming
The Grand Teton National Park has limited telecommunications infrastructure making internet access limited and only available in some public areas such as the Jackson Lake Lodge, Jenny Lake Lodge, Colter Bay Village, and Signal Mountain.
Wifi in Yellowstone National Park, Western United States
Regarded as the first national park in the US, free wireless internet services are available for guests and tourists at guest houses and getaways but it is decimated under park regulations.
But it is important to note that Yellowstone National Park has limited bandwidth which is a disadvantage because hotels and guest houses are forced to limit usage to one device per room at a given time.
But wired internet services are available too to boost its demand.
The facilities with approved internet access are; Canyon Lodge, Mammoth Hot Springs, Lake Lodge, Grant Lodge, Old Faithful Lodge, Lake Yellowstone Hotel, Old Faithful Snow Lodge, and CampGrounds.
Wifi in Lake Mead National Recreation Area, Nevada & Arizona
In September of 2017, the National Park Service in collaboration with Access Parks commenced a five-year contract to install a Fiber Optic Technology in Lake Mead National Park with a minimum upload speed of 25mbps and minimum download speed of 10mbps.
Installed and run by access parks, wireless internet services in this park are charged a fee, and data usage has no limitation.
A device for example is charged $4.95 a day bringing that to $29.95 at the end of the month.
See related: Lake Mead vs Lake Powell
Wifi in Rocky Mountains National Park, Colorado
Free Wi-Fi services meant for everyone at or visiting the Rocky Mountains Park are available at the seven visitor information centers that are within the territory.
These are namely; Beaver Meadows, Fall River, Alpine, Sheep Lakes, Moraine Park Discovery Center, Kawuneeche, and Holzwarth Information Center.
But when you get further away from these facilities and hit the hiking trails, the internet becomes unavailable.
Wifi in Mount Rainier National Park, Washington
Located near the capital, Mt. Rainer and its environs have 100% broadband coverage with 100% cable, 90% DSL, and 73% fiber optic available internet options.
While 96% of households in the area have the option to choose one internet provider from another, the starting price for weekly data by four of the available providers starts from $20 with a download speed of 940 Mbps.
These internet providers are;
Xfinity
Viasat
Hughesnet and
Verizon
Wifi in Grand Canyon National Park, Arizona
The Grand Canyon is one of the public facilities that boost a 5G broadband network everywhere with the speed of 25mbps per device.
This is because a great number of people visit this spectacular site and internet access gets spotty when many people are online at one given time.
With the park covering 277 miles spanning along the Colorado River, the terrain is treacherous, and the concession to internet upgrade was implemented to deal with emergency cases.
The broadband internet is provided for and run by access parks and it guarantees every visitor 99.9% reliability.
See related: Grand Canyon vs Sedona
Wifi in Death Valley National Park, California
The Death Valley is among the other five national parks whose broadband is solely the responsibility of access parks.
And like at the Grand Canyon, Death Valley has a 5G wireless internet connection which ensures that at no time (even at peak seasons/hours) are visitors logged out of the connection.
The park has no physical fiber installation and relies on fiber point-of-presence available worldwide which provides a 99.9% reliable internet connection.
Wifi in Yosemite National Park, California
At the Yosemite National Park, complimentary internet connection is only available at registered guest houses that host overnight tourists such as; Wawona Hotel, Yosemite Valley Lodge, the Ahwahnee, and the Curry Village.
To the rest of the public, Wi-Fi services and computers with internet access are available at the small branches of the Mariposa County Library spread across the Wawona and the Yosemite Valley.
Wifi in North Cascades National Park, Washington
North Cascades offers a great adventure far from urbanization where cellular access is limited to the Skagit Information Center located in Nehalem and at the North Cascades National Park.
There is no Wi-Fi available in this region, just calling cards and public phones found in Diablo, Newhalem.
Wifi in Virgin Highlands National Park, Caribbean Sea
The Virgin Islands visitor information center in Cruz Bay is connected with reliable public Wi-Fi.
In the surrounding areas, however, free internet access is available but the signal mostly is weak and visitors are left with the option of subscribing to paid internet options from the available private internet providers.
Wifi in Isle Royale National Park, Ontario
Like other remote parks, cellular and internet services are not available in the majority of parts of the Isle Royale National Park.
Save for the Houghton Information Center and of course, the Rock Harbor Lodge provides Wi-Fi internet services primarily for its overnight guests.
Wifi in Glacier Bay National Park and Preserve, Alaska
The park generally has no cellular service but only at the visitor's information center and the Glacier Bay Lodge.
This means that the only available internet connection is at the facilities and visitors are advised to find a park ranger in case of an emergency.
Wifi in Denali National Park and Preserve, Alaska
There are numerous residential internet providers within and without Denali National Park who willingly welcome visitors to test each internet provider's speed limit and choose the one that suits their needs.
This makes the park one of the best parks in the country with a high-speed network with over ten independent internet providers who offer these services at a fee of up to $49 a month per device.
The service types include; wireless internet, cable internet, fiber internet, DSL service, and Satellite Internet.
Wifi in Sequoia & Kings Canyon, California
Sequoia & Kings Canyon is an escape destination with very limited internet access due to slow satellite connectivity which can only boost very light internet browsing and nothing like browsing, downloading, and uploading huge files.
That is because it is located in a remote place far away from cellular infrastructure and where internet is only available in the common areas of some public places such as; John Muir Lodge and Wuksachi Lodge.
The Grant Grove Cabin, Bearpaw High Sierra Camp, and Cedar Grove Lodge among others have no Wi-Fi either in their lobby, lounge, or meeting rooms.
Because this park is incredible, the best thing to do when you cannot access the internet is to immerse yourself in the beauty of nature.
Wifi in Voyageurs National Park, Minnesota
The Voyageurs National Park has three main visitor Information centers which are; Kabetogama, Ash River, and Rainy Lake
Of the three, only the Ash River Information Center is connected to the internet while the rest of the park has no internet access.
Wifi in Badlands National Park, South Dakota
The Badlands National Park prides itself on numerous cellular carriers. And just like everywhere else with varied terrains, the availability and accessibility of the internet vary from one carrier to another.
In one place, internet connectivity might be strong and fast while in another the signal might be weak which hampers speed.
With unreliable internet access, visitors visiting the pack are advised to have a backup plan for information and especially safety in case of any emergencies.
Wifi in Glacier National Park, Montana
Like most parks located in remote places, Glacier National Park has very limited cellphone reception as well as internet access. The only place within the park with some form or connectivity is in the western glaciers neighboring the village of Apgar.
To be privy to accurate and the right information about the park, every visitor should ensure that they have adequately planned for the visit before so that they may not be caught off-guard by the lack of internet.
Wifi in Independence National Historical Park, Pennsylvania
Unlike the natural parks, this is a building housing the independence history of the United States of America, there is no reason therefore to be lacking basic internet access like other remote parks.
There is no need to worry because cellular service and internet access are available everywhere within the facility.
Final Thoughts
Some travelers want to be connected to some form of the internet while in National Parks while others desire the need to experience the true feeling of a getaway.
But the tough nut to crack for the former lot is that some national parks have cell phone coverage but no Wi-Fi while others have Wi-Fi but no cell signal in the majority of places.