If you love outdoor water fun adventures, Lake Mead and Lake Powell are two destinations that should be on your bucket list.
Among the eyeball pleasantries are the stunning Canyons and artificial dams worth a trip of a lifetime surrounded by these gorgeous water sources.
Lake Mead and Lake Powell attract over 7 million visitors and 2 million tourists annually respectively. However, some aspects make these gorgeous lakes unique.
Let's take a look!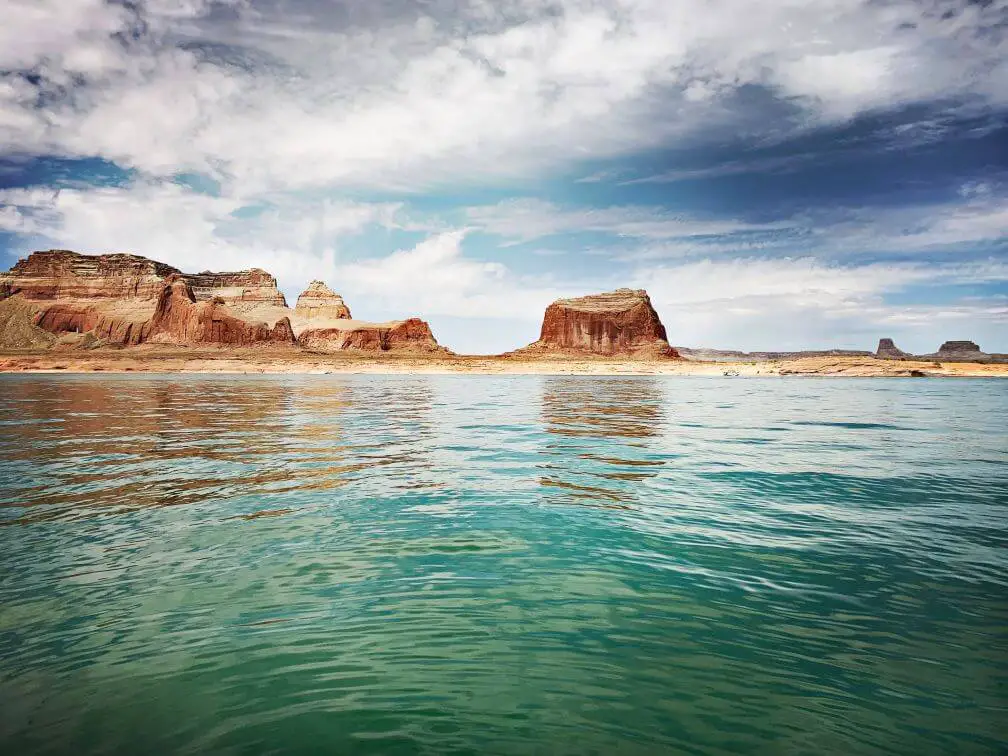 General Information about Lake Mead and Lake Powell
Here is some information you should know about these lakes:
Lake Mead
Lake Mead is the largest artificial reservoir in the Colorado River and spans the states of Nevada and Arizona.
It was formed in the 1930s after the construction of the Hoover Dam, whose main aim was to supply the surrounding citizens with water.
The lake was named after Elwood Mead, the Commissioner of Rehabilitation at that time.
It is 112 miles long and 532 feet deep. When full, the water capacity is at 28.23 million acre-ft. However, drought issues have caused a reduction in water levels, dropping to 7 million acre-ft.
Lake Powell
Lake Powell is the second-largest artificial water reservoir in the United States. It is located on the Colorado River, starting from Northern Arizona, and ending in Southern Utah, bordering Kane, Garfield, and San Juan Counties.
It was formed as a result of the flooding of Glen Canyon. The flooding was caused by the construction of the Glen Canyon Dam in the 1960s.
The dam serves as a hydroelectric power station and a recreation facility. Lake Powell spreads 186 miles long and 25 miles deep with a 25.166 million acre-ft water capacity.
Lake Powell water levels have also declined to 27%. The decline is affected by various factors, including snowpack levels, precipitation, and water management decisions by the operators of the Glen Canyon Dam.
Unique features of Lake Mead and Lake Powell
Lake Mead is known for boating, fishing, and water sports like water skiing and wakeboarding.
Several boat and jetski rentals are available to hire and spice up your holiday.
Other major attractions include swimming, camping, and hiking.
Visitors can explore the many coves and inlets of the lake or take a guided tour to see the Hoover Dam.

On the other hand, Lake Powell is popular for house boating lovers. You can find a variety of houseboat rentals to explore the lake's many canyons and beaches.
Like Lake Meads, visitors are welcome for fishing, water sports, and hiking activities.
The nearby Glen Canyon National Recreation Area offers additional opportunities to explore the region's natural beauty.
Beauty and Natural Scenery
The notable landmarks and geological formations surrounding the lakes will give you limitless options while on your trip.
Lake Mead
Lake Mead is part of the Lake Mead Recreational Area, surrounded by rugged terrain and a desert climate. Among the most famous landmarks in the area is the Hoover Dam.
You can purchase tickets for a guided walk around the power plant at the Hoover Dam.
A tour around the dam is also a great idea. Make sure you bring your camera to capture the stunning blue water views.
Black Canyon is another landmark that is hard to miss.
It features a stunning canyon passing through the Colorado River.
You can enjoy hiking around its cliffs and black rock formations.
The Valley of Fire State Park is also a spectacular landmark you can tour that features red rock formations, sandstone cliffs, and petroglyphs.
Lake Powell
On the other side, Lake Powell has unique geological formations, such as the Rainbow Bridge.
It is among the largest natural bridges, with a sandstone arch spanning 290 feet.
The Glen Canyon Dam, a key hydroelectric power source in the region, is also worth visiting.
Canyons surround the lake, including Antelope and The Escalante.
You can talk a guided tour around the narrow passageways with the visible red rock formations at Antelope Canyon.
The Escalante Canyons, a network of canyons and gorges located north of Lake Powell, offers you stunning hiking and backpacking opportunities.
Water Quality
The water quality in Lake Mead and Lake Powell is a notable difference.
It has been affected by factors such as the sources of water that feed the reservoirs, the geography of the surrounding area, and human activity in the region.
However, Lake Powell has better water quality than Lake Mead.
Lake Mead
Lake Mead's water contains high dissolved solid levels of calcium, magnesium, and sodium.
It can affect the taste and appearance of the water and become a health concern for people with certain medical conditions.
The high levels of dissolved solids in Lake Mead's water are largely due to the arid climate of the surrounding area, which causes water to evaporate and leaves behind concentrated minerals.
The region's agricultural runoff and human activity also contribute to pollution and other water quality issues.
Lake Powell
In contrast, Lake Powell's water quality is generally better than Lake Mead's.
The reservoir, located in a more remote area than Lake Mead, has helped reduce pollution and other contaminants getting into the water.
However, the water quality in Lake Powell is affected by the runoff from nearby ranches.
Recreational activities such as boating and fishing have also affected its water quality.
Recent Developments and Current Events of Lake Mead and Lake Powell
Both lakes have experienced concerning matters about their sustainability.
This has resulted in leaders coming up with solutions to help prevent the lakes from drying up. These are the recent events.
Declining water levels
Lake Mead and Lake Powell have experienced declining water levels in recent years due to persistent drought conditions in the region.
As of 2021, the water levels in both reservoirs were at historic lows, which has led to concerns about water shortages for communities and agriculture downstream.
Recreational impact
The declining water levels in Lake Mead and Lake Powell have also impacted recreational activities in the area.
Due to the receding water levels, some marinas and boat ramps have had to close or move.
Visitors have been encouraged to practice water conservation and be mindful of their impact on the fragile desert environment.
Colorado River Drought Contingency Plan
In 2019, seven U.S. states, including Colorado, New Mexico, Utah, Arizona, California, and Nevada, signed a drought contingency plan for the Colorado River.
It included measures to reduce water usage and ensure that Lake Mead and Lake Powell stay above critical water levels.
The project is designed to help manage water shortages in the region and preserve the health of the Colorado River ecosystem.
Pipeline Proposals
There have been several proposals in recent years to build pipelines that would transport water from Lake Powell or the Colorado River to communities in Arizona and other nearby states.
These proposals have sparked controversy and debate over the region's long-term sustainability of water usage.
Nearby cities and national parks you can tour
Both lakes are accessible to cities and parks that depend on them for water supply. Here are how they differ.
Lake Mead
If you are not taking a trip to Lake Mead's natural features, the nearby centers provide endless fun adventures for the whole family.
The cities of Las Vegas and Henderson, Nevada, are located near Lake Mead and offer a variety of entertainment, dining, and recreational services.
The trip will be memorable whether you are traveling with friends or kids.
You can spend quality time visiting Lake Mead's nearby national parks. They include the
Grand Canyon,
Death Valley, and
Zion National Parks.
They are located all within driving distance of the lake. The parks offer affordable entry fees, hotel and resort services, and many camping opportunities.
See related: National Parks & their Wifi
Lake Powell
The city of Page, Arizona, is situated near Lake Powell and offers a variety of tourist attractions and outdoor activities, including the nearby Antelope Canyon and Horseshoe Bend.
Actions you can do on Page also include visiting the Coconino Forest for bird and animal viewing or paying a visit to the John Powell Wesley Museum.
Discover their collections of artifacts that reveal the Native Americans thousands of years ago.
Like Lake Mead, Lake Powell has a wide variety of national parks.
The Glen Canyon National Recreation Area, which includes Lake Powell, is also home to several other nearby national parks and monuments. They include;
Bryce Canyon National Park,
Capitol Reef National Park,
Grand Staircase-Escalante National Monument.
Conclusion
Lake Powell and Lake Mead are popular tourist attractions. This article gives you a guide on the differences between both lakes. If you are looking for a suitable destination, choosing a favorite should be hassle-free.