Are you seeking a place to escape the city's chaos and lift your spirit with fun outdoor activities? If so, you may have considered which destination between Grand Canyon and Sedona is worth the trip. They are both tourist attractions in Arizona that experience warm weather all year.
However, which of the two destinations is the best to visit? In this post, we will be looking at the main differences between these stunning attraction sites. Keep reading to know how the adventures at Grand Canyon and Sedona compare.
Quick comparison
| Topic | Grand Canyon | Sedona |
| --- | --- | --- |
| Background | Formed over millions of years; the national park since 1919 | Native American history; settled in late 1800s; incorporated |
| Geographical | Geological feature; 277 miles long; up to 18 miles wide | Surrounded by Coconino National Forest; 120 miles from Phoenix |
| Attractions | Hiking, camping, museums, scenic drives, Skywalk | Restaurants, nightlife, museums, hiking, jeep tours, parks |
| Accessibility | Multiple access points; many tour packages available | One main road; traffic congestion; no guided tours available |
| Convenience | Multiple lodging options; many amenities near a park | Limited lodging options; not as well developed as Grand Canyon |
| Environmental | Protected by federal law and managed by National Park Service; conservation programs in place | Water conservation measures, recycling programs, wildlife preserves, eco-friendly transportation options, sustainable practices in hotels |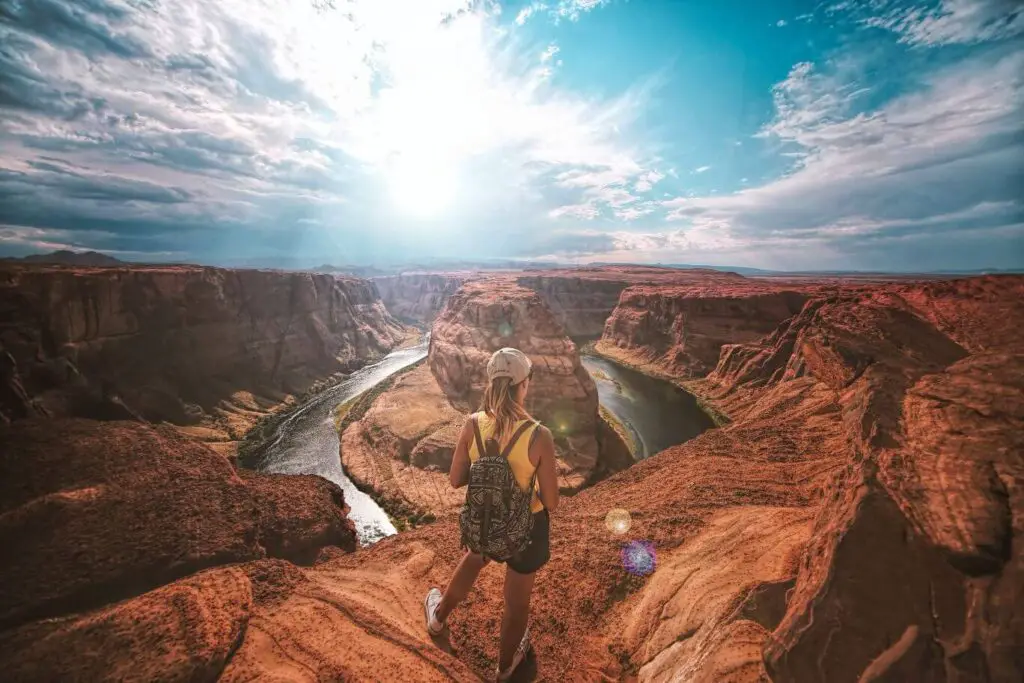 Background history
While the Grand Canyon is a national park and Sedona a town, there is a difference in how the two attraction sites became popular. Here is a comparison of their histories.
Grand Canyon
The formation of the Grand Canyon is a complex geological story that spans millions of years.
The oldest rocks at the bottom of the canyon date back to approximately 2 billion years ago, while the canyon itself was formed over the past 6 million years through the erosion caused by the Colorado River.
Native American tribes, including the Havasupai, Hopi, Navajo, and Paiute, have lived in and around the Grand Canyon for thousands of years.
Their histories and cultures are closely tied to the region.
In 1919, the Grand Canyon was made a national park and remained one of the most popular tourist destinations in the United States.
See related: National Parks and their Wifi options
Sedona
Sedona is located in the northern region of the U.S. state of Arizona.
The area around Sedona has a long and rich history dating back thousands of years.
The first people to inhabit the region were Native American tribes, including the Sinagua, who lived between 500 and 1425 CE.
These early inhabitants left behind numerous archaeological sites, including cliff dwellings, rock art, and ruins.
In the late 1800s, Sedona began attracting settlers drawn to the area's natural beauty and abundant resources.
The town was originally named "Sedona" in honor of the wife of the town's first postmaster, who arrived in the area in 1901.
The city was officially incorporated in 1988.
Sedona is a popular tourist destination for its stunning red rock formations, vortexes, sandstone formations, spiritual vibe, and outdoor recreational activities.
Geographical background
While both tourist sites are in Northern Arizona, here is how the geographical locations differ in Sedona or Grand Canyon.
Grand Canyon
Located in northern Arizona, The Grand Canyon is a geological feature approximately 277 miles long, up to 18 miles wide, and over a mile deep.
It contains various geological formations, including layered rock formations, towering cliffs, and spires.
The park is home to numerous hiking trails, scenic drives, and camping sites, and visitors can also explore the Colorado River by rafting and kayaking.
The Grand Canyon is a stunning natural wonder that attracts millions of visitors annually and is recognized as one of the world's seven natural wonders.
Sedona
On the other hand, Sedona is located approximately 120 miles north of Phoenix.
It is surrounded by the Coconino National Forest, which provides ample opportunities for hiking, mountain biking, and other outdoor activities.
In addition to its natural attractions, Sedona is also home to a thriving arts community, with numerous galleries and art shows throughout the year. The town has around 10,000 people.
Main attractions and activities to do in Sedona and Grand Canyon
These two destinations offer unique experiences with their attractions. They have everything from hotels, lodgings, dining places, and hiking activities.
These are the variations in the type of activity you can do at Sedona and the Grand Canyon.
Grand Canyon
The Grand Canyon, a magnificent natural wonder located in Arizona, United States, offers a variety of attractions that people of all ages can enjoy.
The main attractions it is known for are camping and hiking. Moreover, you will also enjoy history-rich museums and exhibits.
There are numerous trails to explore at the Grand Canyon, ranging from easy to strenuous.
Popular hikes include the Bright Angel Trail and the South Kaibab Trail.
There are also camping opportunities.
The Grand Canyon offers several campgrounds for visitors who want to stay overnight in the park.
Several scenic drives, including Desert View Drive, Hermit Road, and East Rim Drive, are available at Sedona. These roads offer breathtaking views of the canyon and its surroundings.
One of its unique features is the Grand Canyon Skywalk.
The glass bridge extends 70 feet from the canyon's edge and gives visitors a thrilling view of the Colorado River below.
Walking through the glass bridge is a great way to conquer your fears while enjoying great views.
Taking Ranger programs at the Grand Canyon National Park is also a fantastic idea to spend quality time on your vacation.
The National Park Service offers a variety of ranger-led programs, including
Guided hikes
Talks
Demonstrations.
These programs help to learn more about the Grand Canyon's history, geology, and wildlife.
Sedona
Sedona has plenty of opportunities to connect with places and people with unique American cultures.
For instance, Sedona has plenty of excellent restaurants allowing visitors to enjoy local and international cuisines with a gorgeous view of its beautiful scenery.
The top restaurants include the following:
L'auberge Restaurant,
Tii Gavo,
Ken's Creekside Restaurant,
Red's at Sedona Rouge Hotel and Spa
Garland's Oak Creek Lodge and more!
The nightlife in Sedona makes it a memorable experience for couples and friends.
There are plenty of reputable clubs and bars, such as Szechuan Restaurant and Bar, 10th Hole, Oak Creek Brewery and Grill, and the lounge at Sedona Rouge Hotel on west 79A.
The live music, dim lights, and excellent services provide a great night to relax in the town.
Apart from amazing clubs and restaurants, there are various attractions you can visit during the day.
The Tuzigoot National Monument, a compound that Sinagua Indians occupied, provides a rich cultural history of the past native American life.
Another national treasure you should visit is the Sedona Nation Museum, which showcases the lives and times of the previous settlers.
If you love hiking, Sedona provides more than enough adventures. They include;
Slide Rock State Park
Red Rock State Park
Palatki Ruin
Oak Creek Canyon
Bell Rock
Verde Canyon Railroad
Chapel of the Holy Cross
Montezuma Castle National Monument
Around these canyons and trails, jeep tours take you through the terrains while viewing the beautiful rock formations.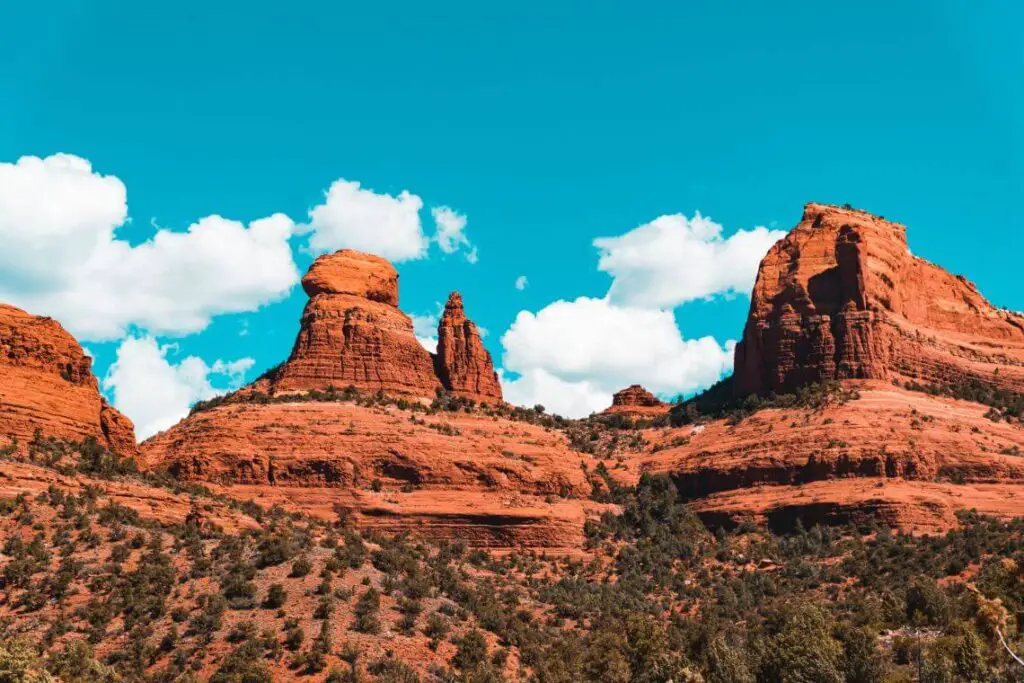 Accessibility and Convenience differences
The Grand Canyon and Sedona each offer a unique experience, but they also have similarities in accessibility and convenience.
Both are located a few miles from Flagstaff, accessible by bus, car, and road.
Airports that connect the two attractions are Phoenix Sky Harbor International Airport, Flagstaff Pulliam Airport, and Grand Canyon Airport.
The Grand Canyon is by far the more accessible of the two.
It has multiple access points, including the South Rim and West Rim, so getting to the canyon is relatively easy.
Additionally, many tour packages and guided tours are available, making it easy to explore the canyon without worrying about navigation.
Sedona, on the other hand, is more challenging to access than the Grand Canyon.
There is only one main road leading into the city, and it is often backed up by traffic due to its popularity as a tourist destination.
Additionally, no guided tour packages are available, making exploring the area more difficult.
In terms of convenience, the Grand Canyon has the edge.
Many lodging options are available, from campsites to cabins, and plenty of restaurants and other services are located near the park entrance.
In Sedona, however, lodging options are more limited, and the city is not as well developed as the Grand Canyon.
You can still find a few amenities for visitors, including hotels, restaurants, shops, and galleries in the town.
Environmental conservation efforts
Grand Canyon and Sedona are at risk of destruction of their natural beauty and living ecosystems due to irresponsible stewardship and human activities.
Efforts have been taken to help promote sustainable tourism.
Conservation efforts in both regions involve eliminating non-native species, curbing air and water pollution, reducing human-caused wildfires, and controlling access to certain areas to protect fragile habitats.
Additionally, organizations such as the Grand Canyon Trust, the National Parks Conservation Association, and the Sedona Chamber of Commerce are actively working to promote environmental preservation in these areas.
Grand Canyon
The Grand Canyon is protected by federal law and managed by the National Park Service.
The National Park Service has implemented many conservation programs to protect the park's ecosystem, wildlife, and natural resources.
Several native species within the Grand Canyon are endangered or threatened, including the humpback chub, the California condor, and the Mexican spotted owl.
Conservation efforts have been implemented to protect these species, including habitat restoration, captive breeding, and monitoring programs.
Education and outreach programs help raise awareness about the importance of the Grand Canyon and the need to protect it.
The National Park Service provides educational resources and programs to visitors, schools, and communities to promote understanding and appreciation of the park's natural and cultural resources.
Sustainable tourism practices, such as limiting the number of visitors, low-impact recreational activities, and reducing waste and pollution, help mitigate the negative effects of tourism.
The National Park Service also conducts restoration and management programs to maintain and restore the park's natural resources.
These programs include the removal of invasive species, fire management, and watershed restoration projects.
Sedona
Sedona has implemented water conservation measures and encourages visitors to be mindful of their water usage.
The city has also implemented recycling programs to reduce waste and preserve natural resources.
Sedona has designated several areas as wildlife preserves to protect endangered species and preserve natural habitats.
Visitors are urged to stay on designated trails and to avoid disturbing the local flora and fauna.
Sedona promotes eco-friendly transportation options such as electric vehicles, hybrid shuttles, and bicycles.
The city has also implemented a free shuttle service to reduce traffic and promote sustainable transportation.
Many hotels in Sedona have implemented eco-friendly practices such as energy-efficient lighting and water conservation measures.
Some hotels also offer sustainable food options and encourage guests to participate in recycling and waste reduction programs.
Sedona promotes environmental education and awareness through various programs and events.
Visitors are encouraged to learn about local conservation efforts and to take action to protect the environment during their stay.