Hiking socks made from different fabrics are meant for either comfort, warmth, cushioning, durability, insulation, or moisture-wicking ability.
These fabrics include; cotton, cashmere, silk, wool, bamboo, polyester, nylon, polypropylene, and spandex among others.
Here's the best fabric for hiking socks
Wool. It is perfect for retaining body heat in winter while lightweight wool is perfect for summer. Wool is elastic, has crease-resistance, is durable, absorbs moisture, and is water resistant.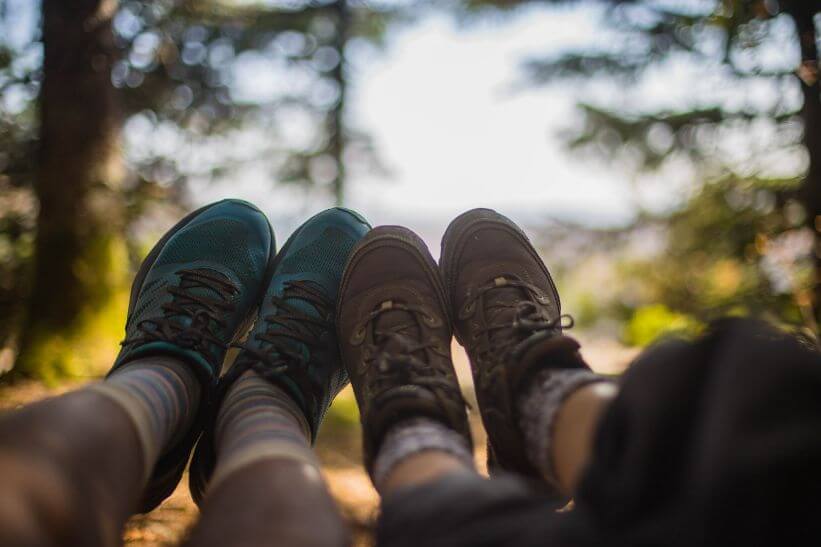 Woolen hiking socks are very popular among hikers but are deemed very expensive, that is because wool is a natural fabric harvested from animals such as sheep, goats, llama, and angora among others.
And remember hiking is a fun-filled activity in the right pair of socks.
Whether during winter or summer, you need a pair of socks that protects your feet from friction, let your feet breathe when hot, and keeps them warm when cold.
But you can't carry along different types of socks to keep changing, which is why you have to pick hiking socks made from a fabric with the above properties.
The fact that woolen fabrics are crease-resistant reduces the chances of friction.
And along with its popularity, wool is considered a luxurious fabric as it is superior to other fabrics in terms of performance.
In texture, woolen hiking socks are lightweight, soft on the skin, has a silky feel, and are very warm.
Today, most hiking socks are 100% merino wool which is itch-free and does not retain odors as much as other synthetic fabrics do.
But cheaper versions of woolen socks are available where wool is paired up with other synthetic fabrics to enhance durability and faster drying.
These fabrics include polyester, nylon, silk, spandex, etc.
Hiking socks material comparison
Hiking socks are made from different fabrics to meet different needs.
And while hiking socks are rarely made from one exclusive material, blending two or more materials produces an even better outcome.
A hiker, for example, may need warmer socks, socks that last longer, socks with better cushioning, or socks that absorb sweat and moisture much better.
Which are all factors guided by the distance of the hike, type of weather or climatic conditions, and the type of hiking shoes.
Here is a table comparing the different materials used to make hiking socks.
| | | | | |
| --- | --- | --- | --- | --- |
| Wool | Polyester | Nylon | Silk | Spandex |
| Natural fabric | Retains shape | Water-resistant | Lightweight | Stretches |
| Good insulator | Insulates | Very strong | Natural insulator | Warm |
| Cushions | Wicks moisture | Elastic | Comfortable | Soft and smooth |
| Has antimicrobial properties | Dries faster | Dries Faster | Elastic | Lightweight |
| Crease resistant | Warm | Resistant to oils | Very breathable | Abrasion resistant |
| Wicks moisture | Durable | Very resilient | Dries faster | Strong |
Why wear hiking socks
They are the barrier between your foot and your hiking shoe. They protect your feet from friction that would cause blistering, keep them warm, and absorb sweat and moisture inside the shoe.
Without hiking socks, you won't cover much distance, and neither will you enjoy your hike.
That is because hiking shoes are made from tough fabrics for durability and to be able to withstand even tougher terrains.
And tough hiking shoes can be rough on the skin and may cause a lot of blistering.
When you walk along, the back of your foot rubs against the back of your shoe, and without cushioning, it will be red and soar in no time.
Also, feet sweat a lot during a hike and without hiking socks, the shoes will be wet and slippery which hampers an otherwise good hike.
Worse still, too much foot moisture coupled up with skin tissue breakdown may cause your feet to catch a fungus infection such as athlete's foot.
Are hiking socks thick?
There are four types of hiking socks; ultra-light socks, light socks, medium socks, and thick socks. And not all hiker socks are thick because different hiking destinations have different weather or climatic conditions.
For example, you cannot wear thin socks during a winter hike because the thickness of a pair of hiking socks is equivalent to the amount of cushioning.
Cushioning on the other hand relates to the amount of warmth a pair of socks provides.
Many of the ultra-light hiking socks are sock liners. They have no cushioning and are meant for summer hikes where high breathability is the main concern.
In many cases, hikers love wearing this type of sock underneath thin, medium, or thick socks because they have super moisture-wicking abilities to keep feet dry.
Light hiking socks are a little thicker than ultra-light socks, have a little bit of cushioning on the balls and the heels, and are meant for warm weather conditions.
Medium hiking socks are clothed by a fair amount of fabric all over. With an equally fair amount of cushioning, these socks provide enough insulation in destinations experiencing moderately cold weather conditions.
Thick hiking socks are heavily cushioned and the fabric all over is equally thick. Of the four types, they are the thickest and provide the most amount of warmth. They are not only meant for winter but for long strenuous hikes such as mountaineering.
Final Thoughts
The fabric of a pair of hiking socks and its thickness are primary factors to consider before undertaking a hiking expedition.
While woolen hiking socks are exceptional, socks made from a combination of wool and one or more other synthetic fabrics enhances the functionality and reduce cost.
Remember that comfort, cushioning, breathability, durability, and warmth among others are key.