The company that makes Sorel boots understands its vocation, which is to make all types of winter boots suitable for mild winters to everyday heavily insulated snow and ice boots.
But there is a difference between winter boots and winter hiking boots, so, can Sorel boots be worn during a hike?
Here's how good Sorel Boots are for hiking
Yes, Sorel boots are good for hiking. The Sorel Conquest Boots have a high-quality outsole for perfect grip and traction in steep icy hikes, have full-grain waterproof leather fabric and are warm enough below -40 degrees Celsius.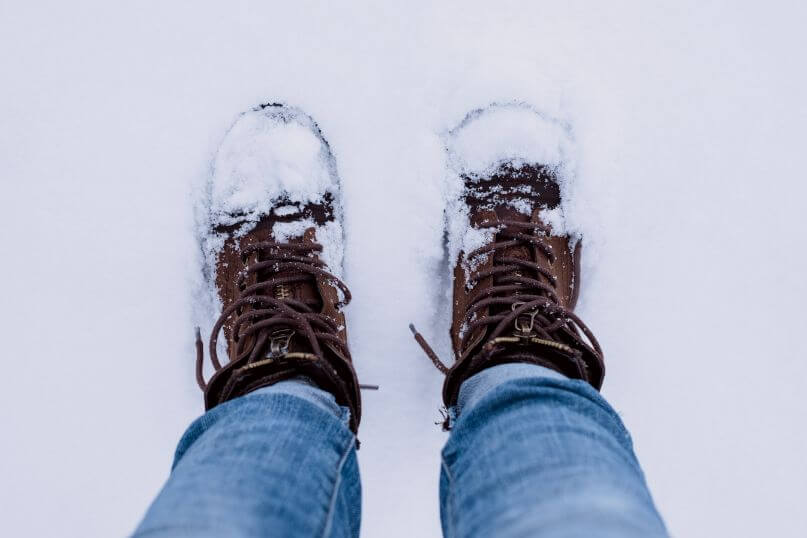 More so, they are built to encompass ankle support and against all odds, the Sorel Conquest Boots qualify for hiking in rugged terrains.
This is just an example of Sorel boots good enough for a short hike, but on the other hand, they are quite heavy which is not good when it comes to strenuous trails.
But in general, most of the other models of Sorel boots are not good for hiking. This is because the tremendous focus during manufacturing went into insulation and keeping your feet warm even during the harshest of weather conditions.
Some of the best attributes of the Sorel line of boots are as follows;
Their bottom soles are made of rubber which is perfect for waterproofing but not good for heavy-duty hiking because they are heavy.
On the above point, the rubber soles have no grip and will tear and chip off a little while affecting stability.
The lining inside is flux fur which provides a lot of warmth and is poor in breathability making it unfit for climbing where hikers sweat a lot, even on their feet.
The thick but quality upper side fabric takes too long to dry therefore adding more weight to the feet.
This is to say that Sorel boots are ideally meant for snow and ice.
And because they are of extremely good quality and serve their purpose well, a lot of people wonder if they are also good enough for hiking expeditions.
The answer is no, and we would not recommend Sorel boots to be worn during a hike, but if it comes to worse, you can try your luck because you are the one that best understands your shoe.
Some people have had their Sorel boots for a decade or more and have had success during a hike while others have less to write home about.
Key differences between winter boots and winter hiking boots
There are distinct differences between winter or snow boots and winter hiking boots in their performance.
They may seem similar, yes, but winter boots will perform poorly during a hike while winter hiking shoes will perform poorly when casually walking on ice or snow.
Both are made from a high-quality thick leather material or sometimes synthetic fabrics which on the outside makes them look the same.
To help you distinctively differentiate one from another, we have put together a table here below with their different characteristics.
| | |
| --- | --- |
| Sorel/Winter Boots | Winter Hiking Boots |
| They are made from thick leather or other synthetic fabrics. | They are made from durable leather or other synthetic fabrics. |
| Designed for insulation purposes. | Designed for grip and traction. |
| Designed for walking on snow. | Designed for rugged terrains. |
| They are heavier and bulky. | They are much lighter and more flexible. |
| The inside is lined with faux fur. | It is lined with a thin layer of insulation. |
| They are exceptionally warmer. | They are less warm. |
| Has a rubber sole that is 100% waterproof. | Has all-terrain bottom soles with protruding lugs. |
| Has no ankle support. | Has ankle support |
| Good for walking on flat grounds. | They are good for uneven terrains. |
What activities are Sorel Boots good for?
They are good for light outdoor activities like walking in the snow, shoveling the snow, and any other activity that involves working outside in winter.
Sorel boots by design top the list of the most popular and desired footwear during winter.
That is because Sorel boots provide exceptional warmth ratings from zero down to -100 degrees Celsius.
This feature alone has won Sorel footwear a lot of fame and because life goes on even when the temperatures are frigid, people who spend a lot of time outside in the freezing snow have high-insulated Sorels as a protective gear for their feet.
The rubber sole on the bottom of the boots cannot be underestimated either because it provides 100% protection against water or moisture.
You can therefore walk across a puddle or wade through shallow waters and come out dry on the other end.
The leather upper part however is thick enough to keep water from seeping through but in most cases, the outer part stays wet all day long because it does not dry easily.
Sorel boots, therefore, are perfect for the outdoors in winter, for going to work in them, when taking a walk, when going shopping, and for any activity that involves stepping out of the hours for a few or more hours.
But because different boots have different types of insulation, it is wise to wear the right Sorel boot according to the degrees outside.
That is because they breathe poorly and chances are your feet are going to sweat. Or ensure that you put on a pair of sock liners beneath winter socks to enhance moisture absorption.
Are Sorel Boots Comfortable For Short Walks?
Yes, they are. They work best on flat grounds and in the snow because they are warm, comfortable, stylish, and very cozy.
And short walks are exactly what they are meant for because exerting too much pressure or overworking them will lead to premature wear off, especially of its rubber soles.
Yes, Sorel boots are durable and last even more than ten years, but only if they are used well and are well taken care of.
When taking short walks, the amount of work put into it is limited and does not strain the boots or the feet.
That is because long walks require ankle support which most Sorel boots do not have.
Again, short walks do not require meticulous planning in terms of complimentary hiking gear such as the correct hiking socks because of moisture and sweat build-up.
In short, Sorel boots are best for short walks because you do not have to worry about anything concerning the walk or the boots.
Before long, the walk will be over and you will have had the best experience of both warmth and comfort in your Sorel boot.
The problem comes in where long strenuous walks are concerned and the shoes are put to test in terms of performance where you may be pleased by the outcome or get disappointed.
See related: Are Cowboy Boots Good For Hiking? & Best Footwear For Water Creek And River Crossings
Sorel Boots alternative for hiking
Sorel boots are good for the winter but not for hiking, and regular hiking shoes are not good for hiking in the winter either.
The next best thing to do, therefore, is to choose a good pair of winter hiking boots which are there in plenty.
The most important thing is to be sure of what you are looking for in a shoe.
Be well informed of your destination, understand the level of the hiking trail and how much effort will go into it, and last but not least, be in touch with your feet.
Pick a pair of hiking shoes that perfectly fits the arc and size of your feet in terms of length and width to reduce foot fatigue.
Here is what to look for in a pair of winter hiking boots;
When on snowy hiking trails, the treads of your boots will pile up accumulating snow, you, therefore, need boots whose treads won't get frozen.
Pick boots that have a thick removable liner so that you can remove and air them to dry when resting.
Choose a pair of shoes that gives your toes room to move and breathe to reduce moisture build-up as well as enhance stability.
Check the shoe laces and ensure that they are not complicated to tie or loosen up even with gloved-up hands.
Waterproof abilities. Ensure that the seams are sealed with a waterproof material to ensure that no water gets into your shoes or feet from the outside.
Look for boots with a calf coverage of 400g of Thinsulate insulation because they are meant for heavy-duty mountaineering hikes.
Two examples of good winter hiking boots are;
Columbia Powderhouse Titanium (600grams Thinsulate Boots)
As the name suggests, these hiking boots not only look tough but feel amazingly great as well and they have extremely good ratings on the internet.
They are comfortable to walk and stand in all day long and the treads on the souls are heavy duty and big like Michelin tires which are meant for mountaineering above 8000 feet and below -65 degrees Celsius.
It would be great to have hooks instead of the eyelid shoelace hole but still, they are not complicated to work on.
They perform exceptionally well in snow, water puddles, slushy ice, and any other tougher conditions.
Aside from a size issue that hikers complain about, they are the most recommended shoes for hiking into tough terrains.
KEEN Revel IV High Polar (400g KEEN Warm)
Just like the Columbia Powderhouse Titanium, the KEEN Revel IV High Polar boots have aggressive soles with protruding lugs for firm grips in snowy and slippery terrains.
Which makes them comfortable and stable during snowshoeing and even when shoveling snow from the driveway.
Together with a comfortable inner sole, the boots are well insulated to withstand temperatures of up to -40 degrees Celsius.
And the best part is that these boots do not smell as many others do while the insulated inner sole retains the heat from your feet to warm them when it gets colder.
Final Thoughts
Sorel boots are not perfect for winter hikes, but if you must wear them, then ensure that they are an old pair of shoes you have worn before and you are sure of their capabilities.
Otherwise, there are boots meant for hiking in the winter tailor-made for that specific reason.
They have the perfect grip so that you won't slide or fall on the trail, provide ankle support, and are much lighter in weight which is good when you want to move faster.