You'll need specific boots if you're hiking through water or crossing Water Creek and Rivers. While most hikers use trail shoes, some cross barefoot, and others dip their hiking boots inside. That said, water shoes will save you a lot of time and effort trying to dry your shoes later or injuring your feet by walking barefoot.
Most footwear, including crocs, sandals, and even closed waterproof material shoes, is designed for this purpose. Here is a list of the best four in the market.
List of Best River Crossing Shoes
The four are ranked among the best in the market for water shoes for water creeks and river crossings. They all have unique features that make them stand out; get the detailed descriptions below.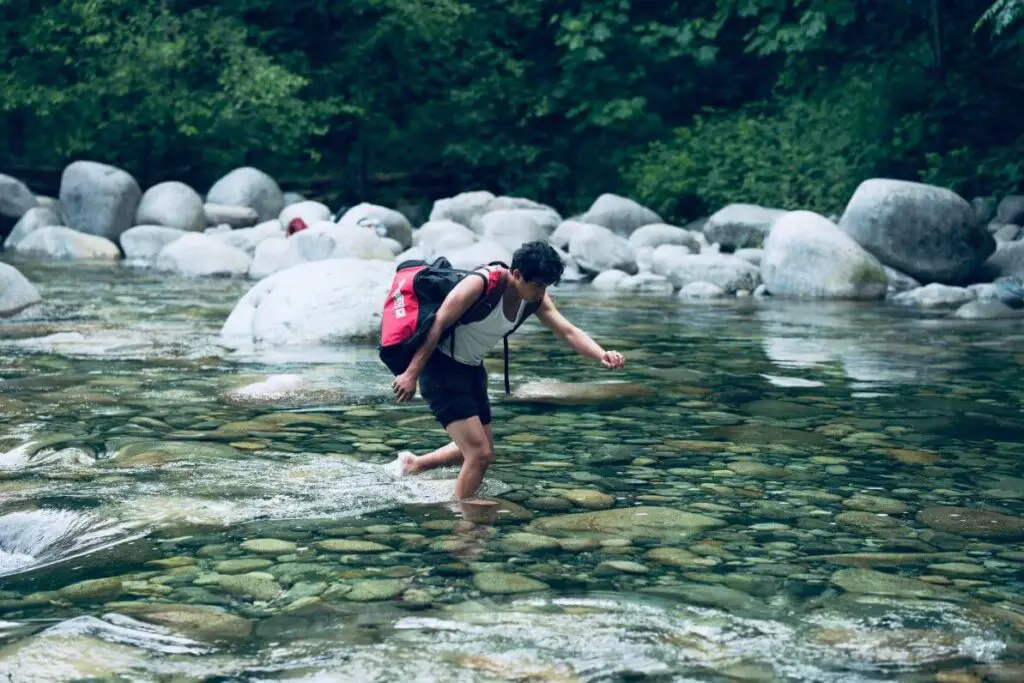 Crocs Classic Clogs
The Crocs Classic will sort you out for crossing water creek and River. They are a top choice because they can easily be slipped in and out of the feet without much effort.
Features
The shoes are molded with a Croslite Material that provides durability, flexibility, and comfort.
They are very light in weight, buoyant, and water-friendly.
They have a pivot heel strap that gives a secure fit and thus can't slip easily in the water.
They have some ventilation ports, which adds breathability and helps avoid debris in the water that might be caught during the crossing, like soil in the water.
They can dry and be cleaned easily.
The crocs are durable and unisex; you have to find the right fitting for you from the sizing chart. There are also sizes available for kids.
Vivobarefoot Ultra III Bloom
For environmental enthusiasts who like vegan/animal-free items, these sandals might be the right fit for you. Made from Bloom, the Vivobarefoot Ultra III bloom is designed to provide free, natural movement over both water and land.
Features
They are vegan/animal-free
The shoes have no insole to keep their users grounded and provide that close to barefoot feeling.
The shoes are ideal for water sports activities, camping, hiking, and crossing river creeks and rivers as they can dry and drain quickly.
The shoes are not foot-shaped and let you fit into them naturally. They are wide to provide natural stability, Thin to allow you to have more feeling, and very flexible to allow for natural movement.
The shoes are available for both men and women.
See related: Best 6 Mountaineering Boots For Wide Feet
Merrell Men's/women All Out Blaze Sieve Water Shoes
These shoes are designed for hiking in water, creeks and river crossing, trail running, and other day-to-day use. They sighed water very fast and can easily handle wet and dry terrains.
Features
It is made of a waxy waterproof leather material on the upper part, also incorporated is the Lycra neoprene material, which stretches for swift on and off.
The upper lining is also incorporated with fresh antimicrobial agents to reduce the shoe's odor.
Their midsole and outsole are made of Unifly, which protects your feet from the terrain and connects you to the trail. The outsole is made of Vibram.
The shoes are very light in weight; their average weight is 297grams only.
They have an integrated lacing system to give a glove-like fit.
They also have a protective toe cap to prevent your foot from hitting rocks while trailing or crossing creeks.
Keen Women's Terradora Ethos
From KEEN, one of the known manufacturers of top-quality shoes for camping and hiking, the Keen Women's Terradora Ethos are also a masterpiece. It is meant for water sports, crossing creeks and rivers during hikes, and water hiking activities.
Features
It is made of the synthetic leather overlay on its upper part
It is made with a secure-fit-lace capture design,
It also has an ESS shank which makes it very lightweight.
It has KEEN -all-terrain outer soles made of rubber, providing a high-traction grip.
It is incorporated with clean sport NXT, which controls natural odor.
Its lining can dry quickly and have low-density EVA midsoles which are low intensity and caters to a woman's foot.
They also have four multi-directional lugs for traction purposes and a PU foam footbed for arch support.
Do you wear socks when hiking in water?
When hiking in water, you can decide to wear waterproof socks called Neoprene socks.
It is a water-resistant synthetic rubber if you have never heard of it. Neoprene socks help to keep your feet dry and reduce the amount of friction when passing through the water.
Additionally, the Neoprene Socks can help keep your wool socks dry when trailing in wet conditions or crossing rivers and creeks, or water hiking.
Here are some benefits of wearing Neoprene socks when hiking on the water.
They keep your feet dry when hiking or through water sources like small rivers and creeks.
It has superior insulation to keep your feet warm during cold weather and water. Also, help reduce friction which can potentially cause blisters.
They Provide more cushions than regular socks.
They can be worn at campsites without shoes.
Conclusively, Neoprene socks are vital when hiking in water due to their waterproof features; other socks can easily get wet, which may take a long time to dry or make you uncomfortable over time.
Can I use my trail runners when crossing a river?
Trail runners can be used when crossing rivers because they can dry out faster. Many hikers prefer wearing trail runners to their hiking boots, especially when hiking in places where they will be exposed to wet conditions.
Trail runners can dry faster than hiking shoes, while the boots will stay wet for a long time. Also, trail runners are made with material with numerous mesh patches and low-cut ankles, giving maximum breathability.
Though there are a lot of limitations to using trailer shoes for crossing rivers, you can still use them when crossing a river instead of your hiking boots.
Do I need shoes for crossing a river?
Shoes are not necessary to cross a river though they are very important for foot protection.
Hikers often prefer crossing the rivers barefoot instead of going in with their hiking boots as they will take longer to dry. So, when faced with either crossing with your boots or going barefoot, you can still choose the latter.
Here are some reasons why wearing shoes when crossing creeks and rivers is very important.
Safety and protection
Shoes will protect you from sharp rocks and shells in the water.
Providing support and traction
Good water shoes are incorporated with special treads to provide optimal traction on slippery surfaces preventing you from slipping and falling off easily. They also provide ankle support so that in sticky clay soil, you get stuck easily.
Provide warmth and comfort
Keeping your feet warm in water is important as poor circulation and foot coldness will greatly affect your hike performance. Water shoes provide insulation keeping your feet from getting too cold when crossing rivers.
Though you may cross the rivers barefoot when hiking or crossing rivers, shoes are very important for your protection, putting your journey to a halt or making it very uncomfortable.
How to dry your shoes
After trailing through water, drying your water shoes can be challenging though these kinds of shoes are made of material that enables them to dry out faster compared to hiking boots:
Use of newspapers
Remove the insoles of the shoe
Unlacing the shoes
Use of hand warmers
Use of newspapers
Newspapers can be used to dry out the shoes much faster. They absorb moisture and can speed up the drying process. In very wet shoes, wrap around the newspaper and stuff another inside the shoes.
Remove the insoles of the shoe
When trying to dry your shoes, you should remove the insoles if they have one or they are removable.
This will greatly assist in airing the shoes and air circulation inside, which will aid in fast drying.
Unlacing the shoes
If the shoes have laces, you should unlace them to create more air space in the shoes. It will make the shoes loosen up and dry easily.
Use of hand warmers
This is similar to the newspaper concept, except you place hand warmers in each shoe to speed up the drying process.
Hand warmers are little sachets that contain absorbent materials inside. The hand warmers can reach a temperature of up to 135 degrees Fahrenheit. If you are on the trail again the next few days, these can dry your shoes in 10hours depending on the degree of wetness.
Finding the best footwear to help you navigate through the water during your hiking adventure is imperative because it will protect your feet from potential injuries that can slow you down or put your overall trip to a halt. Before buying any water shoes, consider the amount of water you are likely to encounter and select one that will be appropriate.
Sources
https://www.youtube.com/watch?v=SOJwL2VLlls
https://www.nps.gov/articles/safe-river-crossings.htm
https://blog.nols.edu/2016/07/14/backpackers-guide-to-happy-feet