Different people would aim at fulfilling different motivations while going on mountain climbing escapades like enjoyment, setting climbing records, or as a sporting activity. Whatever the reason, it is imperative to ensure that you have the right fit shoes to optimize your experience.
Failing to select mountaineering boots that are a good fit for your wide feet can result in soreness and injuries, sometimes forcing you to put the journey to an end.
Finding perfect mountaineering boots for wide feet can be a real struggle as many known brands run narrow. Well, if you are looking to find the best mountaineering boots for wide feet, look no further. This article will highlight some of the best in the market.
List of best mountaineering boots for wide feet
KEEN Men's Targhee II Mid Waterproof Hiking Boot
Skechers Men's Element-Pelmo
Salomon Men's X Ultra 3 Mid GTX
La Sportiva Nucleo High GTX
La Sportiva Men's Trango Tech Leather GTX Mountaineering/Hiking Boots
Lowa Renegade GTX mid wide boots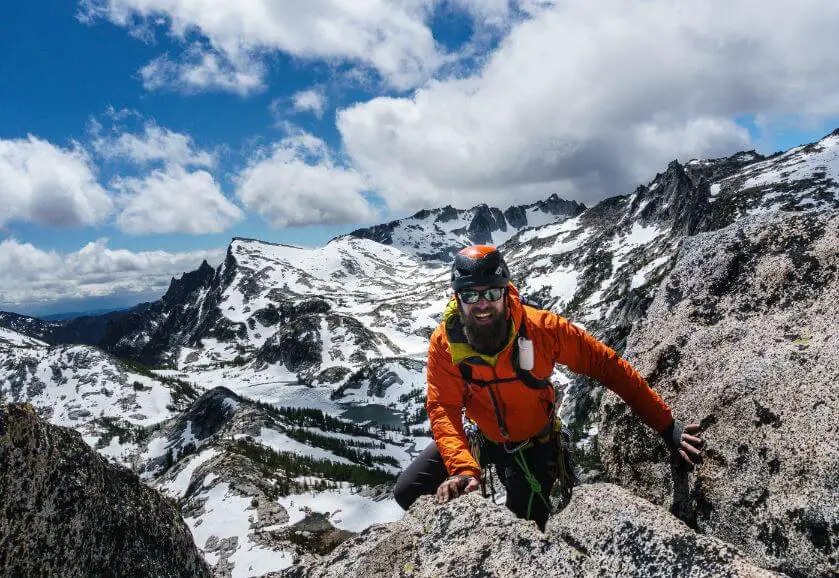 KEEN Men's Targhee II Mid Waterproof Hiking Boot
Keen provides quality boots whose use can range from hiking, backpacking, and mountaineering. It is rated as one of the best brands in the market. It produces a wide range of boots for people with wide feet for both men and women.
Features
It is made of 100% waterproof Nubuck leather.
Its sole is Rubber, and the heel measures approximately 1.5.
They are waterproof, keeping the feet dry all day long. They are made of breathable membranes that allow vapor out without letting water go in.
The all-leather shoes are treated with PFC-free water repellant to give the same protection without any potential harm.
They are made of all-Terrain Rubber, which offers a high traction grip in every environment.
The External Support shank, Torsion Stability, and the shoes' mid-cut height provide additional ankle balance and support. The shoes' contoured heels also provide more stability.
They fit perfectly and are very comfortable.
Skechers Men's Element-Pelmo
These comfortable and rugged Skechers are perfect for keeping you going in any weather condition when hiking, basic mountain climbing, or backpacking.
Features
They have a very relaxed fit to provide enough room and a comfortable fit for the forefoot and toe.
They are made of memory foam to provide cushioned comfort inside the shoes.
They are waterproof to ensure that your feet are dry throughout.
They are made of suede, mesh upper, and synthetic.
The outsole is made of flexible Rubber with high traction
It has a three-inch shaft height and a half heel.
Salomon Men's X Ultra 3 Mid GTX
The Salomon brand has you, whether you are looking for boots for mountaineering, hiking, backpacking, or trail running for people with wide feet for men, women, and even children.
Features
The boots are made of 100% synthetic material.
They are waterproof and are designed to provide maximum traction on all terrains.
It is designed with descent control technology to tackle technical mountain climbing and shine in very tough descents, including wet conditions.
Its shafts measure from the arch to the shaft.
The boots weigh 380g.
La Sportiva Nucleo High GTX
La Sportiva is one of the most famous brands for producing boots with top-notch features. THeir Nucleo High GTX is available in wide sizes. These models are available for both men and women with wide feet.
Features
They are made of GoreTex technology to keep off mud, water, and wind.
They are made of Nubuck leather which is infused with some Nano leather to make the boots breathable.
The outsole is a Vibram which features an aggressive tread pattern for good grip.
Has tall lace closure for ankle protection and a secure fit.
Its insole is made of compression-molded EVA.
La Sportiva Men's Trango Tech Leather GTX Mountaineering/Hiking Boots
This is another model from La Sportiva that has wide fittings. It has unique characteristics and technology to suit the needs of mountaineering and hiking. Please take a look at its features.
Features
It is made of leather and is very waterproof and breathable.
It is highly durable as it is made of protective microfiber and leather on the top.
Its midsoles are made of shock-absorbing and low-density PU-skin and polyurethane, reducing floor impact and increasing its use.
It is made using a 3D flex system to promote dynamic support and mobility of the boots.
Its top is integrated with a top made of very soft, elastic fiber to provide maximum comfort during use. Its ergonomic tight fit and shape also enhance this.
The Vibram in these boots makes them lightweight and perfect for modern hiking use and mountain climbing.
Lowa Renegade GTX mid wide boots
The Lowa Renegade is an iconic brand available in narrow, comprehensive, and medium sizes. These boots boast a high-class performance and quality. It is perfect for wide feet users who have traditional taste in shoes. They are available for both men and women.
Features
It is made of leather uppers and waterproof breathable Gore-tex to keep the shoes dry.
It also features premium Vibram outsoles.
It has a mono wrap frame design for support and more stability
Their DuraUP cushions in the middle offer rebound.
They have stiff full-length stabilizers which allow them to handle heavy packs.
Should you size up mountaineering boots?
The sizing of mountaineering boots is imperative and is unquestionably the most important factor during boot selection.
The size of your boots will affect such things as performance and warmth, among other essential features. Boots that are too tight can inhibit blood circulation to your toes, causing them to get cold.
Your toes can also bang into the boot front, causing soreness, injuries, and even in some cases, loss of a toenail. Here are some tips that can be used when sizing mountain boots:
Before buying the shoes, try them in-store. While at it, put on mid-weight wool socks or those you will be using while climbing.
Usually, feet tend to swell during climbing, so when buying boots, try them on late on the day when your feet are somehow swollen.
After wearing the boots during fitting, try hitting something solid. The toes shouldn't bump into the front of the boot.
Next, try standing on a small ledge with the boot toe, simulating your experience on all four points during climbing. Your heel should lift a little, not too much. The heel lift shouldn't go beyond a quarter inch in your new boots.
Therefore, here are some of the three-dimension that a good fit mountaineering boot should address:
Length: The toes should easily wiggle inside the boots. You should pick a size up by one-half from your regular street shoes for mountaineering boots.
Width: The shoes should not be compressed on the sides, and they shouldn't slide inside.
Volume: Your foot bulk should securely fit inside the boot interior. This is important as it controls toe bang and heel slip.
See related: Are Cowboy Boots Good For Hiking? & Best Footwear For Water Creek And River Crossings
Do mountaineering boots break in?
Like most shoes, breaking in on mountaineering boots will also take time. No quick or easy way has been proven to break in mountaineering boots. Use shortcuts such as applying heat treatments, using leather softeners, or wetting boots, then walk them dry, destroy your shoes, and reduce their longevity.
The only thing you can do is wear boots all day on flat terrain as you wait for your mountaineering adventure. Once the boots become comfortable and can be worn the entire day, you can then venture mountain climbing with them.
Carry moleskin during this period in case you experience hot spots or pain, apply a generous amount on the affected area to prevent blistering.
But in case you decide to try to break in any way, the methods mentioned above are some of the ways you can use.
Are Scarpa good for wide feet?
While there are Scarpa boots designed for wide feet, they are not necessarily the most pleasant choice for mountaineers with wide feet.
A Scarpa model like Scarpa Bostic has been pointed out as one of the best for people with wide feet.
Most Scarpa shoes are said to be true to size and therefore are primarily suitable for mountaineers or hikers with narrow feet.
But compared to other top Italian brands like La Sportiva, these boots have more giant toe boxes.
When buying mountaineering boots for wide feet, there are a lot of factors to consider, and size is the most essential. There are a lot of brands in the market and while some people swear by a particular brand, remember it might not be the right fit or size for you. Therefore it is prudent always to research well and fit the shoes despite the brand to ensure they are perfect for you.