Fire pans are essential for backpacking, hiking, and camping. This is because they protect the surrounding environment, which could be damaged by the fire if left to burn anyhow.
There are rules and regulations for making a campfire like you "Leave No Trace" after making a fire and other rules made by relevant authorities regarding where a person goes camping.
Therefore, it is imperative to have a fire pan that makes life easier and portable to carry around. Here is some crucial information you may need to know about these little gems before investing in them.
Quick overview of the best portable fire pans for camping, hiking and backpacking
Partner Steel Kayaker – $162
Outwell cazal fire pit – $63
Standard firepan by Tye Works – $235
Partner Steel Mini Fire Pan – $113
Cambridge welding fire pan – $275
Salamander Firepan – $245
Bobby Eco's Firepit
Wolf and Grizzly Campfire Trio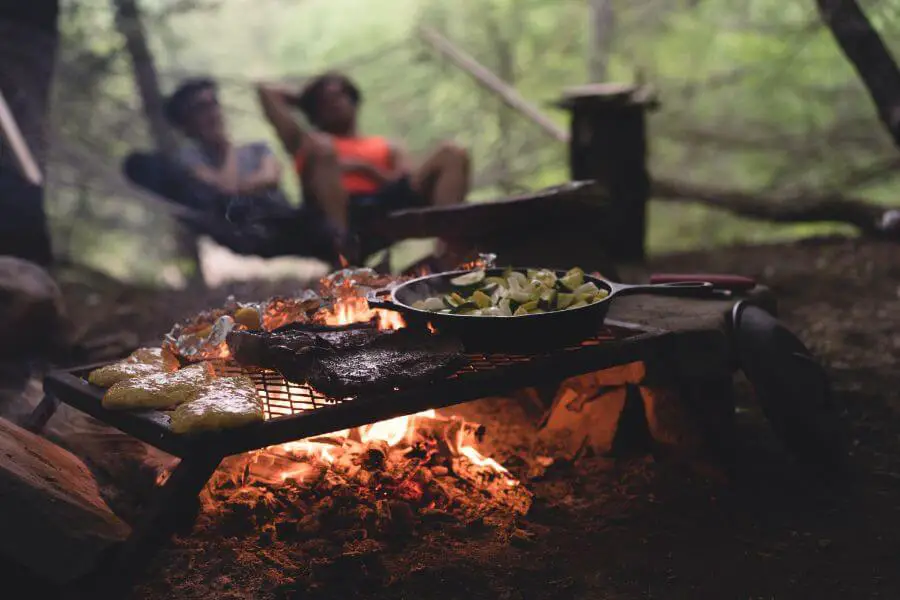 Best budget fire pans
Partner Steel Kayaker Stainless Firepan-$162
This is a very affordable portable budget fire pan. It is very simple though because it doesn't have any legs. It is perfect for campfire and simple cooking functions.
Features
It weighs 8lbs
It includes a riser that keeps it off the ground
When compact, it measures 12x8x2
When it expands, it measures 12×22
It is made of stainless steel
Outwell cazal fire pit-$63
This is one of the most portable and affordable fire pits, which goes for only 63 dollars.
Features
It weighs 3kgs
It has sturdy legs and a mesh-like lid
It is easy to assemble.
Standard firepan by Tye works-$235
This is a perfectly constructed portable fire pan to meet camping/Backpacking needs. The fire pan meets the wilderness camping regulations from the NPSS and USFS,
Features
The pan is easy to assemble and does not need any tools or fasteners.
The grill and legs can be stored inside the pan for easy transport.
It can support 225 pounds standing
It comes with a heavy gauge aluminium cover that can be used as a draft stop.
Partner Steel Mini Fire Pan-$113
This is a mini fire pan meant to be placed on rocks for usage. If you need a simple fire pan, this is for you. It is approved for forest use during camping.
Features
It is simple and made out of 16gauge soft steel
One side can be slid into another to make it an open fire pans
It weighs 15Lbs
It measures 15 to 25 inches long x 13 1/2 x 3 1/4 deep
It can be set inside itself for storage purposes.
This pan has no legs or grill.
Cambridge welding fire pan-$275
The Cambridge fire pan is one of the best portable fire pans. It is durable and accepted by the government regulatory agencies.
Features
It measures 15 by 24 and is elevated to prevent the ground from heating.
It comes with heavy-duty grill gates, which are adjustable. It can be adjusted to the top grill, cook veggies and meat and provide support for pots and pans. Also, it can hold pails with water inside for dishwashing.
The legs and grill can be stored inside the firebox.
It weighs 28lbs
It has an optional Aluminium cover which is sold separately.
The bottom of the pan is 16 gauge steel; its sides are 12 Gauge steel.
Salamander Firepan-$245
This is also one of the best budget portable pans, which is approved and meets all the set requirements by USFS for making fire off the ground. The pan is also made of top-notch features, which do cooking while camping easy and convenient.
Features
Its reinforced grate is perfectly made to last long,
It has three removable wings, perfect for use as a seasoning station and staging cooking utensils.
It also has a lid for storage purposes.
Lightest fire pans
Bobby Eco's Fire Pit
This is the lightest firepan in the market. It is made of triangular pieces of stainless steel sheets that, when closed, lock together to form a cone.
The fire pan has a diameter of 25 inches, but when closed, it collapses to 12.5 x5x3. It weighs 1.6kg, and when used, it should be placed on rocks to prevent it from scorching the ground. It is suitable for a small campfire.
Suppose you can find other ones. Feel free to add. It could be a Premium fire pan, for example. But only if you find some, of course
Wolf and Grizzly Campfire Trio
This is also one of the lightest firepans on the market, and it only weighs 2kgs and is suitable for backpacking, campsite, or hiking adventure. It is made of premium materials and has legs that can easily be used to adjust its weight.
What is a firepan?
A fire pan can be described as a container made of metal and has sided with a sufficient height to hold and contain debris and ash.
Fire is usually built inside the fire pan, which is usually lifted off the ground to prevent scorching the ground, soil or vegetation.
After using the fire and is no longer needed, the fire will be allowed to burn down to ashes or cooled off with water, and then the ashes will be collected to be disposed of with other garbage from backpacking trips.
Fire Pans made of steel or iron are the most durable, but common among backpackers are metal pans.
What can I use as a fire pan?
For small campfires, the standard alternative that is cheap and used by backpackers is metal pans used for changing oil. This cannot be used for large campfires as it can be uncontainable, so most backpackers use metal garbage lids to make fire.
These lids and alternative firepans must be placed on rocks to prevent scorching the ground or vegetation. The stones also prevent fumes that might be formed from galvanized coatings and volatilizing.
These inventions are best for experienced backpackers because they might scorch the earth or leave debris and ashes on-site if used carelessly.
Can you light a fire in an aluminum pan?
No, aluminium cannot be used to make a fire in a pan for camping fire.
Aluminium has a very high melting point, and burning wood fire is hot enough to melt it. Aluminium can only be used for making light home fires which will not be able to heat it and melt it.
However, if the heat needed is not much and is just smoldering, then aluminium can be used. The aluminium melting point is at 1221 degrees Fahrenheit. So, the heat should be below this.
See related: Best Pressure Cooker For Camping
How to avoid leaving traces when using a fire pan
Here are some tips you can use:
When using a fire pan, first ensure that if it has no legs to lift it off the ground, place rocks or sand under it to prevent it from scorching the ground or the surrounding vegetation.


When you no longer need the fire, allow it to burn down to ashes or cool it off thoroughly using water; then, when cool, you can place it in a garbage bag and other camping trash. Please do not dispose of it around.


Never bury the trash or the burning debris or throw it in waterways.


After finishing, you can return or disperse all rocks assembled for placing the fire pan.


If you cannot carry the burnt ashes, you can throw or spread them away on the grass. They should be completely burnt down.


When gathering wood for your fire, use the four Ds: Dead (pick wood that has been dead for a long time; that way, it is dry). Down (ensure that it is separated and away from a living tree), Dinky (should be easy to break and burn completely), and Distant ( collect it a bit far, like 200m, to avoid site creep effects).


Monitor your fire all the time, and always keep a bucket of water close in case of anything.
There are a lot of factors to consider before buying a fire pan, like if its use is approved by the regulating authority and the kind of metal it is made of, considering the type of fire you would be making, among other things. Before buying, do your research well; these are just a few tips about firepans.
Sources
https://www.youtube.com/watch?v=FLFr_c_K6Hw
https://lnt.org/leave-no-trace-skills-using-a-fire-pan/
https://www.blm.gov/or/resources/recreation/files/brochures/firepans.pdf