Also called Cuben Fiber, Dyneema Composite Fabric(DFC) is a very high-performance, rip-stop, non-woven composite fabric used in manufacturing low-weight but very high-strength applications.
This material possesses distinctive characteristics that make it very durable and also light. Initially, this material was designed for manufacturing high-technology sails, but later on, this premium fabric was diversified and used to make modern ultralight tents.
DCF Fabric is known for making the best ultralight tents to suit various uses like camping and other general outdoor activities without compromising quality and weight. Here are the five best DCF Tents in the market; take a look.
Quick overview of the best DCF tents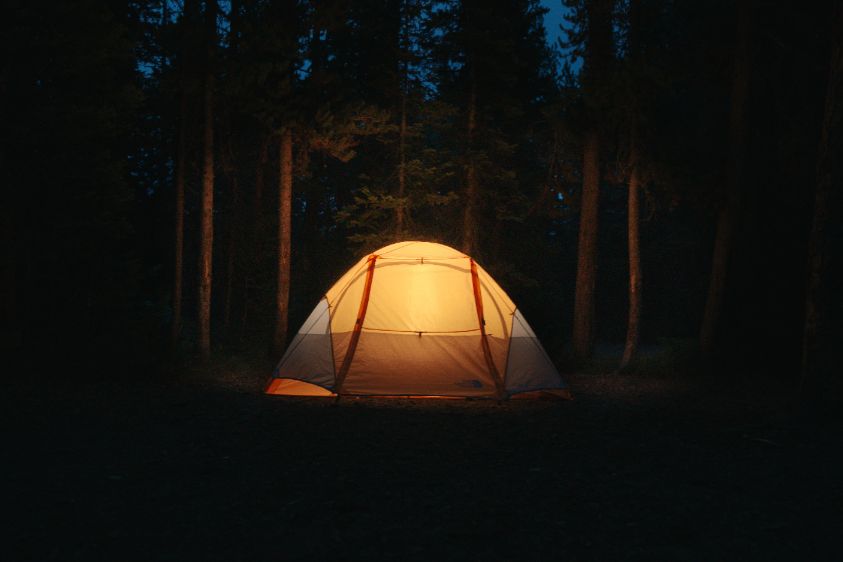 Best DCF tents options
ZPacks Plex Solo
This is ranked as the best DCF tent; it is also the overall best tent made from this premium Fabric. This tent is lightweight and only weighs 14oz and is perfect for those who love light tents that are high performing and comfortable.
Features
This tent is waterproof and does not stretch or become saggy at night.
It comes with a deep bathtub floor to ensure its users are kept dry despite the weather.
It has steep walls to enable it to shed snow and strong winds.
It has a rainbow zipper, making it easy for its users to get in and out from either tent side.
It requires a single trekking pole to set up. Alternatively, a tent pole can also be used to set it up.
The storm doors can be opened and closed comfortably.
Tarpent Double Rainbow Li
This tent model is suitable for users who prefer a tent with space that will suit two users. It is also manufactured using Dyneema fabric, making it light in weight and very strong.
Features
It has a free-standing setup and can use either staked or trekking poles.
It has reflective spectra cords.
The tent ventilation is excellent, can manage moisture, and provides perfect views.
The tent is made of vestibules, and its inside can be accessed using dual entries.
The tent is bug proof and waterproof as it is seam taped. It gives freedom to explore different kinds of weather conditions.
Zpack duplex tents
If the plex solo tent from Zpack doesn't appeal to you because you desire a tent that can accommodate the same quality and comfort, then the duplex tent is for you. Its size, weight, and features are just perfect. Take a look.
Features
It is light in weight(19oz), spacious, and well-ventilated.
It can be set up in the tightest spaces and is the best duplex in the market in general.
It is also waterproof as it is made of DCF and high strength. It does not absorb water or stretch during the night.
It has dual doors and vestibules for easy access to the tent from both sides.
Setting it up requires two trekking poles.
Tarpent AEON LI
Featuring two distinctive designs of half pyramid-styled shelters, the AEON LI is also a very good tent made of DFC from Tarpent. It is a suitable tent for those who want spacious tents or one that can fit two people.
Features
It is made of foldable corners, which increases the inside volume of the tent and its storm tolerance.
It is made of two-way 3YKK vestibule zippers, which are waterproof to reinforce its ventilation and strength.
The tent is waterproof and fully taped and can withstand 8000mm+hydrostatic head pressure.
It requires a single trekking pole for setup. Only require two minutes to set up.
Its frontline vestibule can be rolled without the need for an apex guyline.
It can fit wide and tall users.
It possesses excellent ventilation, moisture management, and views.
It has catenary ridgelines for better performance and shape.
Tarpent Notch Li
This is also among the best DCF-made tents in the market. It is suitable for individual use.
Features
It has two doors, each with vestibule zippers that are waterproof and enhance ventilation and strength.
Its interior is incorporated with roof panels lighter than the mesh interiors.
It is waterproof and fully taped.
It has two doors, two vestibules, and double walls.
The interior of the tent can be dismantled and set up independently.
It uses two trekking poles for setup and maximum support.
The vestibules also have sufficient space for gear storage.
It features a Taut pitch which has PitchLoc foldable corners.
It has catenary ridgelines for better performance and shape.
It can be pitched fast, within a minute.
ZPacks Triplex Tents
For those who prefer a tent with space that can accommodate three people, then the Zpack Triplex is the best option for you.
Features
The setup of this tent requires two trekking poles or tent poles.
It has four storm doors that can be opened and closed independently.
It has rainbow zippers on each side to allow for easy entry and exit and gives access to the vestibule area.
The tent contains a sewn-in bathtub floor which can fit three sleeping pads of standard size and two wide pads and still spare some extra space.
The tent can also withstand strong wind.
It is made of Dyneema Composite Fabric hence it is waterproof.
What is DCF (Dyneema Composite Fabric)?
Dyneema Composite Fabric is a composite laminate fabric constructed from a very thin sheet of ultra-molecular-weight polyethylene(UHMWPE), which is then laminated between polyester sheets.
Dyneema fiber is said to be the strongest in the world because it possesses an outstanding strength-to-weight ratio. This material's distinctive features can withstand repeat flex without compromising its structural integrity or strength.
This fabric is fully waterproof, and its stitching makes it UV and chemical-resistant. Originally known as cuben fiber, the Dyneema Composite Fabric is primarily manufactured in North Carolina and Arizona.
Dyneema Composite Fabric is usually used to make modern ultralight tents, stuff sacks, and backpacking taps.
Is a DCF tent worth it?
Yes, DCF tents are worth it. They feature a technology that considers the weight factor and, at the same time, does not compromise strength.
Dyneema tents are very strong, lightweight, and very durable. Compared to tents made from other materials, it is an awesome choice as it is 100% waterproof, dries quickly when rained on, and doesn't sag.
Repairing this tent is very easy as it can easily be sealed off with DCF tape in case of tears or loose edges. Some of the advantages of using DCF tents include:
Ease to repair: DCF tents are designed and can be easily fixed in case of punctures using DCF tapes. These DCF tapes are easy to find online.
Strength: DCF tents have a great strength-to-weight ratio; though the tents are very lightweight, this is not at the expense of their performance. Compared to Fabrics like SilNylon, a DCF that is much lighter can handle the same force as a very heavy SilNylon material. Also, their strength allows them to withstand the strongest wind without falling.
Waterproof: DCF, unlike other materials, does not require a lot of coatings to make it waterproof. It doesn't absorb moisture or become saturated due to the rainy weather, breath condensation, or morning dew.
See related: Can You Backpack With A Pop-Up Tent?
How durable are Dyneema tents?
Dyneema Fiber tents are very durable; they are fifteen times stronger than steel and incorporate a technology that makes them very durable and resistant to moisture, UV lights, and chemicals.
Dyneema Fabric tents have high tensile strength; this is why initially, they were primarily made to manufacture military and fishing products. The DCF fabric is said to be 15 times stronger than steel, thus its durability.
DCF tents are said to be long-lasting and can be estimated to last for 5 to 10 years, especially when a user is taking great care of the tent.
Dyneema Composite Fabric is a very strong material, and tents made from it have been proven to be long-lasting, waterproof, and of very high quality. Though tents from the Dyneema Composite Fabric are expensive, they are worth it.
Dyneema tent manufacturers
Here are some of the top manufacturers for making top-notch Dyneema tents.
REI Co-op
Marmot
Nemo Equipment
ZPacks
Black Diamond
Kelty
The North Face
Cabela's
Coleman
Alps Mountaineering
Hyperlite Mountain Gear
Eureka
Is Dyneema or nylon better for tents?
Dyneema is better for tents compared to nylon. Although both materials are artificial polymers, they have several basic differences which are crucial.
Firstly Dyneema is much lighter when compared to nylon for tents of similar strength.
Additionally, Dyneema does not absorb any moisture and is waterproof. It also does not stretch or expand. So, when weight is a priority, Dyneema is a superior tent material compared to nylon.
Secondly, Dyneema's tensile strength is its biggest winner compared to the nylon material.
It provides 15x as much resistance to tension compared to alternatives similar to it. Therefore its users can achieve a very taught pitch without worrying about ripping it apart.
Lastly, Dyneema is also long-lasting due to its strength compared to the nylon material.
See related: VX07 vs. VX21 XPAC For Backpack – Beginners Guide
Quick FAQ
Is a DCF tent worth it?
DCF (Dyneema Composite Fabric) tents are an excellent choice for camping and backpacking trips. They are lightweight, strong, and waterproof, making them an ideal shelter for any environment. They are also more durable than traditional tents and can withstand harsh weather conditions. Additionally, they are more spacious than most other tents, allowing more room for occupants and gear. With all these features, DCF tents are definitely worth the investment.
How durable are Dyneema tents?
Dyneema tents are very durable, with some models designed to last for up to 10 years.