Setting up tents after a hard day of hiking has been one of the most exhausting aspects of camping. Studying the handbook, hitching tent poles, and determining the correct pole lengths and tent stake design are required. Pop-up tents are an ideal alternative.
Although it is easy to set up, it also has its downsides. In this article, we will look at the pros and cons of pop-up tents, how to carry them in your backpack, the best available backpacks, and ideal situations for pop-up tents.
Can you backpack with a pop-up tent?
Yes, you can backpack with a pop-up tent. You simply pop it into the desired location and then secure the tent with support ropes. It depends on where you go and the duration of your excursion.
Pop-up tents are ideal if you are going for something light, like a casual family trip, a vacation, or a summer festival. Pop-up tents are traditionally dome-shaped. They have pre-fitted poles that flex significantly and are secured by clips and flexible straps.
Pop-up tents attempt to address the issue of making shelter setup more accessible to everyone. Either press it up or down to set it up, and this undoes the straps, and the tent pops into position. The only thing left is to peg each corner into the ground and tighten the guy ropes.
They come in different sizes, ranging from small to spacious four-person tents. A well-designed pop-up tent folds easily into a carry bag, is built with a dome frame tent design, has a mesh window for ventilation, and some are waterproof.
Setting it up is easier than taking it down. When you take it down, you fold it into a small space and fit it into your backpack. Here is a list of the pros and cons of pop-up tents.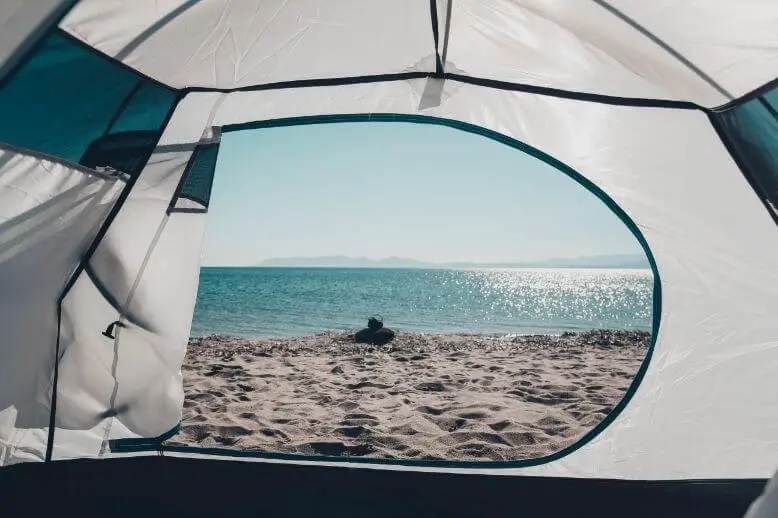 Pros in backpacking with a pop-up tent
Easy To Set Up
Unfolding a pop-up is a simple one-person activity that takes less than 10 seconds to set up. The springs open when you remove the tent from its bag, causing the poles to expand. They are all effortless and quick to install.
Folding is slightly more complicated than unfolding. It requires additional steps and might be complex. For pop-up tents, it is unnecessary to read instructions. However, it remains more manageable than a standard tent.
The majority of pop-up tents are compact, light, and portable. Therefore, they are ideal for short camping excursions. Some pop-up tents(2-person tents) can be assembled in less than two seconds, whereas larger tents might take up to a minute to unfold.
When folded, they can be easily put into a backpack. Additionally, some are provided with portable carry-on luggage, making it easier to simply sling the pop-up tents over your shoulder or hook them onto your backpack and leave.
Safer for kids (kid-friendly)
Pop-up tents are commonly given to children as their first tents. This is due to their ease of use and affordability. Although an adult should always be present when setting up a pop-up tent, they are much safer and easier for kids to set up.
Not only are the steps to set up much more straightforward, but the elimination of tent pole handling, in general, makes pop-up tents much safer. However, there are still some risks because the metal may fold unexpectedly, but because you aren't directly handling the tent poles, it makes pop-up tents safer to set up and fold down for young kids.
They make great secondary tents
They are easy to set up and can be used at the beach, sporting events, in lines, or even in the backyard. A traditional tent is only advantageous as a temporary shelter and cannot be used for short periods.
Pop-up tents are the best option for events like sports, festivals, and concerts because they can be easily dismantled. For example, if you want to relocate to a better location, you can simply fold and move it.
They are convenient & light
Ultralight backpackers' main goal is to cut weight as much as possible. Therefore, pop-up tents are very convenient because they are light and take very little space when folded.
See related: 6 Best DCF (Dyneema Composite Fabric) Tents
They come as a package.
This is advantageous because, unlike traditional tents, which use poles as a suspension system, pop-up tents do not require the installation of poles. This reduces the backpacker's gear and eliminates the possibility of forgetting one tent pole.
Pros in backpacking with a pop-up tent
They are single-walled
Pop-up tents are made of a single wall where the tent's waterproof capabilities (if any) are incorporated into the single continuous tent wall. Therefore, when the temperature drops at night, the difference in temperature between inside and outside the tent causes condensation.
Read more: What's a good temperature for hiking?
For a double-wall tent, the inner wall is usually made of a fly sheet (such as mesh), which allows room for ventilation, while the outer wall is made of waterproof impervious material. The inner wall is lighter, and the air gap between the two walls allows ventilation.
For increased convenience, many pop-up tents sacrifice ventilation, which makes a pop-up tent stuffier in hot weather, resulting in condensation.
They are bulky when packed.
Because of internal suspension systems, they are bulky. Unlike standard tents, they can only be folded and not rolled. This is not recommended for backpacking.
They take the shape of giant disks, which means a pop-up tent will always be bulkier than a standard tent. As much as it is convenient to set up, backpackers cannot sacrifice this for weight.
They are not weatherproofed.
Many pop-up tents are not built to withstand high winds and heavy rain. Pop-up tents lack a rainfly, making them unsuitable for protecting you from inclement weather. They're designed to be quick, temporary hangout spots.
Before you buy one, make sure it has a rainfly, tent stakes, and taped seams. Choose them without glued seams, which will not last long before leaking. Alternatively, buy an external rainfly, tent stakes, and a hammer to pound the stakes into the ground. This will add to your gear weight, making it unsuitable for backpackers.
Best Backpacking pop-up tent options
Decathlon 2 Seconds (XL):
It can accommodate three people, weighs 5.3 kg, and measures 85 * 9 cm. It is waterproofed at 2,000 mm, has 210 x 210 cm of bedroom space, and is 115 cm tall at its tallest point, allowing you to sit comfortably.
The tent folds in half easily thanks to color-coded straps and clips, and a pull cord system keeps everything in place while you fold it again to fit the bag. It has excellent blackout material. It's still effortless to pitch and can be stored without difficulty.
It has a small porch area for storing small bags and boots. Several ventilation vents will come in handy during the summer months. The zips are strong, the doors open wide, and the guy ropes keep it secure even during heavy rain.
Quechua 3-man pop-up blackout tent–2 seconds (3XL)
It has a three-person capacity, weighs 5.3 kg, and completely blocks sunlight (blackout effect). This means you can sleep in if you want, keeping the interior cooler, even in direct sunlight.
At night, the side vents help with temperature regulation and condensation. It is resistant to wind and water. It's long-lasting and inexpensive. It doesn't appear within two seconds.
Coleman Galiano
There are two, one for two people and one for four. The Coleman pop-up tent weighs 2.5 kg, while the four-person tent weighs 3.33 kg. The roof section can be rolled back to view the stars.
It is not suitable for windy conditions due to its disc shape. It is waterproof, has maximum ventilation, and has insect-proof mesh. The disadvantage is that it must be secured with guy lines.
How to carry your pop-up tent backpacking
Here is a step-by-step guide.
Ensure your pop-up tent is dry to avoid mold growth.
Place yourself next to the tent. Fold together the top two poles. Extend your hand to grab both sides and pull them together.
Fold the bottom two poles together to form the tent's outer edges. Fold up and over one of the bottom poles to the top poles. Repeat with the other bottom pole to keep all four poles together.
Hold on to the four poles as you turn the tent on its side. Adjust it so that the open side of the disc shape rests on the ground.
Connect the tent halves by sliding them together. Bring one over the other to make packing your tent easier.
In a bag, press and seal the tent.
Maintain a firm grip on the poles as pop-ups are designed to spring back into the shape of a tent.
You can use your hands and knees to press down on it to remove any remaining air preventing it from laying flat.
Then, slip the tent into its bag. You can hook it on the side of your backpack.
How to fold up your pop-up tent
Learn how to fold up your pop-up tent properly in just 3 mins in the video below.
Conclusion
Pop-up tents have both their advantages and disadvantages. Yes, they are easy to set up and don't take up much space, but they are not ideal for backpacking due to their heavy weight and the lack of replaceable spare parts. They are suitable for family trips, concerts, and festivals but not for long hiking excursions.
Sources
https://youtu.be/R1Or8THf5QY
https://youtu.be/1FWu5Vo72-I