There are a few instances when you are not allowed to hike. You can go hiking during most times of the season subject to good preparation. But specific periods are best suited to go on a hike as you explore your beautiful surroundings.
For that, it's best to determine when you can engage in hiking when the temperatures are suitable for an ordinary person where it's not too hot or too cold. Striking this equilibrium is the best time for a conducive temperature for hiking.
Here's a good temperature for hiking
A suitable temperature for hiking is when the temperatures are below 86°F/30°C during the summer. For the winter season, you might consider temperatures not colder than 44°F (4.44°C), which allows you to hike without using cold weather gear.
However, a preferable hiking temperature will be subject to an individual's conditioning.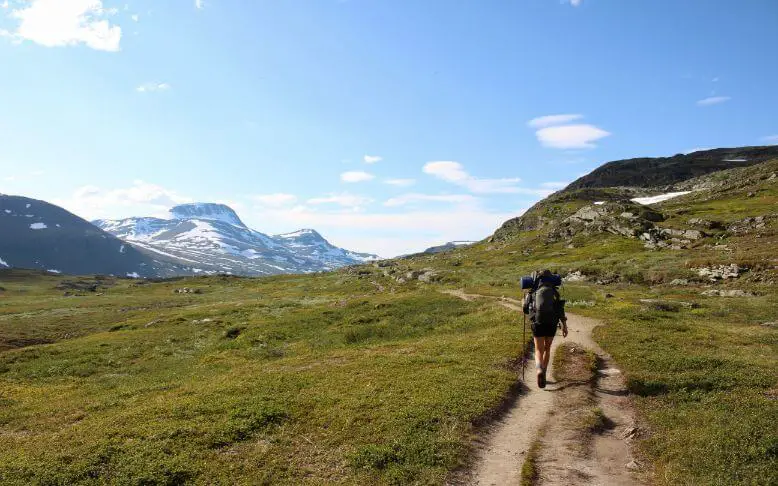 What to wear in different temperatures?
Hiking is enjoyable whenever you do it, subject to the temperature you prefer. Like any other activity, you need hiking essentials to make the experience worthwhile and safe.
We'll look at the essential attire required for a hike and later delve into what works best in which season because each season has different temperatures.
Hiking Boots
Good boots for hiking are essential to support your feet and protect them from rugged and uneven terrain like chipped rocks, loose debris, and mud. The footwear should be functional with a good grip, comfortable (correct size), and durable.
Your choice boots should be able to keep your feet warm during the cold season hiking and dry during the warm season to keep moisture from building in your feet.
Hiking Socks
It would be best if you considered getting socks that are good for hiking. Doing some research online will help you land the best out there. Good hiking socks help keep your feet in good condition by avoiding a lot of heat retention, which causes chafing and odors. Comfortable socks will also prevent blistering by keeping your feet compact in your boots.
Joggers, Hiking Pants, or Shorts
The basic principle for hiking is being comfortable depending on the weather and terrain. Some will prefer pants and others shorts, which have pros and cons. A pair of shorts is a bad idea if you are going through thickets and barbed terrain.
Likewise, pants or joggers feature lightweight material, which will cause your body to heat up when walking for long periods, especially when the weather is warm.
A Waterproof Jacket
The weather can be unpredictable and can sometimes surprise you. It's advisable to be ready rather than be caught off guard by unexpected showers. A good jacket should fit inside its pouch or in a rucksack.
With that, what should your attire be when hiking during the four seasons?
Winter: What to wear hiking
For some, hiking during winter is their favourite time to explore their breathtaking surroundings. The following is what you need if you are a winter hiker:
Hiking Boots: They must be waterproof and insulated to keep your feet warm and dry. Choose boots that can accommodate snow shoes and microspikes to enhance traction.
Layering: Wear different layers of clothing like long underwear, fleece jackets, insulated jackets, and body warmers.
Snow pants: They are usually waterproof and heat-reflective to keep you warm in the cold weather.
Gloves: You need a pair of suitable gloves to enable your hand to be free to hike. Some gloves spot grips and are touchscreen compatible, allowing you to use your phone.
Spring: What to wear hiking
The weather is usually a bit warmer, with sporadic rain accompanied by chilly evenings. Your choice attire for this season can be lightweight, but your winter attire can come into play occasionally.
Roll-up shirts: Gives you the option of rolling up the sleeves when it gets a bit warmer. Their material consists of fast-drying fabric that aerates, making them light. They prevent sweat from building up or prolonged wetness.
Pants: For men, pants like outdoor research ferrosi, which have a good temperature regulation, are suitable for hiking during spring. Its superior comfort and versatility stem from the 86% nylon and 14% spandex material. These materials make it strong, stretchy, and breathable, giving you maximum comfort.
Jacket: A packable spring jacket, well suited as a windbreaker, can augment your adventure. You might need it at some point when it gets chilly and windy. Your fleece or winter insulated jacket will be necessary because it can freeze in the evenings during spring.
Boots: You can sample Merrell Moab 2 Mid WP, which offers the right blend of functionality and comfort. They are lightweight compared to other boots and have a fair price tag.
Summer: What to wear
Your hiking adventure will vary with how hot it is. The attires that suit this hiking season need to be able to regulate your body temperature and be light and sweat-free. That helps them not to stick on your body when you sweat.
Footwear: Oboz sawtooth 2 Mid is a versatile shoe for your summer hike. It features a sizable toebox, excellent arch support, and a durable, toughened sole.
Sun Protection: Consider getting long-sleeved shirts that are ultra-wicking and lightweight to cover your hands or do good layering of sunscreen if you opt for short sleeves.
Shorts or pants: Wear shorts, especially when your treks will be on flat terrain with less or minimal barb.
Cap and sunglasses: Sunglasses protect your eyes from the sun's rays. A cap will cover your forehead or the back of your neck when walking against the sun.
Fall: What to wear hiking
Fall ranks as one of the best seasons to go for hiking expeditions. Most of the time, the days are sunny with a clear sky, but as it gets closer to winter, the days can be chilly.
Air vests: Aerated vests come in handy during this period if you consider hiking. The vest should have a breathable fabric that stretches and attaches to your body. Insulation on the material will improve its warmth during the chilly mornings and evenings.
See related: Jacket vs. Vest When Hiking
Pants: For men, pants like Columbia Men's Tech Trail are suitable for hiking and outdoor excursions. They are not too light or heavy with a rugged look and are durable.
Jackets: If you are hiking during the days close to winter, carrying a jacket in case of the chilly evening weather will suffice.
Footwear: Your summer footwear for hiking will fit the bill in this scenario. Ensure they are sturdy to keep you comfortable and offer excellent traction and warmth.
When is it too cold to hike?
As much as hiking is fun in cold weather, under 40°F or 4.4°C can be dangerous for an ordinary person. The risk of frostbite and hyperthermia is high at these levels if you don't have the requisite training.
Also, there's a risk of getting lost when you lose your bearing due to hyperthermia. Hyperthermia affects the short-term memory process, a part of the cognitive process in your brain. Getting lost in that condition can be disastrous.
The longer you are outdoors, the greater the risk of freezing, which can lead to loss of body parts like toes, fingers, or sometimes a more significant part of your limbs.
When is it too hot to hike?
When the temperatures are incredibly high, 100°F or 37°C, it's not advisable to hike because the scorching sun can cause severe dehydration in your body. Hiking is possible in hot temperatures of less than 100°F, but you should be on the lookout for shades every other time to stave off the sun's heat.
Now You Know
Hiking is always a great way to spend weekends or leave days from work with family and friends. But as we have observed, hiking in different seasons comes with its fair share of challenges when considering the attire needed for the activity.
Perhaps the most critical aspect to think of when you want to hike is ensuring your health will not be affected. Hiking is relatively doable during all seasons other than winter. It's advisable to keep to your lane during winter unless you have the skill set to go hiking then.
Sources
https://www.parks.ca.gov/?page_id=24049
https://parks.des.qld.gov.au/things-to-do/articles/warm-weather-hiking-handling-the-heat
https://www.oregonhikers.org/forum/viewtopic.php?f=7&t=28026