Choosing between a Jacket or a vest for hiking will depend on where a hiker is going for their hiking escapade. While a Sleeveless jacket is somehow weightless, a jacket, on the other hand, is very warm.
Selecting the right hiking attire is imperative as it will greatly impact the overall outdoor adventure. The wrong attire choices can make you miserable throughout your trip, while the right ones can make your trip enjoyable and worthwhile. That said, you must make some critical considerations before selecting a particular cloth over another.
So, without further ado, let's look into the pros, cons, and benefits of carrying either of the two when going for your hiking trip.
Key differences between wearing a jacket or a vest
Hiking jackets are fully sleeved and protective hiking attire to provide warmth and protect the entire upper body against cold conditions and wind. At the same time, hiking vests are sleeveless hiking gears intended to keep the core only warm and protect it from wind and other mild weather conditions.
To better understand the differences between jackets and vests, we will discuss this topic broadly by looking at each item's benefits, types, pros, and cons.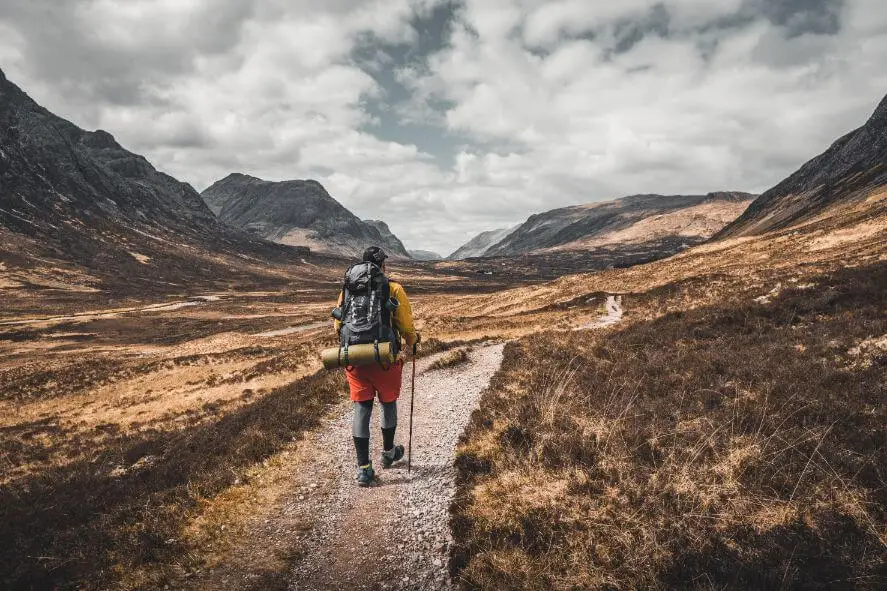 Quick overview: Jackets vs Vests when hiking
Jacket
Vests
Protection & Warmth
Offers total upper body coverage giving maximum protection against cold and wind. When worn in weather that is not too cold it can cause overheating.
It insulates the core only and not other parts of the upper body like the hands. A vest is less likely to cause overheating.
Seasonal use
A jacket can double up as light rain attire and also offer protection from snow. Useful in all seasons.
It is lightweight and can only be used to protect the core against the light wind. It can be used in the rain.
Wearability
Jackets can only be worn alone or with a T-shirt inside
Vests can be worn under or over with anything a hiker wants.
Weight
Jackets are heavy as they are meant for warmth and protection against wind.
Vests are lighter and more packable due to the material used in making them.
Movements
Jackets are heavy and, once worn, limit the arms' free movement.
Vests are more breathable and allow for freehand movement.
Hiking Jackets – Many different types
To understand why you might need a jacket during hiking, you must know that jackets are different. Not all jackets are heavy; others are lighter and can be worn comfortably without overheating. Take a look:
Hardshell hiking Jacket: these are traditional windproof, waterproof and breathable hiking jackets. They protect hikers from snow, rain, wind, and hail. It is meant to keep hikers dry and not warm. So, these are suitable for rainy areas or areas where hikers will be exposed to Snowfall.
Ultralight hiking Jacket: This kind of hiking jacket is very light and can be packed easily without taking up too much space. It is breathable and waterproof and can be worn during heavy rains. Unlike the hardshell jacket, this is light.
Softshell hiking Jacket: This type of hiking jacket has a warm interior and protects against the cold and mild drizzles. However, they are not for very heavy rain as they are not waterproof. Their use suits winter conditions.
Hybrid Shells hiking jacket: This type of hiking jacket is made of hard shell material on its outside and softshell material on its inside. This jacket is breathable and suits all weather conditions. They are heavy and can be best used in adverse weather conditions.
Read more: Arc'teryx Atom LT vs. Patagonia Nano Air Jacket – Which is better?
Benefits of Jackets when hiking
Jackets are a warmer choice for hiking. They are well suited for cold or winter areas; they completely cover your upper body from the cold. Here are some benefits of wearing a jacket:
The jacket has a waterproof outer layer. It Protects your entire upper body against strong wind, rain, and snow.
Provide a solid barrier against strong wind.
Jackets are very versatile.
Cons of Jackets when hiking
Jackets are bulky and big, and carrying them can be challenging
Jackets restrict movement
Jackets are costly
It isn't easy to layer other clothes with a jacket.
Hiking vests are lightweight and easy
Hiking vests are usually preferred to jackets by hikers and backpackers because they are lightweight, portable, and easy to carry. They can be layered with other hiking attires and are thus very convenient.
Types of hiking vests
Summer Hiking vests: This kind of hiking vest is very thin; it doesn't have a lot of padding and does not provide lots of protection from elements like the wind. They offer protection against UPF to the upper body; they usually have many pockets to store hiking gear and devices. They allow for free arm movement, and hikers can engage in their activities without limitations.
Cold weather hiking Vests
This type of hiking vest is bulky and thick because it offers some insulation. These hiking vests are warm, but they can't protect your arms against the cold. They can also be layered with other hiking gears for warmth and can be worn either in the middle of a long-sleeved base or light rain jacket.
Benefits of vests when hiking
Vests are usually preferred due to their weight and can be easily stuffed on other hiking luggage. Other benefits include:
They are very tough and long-lasting because they are high-quality fabric.
They are breathable and perfect for hiking during summer.
They are adjustable and can be worn over other clothes.
Vests have multiple pockets for storage.
They are affordable compared to jackets.
Cons of vests when hiking
They are not suitable for hiking during cold or winter seasons.
Protect only the core.
Vests need a lot of layering during the cold season.
After looking at this comparison, we can see that each of the two has benefits and cons and is meant for completely different weather conditions. Jackets are suited for hiking in windy locations that are cool, above treeline, and also during winter, while Vests are suitable for hiking in moderate wind areas.
When should you choose a vest?
A vest is perfect or works best in mild temperatures or when a hiker is very active in moderately cold temperatures. A vest is perfect when active while hiking because it does not restrict arm movements and keeps your core warm.
During extremely cold temperatures, a vest can serve as a perfect mid-layer that can be worn between an outer jacket and a long-sleeved base layer.
Additionally, a vest can come in handy for added warmth when camping. It can be added to your sleeping attire and worn inside a sleeping bag without causing any discomfort.
Read more: What's a good temperature when hiking & Best Women's Travel Vests with Pockets
When should you choose a jacket?
A jacket is perfect for the cold season or when a hiker is going to areas with extremely windy weather.
Hiking jackets come in different types and densities to provide warmth for different hiking weather. Where the weather is extremely cold, especially during winter, a hiker might need a much heavier jacket compared to when a hiker is going to slightly cold areas.
A jacket will also be handy when going to areas where you are anticipating some rain or snowfalls. This is because most of them have a waterproof aspect which will protect your whole upper body from getting wet and prevent hypothermia.
Therefore, when hiking in areas with cold conditions or those that are very windy, the jacket is a better choice.
Is a vest a jacket?
A jacket and a vest are completely different though both protect against the cold or wind in different weather conditions during hiking.
A jacket usually has full sleeves, while a vest is completely sleeveless. The vest will usually cover the core and keep it warm, while a jacket provides warmth to the whole upper body.
There are also great variations in the way in which they are made. Jackets are heavier and bulky, while the vests, though some might be designed for the cold weather, are mostly easy to carry around and stuff in the hiking backpack.
Their functions are also different; while Jackets are preferred for extremely windy and cold areas, Vests are well suited for areas that are temperate and not as windy.
Hence, a jacket and a vest are very different, and their functions also differ.
Conclusively, these hiking gear are equally important depending on when the hikers would want to use either. Whereas there are lightweight jackets, there are also very light vests; the downside of each also exists.
The jacket might be somehow bulky to carry on a backpack, while the vest will be easy to carry around but won't be able to protect your arms against cold conditions. So, when narrowing down between the two for your hiking escapade, ensure you consider all factors.
Sources
http://www.princeton.edu/~oa/alumni/anniversary/equipmentlist.pdf
https://www.youtube.com/watch?v=HmGn93fB_l4
https://www.nps.gov/cong/planyourvisit/Hiking-Safety.htm
https://www.youtube.com/watch?v=XHRp3SeSEe8