Nothing is worse than opening your pack to find soaked clothes and wet equipment during a hiking trip or any other adventure. That is why pack covers and pack liners are necessary when preparing to go for any excursion.
A pack liner will keep the contents of the pack dry, but not the pack itself or any goods kept in outer pouches. A pack cover will also not totally keep water out. However, a pack cover will keep the majority of the water out of the pack while also keeping the items in the outside pockets dry.
Pack covers and liners are most efficient when combined together. This way both the interior contents of your bag and the exterior of your bag will be protected from the rain. In this article, we will focus on the differences between the two and when to use them.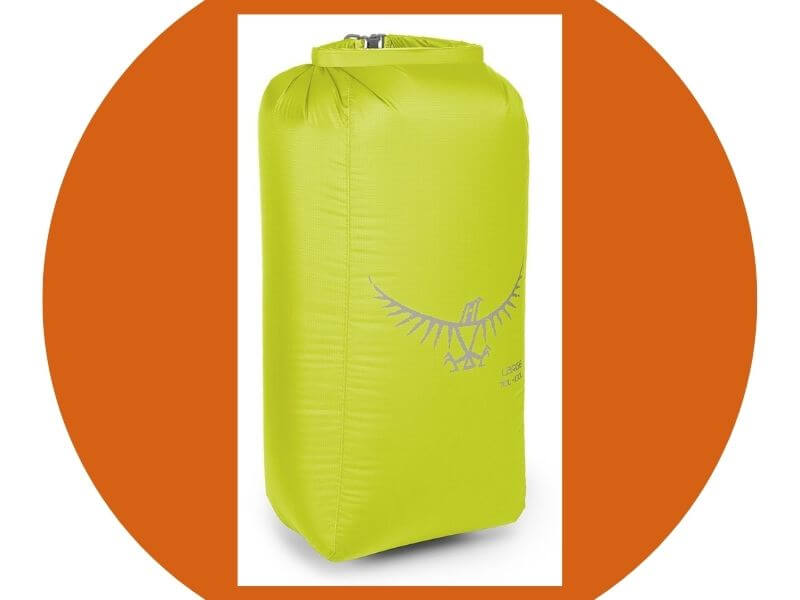 Pack liner vs pack cover – Key differences
Pack liners and pack covers are mostly used hand in hand. It all depends on the backpacker's preferences and how much knowledge they have on gear protection. The table below shows key differences between pack liners and pack covers.
| | |
| --- | --- |
| Pack liners | Pack covers |
| They keep your internal gear dry, but your pack becomes wet. | They keep your packs dry, but your inside stuff becomes wet. |
| They are heavier | They are very light compared to liners |
| They are available at affordable prices | They are quite pricey |
| They protect gear that is already inside your backpack so everything else from the bag straps to the rear of your bag becomes wet | They protect external pockets, which carry my often utilized accessories. |
| Only protect the inner part of your backpack. Ensures stuff like food, and sleep clothes do not get wet. | Guard the pack against harsh terrain, mud, brush, pebbles, and so on. |
| Their only purpose is to prevent wetness | Can be used to rinse dirty undergarments as a privacy kilt and also as a temporary sink basin. |
Pack covers
Pros
The most obvious reason for using a pack cover is to keep your backpack and its contents dry. Food, electronics, clothing, a jacket, and a sleeping bag must all be kept dry to maintain their functionality.
Secondly, a pack cover provides an extra layer of protection for your bag, preventing tears and abrasions. Some backpacks are made of flimsier materials, and an accidental brush against a jagged rock, spiky stick, or thorn can pierce them.
Another reason to use a pack cover is that it can make you more noticeable if it is brightly colored. This is especially vital during hunting season to avoid being mistaken for prey.
Being more visible can also help others discover you in the event of an accident, as a brightly colored rain cover will be simpler to identify during a search and rescue. For these reasons, certain rain covers are made of bright and reflective materials.
They also protect anything attached to the outside of your backpack or within external pockets from getting wet.
Pack covers are particularly lightweight. They are less than 2 ounces in weight. Unless you count every ounce, the advantages of a pack cover outweigh the increased weight.
Cons
The downside is they add weight to the backpack and this may be quite disadvantageous to someone trying to achieve base weight.
Some pack covers have seams that run along the main body. These seams are factory sealed, however, the sealant will ultimately wear away. Water may leak into your bag as a result of this. You can, however, re-seal the seams yourself or purchase a new pack cover.
The rear part of your backpack (what presses against your back) is not, or is only partially, protected by a pack cover. This does provide a vulnerable location for water to enter your backpack, but with a few extra precautions (such as a waterproof pack liner), your contents should remain dry.
However, your shoulder straps and hip belt are entirely exposed, so if you're storing anything in the shoulder or hip belt pockets, make sure they're safe by storing them in sealable storage bags.
Read more: Pack Liner vs Dry Bags
When to use a pack liner
Consider utilizing a pack liner while going on a long hike. They are less prone to tears, and if they do occur, they may be repaired with duct tape.
Volume is one of the characteristics that distinguish and adds value to a waterproof pack liner. It can fit everything in your other stuff sacks and more. It is usually large enough in an emergency to provide shelter or basic clothing.
There is no way to compensate for it in your backpack with other stuff sacks or equipment because nothing else comes close to matching its versatility.
Read more: Pack Liner vs Garbage Bag
Recommended pack liner option
Clear Pack Liners by Gossamer Gear (48.5L)
Gossamer Gear makes extremely tough, transparent pack liners. They are lighter than trash compactor bags, weighing only 1.2 ounces, and are easier to repair if a hole is punched in one.
They are open at the top, so you must fold them over or twist-tie them to keep your items dry, but they work. They are also fairly priced. They inherit the inside color of your pack but do not affect making your belongings easier to find.
Liner Bags for Nylofume Packs (51.9L)
The 0.91-ounce Nylofume Pack Liner Bags are little plastic bags that are extremely durable. They have a volume of 51.9 liters, which is plenty for most of the packs used regularly, plus extra space for folding over the top to keep moisture from above out.
They are also odor-resistant and can be quickly repaired with packing tape, making them appropriate for use as food bag liners.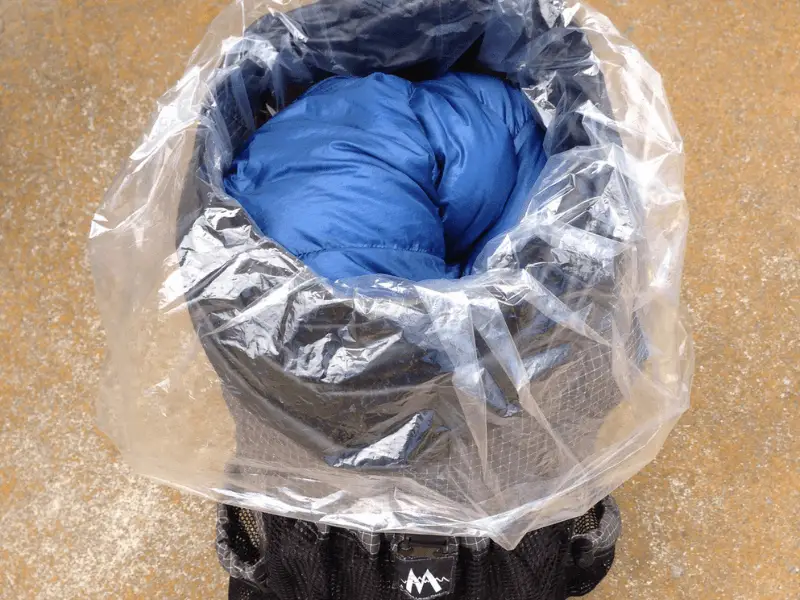 When to use pack cover
A pack cover is suitable when hiking on terrains with bushes and thorns that could tear and damage your backpack.
It is also preferred when an individual wants to cover the external contents of his backpack. This is mainly when facing a rainy and muddy environment.
It keeps the backpack clean when one decides to sit down during a hike. It also covers the backpack when setting camp.
Recommended pack cover option
Zpacks Pack Cover (L) and (M)
It is constructed from Spruce Green .75 oz/sqyd Dyneema® Composite Fabric. The design is completely waterproof and seamless. A shock cord drawstring tightens around your pack.
The shock cord contains a clip that may be attached to your shoulder straps or haul loop to keep the pack cover from blowing away.
The pack cover also includes loops at the bottom corners. They can be fastened to your pack's belt using little carabiners in severe winds (not included). They are usually unnecessary.
The covers are designed to suit the stated backpacks at full capacity; however, if bulky things are fastened to the outside of the pack, they may not fit. If in doubt, size up.
Want to learn sewing dyneema fabric?
Osprey Ultra Light Pack Cover (XL), (L), and (M)
It is entirely waterproof, compacts into a small stuff pouch, and deploys swiftly when needed. It has a full wrap-around cinch with a hip belt and harness attachment. It folds up into its carrying case. Suitable for 75-110 liter packs.
REI Co-op Duck's Back Pack Cover (XL)
It has a storage pouch that has quick-drying mesh and doubles as an accessory pocket. It is made of durable, silicone-coated ripstop polyester with taped seams.
The bottom panel is abrasion-resistant and contains a drain hole to remove any collected liquid.
It fits 90-100 liter packs and is larger. Dimensions of the pouch: 6.7 x 6.7 in.
Conclusion
To wrap it all up, pack covers have their perks which make them more preferable than pack liners. It all depends on what the individual deems fit for his backpack. If his main concern is to protect his backpack then the pack cover is the way to go.