Hitting the trail is exciting, but getting caught in the rain unprepared is not, and every hiker knows how bad that can get when your backpack gets socked and your clothes, sleeping back or even electronics get wet.
That's where the pack liner comes in to save you the trouble of worrying about sensitive gear when encountering heavy torrents or crossing through swollen rivers.
This article lists the best lightweight pack liners plus a description of their main features to help you go for the one that will suit your journey. Stay tuned.
Top list of best lightweight pack liners for backpacking and hiking
Nylofume pack.
Like every product, each of the above is made to counter water damage to hiking gear while offering comfort, knowing that your special gear is well protected.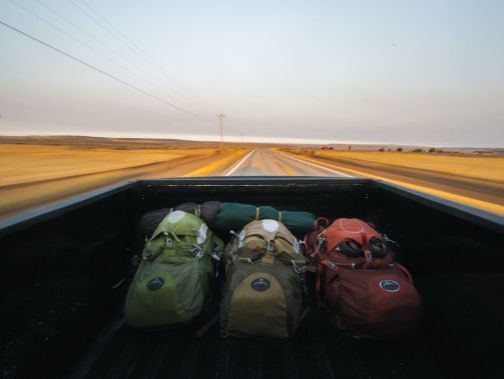 Osprey Ulta-Light Pack Liner Dry Sack
The osprey ultralight pack liner is made from the waterproof siliconized ripstop nylon fabric, which is a fabric employed for use on outdoor items.
Features;
It is lightweight, weighing 0.15kgs, and comes in a rectangular shape to ensure easy packing and to accommodate more gear taking up to 100litres worth of weight.
The fabric is tough enough to stand unaided on the ground with taped seams for secure closure.
It is fully waterproof with coated fabric as well as a waterproof roll-top closure.
Termed as airtight, large enough, and light, the osprey ultralight pack liner dry sack will ensure that you enjoy your journey and have a good night's sleep when the sun goes down.
Sea To Summit Ultra-Sil Dry Pack
What better ways to cross rivers and climb up mountains than braced with the sea to summit ultra-sil pack liner for when heavens pour in torrents?
Features;
It won the 2006 award for the backpacker editor's choice and is regarded as the best dry pack liner choice to date.
It is made from the ultra-sil CORDURA durable nylon fabric which offers room for a hiker to pack like the pro he or she is.
It comes in a cylindrical shape and is waterproof with a durable waterproof roll-top closure.
This pack liner offers value for money, giving your gear 100%protection.
Nylofume Pack Liner Bags
Weighing 0.91oz, nylofume pack liners are made from specialized nylon film fabric that is both waterproof and odor resistant.
Read full review: Nylofume Pack Liner Review
Features;
They make great pack liners for food and anything strong under wraps, especially when visiting regions with bears.
The material is clear, and you can easily locate what you need instead of fumbling through carefully packed gear.
They are tougher than garbage bags and hence offer several trips, if not years, of service.
It does not have a seal, so you just fold, twist or secure it with a rubber band.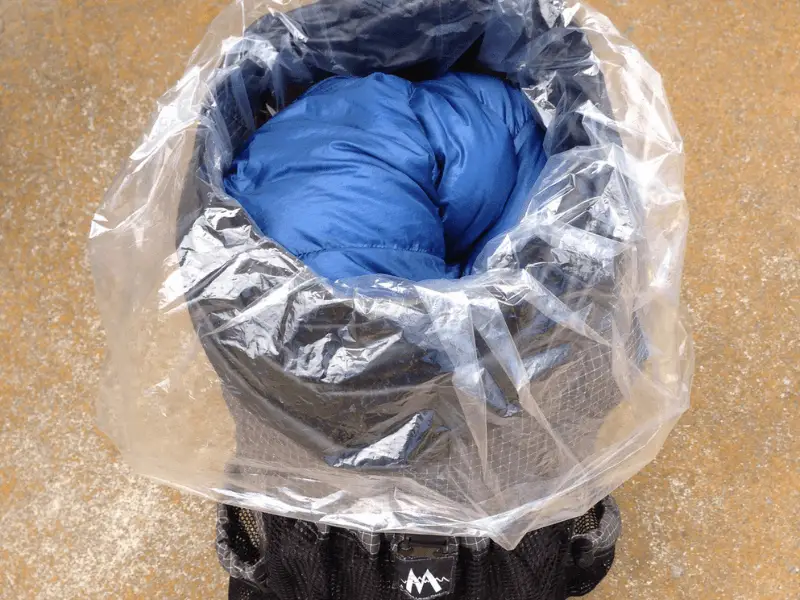 What is a pack liner
A pack liner is a thin separate secure waterproof bag that lines the inside of the backpack and all sensitive and critical gear is placed inside for protection.
The biggest reason is to keep your gear dry even when your backpack is dripping with water.
You place the open pack liner inside your backpack, pack your gear as you always do, and tape it separately before securing your backpack.
And there are many pack liner options, some cheap and affordable ones while others are more expensive.
The cheapest ones have the look and size of a trash bag but are more durable and come in a roll of twenty pieces costing around $8 per roll.
That means that you have an infinite supply of pack liners because one pack liner of the same quality will serve you up to six backpacking trips.
Just ensure that you get yourself a pack liner with taped seams to ensure maximum water protection.
What can I use as a pack liner?
Pack liners tend to be expensive, and a close alternative is to use a new garbage bag. They work just the same but tend to tear or reap after a while.
That is because they are not built to be re-used, and after packing and unpacking, they will mostly get poked and end up with a tear or two, forcing you to get another.
Trash bags might be a cheaper alternative when you cannot afford a pack liner but are very expensive in the long run when you end up using more than one after your hiking trip.
They save the day, yes, but cheap will always end up expensive.
Pack liner vs garbage bag
Pack liners are tested and proven, strong reusable bags, while garbage bags are a resemblance that can be used as a short-term option.
While one-pack liner can be used for years without replacing, garbage bags can only be used for a few days, raising the number of trashed garbage bags.
These among the following are the main differences between the two;
Pack liners are the main solutions, while garbage bags are the alternatives.
Pack liners are tough and can be used for many years, while garbage bags are thin and easily damaged bags.
Pack liners have been tried and tested for the job, while garbage bags are meant for something different.
They are built to withstand stormy weather conditions while garbage bags get easily blown away or ripped apart.
The main similarity between the two is that they are very noisy and can cause distraction, especially when you need to get something from your bag while others are fast asleep.
Read in detail: Pack liner vs garbage bag
Pack liner vs dry bags
It is way easier to pack gear inside a pack liner than it is to separately pack several smaller units of dry bags and then stuff them inside the pack back.
It is more work, same result.
At the end of the day, the main aim of using a pack liner or dry bags is to keep sensitive gear dry and prevent them from malfunctioning.
That includes the following; change of clothes, GPS, sleeping bag, headlamp, etc.
Here are the differences between a pack liner and a dry bag.
The best alternative is the pack liner, while dry bags, also known as waterproof stuff sacks, are your next best bet after pack liners. They are smaller in size, though, and can only accommodate specific gear.
With pack liners, you stuff every gear you need in one secure bag, while dry bags gives you the advantage of having to separate your gear according to its importance.
While the pack liner goes inside the pack back, dry bags bearing small items can be stuffed into the backpack's outside pockets.
The two work the same, and it would be best to use the two to attain different objectives and maximize their input.
With consideration, you might even forget about the rain cover if the gear in other pockets is kept dry.
Read in detail: Pack liner vs dry bags
Pack liner vs rain cover
A pack liner is the deal-breaker, keeping every packed gear dry, while the rain cover is only meant to keep your backpack from drenching in water.
And the two have different roles, and one cannot be substituted for the other.
A pack liner or an alternative is a must, which is non-negotiable but some hikers have varied thoughts when it comes to rain covers.
While some people might not see the need for the added extra weight, albeit small, to an already heavy package, others would rather be safe than sorry.
That is because a number of items will go into the backpack's outside pockets and without a rain cover, they are bound to get wet.
Of course, if your backpack is not waterproof, no other precaution has been taken to ensure that water does not get into those items.
But how many hikers have waterproof backpacks? They are expensive, to say the least.
The good news is that many models of backpacks today come bearing their own rain covers secured in their special pockets.
The advantage is that the specialized rain cover is easy to deploy and secure around your backpack when it starts raining.
Also, a rain cover can be spread on the floor or ground and the backpack placed on top where the ground is wet.
But on the downside, a rain cover is exposed to elements such as high winds, thorny bushes, and low branches that can rip it apart or blow it away while treading on treacherous trails.
Read in detail: Pack liner vs pack cover
Do you need a pack cover and pack liner?
For maximum waterproof protection for both your backpack and your gear, you will need to use a pack line on the inside and a pack cover on the outside.
Every hiker knows the importance of staying dry while bonding with nature. And nature can be very unforgiving.
The pack cover won't protect your backpack contents from getting wet since it can easily let in water through the sides, while you can definitely never go wrong with a pack liner.
What happens if you trip or slide and fall into a river or a pool of water? Well, your guess is as good as mine.
You can use a pack liner and see no need for a pack cover, but you will always need a pack liner even when you have a pack cover.
See, the importance of a pack liner is paramount.
But even so, pack covers are very popular with seasoned hikers and the surest way to keep everything: your bag and your gear safe and dry on your journey.
It is double protection worth every thought and cent because a wet backpack can be uncomfortable and heavy to carry.
Are pack liners waterproof?
Yes, they are. Their main purpose is to keep every gear kept inside the backpack dry, and that's what they do.
Waterproofing can only happen if the pack liner's fabric can resist water from sipping through.
And that is why every hiker who intends and is serious about keeping their gear dry employs the use of a pack liner.
Made from waterproof fabrics such as ripstop and nylon, the pack liners keep every intended gear dry but that is of course if it has no dent and the opening is secured properly.
Otherwise, it is a humble piece of important paraphernalia whose effectiveness is mostly under-rated but works magic.
Final Thought
Some of the cheaper versions of nylon pack liners are scented, which helps keep your backpack smelling fresh all the time, but they pose a great risk if you are within close proximity to aggressive wild animals such as bears.
You, therefore, need to check the labels while shopping to ensure that you buy the right product suitable for your trip.
Otherwise, pack liners are life savers that make your hiking and backpacking trip safe, convenient, and enjoyable all the way.
Sources