As a backpacker, pack liners are essential when going on adventures. It is very saddening when you have to travel with wet gear or even change into wet sleeping clothes after a long day of hiking.
Nylofume Pack Liner is made of a unique nylon polymer film, is substantially stronger than compactor bags, completely waterproof, and extremely lightweight. The Nylofume pack liners are ideal for all sizes of packs. You can cut it down to fit more miniature packs.
In addition, Nylofume Pack liners have an odor-resistant barrier, measure 20 x 37 in. (50.8 x 94 cm) when flat, weigh 25.9 grams and have a volume of 51.9 L. They have no gusset, just a straight seam. Let's look at other specs.
Review Nylofume® Pack Liner.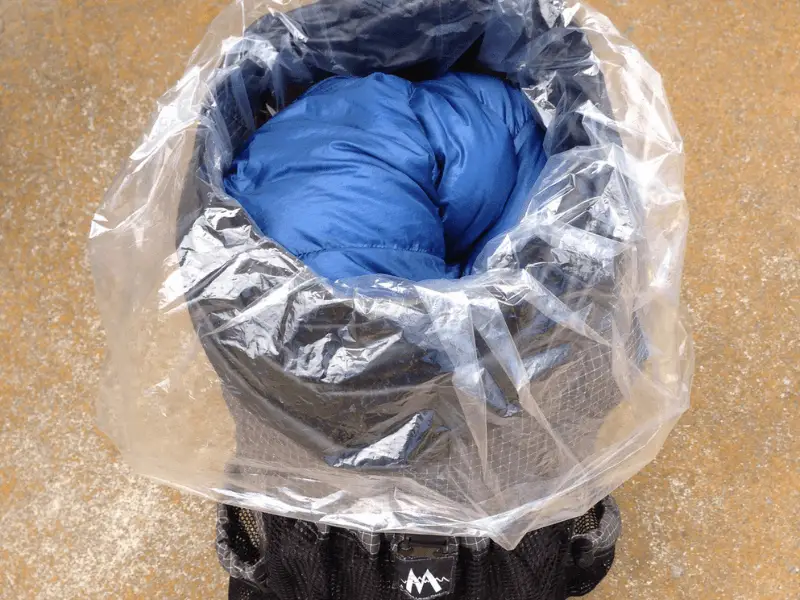 Volume
Nylofume® Pack Liners have a volume of up to 51.9L. This makes them very flexible to fit in all bags. They offer sufficient volume for the majority of the backpacks. However, a 60L pack has only a little extra height above the top of the bag.
Durability
They are firm even though they do not appear at first glance; the thin, lightweight plastic seems easily perforated. One pack liner can last longer than thirty days.
You may pack your equipment without worrying about it being destroyed. This eliminates the need for bulky drybags. They are suitable for thru-hikers.
Read more: Pack liner vs Dry bags
Ease of repair
Tears on Nylofume pack liners are uncommon; they can only occur accidentally or when a sharp item punctures the plastic. These pack liners are pretty repairable. Simply apply transparent packing tape, and you are ready to go.
The only other indication of wear is an unusual yellow stain that appears after a damp night on a hiking trail. It comes from yellow slugs which crawl, leaving a stain or when the slug is squashed.
Weight
Nylofume pack liners weigh 26g / 0.9oz. This is light compared to compactor bags, which weigh 149g. This is handy for backpackers who try to cut weight as much as possible. Additionally, this pack liner eliminates the need for dry bags, thereby reducing your weight by a few pounds.
Sealability
Nylofume Pack Liner Bag leaves enough space for folding over the top and sealing out moisture. Simply twist, fold over, and use a bungee cord or rubber band to secure it. Or, to create a loose seal, merely fold over multiple times.
The liner can also be sealed with a clip. A little sealing clip is sufficient. Simply twist the bag's mouth and tuck it beneath your food bag. However, the bag will not be utterly waterproof if it falls over during a river crossing.
When packing the bag with force, be sure to grasp the backpack and the Nylofume liner to avoid fingers from puncturing its opening. Most are taller than the backpacks, so there is plenty of space to fold over.
Odor- resistance
These bags were initially designed to protect food and medication during home fumigations, but they make excellent backpack liners and food bag liners. They are odor-resistant due to the odor-resistant barrier built into the liner. They help keep your food.
They also ensure that smell does not attract animals such as bears, mice, or bugs.
Visibility
They are evident and transparent; thus, it is easy to see where things are without removing all your gear first.
Read more: Pack liner vs Garbage bag
Price
One Nylofume® Pack Liner goes for $1 each. You can buy them individually or in bulk at a lower price. Compared to other options like dry bags, this is a viable alternative.
Multi-purpose uses
Nylofume Pack Liner can be used to store your wet clothes, edible food, and sleeping bag. You could put all that in one pack liner or use one or two to separate your wet clothes from the rest of your luggage.
Material
Nylofume pack liners are made of nylon polymer rather than standard polyethylene. Nylon polymer is more hardy and durable and less prone to tear and wear.
Scented or unscented
They are unscented, making them the best food storage option.
Waterproof
The main spec of a good pack liner is that it should be waterproof. Nylofume liners are no exception. They are 100 percent waterproof, and their rollable tops give them an added advantage in keeping the water out. They are the most suitable for rainy and muddy terrains.
Read more: Pack liner vs Pack cover
Easily replaceable
When the liner is either badly damaged or worn out. They are effortless to replace since they are very cheap, and if it is just a simple tear, you can patch that up with packing tape.
Reusability
They are reusable and can be utilized for more than two trips. If you have a pack of these liners, you will hardly ever go back to buy another batch; one can go for over 30 days.
Flexibility
They have a more structural bottom than other varieties of plastic bags. This bag can be trimmed to fit your smaller pack.
Easily accessible
Nylofume liners were once difficult to find; their original purpose was to protect items from fumigation, so they were typically carried in bulk at pest control sites. However, sites that sell ultralight backpacking equipment recently began listing and selling them in singles and 3-packs.
Anti-moisture
Due to their fold-over tops, nylofume liners lock out all moisture from getting to your commodities, especially food and moisture-sensitive gear. They also ensure the temperature in the backpack does not become too hot, i.e., they keep the luggage at a moderate temperature. So you do not have to worry about your electronics becoming very "warm."
Faults
These bags produce a noisy crackling sound.
They are not wide, and this sometimes becomes a colossal limitation when compressing your luggage in the liner.
The bottom seems to have failed in previous tests, but this is not a big issue since the backpack will always support it.
They are not wholly waterproof if your backpack falls into the water. This is due to the folded top, which might let water sip through.
In high humidity, the Nylofume liners tend to cause vapor accumulation in your backpack, which can spoil perishables.
Conclusion
Due to their lightweight and durability, Nylofume Pack Liners are the best for ultralight backpackers and thru-hikers. They are waterproof, highly durable, and fit most backpacks.
They are an excellent alternative to compactor bags, which are cheap but not as durable as Nylofume pack liners.
They are odor resistant; thus, your food cannot be affected by fumes, and animals can not smell it while you are hiking. They are waterproof and straightforward to seal off. They can be used as food bag liners because they seal off all the moisture. They are also easily reparable and, hence, can be easily replaced.
Nylofume Pack Liners are one of the best pack liners for backpacking. Those with lower volume packs can further reduce weight by cutting off the top piece of the liner bag. For long-lasting Nylofume liners, ensure that your pointy gear does not perforate the liner. For a more budget-favoring situation, buy the Nylofume pack liners in bulk.