Suppose you have ever experienced the inconvenience of having to search through your backpack or pockets to find such things as your map, phone, compass, or your other small essential stuff. In that case, you will understand the importance of a chest pack for your backpacking and hiking adventures.
A chest pack is usually strapped on the front to help carry that little essential stuff that you will need time and again while trailing. It is easy and fantastic to have all your stuff accessible in one specific place.
The compilation below provides a list of four of the best chest packs for backpacking and hiking in the market and some of their distinctive features.
List of chest packs for backpacking and hiking
Helikon- tex numbat chest pack
Condor TAN Ma54 Molle Pals
RIBZ Front Pack
The Hill people gear chest Rig-Recon Kit Gear
The detailed features make these chest packs stand out among the rest.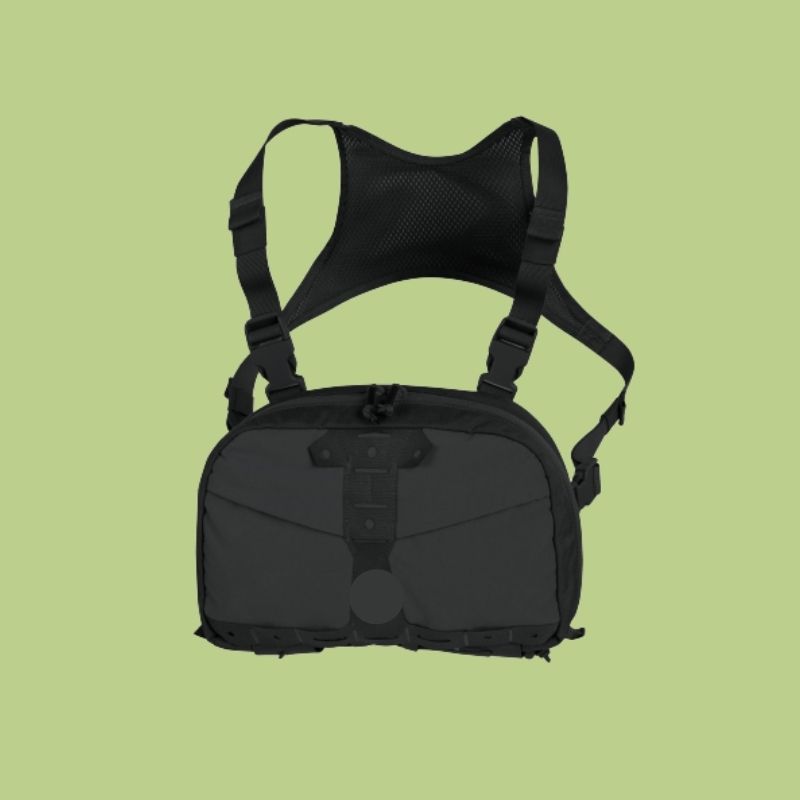 Helikon- tex numbat chest pack
The Numbat chest pack allows you to carry your most valuable essentials on your chest. It has many internal and external pockets to ensure everything is organized well from your phone, gun, knives, and other little backpacking essentials. Here are the chest pack features that make it rank among the best in the market.
Features
The chestpack is made of 500D Cordura.
One of the chest pack's internal pockets is incorporated with soft velour, compatible with VIS inserts.
It has a detachable internal organizer with a transparent map pocket, making it easy to navigate.
It allows for the discrete carrying of a handgun which can be easily accessed in case of an attack.
Its limiters are made of a durable cord that provides a 90 degrees opening angle.
It is a perfect design for minimalistic but still has a comfortable harness that won't interfere with any backpack that you decide to use.
It has extra external mounting points compatible with PALS, thus allowing the possibility of expanding the chest pack to suit your needs.
Condor TAN Ma54 Molle Pals
The Condor TAN is the perfect chest pack for your hiking or backpacking needs, as it is made of lots of compartments that will help you carry your items comfortably for quick accessibility.
Features
It can fully open and has paracords if you need to adjust it.
It has one zipper pocket and other multiple elastic keepers.
It has a 7×12 inches removable vinyl material sleeve meant for keeping documents or your navigation maps.
It has 10×3 inch identity patches panels.
Its back straps are removable.
It has external webbing meant for modular attachments.
It has 10×7.5×1.5 inches (LXWXH) and two D-Ring on its back.
It has plenty of Molle loops for a perfect attachment on chest panels using Molle clips or straps.
RIBZ Front Pack
RIBZ is also among the best on our list because backpacking lets you get rid of your heavy backpack and keep your essential items close to you. You are providing quick accessibility to all your essentials without much hassle.
Features
It is made of Cordura fabric brand
It weighs 7oz
It has a size fit waist range
The front pack is manufactured from 210-density ripstop nylon material.
All its storage components are water-resistant.
It has a storage capacity of about 500 to 700 cubic meters.
Both sides are made with a large storage area and divided with pocket mesh organization.
It is very light, versatile, and comfortable to carry items without feeling burdened.
The Hill people gear chest Rig-Recon Kit Gear
The hill people's chest gear is a one-of-a-kind chest pack with a perfect organizational layout. It allows for additional PALS on the front for more storage space.
Features
It features Cordura 500D construction
It has an eight-channel and three-row PALS grid.
It has a concealed compartment for pistol storage that can be accessed easily.
It is made of a comfortable mesh-backed harness; therefore, you can decide to wear the chest pack itself or under a pack.
It has elastic keepers meant to store the H-harness straps when not in use.
It has a stabilizer kit; thus, you can run with it.
It has optional lifter straps for easy docking on a host pack.
It can be combined with a large or medium Bino pouch for easy and quick access to your binoculars.
It is generally made for lightweight items.
Can you wear a chest rig with a backpack?
Yes, a chest rig can be worn with a backpack. It is easy to wear your backpack with a chest rig; most chest rigs have clips that allow them to be attached to the backpack.
The clips can also be easily separated when there is a need to set you free, retaining the chest rig for your protection. It would be best if you always fit your chest rig and backpack so that they can integrate more readily.
What are the cons of carrying a front pack?
Weather dependent
Impact on mobility
limited visualization
Limited weight
Possible pressure impact on the chest or abdomen
Difficulty in putting on and removing the pack
Though Chest packs come with many conveniences during hiking and backpacking, they also have some downsides.
Weather dependent
Some people enjoy using them during the cold season compared to hot seasons. The front pack can cause the body to be more sweaty and sticky during the summer season.
It can impact mobility.
Chest backs, when packed heavy, say they have an additional water bottle and some other heavy stuff can limit backpackers from running fast due to the limitation they have on your arms which are essential in fast movements.
Possibility of stumbling and falling /limited visualization
Other users of chest packs find it impossible to see where they are stepping and thus end up stumbling and falling. This is the case where large front chest packs are used.
Limited weight
A chest pack is only convenient for light, small essential stuff, so if you would like to substitute it for your backpack, you might be limited as you can carry lots of stuff, especially for long-distance hikers.
Possible pressure impact on the chest or abdomen
Since the front pack will either lean on the chest or abdomen, there is a possibility that the weight may cause some pressure on those two parts, especially if the front pack is heavy.
Difficulty in putting on and removing the pack
Some chest packs must be strapped or attached to a bag pack or chest rigs; it may prove difficult having to unstrap and strap again and might consume a lot of time, especially if some attachment needs to take place at the back.
Why may chest packs be the best packs?
A chest pack might be the best pack because it allows you to carry all your important stuff to a place where you can access them easily.
The chest pack also allows you to discreetly carry the protection you might need swiftly in case of an attack. During backpacking and hiking trips, you might be exposed to predators, animals, or even other humans.
The chest pack can be worn outside your clothing; it will be easy to reach all the stuff there. If there are additional outer garments, consider wearing them inside them to avoid removing them and putting them on every time you need to get rid of the outer garments.
To get the maximum benefits from your chest pack, here are some of the things that you should ensure it has:
A secure place for your handgun and can easily be accessed in case of an attack.
Sufficient room for carrying all the items you deem essential, and that should be accessed easily.
The chest pack should be easy to put on and remove. If you need to strap it on a backpack, you should do so comfortably without much effort.
It should not be too bulky, limiting your movement and swift use of your protection gadgets if danger arises.
Chest packs are undoubtedly convenient, especially for backpackers who do not have an issue with carrying something on their front. They are usually supposed to be light in weight and just for essential items. Usually, you will barely notice the weight for daytime hiking or backpacking adventure because you don't need much compared to those long-period hikes. Despite having some downsides, it's worth trying them to see if they are your cup of tea.
Sources
https://www.youtube.com/watch?v=EMyBMynq6aQ
https://www.youtube.com/watch?v=JJXbZinWPTo