If you have ever stayed up all night in the wilderness, shivering and cold, you know the importance of a sleeping bag. A good sleeping bag does not have to be very expensive.
This article has narrowed the search for the best camping or backpacking sleeping bags.
Here are the best-rated center zipper sleeping bags
A suitable sleeping bag is essential, especially if camping in very chilly areas. The factors you should consider when buying a sleeping bag are; temperature ratings, price, and the materials the bag is made of.
It is always best to go with a sleeping bag with a higher warmth rating, primarily if the region is known for being chilly. Here are some of the best-rated sleeping bags.
Best insulated sleeping bag; Patagonia -7C Down Sleeping Bag
Best for backpacking bag; Freedom Summer Weight Center zip sleeping bag
Best overall sleeping bag; North Face Inferno 0C Down sleeping bag
Best budget sleeping bag; Military Sleeping Bag
Best for comfort; Lafayette Sleeping Bag
Best for highly chilly weather; Freedom Super Light Shelter Center zip bag
Best for ultralight sleeping bag; Full Zip 20F sleeping bag
Best for wet weather; Antarctica Snugpak sleeping bag
Best versatility; Egret Feathered Friends ultralight 20
Best in space; Robens -9ºC Icefall center zip sleeping bag
Best waterproof sleeping bag; Polar Ranger -20F center zip Therm-a-Rest bag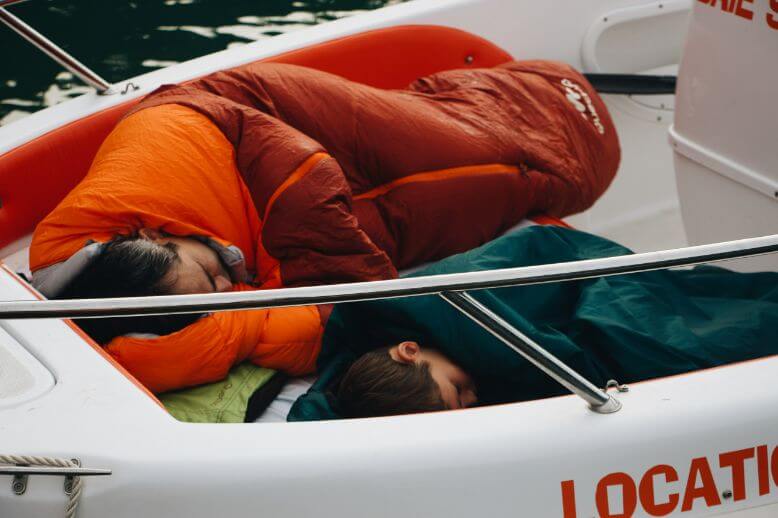 Pros & Cons having the zipper in the center
Here are some of the advantages of having a center-zippered sleeping bag.
Pros
When a sleeping bag has a center zipper, you can open it up and use it as a blanket or a sleeping mat.
With a central zip, you are sure that no cold or other external factors will affect you when sleeping.
In the dark, the centered zipper is easy to locate.
The zip keeps the sleeping bag centered on the body even when unzipped.
Cons
You cannot adjust your feet when your sleeping bag has a central zip. For example, if there is too much heat, you cannot unzip the sleeping bag to let air get to your feet. If you unzip it, your whole body will be exposed to the cold air.
You also cannot zip the sleeping bag to another, if you have company
See related: Western Mountaineering vs. Feathered Friends Sleeping bag
Best in space: Robens -9ºC Icefall center zip sleeping bag
Robens -9ºC synthetic bag is best for space. It has plenty of space and can accommodate people of all sizes.
The Robens sleeping bag costs between $200 and $250 and has a temperature range of 22 to 32 degrees Fahrenheit. It also weighs two pounds, fourteen ounces.
The sleeping bag has a micro thermal synthetic fill, which gives it a higher loft and an excellent warmth-to-weight ratio.
The ideal characteristic of the Robens Icefall sleeping bag is that it is spacious and very comfortable. However, it is bulky and heavy, so it is unsuitable for ultralight backpackers.
In most cases, backpackers prefer down-filled sleeping bags to synthetic ones because they are easily compatible and have an excellent warmth-to-weight ratio.
Robens Icefall sleeping bags are synthetic filled, but they have overcome the synthetic downsides by utilizing microthermal insulation. Microthermal insulation shares many similarities with down insulation regarding warmth and compatibility.
So unlike many synthetic sleeping bags, Robens Icefall bags pack down to small sizes. The sleeping bag also comes with a compression sack, reducing its size even further. The sleeping bags also have a disco-shaped outlook.
The disco shape gives Robens Icefall sleeping bags the same ISO comfort rating as any other high-end sleeping bag. A 32C comfort-rated sleeping bag costs about $300, while a Robens Icefall bag is $100 cheaper.
If you add an inner lining, you will have more space. This setup is ideal for people who prefer to sleep on their sides. The Ro
ens Icefall bag is still not in the same league as a down bag, especially regarding weight.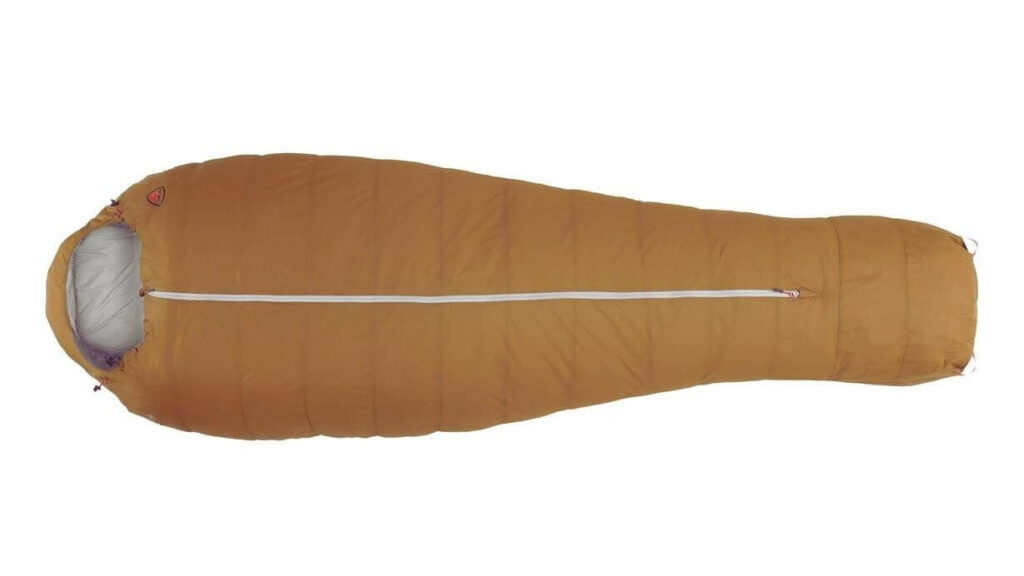 Best lightweight: Full Zip 20F sleeping bag
The Full Zip 20F bag is best known for its lightweight. It has a 20 degrees Fahrenheit temperature rating and is filled with down insulation.
It is available in 5-6 inches, making it suitable for people looking for more than a narrow sleeping bag.
These sleeping bags have plenty of space for elbows, feet, and shoulders. So you can move around the bag without feeling too squeezed. It weighs about one pound, and research shows it is waterproof due to its nylon exterior.
The down insulation has an excellent warmth-to-weight ratio where you can be assured of warmth and comfort without having to undergo a penalty of extra weight.
The down insulation also provides additional space inside the bag and does not clump up even when wet. However, this sleeping bag is not very well ventilated in its interior due to its nylon exterior.
The down insulation does not wick moisture away from the inside of the bag, allowing you to soak up sweat. It goes for about $439, which is pretty expensive.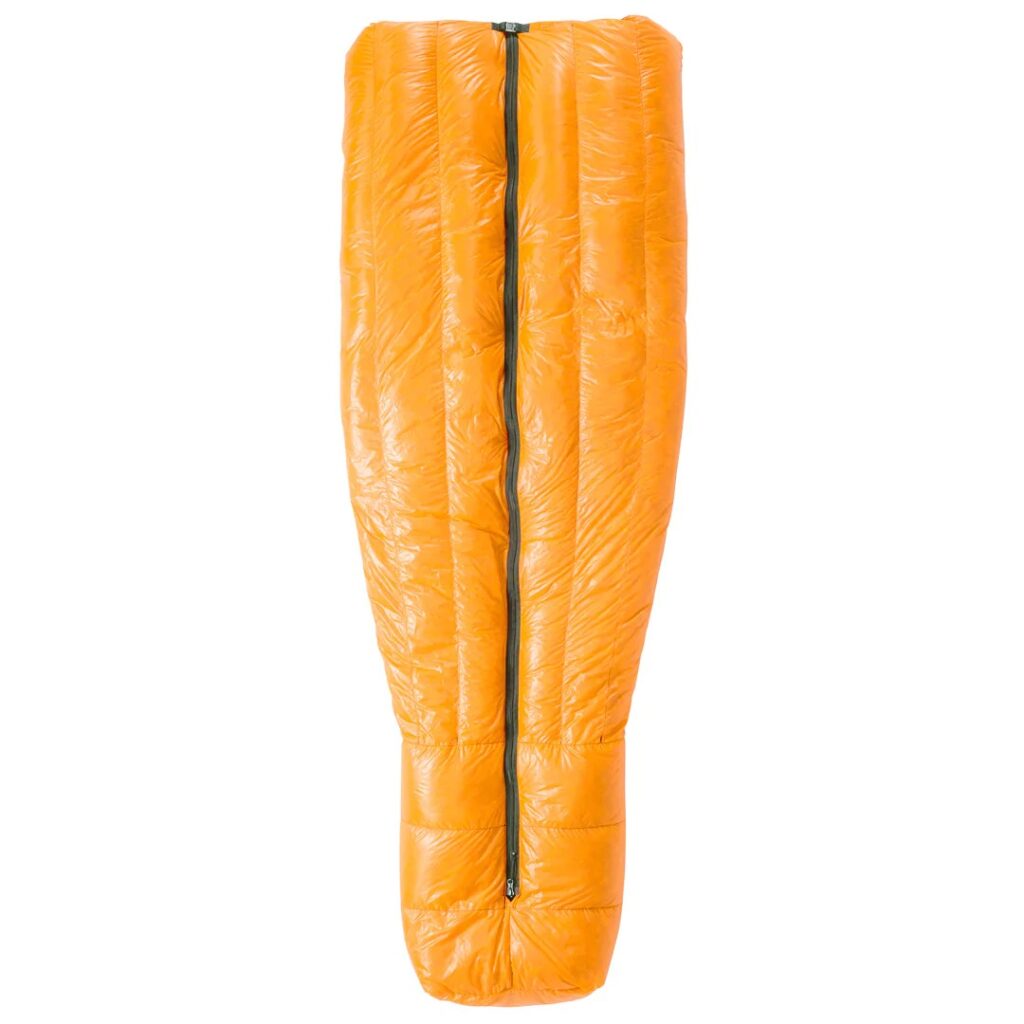 Conclusion
Consider a sleeping bag's price, weight, and temperature rating. Some sleeping bags are light but not very comfortable. Choose down insulation because it is lightweight, always hot, and does not dampen up quickly.
Also, the placement of the zipper is something to think about. A centered zipper is perfect for people who hike in areas with low temperatures because you do not need to vent your feet. I hope this article gave you ideas of which sleeping bag to choose.
Sources
https://youtu.be/tCzH0lHabkw
https://www.youtube.com/watch?v=aPRV8getuzg
https://www.youtube.com/watch?v=lJV-T7I3yI8