These two sleeping bag brands have been on the market for quite a long time and have made a name for themselves in the sleeping bag world.
There is a lot to consider when choosing either of the two, like affordability, weight, and comfortability, among other things. Each brand has its pros, cons, and different specifications that make it stand out from the others. So take a quick peek at this brief guide to the best of each.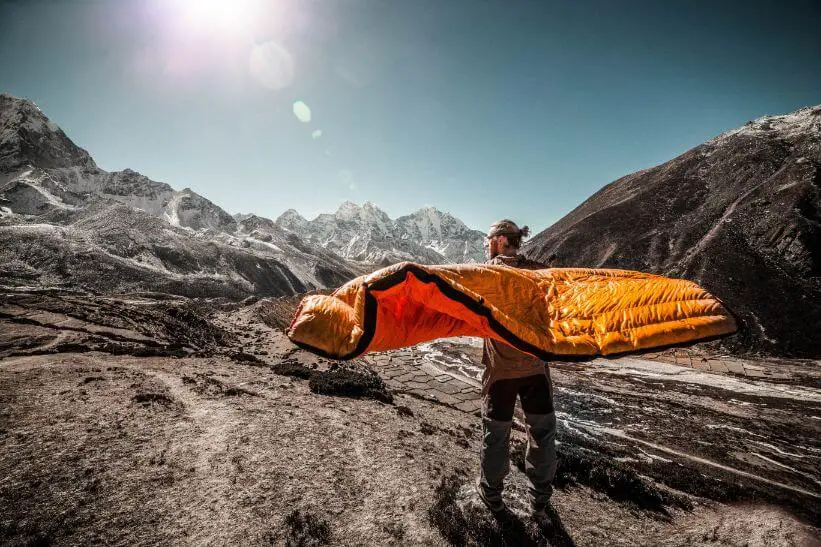 Best Overall: Western Mountaineering Alpinlite vs Swift YF 20/30
Both sleeping bags have their Pros and Cons and unique features. While the Swift YF provides variety for its users, the Western Mountaineering Alpinlite sleeping bag is known for its quality. Their prices are also almost the same, and thus when choosing, it will purely depend on the user's liking.
Western Mountaineering Alpinlite 20 Degree sleeping bag
The Western Mountaineering Alpinlite 20 Degree is the best overall sleeping bag from this brand because it has the highest quality of all bags. Additionally, it also has very outstanding features.
Specs
It is manufactured using a 12 denier lightweight shell fabric material.
It has a 5IN Loft and a 20 Degrees Fahrenheit temperature rating.
Its inside is 850 plus fill power goose down that weighs 19 ounces.
The sleeping bag weighs only 2 pounds and has a dimension of 27x12x10 inches,
Its shape is Mummy and is made of Nylon material.
Pros
The sleeping bag is lightweight and is made of excellent high-quality material.
It is durable and has a no-snag Zipper.
Its hood and foot box are well-shaped, and also it has a full-length draft tube.
It is made of wilder shoulder girth to provide extra protection during colder seasons.
Cons
This sleeping bag is quite expensive.
Its mummy shape limits certain sleeping positions.
Swift YF 20/30 Sleeping Bag
Among the best overall sleeping bags, the Swift YF 20/30 takes the lead in its brand. Here are some of the top-notch bag specifications that make it stand out among all the others from this particular manufacturer.
Specs
It comes with two options: the 20 Degree, which has a regular(533g) and long(928g), and the 30 Degree, which has a regular(789g) and long(835g).
It also has two length options: the regular(183cm) and the Long(198cm).
It has a Mummy shape, and a #5YKK is two-way and separates locking sliders and zippers.
Its hood is 3D contoured, thus opening up wide during warm nights and clinches tight when the temperature is low.
It is filled with premium 900+ fill power goose.
Pros
It is lightweight as it is made of nylon material
It is long-lasting and durable.
It offers a choice for its users as it comes in two options.
The sleeping bag continuously baffles and lets its user place insulation wherever needed.
Cons
It is costly.
When the down gets wet, it does not insulate.
See related: What is Lamilite?
Most comfortable: Western Mountaineering Ultralite 20 vs Feathered Friends Penguin YF 20
When choosing a sleeping bag, comfort is a very important consideration as it will dictate the ease of use. Both these two brands have one particular bag that has been tested and rated as the most comfortable among all others. While the Feathered Friends Penguin Y20 features a technology that allows it to transform and create room for two, the Western Mountaineering Ultralite is adored for its weight.
The Western Mountaineering Ultralite 20 Sleeping Bag
This brand manufactures a wide variety of sleeping bags to meet all users' needs. Their most Comfortable sleeping Bag is the Ultralite 20 sleeping bag.
Specs
The item has a dimension of 29 x 12 x 10 inches.
It has a mummy shape and weighs only 2 pounds.
It is made of Nylon and a Down Fill material. It has a 5IN loft and 20 degrees temperature rating.
It has a #5YKK zipper which is full length and has an insulated draft tube and full down collar that aids in keeping the warmth in.
Pros
It is water-resistant and breathable
It is very lightweight.
Its insulation can shift to body temperature due to its technology.
Cons
Its fitting is quite narrow over the shoulders and chest and not favourable for those who prefer more space in those areas.
It is costly due to its precise features.
Feathered Friends Penguin YF 20
This sleeping bag is rated as the most comfortable of this brand; it has dual functionality, whereas when added to it, it can provide room for two people.
Specs
It comes in two options: the regular and long.
It is made of Pertex 20 denier nylon fabric
The fill power is a 900+ Goose Down.
Its construction features a topstitched baffle construction.
It is groundsheet comfortable.
It has a wrap-around that separates its YKK #8 zipper, thus allowing the bag to open flat.
It features dual graft tubes, which prevent it from losing heat when paired with a groundsheet.
Pros
It provides choices for its users as it comes in either regular or long with various temperature adjustments for different preferences.
It is flexible and can be adjusted to fit two when a hood is added.
It is very comfortable and easy to use, unlike the Mummy sleeping bags.
Cons
Best Ultralight: Feathered Friends Hummingbird UL 30 vs Western Mountaineering Ultralite
Weight is a great factor to consider, especially for those campers or travellers who use sleeping bags during the summer. Though the feathered Friends Hummingbird 3D is the best Ultralight sleeping bag on the market, the Western Mountaineering Ultralite also has some of the best features for a traveller looking for a lightweight bag.
Feathered Friends Hummingbird UL 30
The Feathered Friends Hummingbird UL 30 is not only ranked as the best Ultralight among its brand, but also it takes the crown for the best overall. Here are some of the Specifications that have earned their popularity.
Specs
It is available in 20 and 30 degrees options.
Its length also comes in two options: Regular and long.
It has dimensions of 58x52x38 in Lxwxh.
Its shell fabric is the Pertex Endurance UL, while its lining fabric is Flite 15 denier ripstop nylon.
It has a fill power of 950+ plus goose down.
It has a mummy shape.
Pros
It comes with passive collars, which provide some extra cushion around the neck area.
It is very light in weight.
It features a 3D contoured hood that can open wide during warm nights and clinch during low temperatures.
Cons
It has been said to be heavier compared to other 30 Degree bags.
It is quite expensive.
Western Mountaineering Ultralite
Designed for summer adventuring, the Western Mountaineering Ultralite is the lightest sleeping bag among its brands.
Specs
It is made of an outer lite face fabric and a nylon taffeta lining.
It has an 850+fill down.
It has a mummy shape with narrow shoulders to enable it to retain warmth
It is made in various heights, shoulders, hips, and feet circumferences and lengths to suit different users.
Pros
It is lightweight as it has only 2 pounds
The sleeping bag is extremely packable and lofty due to its fill-down insulation.
It is very durable since it is made with an Extreme Lite shell with a high thread count that boosts durability.
Cons
Its narrow shoulders might not be a great fit for users who prefer wider sleeping bags.
It is costly
It is a bit heavier compared to its competitors.
Read more: Sleeping bag too big for backpack – Make it fit
Best budget: Western Mountaineering EverLite vs Flicker YF Quilt
When looking for a budget-friendly sleeping bag, both the Western Mountaineering and Feathered friends won't be your best choice as they are very expensive, and the cheapest still is over $380.
So while looking at the cost, you might consider looking for a different brand.
Western Mountaineering EverLite 45 Degree Sleeping Bag
Sleeping bags from these brands are generally very expensive because each of their bags is insulated with a compressible 850+ fill goose. This brand's best budget-friendly sleeping bag is the Everlite 45 Degree, which costs approximately 325 US dollars.
Specs
It weighs 140z
Its temperature rating is 45 degrees Fahrenheit
It is semi-rectangular in shape.
It has 850+ fill down
Its ZipperZipper is on the left side
It comes in two options: regular and long.
Pros
It is pocket friendly compared to others from the same brand
It is durable
It has much more room due to its rectangular shape than the Mummy shaped bags.
Cons
It doesn't possess some of the top-notch features that the other bags from this brand possess.
Flicker YF Quilt Sleeping Bag
The Flicker YF Quilt is the most budget-friendly sleeping bag from The feathered friends brand for 349 US dollars.
Specs
It comes in two options: regular and long
It is also available in three different temperature ratings: 20,30, and 40 degrees F.
Made of 20 deniers water-resistant fabric
It has a dimension of 62x48x49 in LxWxH
It has a fill power of 900+ Goose Down
Pros
It is light in weight
It is durable
It is quite affordable compared to others from this brand.
Can cover two friends
Cons
Still, it is not as affordable as other brands.
Is Western Mountaineering a good brand?
Having been in the market for 35 years, Western Mountaineering is a very good brand that provides the best sleeping bags to meet different users' needs.
This brand offers its sleeping bags in three extremeLite fabrics, which include:
The ExtremeLite Shells are made of Nylon and are the lightest, suitable for mild weather conditions.
MicroFiber Shells: Sleeping bags in this category are made from tightly woven polyester or Nylon.
Gore Windstopper: this is made of a more heavy material than microfiber. It keeps water away from the down bag and is thus desirable for damp conditions like tents, winter weather, and caves.
Let's look at some outstanding features that make Western Mountaineering a good brand.
Specifications
They are made of Extremelite shell fabric
They have an 850-fill down ultra-premium insulation, which weighs 454g
Has interlocking draft tubes.
It has a narrow shoulder girth.
They are made in the USA.
Most of the bags' Temperature rating is 20 Degrees Fahrenheit
Is Feathered Friends a good brand?
Generally, Feathered Friends is a good brand. It has been around since 1972, and it is known for making simple, quality, lightweight sleeping bags for its users. Let's take a look at some of their general specifications.
Specs
They have a temperature rating of 20 Degrees Fahrenheit,
They have a fill power of 950+ trackable goose down.
They come in two options average or long
They have a dimensions 60x56x38 in Lxwxh
Their average weight is 766g or 27oz.