Saving space in a backpack is very crucial for any backpacker. Backpackers usually have a lot of stuff to carry to their adventures. Thus, a sleeping bag should not take up as much space in the backpack.
Therefore, many methods can be used in stuffing a backpack. These methods ensure that the sleeping bag will occupy the least space possible in your pack. This will also depend on the kind of sleeping bag that you possess.
To learn more about the techniques you can use to make your sleeping bag fit in your pack. You should take a look at this write-up. It has tips on compressing, attaching, and stuffing your sleeping bag into a stuff sack.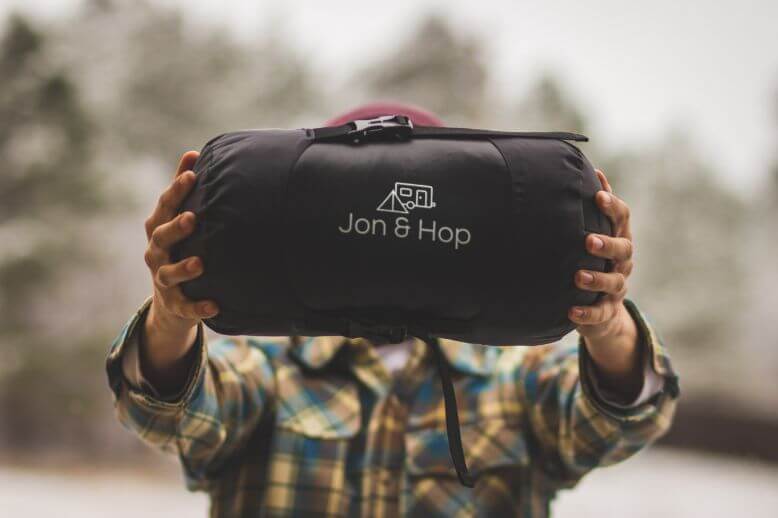 Put sleeping into a stuff sack
Many people may find it challenging to put a sleeping bag inside a stuff pack. The stuffing part is crucial because it determines the space that it will occupy inside your backpack.
You will need to stuff the sleeping bag and make it as compact and small as possible. The following procedural tips will help you get that small pack for your backpack.
The first thing that you should do before putting your bag into a stuff pack is to fold the sleeping bag as you push the extra air out of it. Push it several times as you roll it.
After rolling it, tuck it under your arm and grab your stuff sack. Start stuffing it inside your stuff sack as you push out the air as well. Do not release the sleeping bag from under your arm till it is all in.
When all in, pull the strap to close the sleeping bag after it is all in the stuff sack. Good quality down sleeping will be easy to entirely stuff inside.
The next step will be to put the stuff sack cap on the stuff sack and trap it. Please do not pull the straps in a bid to make it compact. This might lead to the straps getting ripped off. Instead, push down the stuffed sack using your body weight as you pull down the straps.
Perform the above step repeatedly until the sleeping bag cannot be compressed anymore. The pack will then be ready for your next backpacking adventure.
Compress your sleeping bag into a stuff sack
Compressing your sleeping bag into a stuff sack is not rocket science. There are a lot of ways that people use when compressing. Just choose whichever works for you.
Here are some tips you can use.
Always stuff your bag from the foot/tail part when compressing. This prevents the air from pulling down into that area. Making it easy to put inside the stuff sack
When stuffing the bag inside, stuff all sides simultaneously. This is to avoid the bag from ballooning up and retaining some air.
When the bag has been compressed and put inside, do not close the stuff sack. Apply your body pressure from the top as you press it to make it more compressed.
You can also turn the bag inside out. This technique is only applicable to some kinds of bags. For instance, those with an extra layer of water/wind resistant fabric outside. This makes it easy to block the air that comes from outside.
Also another tip for compressing a bag into a stuff sack is folding. Other backpackers prefer folding the pack as they release the air. The air can be removed using body weight. Then after compressing, put it inside the stuff sack.
The above tip is not advisable; with time, folding may create a regular fold messing up with the synthetic fill.
Attach sleeping bag to your backpack
There is no particular method of attaching your sleeping bag to your backpack. The technique used will depend on the type of backpack that you have.
Some Backpacks are made with distinctive stuffing sack straps or sleeping bag loops. These loops/straps are used in attaching the sleeping bag.
Other sleeping bags do not have these loops or straps at all. To attach them, you will be forced to improvise. Here are some methods that you can use to secure a sleeping bag:
Attaching with straps at the top
Attaching it to a backpack that has External Frame
Attaching on a backpack that has an internal frame
Attaching using bottom straps
Attaching using side straps
Attaching using the backpack lid as a strap
Here are the methods in details:
Attach with straps at the top
Attaching a sleeping bag using the backpack's straps is the most common method. This method is preferred because it keeps the backpack dry and safe. Even when you put your backpack down to rest, it won't be exposed to wetness.
It also keeps the sleeping bag safe from branches and bushes, protecting it from tearing and ripping.
Attaching it to a backpack that has External Frame
Some backpacks have an external frame. The best way to attach the backpack will be to tie it to the backpack directly.
If your pack frame protrudes over the top of the backpack lid, even better. You will just need to tie the rope on the top frame. Then circle it around and then finally at the bottom.
There are backpacks with external frames placed below the lid. You will have to be innovative and use loops to secure the sleeping bag on top of the pack.
Attaching on a backpack that has an internal frame
Other backpacks don't have an external frame. In this case, you will have to use the straps provided to secure the sleeping bag at the backpack top.
If your backpack doesn't come with straps, find something like a rope to use. This method, though, maybe challenging to follow without a demo. This is because attaching depends on the nature of the backpack used.
See related: Rope For Backpacking & Hiking
Attaching using bottom straps
This is also a popular method of attaching a sleeping bag. This is perfect for backpackers sensitive to items around their neck and head—those who don't like any object restricting the range of their head and neck movement.
This method is also simple to use on most bags. Also, most backpack manufacturers place the straps for carrying a sleeping bag there. Where no straps are provided, just tie your backpack on the external frame.
Attaching using side straps
This is a less popular method of attaching a backpack. Some backpackers, though, prefer or can swear by this method.
Though not popular, it has its advantages. It is easy to find a spot to attach your sleeping bag to the side of your backpack. Most of the packs are made with compression straps at their side.
It is easy to wedge the sleeping bag between the compression straps and the cavity. Other packs come with clips attached to the compression straps. This makes it easy to attach and detach the sleeping bag.
Attaching using the backpack lid as a strap
Where your backpack does not have straps but has a lid, it can be used in attaching. In this instance, the lid is closed over the top of the sleeping bag. You will need to have some space in the pack for this method.
Then, you will just need to put the sleeping bag on the space and close the lid tightly. Make sure it is secure and there are no spaces on the lid that might expose your bag. This may be due to the lid being partially open.
Use a down instead of a synthetic sleeping bag
Down sleeping bags are favored among backpackers. They have very many features that make them attractive. And one of those is that a down bag is very easy to compress and stuff into a stuff sack.
The bags are also lightweight and take less down; hence easy to stuff. They also pack smaller compared to synthetic bags, thus saving on space.
Read more: Old North Face Sleeping Bag Models & Best Rated Center Zipper Sleeping Bags
Get a professional to help
Stuffing a sleeping bag into a stuff sack or compression bag is not rocket science. You do not need professional help for this. But if you are finding it difficult, then you can ask around. You can watch video tutorials on YouTube on stuffing from fellow backpackers.
From this piece, it is clear that stuffing a sleeping bag is simple. There are very many methods to go about it. You should just choose the one you find simple and use it.
Additionally, consider the type of sleeping bag you are using. This is because not all sleeping bags can be stuffed the same way.
See related: Western Mountaineering vs. Feathered Friends Sleeping bag
Sources
https://www.youtube.com/watch?v=OA9buvckKZY
https://www.youtube.com/watch?v=JUuB1haIOiw
https://www.oregonhikers.org/forum/viewtopic.php?t=1546
https://www.youtube.com/watch?v=DV4X3HgKn0w