Base wear is a part of everyday adventure activities, which include hiking. They are light and comfortable and provide skin protection against adverse weather conditions; they serve as an extra layer of warmth or shade the skin against UV rays.
Here's the key difference between long johns and tights
Long Johns are mostly designed for insulation in cold weather conditions while tights are meant to be worn either in the cold or in the sweltering heat. Longs Johns is a bit loose, while tights are tight-fitting. Longs John's exposes body contours while tights are flattering and can be worn alone.
So, which is the best between Long Johns and Tights? This article addresses the main difference between the two plus their pros and cons. Keep reading and learn more.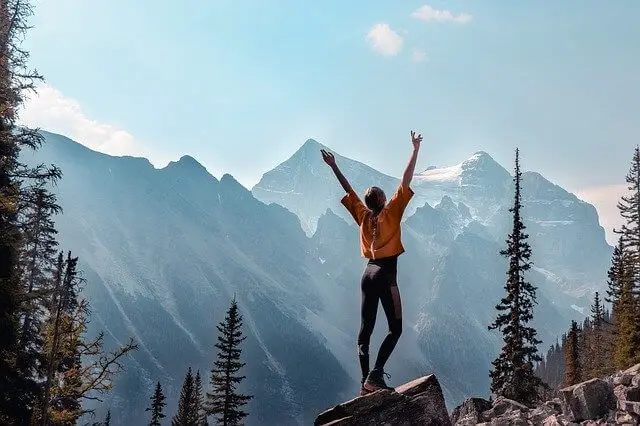 6 main differences between long johns and tights when hiking
Both Long Johns and tights are part of the layering of the skin. Mostly, the torso gets three layers while the lower part of the body gets two.
These layers can be added one on top of the other or stripped down when the temperature rises to keep cool.
Read more: What is a good hiking temperature?
Either Long Johns or Tights fall under the 1st layer next to the skin, which means you have to contend with them until the end of the journey.
Their main purpose is to insulate and keep moisture from soaking on the skin.
Here are the main differences that set the two apart;
Long Johns are strictly worn under hiking pants because their material exposes body contours hence not making them suitable for public appearance. At the same time, tights hug the body tight and flatter the body, making them more presentable when worn on their own.


Long Johns are appreciated for their insulation and are worn under hiking pants to provide the extra needed layer of warmth, while tights are in warm climatic conditions or paired with hiking pants when cold.


Longs Johns are loose-fitting and can cause thigh chafing, while tights fit and prevent thigh chafing.


Long Johns are mostly made from cotton, wool, or cotton and polyester, while tights are made of spandex such as nylon and polyester.


Long John's light material cannot protect hard objects during a fall, while hiking tights can.


Long Johns can easily get wet when you sit or kneel on wet grounds while tights are patched to prevent easily stocking up.
Long johns pros & cons
Long Underwear, thermal Underwear, or preferably Long Johns is a waffle weave texture insulated two-piece type of underwear covering the body and limbs.
This means that the top is long-sleeved while the pants are long.
In the States, Long Johns are mostly made of rough cotton fabrics or a blend of both cotton and polyester to make it a warm garment to be worn under the clothes during colder seasons to feel warmer.
However, flannel and union suit varieties of Long Johns have graced the market, while in Europe, they are made from 100% wool with a thin layer of polyester lining the inner part to keep moisture from dampening the skin.
This means that Long Johns can be worn when hiking because the fabric of the pants sips perspiration from the skin while releasing the warmth/heat instead of withholding it.
Pros
Woollen long johns provide effective insulations even when the pants are damp.
Cotton is non-shrinking; therefore, they are protected from all the moisture they absorb.
They dry quickly; therefore, they keep the body dry and warm despite water or heavy perspiration.
They are worn as the base layer when mountain hiking in fall, winter, and early spring.
They are super masters of wicking moisture and sweat from the skin, keeping the skin dry and free from itching and other infections and allergies.
They serve as sleepwear or pyjamas when camping in the mountains after a day of hiking.
Cons
Cotton-made Long Johns are abrasive.
They are expensive as compared to tights.
Long Johns made of cotton fabrics smell even after washing.
Tights pros & cons
Tights meant for hiking are called trail tights, and they are quite unique as they are reinforced with extra heavier material on the rear and on the knees.
They are very durable and are made from a fabric that is able to stretch wide without tearing.
Of all the leggings worn for hiking, tights are one of the best but not cotton fabric-made tights.
Tights made from nylon or polyester wick out moisture much better while retaining its dryness.
They are also suitable for low weather temperatures as they are insulated to retain heat and keep the body warm.
Here are some of the advantages and disadvantages of hiking tights;
Pros
They are made from a heavy material that lasts longer, saving on frequent visits to the vendor every time you need to hike.
They have pockets that allow one to store small but essential things such as a map and a compass.
They are patched on the rear and on the knees, providing extra protection from sharp objects such as twigs, stones, or even rocks.
The patch also ensures that the rear and the knees are not soaked wet when falling, kneeling, or sitting on wet grounds.
The stretch material provides easy and comfortable movements when scaling hilly and mountainous terrains.
They can be worn alone without the need to hide them under hiking pants.
They prevent chafing.
Cons
Because they are light, they cannot prevent you from insect bites or pricking of thorns and dry branches along the trail.
Because they fit tightly, they may limit the flow of blood to the legs and hence increase fatigue.
The restrained flow of blood again limits blood flow and the body, therefore, is a pain trying to keep warm.
4 Best Long Johns options
Patagonia Capilene Midweight Base Layer Bottoms
These Long Johns are best for the everyday hiking experience.
They cost $69.00
They come in black and grey colours.
They have maximum breathing capability.
They are specially layered in preparation for a chilly day out trekking or scaling mountains.
They are the best man-wear, very warm and comfortable.
See related: What is capilene?
Carhartt Base Force Heavyweight Bottom
These are fair among the rest in the purchasing price.
They come in black, burnt olive heather, navy heather, deep navy heather, and shadow heather colors.
Come in all sizes.
Costs between $33-$55 dollars.
Smartwool Merino 150 Base Layer Bottoms
These are the best when in need of lightweight base pants.
They come in only black colors.
Made from a combination of wool-nylon with wool being 87% and nylon 13%.
Available in only size 31, which is a regular and slim fit size.
They provide very efficient comfort on all terrains.
Have an ultra-smooth inner layer that helps keep check of the body temperatures.
Icebreaker Merino 260 Tech Leggings
The word Icebreaker is branded on the elastic waistband.
They come in all sizes: small, medium, large, extra-large, and extra-extra-large.
They come mostly in black colors and are made of 100% merino wool fabric that enhances softness, breathability, and insulation.
They have contoured pouches with functioning flies.
It is perfect for colder and frigid seasons.
4 Best Tights options
Fjallraven Abisko Trail Tights
Made from elastic material hence very comfortable and fitting.
They are ankle length in height and rise to the middle of the waist hence holding tight.
It is reinforced on the knees and the rear for protection and strength.
Its stretch material is 82% polyamide and 18% elastin while the fabric is 62% polyamide, 12% aramid, and 10% polyester.
Prana Electa Leggings
This type of leggings is 76% recycled nylon and 24% elastin making it very stretchy.
Its waist rises up to a high waist.
Have thigh pockets with Velcro closure.
It's ankle-length in height and designed for rock climbing and hiking through rough terrains.
Reinforced on the rear and knees to enhance durability.
Patagonia Pack Out Hike Tights
Has a strong but comfortable waistband.
Big pockets with zips for carrying small light necessities.
They are reinforced on the knees and rear with a water-resistant patch.
Has two pockets for things like phones and a map.
Eddie Bauer Trail Tight Hybrid Tights
They are reinforced on the front and back of the knees.
It is odour-free because it has odour control.
Its reinforcement patches and panels blend with the rest of the leggings unlike in other designs.
Has two zipped pockets on either side.
High waistband with drown-in internal cord.
Frequently Asked Questions
At what temperature should you wear long johns?
Typically, you should Long Johns when the temperature is between -10 C and -20 C. If you're going to be outside for more than half an hour, it's a good idea to put it on.
How often do you wash long johns?
If you have several pairs, you should wear them twice or three times before washing them.
Final Thoughts
During the cold season, one has to wear an extra pair of clothing underneath to keep warm. But the pants you wear should be comfortable and warm, stretchable to facilitate easy movement, and allow your skin to breathe while keeping it dry from perspiration.
But choosing the best pants or leggings for a hiking adventure is the line between a terrific experience and a terrible one.
Ensure to carry an extra pair for camping while the other is for hiking always to be fresh and comfortable.